05
Dec
2014
Details

Category: Movie Reviews
Written by Gilbert Seah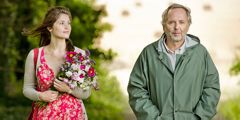 No big blockbusters opening this week. Films opening include SERENA, COPENHAGEN, BAD TURN WORSE, GEMMA BOVERY and the Canadian film FALL.
See the Kubrick Exhibition at the TIFF Bell Lightbox.
FILM REVIEWS:
BAD TURN WORSE (USA 2013) **
Directed by Simon Hawkins & Zeke Hawkins
BAD TURN WORSE is a small budget American film shot in Texas. Originally screened at TIFF in 2013 under the title WE GOTTA TO GET OUT OF THIS PLACE, BAD TURN WORSE is likely a better title for the film.
After a weekend of partying with stolen money, three Texas teens (Jeremy Allen White of 'Shameless', Logan Huffman of 'V', and Mackenzie Davis of That Awkward Moment) find themselves indebted to a sociopathic criminal named Giff (Mark Pellegrino of The Big Lebowski). Teens are never that stupid in real life.
To pay their debt, Giff forces the teens to steal from his boss, a money-laundering gangster named Big Red (William Devane). Things get from bad to worse when betrayal, distrust, and corruption complicate the already dangerous plan. A showdown results in sort-of barn where all the characters include Big Red appear for a showdown.
BAD TURN WORSE is a film that gets slightly better as it rolls along, but that is not saying much. The first 30 minutes of the film is quite predictable unwatchable fare. There is nothing novel in the plot. The dialogue is lame, any humour missing and the acting over-the-top if not uninspiring.
Mark Pellegrino overacts for all its worth, thinking that being over the top makes a good performance. The real result is a performance that turns from strained to irritating. The three teen actors fare no better, proving that acting lessons might be necessary. Veteran actor William Devane (Hitchcock's FAMILY PLOT, Altman's McCABE AND MRS. MILLER) gets star billing but only has a cameo appearance during the showdown in the barn.
The film has a special screening on December 5, 6 and 7th at the Royal Cinema in Toronto.
Trailer: https://www.youtube.com/watch?v=zU_LR5_EF1o
Bank$ters (Canada 2014) **1/2
Directed by Jeff Stephenson
Bank$ters, originally titled CUBICLE WARRIORS has two childhood buddies now graduated at business school doing the right thing. The original title derives from their new assigned cubicles after they win a job together at a prestigious firm owned by Peter Hoss (Alan Thicke).
The plot thickens. Nothing goes as planned. Neal (Michael Seater) and Isaac (Joe Dinicol, who has an uncanny resemblance both in looks and mannerisms as Jay Burachel) soon find themselves interning at Hoss & Associates where they are tormented and run ragged by Peter Hoss' lecherous, egotistical son, "Pistol" Pete Jr., (Brandon Firla). Neal and Isaac uncover the real reason Hoss has hired them – to make them patsies for a bum student loan take-over deal. Romantic interests has Neal falling for lawyer Jessica (Laura Vandervoort) while Isaac finds his match with dominatrix Diane (Grace Lynn Chung). The four turn the tables on Hoss.
As far as performances go, Thicke, everyone's favourite turns out to be marginally funny. Dinicol is a real find. He does rap routines and displays a genuine affinity for comedy. He might be a good and cheap substitute for Jay Burachel who has now achieved stardom.
The funniest segment involves the tennis match between Peter Hoss and son versus Isaac Neal. Neal and Isaac have never played the game before but by hilarious fluke, win the game.
Stephenson's film is not very original. In fact, it is predictable from the plot, romance and climax right up to the last reel. But everyone from the director, scriptwriter , music composer and actors appear more than over-enthusiastic with the film. Indie small budget films like these usually end up in the horror genre. Bank$sters, at least takes a good course of having the characters do what is right. And the enthusiasm of the cast and crew is catching.
Trailer: https://www.youtube.com/watch?v=MpwU0lMRPUo
COPENHAGEN (USA/Canada 2014) ***
Directed by Mark Raso
At one point in the film, backpacker William (Gethin Anthony, Game of Thrones) is asked in Copenhagen where he is from. His reply is: "Canada". When the girl says she is from NYC, he replies, he too is American and that the initial reply of Canada is what most Americans say. It is interesting to note that while his American character pretends to be Canadian, this Canadian (from Toronto) director Mark Raso hides behind what appears to be an American film. The film is also about identity. William travels to Copenhagen with a letter for his grandfather hoping to discover more of his roots. His travelling buddy deserts him to get married in London while he struggles alone with his identity crises.
The film COPENHAGEN is so-called as most of the film is shot in the Danish capital.
Copenhagen is also the birthplace of the father of the main character, William. When William meets pretty local girl Effy (Frederikke Dahl Hansen), they set off on an adventure to find his grandfather. Trouble brews when romance sets in. Even more trouble is afoot when it is revealed that Effy is only 14 years of age. Director Raso barely touches this pedophile topic and then leaves it alone.
Raso who makes his feature film directorial debut with Copenhagen, also wrote its screenplay. COPENHAGEN is not bad as a first effort, in fact the production values are quite good. There is plot development, character development, a current issue agenda and a serious enough story to favour the film. The performances of the actors are sincere and the story is paced well towards its credible end.
Mark won the prestigious Student Academy Award (Oscar®) Gold Medal for his short film Under. Mark has also been awarded the David Jones Memorial Award for Excellence in Directing and The Hollywood Foreign Press Award for Excellence in Filmmaking. In 2013 he was named to the Tracking Boards "Young and Hungry" list. And with this film under his belt, he is the director to watch.
Trailer: https://www.youtube.com/watch?v=p5lKDhLxSBA
FALL (Canada 2014) ***
Directed by Terrance Odette.
FALL takes place mainly in the winter months of Ontario, Canada. Snow is often seen on the ground. It soon becomes apparent that the fall of the film title does not refer to a season of the year but to the slow downward spiral of Father Sam Ryan (Michael Murphy), who is seen in the last scene walking into the snowy horizon.
FALL, written and directed by Terrance Odette (SAINT MONICA) is vastly different from the recent CALVARY in which Brendan Gleeson plays a priest confronted with a murderer exacting vengeance for child sexual encounter, though this topic does arise in FALL.
Father Sam Ryan, (Michael Murphy), an aging Roman Catholic Priest living contentedly at a Niagara Falls parish, receives a letter forcing his complacent life into a gradual downward spiral. The letter, from "Christopher," confronts him about an incident that happened 40 years ago. Father Sam was a young, charismatic priest, serving a remote, Northern Ontario parish. Christopher was a 14-year-old adolescent, whom Sam mentored. The letter asks Father Sam for the truth: what did take place all those years ago? Were lines blurred or crossed? What choices were made?
The characters Ryan faces include a restless bride-to-be; Michael, a repentant addict; Reza, a gay Iranian grieving his recently deceased mother; Sheila, Sam's free-spirited, benevolent sister; and, finally, Catherine, the shattered wife of enigmatic Christopher. Now haunted by his memories, for the first time in his life Sam is compelled to reconcile himself more than just as a priest… but as a man, as well.
FALL is a very slow moving, pensive and the purpose of the film is to explore human emotions rather than providing answers to whether a deed occurred or not.
Trailer: http://www.mongrelmedia.com/film/fall.aspx
GEMMA BOVERY (France 2014) ***
Directed by Anne Fontaine
French director Anne Fontaine has always told whimsy tales such as AUGUSTIN and DRY CLEANING. Her films are entertaining enough but seldom leave a longing impression. GEMMA BOVERY falls in the same slot.
Fontaine turns to graphic novelist Posy Simmonds, adapting Gustave Flaubert's novel of romantic yearning, Madame Bovary, into GEMMA BOVERY, the film.
Set in Normandy, a married English couple moves next door to Martin Joubert, a baker (Fabrice Luchini). The English woman (Gemma Arterton) is as bored as the baker and afterwards one day in the bakery, yes rolling dough, an affair begins.
It is surprising that both are looking for stability but end up indulging in instability. Fontaine's film is pretty (as they are all) to look at, but lacks the grand passion of the Flaubert novel.
So, what is the difference between the Flaubert and Fontaine stories? For one, the film is set in the present, which does not work in its favour. In 2014, unlike the past, there is much more to do and enchant Gemma. Also, the film goes for life imitating art that does not really work either. Martin finds the English couple that have moved next door similar to the Flaubert novel, even telling his wife and teenage son so. Life in the film imitating art (literature) in the film. But the curiosity is never really developed. It is just there for speculation.
The English husband (Jason Flemyng) is too oblivious and dull a character for someone who has left London for the French countryside. Luchini is always best to watch, and he is the only one actor that brings life to this tale of polite debauchery.
The film ultimately resembles the character of Gemma Bovery. Pretty but unfortunately a bit boring!
Trailer: https://www.youtube.com/watch?v=D6AHGtq_zqk
SERENA (USA/France 2014) **1/2
Directed by Susanne Bier
Susanne Bier's (the soon to be seen A SECOND CHANCE, BROTHERS and the Oscar winner for best foreign film IN A BETTER WORLD) SERENA, based on the book by Ron Rash and a screenplay by Christopher Kyle has the look of a western similar to Robert Altman's excellent McCABE AND MRS. MILLER. Set in depression-era North Carolina's timber industry, life is a tough one, where men have to be tough and killing is as common as in western films.
But Susanne Bier and her main lead actress Oscar Winner Jennifer Lawrence (MOCKINGJAY, SILVER LININGS PLAYBOOK) has fashioned a woman's film instead - a sort of Miller and Mrs. McCabe. Unfortunately, her film does not work primarily for that purpose, as the theme looks forced while muddled up with cheap theatrics.
Though the main character is male, a George Pemberton (Bradley Cooper reunited with Lawrence, his SILVER LININGS PLAYBOOK co-star), the story belongs to his wife, Serena. Mr. Pemberton, as he is often addressed, owns a timber empire, which he hopes to maintain. He has stakes in Brazil which is his dream and nest egg. After a hurried courtship and wedding in town, George brings Serena him to his timber workplace. But Serena is no ordinary woman, being the daughter of a timber baron herself. She is apt, knowledgeable and soon gains the respect of the men at the timber place with the exception of her husband's right-hand man, Buchanan (David Dencik).
The main issue of the story takes a while to settle, just as Serena takes, in her husband's workplace. She has a miscarriage and after unable to bear child. Serena goes literally bonkers after that, as does much of Bier's film as well. Serena hires a weirdo, Galloway (Rhys Ifans) to kill George's bastard son, believing him to be the way between their otherwise perfect love.
Bier's story is in chops once too often. Part of the reason is due to her not showing the action on screen. The revelation of George's bastard son is a surprise and there is nowhere in the first half of the film where this is any hint of this, except for one short closeup shot of the mother carrying the child when George and Serena enter the town. Galloway's slitting of another victim's throat is also a bit puzzling. For a story of strong men in the west, the introduction of a gay character is a bit of a surprise. "Have you seen the way he looks at you?" comments Serena to her husband of his right hand man, Buchanan. Before the audience can doubt Buchanan's sexual orientation, Bier's next scene show him wearing a stylish, colourful scarf. The panther metaphor is carried too far and used at both the start and end of the film.
But one must admire Bier for making a man's film. To give her cinematographer, Morten Søborg credit, their film looks stunning. The many segments of the falling of the gigantic tree are displayed with all the grandeur of the old country - no CGI effects here.
Bradley Cooper is actually very good in this picture, better than in his upcoming AMERICAN SNIPER. Unfortunately Lawrence is too over-the-top here. She requires more subtlety in her role unlike her performance in AMERICAN HUSTLE. But it is Toby Jones as sheriff McDowell who steps the show. He plays a character that falls on both sides of the coin on both George's good and bad sides.
Bier goes commercial in her latest film SECOND CHANCE which is a better compared to this one. Bier is an excellent filmmaker so she should be excused from this little flawed film, but not for lack of trying.
Trailer: https://www.youtube.com/watch?v=lITvFNhoxek
BEST BETS:
Best Sci-fi: Interstellar
Best Suspense: Gone Girl
Action: Fury
Foreign Language: Mommy
Animation: The Tale of Princess Kaguya
Horror: The Scarehouse
Comedy: St. Vincent