21
Dec
2014
Details

Category: Movie Reviews
Written by Gilbert Seah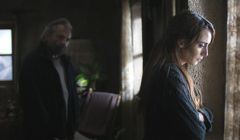 TOP 10 FILMS OF 2014
CALVARY
Not everyone has heard of this gem, less seen it. This is a super shocker drama with loads of dark humour, as dark as one can imagine. Priest (Brendan Gleeson) gets anonymous confession from a child molest victim that he wishes to kill the priest in retribution.
THE GRAND BUDAPEST HOTEL
Wes Anderson's best and most hilarious film that has an all-star cast including his regulars like Jason Scwartzman, Adrien Brody among others. A period piece set of course set in the said hotel about the life story of a bellboy.
THE GREEN PRINCE
Compelling doc about a handler and his source who is nicknamed the green prince. Israel intelligence is the handler and the source or agent is a Palestinian who decides to do so to save his activist targeted father. Extremely moving film made more relevant because all is all true.
INHERENT VICE
Paul Thomas Anderson's most disciplined and layered work about private eye Joaquim Phoenix who solves a case while smoking dope and f***ing around. Josh Brolin as the cop on his case steals the show. A remarkable achievement in all departments.
INTO THE WOODS
Overlong but totally entertaining Stephen Sondheim musical that ties in several Grimm fairy tales to an original story about a farmer and wife breaking a spell to bear a child.
THE LEGO MOVIE
Hats off to Chris Lord and gang in creating a totally awesome movie about Lego products. Extremely imaginative and the animation is fantastic.
LEVIATHAN
Russian film about a man trying to beat the system. His property is required by the town chief who uses his power to get what he wants. The victim hires a lawyer who ends up sleeping with his wife. Totally unpredictable and a wonderfully shot and told tale.
LIKE FATHER, LIKE SON
Family drama at its highest point! Two families discover that the sons have been switched at birth. Does one keep the original boy or swap him? That is the question on the table and the problem is looked at from both fathers' points of view.
SNOWPIERCER
Sci-fi horror in which a train containing the earth's survivors are housed in a train that travels around the earth. The poor work the engines and are restricted to the back of the train. Tilda Swinton plays the bad warden who get her due. The film, based on the graphic novel is full of action and special effects!
WINTER SLEEP
A 196-minute Turkish drama set in Anatola. A wealthy local, who is despised by all his 'friends' and wife undergoes a character alteration for his better good. It is a case of reality versus idealism in which ideas imitate life. Director Nuri Bilge Ceylon made the excellent ONCE UPON A TIME IN ANATOLA another 3-hour film last year and this one is just as good if not better than that one. To me, the best film of the year!