23
Jan
2015
Details

Category: Movie Reviews
Written by Gilbert Seah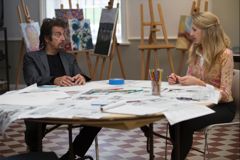 New films opening include THE BOY NEXT DOOR and STRANGE MAGIC.
See the Kubrick Exhibition at the TIFF Bell Lightbox. Last Chance!
REVIEWS:
THE BOY NEXT DOOR (USA 2015) **
Directed by Rob Cohen
A reverse take of sex stalker films like FATAL ATTRACTION, PLAY MISTY FOR ME and ONCE YOU KISS A STRANGER, THE BOY NEXT DOOR has pretty boy Noah Sandborn (Ryan Guzman) stalk high school teacher Claire Peterson (Jennifer Lopez) putting her and her family in grave danger.
Shortly after separation, Claire falls prey to the sexual advances of BOY NEXT DOOR, while her husband Garrett (John Corbett) takes son Kevin (Ian Nelson) camping. When Claire refuses to meet Noah again, he makes her life hell, by posting photocopies of pictures of their sexual positions in her classroom and turning Kevin against Claire and Garret who Claire wants to get back with. Noah eventually goes over the edge and the film enters slasher territory.
With a plot as standard as this, one does not expect much. But there are a few campy pieces. For one, director Rob Cohen's film begins with a promising start. In the first segment during the son's birthday celebration, the camera settles a second or two on the knife cutting the birthday cake, reminding the audience that they are watching a slasher film. It then settles briefly on Jennifer Lopez's cleavage before quickly moving along. But that is as far amusement according to Cohen goes. Apart from a surprisingly welcome supporting role from Kristin Chenoweth who plays Claire's friend and vice principal Vicki, there is not much left to go with the film. Vicki has the best lines.
The film could do with much more humour like the scene in which Claire calls Noah (on the cell) when driving to tell him to stop following her in the car. "But I live next door'" is Noah's response. Apart from a few segments, Cohen's lazy direction rules the day.
The car sequence in mid film (the car has its brakes tempered by the stalker) reminds the audience hat Cohen has directed THE FAST AND THE FURIOUS and xXx. The climatic scene in which the stalker ties up son Kevin and ex-husband Garrett when Claire has to rescue them and herself is nothing new. Even the sudden spurt of violence (needle in the eye) comes off as no surprise. Fortunately Cohen does not rely on cheap tricks like things things jumping out (ok, only once with the cat) at the audience for shocks.
For the undemanding viewer, THE BOY NEXT DOOR delivers satisfactory predictable entertainment - what an audience would expect from this kind of film. Unfortunately, the film does no live up to its full potential.
Trailer: https://www.youtube.c
CAKE (USA 2014) ***
Directed by Daniel Barnz
CAKE is a depressing film about a depressing woman, who at the end of the film, finally gains the bravery to deal with her situation. The film documents the difficult journey that inlay earned her the courage.
Claire Bennett (Jennifer Aniston) is a mother who has lost her son in an automobile accident. This turns her into an angry, acerbic and anti-social outcast. Her support group, nurse and almost everyone else wants nothing to do with her, except her faithful maid Silvana (Adriana Barraza). Claire has no self-esteem, sleeping around with low-life such as her gardener. She imagines the ghost of a member of her support group, Nina (Anna Kendrick) who keeps visiting her, much to her consternation. Claire ends up sleeping with Nina's husband, Roy (Sam Worthington).
The script by Patrick Tobin is by no means perfect but it contains a role that most actresses would die for. Though there is no Oscar scene like a dying death bed one, this is a role that Aniston excels in. Claire has reached the lowest point in her life, suffering depression, hallucinating and only she herself can pull herself out of the rut. Her performance is more than matched by Barraza as her maid, who has an outburst scene near the end of the film. Both actresses got standing ovations at the Toronto International Film Festival where the film was screened.
CAKE is a depressing film that is not easy to watch. Though the character comes up victorious at the end, the journey there is a tough one, which the script and director Barnz intend to drum into the audience's heads. The dialogue contains a lot of profanities, though one might argue may be necessary for the Claire character.
A bit more humour could improve the overall dour mood of the film, while still retaining the austere storyline. But the script does contains some well written parts, such as how the title of the film is derived. Nina, as the ghost confronts Claire that she (Claire) was the only one in the support group who did not cry when she talked about the cake she made out of scratch for her son. This shows both Claire's detachment and strength (not fallen to sentimentality) of her character.
But see the film for the performances. Aniston earned nominations for the Screen Actors Guild Award and Golden Globe Award for Best Actress.
Trailer: https://www.youtube.com/watch?v=P3IsUOSHlnU
A GIRL WALKS HOME ALONE AT NIGHT (USA 2014) **
Directed by Ana Lily Amirpour
This is a very different strange film. If one is brave enough to venture into something totally new, this Iranian vampire western shot in Persian and black and white might be fascinating. But besides the moody atmosphere and occasionally stunning black and white cinematography, the narrative is a mess if not illogical and incoherent.
The plot concerns a fictitious Iranian ghost-town Bad City, a place that reeks of death and loneliness. The townspeople are unaware they are being stalked by a lonesome vampire. The film follows the girl (Sheila Vand) and her encounters, one that includes an Iranian like James Dean type (compete with white T-shirt and jeans) called Arash (Arash Marandi) and a woman with her pimp, sort-of (Dominic Rains), who the girl does away with.
The story does not make much sense. How did the girl come about? The girl says that the woman used to be a vampire too, but the circumstances are totally ignored. And close to the end, she yearns to be normal after falling in love.
Director Amrpour seeks too distracted with shooting, a lot of scenes which consists of the woman just dancing around. These scenes may be good to look at but they can be annoying when one is trying to make head or tail of the plot, which Amirpour does not seem to bother with.
The film was first screened at 2014 Sundance to positive reviews. But this is one film that did not win my approval.
Trailer: https://www.youtube.com/watch?v=_YGmTdo3vuY
THE HUMBLING (USA 2014) ***
Directed by Barry Levinson
The voiceover at the beginning of the film talks about the fine line between craziness and genius. One can then foresee that what is to transpire during the next 2 hours of celluloid will be just that, as realized in the work of actor Simon Axler (Oscar Winner Al Pacino).
Simon, an aged and addled actor has his world turned upside down when he falls off the stage into the orchestra pit. He slides into an intense depression and dementia, leading to a spell in a psychiatric facility. Upon his release he agrees to continue therapy and swears that he is giving up acting. While recuperating and under observation from his psychiatrist, he embarks upon an affair with a much younger woman, Pegeen (Greta Gerwig), the daughter of his old friends (Dianne Wiest plays Pegeen's mother.)
If the story sounds tame, one has to remember that this is Philip Roth's work, adapted to the screen by Buck Henry. So, Pegeen turns out to be a lesbian. Simon begins having difficulty distinguishing reality from his acting. And things get weirder.
Those familiar with the work of author Roth will be glad to view his occasional absurdist but insightful view of life in this latest film adaptation of his 2009 book THE HUMBLING. The best segment has Alex confronting a black male stranger on his property only to find it to be his lesbian's lover's ex after she had undergone an operation. Yes, it is complicated. The other hilarious parts are the encounters between Alex and a disturbed woman who he had met in hospital who keep insisting that Alex kill her child abusive husband. Roth's outlook on life is as odd but never boring.
Pacino is nothing short of fantastic in this role, never overplaying it, proving that he still has the chops for acting. He invokes sympathy while never comes across as annoying.
But the main joy derived from the film is its black humour. Director Levinson (DINER, RAIN MAN, BUGSY, WAG THE DOG) milks humour out of every segment and the result is hilarity mixed with a bit of satire on life.
The appropriate ending when the audience has to judge whether Alex the actor has achieved triumph or failure echoes the statement on the fine line between craziness and genius.
THE HUMBLING and the recent BIRDMAN are both films about older, has been theatrical actors. While BIRDMAN (which I hated) had to resort to the use of fantasy (such as BIRDMAN flying) to get its message across. THE HUMBLING, thankfully need not. THE HUMBLING is more rooted in reality, be it absurdist reality.
Trailer: https://www.youtube.com/watch?v=DTUn5qP8ECs
LEVIATHAN (Russia 2014) ***** Top 10
Directed by Andrey Zvyagintsev
Winner of the Best Screenplay prize at Cannes in Un Certain Regard, and the Golden Globe for Best Foreign Film, LEVIATHAN is yet another tale, loosely based on the Book of Job but set in the coastal town of the Barrents Sea in Russia.
Weather-beaten patriarch Kolya (Alexey Serebryakov) lives with his teenage son Roma (Sergey Pokhadaev) and second wife Lilya (Elena Lyadova). Their idyllic homestead harbours deep-rooted familial resentments that are aggravated by the aggressions of the local mayor Vadim (Roman Madyanov), a drunken, corrupt bureaucrat set on grabbing their land for himself. He replaces the role of God in the story of Job. Kolya calls in his lawyer friend Dmitri (Vladimir Vdovitchenkov) from Moscow, but this defensive tactic triggers a series of dramatic events. (Sark humorous lesson here - Never trust a lawyer, and worse never trust a lawyer who claims to be our friend!)
Unlike the other recent films on Job, like the recent A SERIOUS MAN by the Cohen Brothers, Andrey Zvyagintsev's (THE RETURN) tale is drop dead serious but rich occasionally in dark black humour. The best scene has Kolya and son Roma kidding at why lawyer Dmitri took so long to arrive. "Did you lay a cable or find a good book to read?" They joke unaware that the reason Dmitri is late is that Dmitri was screwing Kolya's wife. The other best scene has the drunk major show up at Kolya's house only to find an equally drunk Kolya before they start an argument.
But it is also the stunning cinematography by Mikhail Krichman (check out the jag on the poster) which gives a pensive and lyrical atmosphere to the story. Though the film lasts around 2 and a half hours, the film hardly feels it as the events flow so smoothly proving Andrey Zvyagintsev not only a master storyteller but master filmmaker. The Best Foreign Film and top 10 films of 2014!
Trailer: https://www.youtube.com/watch?v=2oo7H25kirk
STILL ALICE (USA 2014) ***
Directed by Richard Glatzer, Wash Westmoreland
STILL ALICE, based on the book by Lisa Genova, tells of renowned linguistics professor Dr. Alice Howland (Julianne Moore). Diagnosed with early-onset Alzheimer's, Alice learns the art of losing every day.
The side plot of her connecting with her youngest daughter, Lydia (Kristen Stewart) works well into the tory, bringing out the nuances of Alzeimer's as well.
Directors Richard Glatzer and Wash Westmoreland (THE FLUFFER, THE LAST OF ROBIN HOOD) mount a handsome and assured dramatic piece which is almost faultless in its execution. The film begins with a family dinner with what looks like a dysfunctional family gathering. But under closer observation the dysfunction of the family is the least of the problems that is to occur. The drama intensifies in what is a well paced film, climaxing in Alice's lecture that she decides to give despite her ailment. When she lectures, the audience is one edge as much as in any suss thriller, for fear that she will make a mistake.
Being a scientist/neurologist, the film looks at the disease from its conception to its late stages. Explanations are given as well as coloured charts (to the characters and hence, to the audience) so that the audience can get a clearer picture. The turning point appears to be the point when Alice wishes to go pee but cannot find the washroom. This same point is mentioned too in the recent documentary GLEN CAMPBELL: I'LL BE ME, when the country singer pees in the corner instead of the toilet.
Julianne Moore delivers an Oscar winning performance as Dr Alice Howland, far outmatching her crazed role in MAPS TO THE STARS. This role requires her to demonstrate quietly a difficult position. Her facial expressions, body language and speech all demonstrate different aspects of acting.
Every one should know at least one person who suffers from Alzheimer's, thus making the film very relevant. My late grandmother and late mother both suffered from Alzheimer's. Though my mother never reached the stage of forgetting where the bathroom is, the film brings back sad memories. In the film, the point was made that if one loses ones memory, then one loses everything. Though STILL ALICE is fiction, its is based on accurate source material and what transpires is a very sad and realistic portrait of the suffering the victim, family members and friends have to go through. An inspiring but sad film!
Trailer: https://www.youtube.com/watch?v=ZrXrZ5iiR0o
WHY DON'T YOU PLAY IN HELL? (Japan 2013) **
Directed by Sion Sono
Sion Sono (LAND OF HOPE, STRANGE CIRCUS) has made quite the name for himself as a renegade director of over-the-top violent energetic violent films. WHY DON'T YOU PLAY IN HELL? is the first to get a commercial release in Toronto, but is this a good thing? His film displays a manic energy but it is bad energy all over the place. Take a look at the film's plot.
The film begins with a beautiful, little girl, Mitsuko, in a toothpaste commercial, singing her heart out. Four hit men from the Kitagawa yakuza gang try to slaughter her dad, Taizo Muto, head of the other yakuza Muto clan. They fail after Mrs. Muto, Mitsuko's mother, starts knifing them to death and then put to prison. Meanwhile, while director Son manically intercuts another plot into his story with the Fuck Bombers, four teens who dream of making an action masterpiece, start shooting their epic. They don't get very far. And if the film does not get even more confusing, it jumps a decade ahead. Mrs. Muto is now about to be released from prison in ten days, and all she can dream about is seeing the movie starring her daughter that Taizo has been telling her about. The Fuck Bombers, who are still together, are called into action. Their task: Complete a film before Mrs. Muto gets released or face death. Also, instead of hiring actors and utilizing a screenplay, an actual battle with swords between the Muto and Kitagawa gangs will be the centerpiece of this extravaganza.
The climax of the Sono's film is the actual battle between the two yakuza factions. There are lots and lots of blood, dismemberments and dislodged heads. But beware! There are some really nasty scenes like the one where the grownup Mitsuko stuffs broken glass into the mouth of an ex-boyfriend and then tongue-kisses him while her fake boyfriend for the day, Koji, a gentle soul, watches in shock.
If one likes lots of action and blood, Sono's film is fun, harmless fun in away. But there is no character development, plot development or any logic to the story.
WHY DON'T YOU PLAY N HELL? is over-the-top with an unbelievable plot made up of too many subplots. It contains acting in which the actors mostly scream, jump about like monkeys and over act half the time. There is no discipline in what Sono puts on screen. At one point the protagonists screams: lets make a masterpiece, a damn good movie." This film is definitely not! His film is all over the place, a mess and a major irritation. One of the greatest mysteries is how this film won the Toronto International Film Festival Midnight Madness Audience Choice Award Obviously, I am missing something!
Trailer: https://www.youtube.com/watch?v=wr03JVWdCks
BEST BETS:
Best Drama: Inherent Vice
Action: The Hobbit: Battle of the Five Armies
Foreign Language: Leviathan (Russia)
Animation: Paddington
Comedy or Musical: Into the Woods
Best documentary: National Gallery and The Wrecking Crew