29
Jan
2015
Details

Category: Movie Reviews
Written by Gilbert Seah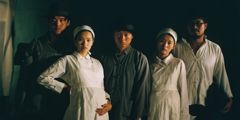 TIFF Cinematheque presents - The Films of Hou Hsiao-hsien
Hou is foremost one of the most acclaimed and respected living directors today. Being Taiwanese, he ah promoted culture and knowledge of his country. His films are mostly period epics that depict the hard life of simple Taiwanese folk who often go around wearing shorts, singlets and slippers.
This complete retrospective offers an invaluable opportunity to discover a body of work revered for its humanism, complexity and contemplative beauty.
This internationally touring retrospective is organized by Richard I. Suchenski (Director, Center for Moving Image Arts at Bard College) in collaboration with Amber Wu (Taipei Cultural Center, NY), Teresa Huang (Taiwan Film Institute), and the Ministry of Culture of the Republic of China (Taiwan).
For complete program listing, venue information and ticket pricing please check the TIFF cinematheque website at:
http://tiff.net/winter2015-cinematheque/good-men-good-women-the-films-of-hou-hsiao-hsien
CAPSULE REVIEWS OF SELECTED FILMS:
THE BOYS OF FENG KWEI (Taiwan 1983) ****
Directed By Hou Hsiao-Hsien
Reported as Hou's favourite film, THE BOYS OF FENG KWEI is the direct translation of the Chinese title though the film is also known under the title ALL THE YOUTHFUL DAYS. The film has a more free-flowing structure compared to Hou's other films though just as effective as a reflection on youthful life. The chief protagonist is Ah-Ching (Doze Niu). He and his friends have just finished school in their island fishing village of Fengkuei, and now spend most of their time drinking and fighting. After beating up a guy on the head, the local police are hunting them down. So, the three of them decide to go to the port city of Kaohsiung to live at his uncle's abandoned home while working. Ah-Ching is attracted to the girlfriend of his cousin. As they undergo their youthful adventures there, they also face the harsh realities of the big city and of growing up. Less a coming-of-age film, the film reveals the way Taiwanese youth live, and a good comparison can be made with this film and Hollywood angry youth films such as Coppola's THE OUTSIDERS and Lucas's AMERICAN GRAFFITI.
DUST IN THE WIND (Taiwan 1986) ****
Directed by Hou Hsiao-hsien
This is the final part of Hou's trilogy on coming-of-age based on the personal experiences of scriptwriter Wu Nien-jen (after A SUMMER AT GRANDPA'S and A TIME TO LIVE, TIME TO DIE). PUPPETMASTER'S Li Tianlu has a small but important role as Ah-Yuan/s grandfather. The film is the love story about a young couple , Ah-yuan (Wand Chine-wen) and Ah-yun (Xin Shufen) from a village in the northern-east part of Taiwan. The boy, Ah-yuan goes to Taipei to work after graduating from junior high school so he can earn money to send home. The girl, Ah-yun follows him the next year and they work hard to earn enough money to marry. Then Ah-yuan must spend three years in the military and the girl marries someone else. Although Ah-yuan regrets what happened he does not blame Ah-yun. In the process, Ah-yuan learns bout the importance of family, love, education, work and money. It is a very personal tale, and told very emotionally and personally. The feelings and experiences of the couple are deeply felt. The film is also exquisitely shot from the famous shot of a train emerging from a tunnel and a similar looking one in the mining accident segment to the green countryside of Taiwan.
GOOD MEN, GOOD WOMEN (Taiwan 1995) ****
Directed by Hou Hsiao-hsien
GOOD MEN, GOOD WOMEN is the last of Hou's trilogy of films (after A CITY OF SADNESS and THE PUPPETMASTER) dealing with Taiwanese issues of history and politics. But it stands alone and can be seen without knowledge of the other two. The film is exquisitely shot and lit, the start in black and white when the men and women walk through the country to reach their destination in China. The segment looks just like an old chinese photograph. The desperation of the times is made more authentic as the story is a real one, of Chiang Bi-Yu (Annie Shizuka Inoh). In the 1940s, she and her newlywed husband, Chung Hao-Tung (Giong Lim), head to mainland China to join the anti-Japanese resistance. During the war, she is forced to give her baby for adoption. After the war they return to Taiwan, as Chung is to distribute a communist paper called "The Enlightenment". However, as the Korean War deepens, Chiang Kai-Shek's Kuomintang regime intensifies the White Terror and Chung is eventually executed. But Hou's decision to include three intermingling storylines and scattered throughout the film are interludes of an actress (also played by Inoh) who prepares for the role of Chiang Bi-Yu, and also confronts her deceased boyfriend's past tend to be a bit confusing unless one knows of this before viewing the film. Hailed by many critics as one of Hou's masterpieces, it is an excellent film indeed, though masterpiece is a pretty strong superlative to be used to describe the film.
Trailer: https://www.youtube.com/watch?v=7TA7C7rYt1g
MILLENNIUM MAMBO (Taiwan 2001) ****
Directed by Hou Hsiao-hsien
A beautifully shot film with arresting images that tells the on, off and on again relationship of two slackers Vicky and Hao-Hao. They drink and smoke too much while Hao smokes up his bong too often. Both are good looking, jobless but they rent an apartment in Taiwan. He pays the rent by borrowing money and at one point stealing his father's Rolex. She helps by working as a hostess at a club where she meets both Jack and a Japanese DJ from Hokkaido. The fight scenes are compelling to watch as Hou captures the reality of the human weaknesses. The film is told mainly by voiceover and from Vicky's point of view. But one knows that the relationship will always be a troubled one. Vicky always ends up leaving Hao-Hao while he finds her and convinces her to come back. The film has a loose narrative which makes it a bit difficult to watch. But the reward is well worth it. The drama all feels too real to be comfortable, but Hou has made get another amazing classic, this time set in the youthful world of drugs, clubbing, music and romance.
Trailer: https://www.youtube.com/watch?v=cZZRfiEzCUQ
THE PUPPETMASTER (Taiwan 1993) ***
Directed by Hou Hsiao- hsien
THE PUPPETMASTER is a period piece detailing the life of Taiwan's most famous puppeteer, Li Tianlu while working under difficult conditions when Taiwan was under the Japanese Occupation. The film ends when the Japanese surrendered. A sprawling art film, stunningly shot and staged often with static camera, this is the middle film of Hou's trilogy (after A CITY OF SADNESS) of films dealing with Taiwanese issues of history and politics. The film integrates documentary interviews with its real life subject and fictional recreations of moments in his life. Li talk to the camera and brings perspective and narrative to the film. Li's life is lived under various forms of oppression, from abuse in his youth by his stepmother to trouble with performance under Japanese rule. The film shows how he adapts as the Taiwanese spirit remains unbreakable. Li is shown too, as an imperfect man subject to humanistic flaws such as siting a local brother and having a mistress. THE PUPPETEER is a slow, contemplative but beautiful film.
A SUMMER AT GRANDPA'S (Taiwan 1984 ) ***** Top 10
Directed by Hou Hsiao-hsien
The first and best (and my personal favourite) of Hou's coming-of-age trilogy of Taiwanese life. The boy, Tung-tung and his sister are sent to spend a summer at grandfather's in the countryside as their mother is very ill and unable to look after them. There Tung-tung learns about life through startling experiences. His uncle (mother's brother and grandpa's son) is ostracized after getting his girlfriend pregnant. He witnesses a theft in which the victims gets his head crashed with a rock. He also sees the near close death of his little sister on the railway tracks saved only by at the local mad woman. Tung-tung is still very young and unable to piece everything together. His grandfather offers him advice near the film's end which he cannot understand. But the audience can. A beautiful coming-of-age film that is simple, elegant and masterful.
THE TIME TO LIVE, THE TIME TO DIE (Taiwan 1985) ***** Top 10
Directed by Hou Hsiao-hsien
Hou's best and most accessible film is a coming-of-age autobiography that follows the childhood and teenage years of a young man named Ah-ha set in in the Taiwan countryside. In the story, Ah-ha moves to Taiwan at a very early age when his father accepts a government position upon the island. The family endures, despite serious financial difficulties that lead several of his older siblings to compromise their dreams for the sake of the common good, and cause increasing tension between the family members. Hou keeps returning to the scene of a big tree by the wall that leads to the entrance to the family house. The grandmother keeps getting lost and brought back to the scene. Ah-ha as a boy hides stolen money by the tree. It is a very serene comfortable scene and very moving whenever Hou returns the story to it. The drama is unbelievably real and effectively felt here, unlike in most Hollywood films. Even more moving are the several deaths that occur - first the father followed by the mother and grandmother. At one point, the hardened Ah-ha who has becomes quite the gangster is shown broken down with tears rolling down his cheeks. This is a really moving daily drama that also reflects the way Taiwanese live in the rural countryside without electricity and other modern amenities. The best segment has an angry Ah-ha going to Mrs. Yen to get back money she had borrowed from his mother, only to end up feeling sorry for her when he sees the poor state o her living. Hou here shows the goodness of man despite his failings. This is one great film!