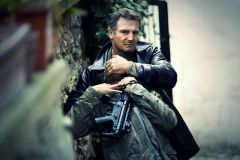 Big films opening include CINDERELLA and RUN ALL NIGHT. There are also a few excellent smaller films opening such as '71 and THE HUNTING GROUND.
FILM REVIEWS:
'71 (UK 2014) ****
Directed by Yann Demange
'71, first screened at last year's Toronto International Film Festival to rave reviews, is a war drama set in the Protestant/Catholic conflict of Belfast. The story concerns a young somewhat naive British soldier by the name of Gary Hook (Jack O'Connell) who is accidentally abandoned in Belfast. Gary is forced to survive in a land where it is almost impossible to distinguish between friend or foe. The dangers of Belfast is first introduced to the audience in a briefing by Gary's Commander, Lt. Armitage (Sam Reid), himself a novice plunged into the unwanted war.
As the war in Belfast is not that well known or covered in North America, the detail that unfolds on screen is not only fascinating but educational. Normal family lives are turned into hell, friends and family are mistrusted, and houses are not homes but refuges that often store weapons and ammunition. Young boys grow up too quickly, forced to take sides with dire consequences. At times, director Demange turns his film into a sci-fi dystopian apocalypse. The chases on screen are as thrilling as any futuristic thriller like BLADE RUNNER. But one cannot forget that the setting is the reality of Belfast, and this is what makes this film unforgettable.
The is a film impressively made by newcomers all round. This is scriptwriter Gregory Burkes's and Demange 's first feature, following some TV work for both. Actor Jack O'Connell has already made a name or himself with the also excellent STARRED UP and Angelina Joli's UNBROKEN. Of the supporting cast, two of the youngest stand out with admirably authentic performances - Corey McKinley and Barry Keoghan. McKinley plays the boy who first appears to Gary as his salvation. Even as a boy, McKinley demands respect from his elders. Keoghan, on the other hand, is on the side of the enemy, but he is too young and forced to shoot Gary in one extended suspenseful segment. Spoiler alert:- One would wish to be able to see more of the two characters, but their actions bring their lives to an abrupt end.
The simple story involves the abandoned soldier, Gary Hook in Belfast after he chases a boy who has picked up a weapon and runs off with it. Beaten up, Gary is almost left for dead. But he escapes and hides in an outdoor latrine. The rest of the film is a cat-and-mouse chase of survival, with his regiment desperate trying to rescue him.
The story includes a bit about Gary caring for his brother in a foster home who he visits occasionally and another bit on his military training. Though the bits could be left out of the story, one assumes they be included to bring in some background and humanity to the Gary Hook character.
Despite the simple story, the film is tremendously effective aided by apt direction and writing, stunning authentic looking cinematography of battle-torn Belfast by Tat Radcliffe as well as nail-biting well edited chase scenes by Chris Wyatt.
But apart from all this, it all boils down to the survival of an innocent individual. One feels for the life of the protagonist. '71 is an impressive debut and a small likely unnoticeable film that should be seen.
Trailer: https://www.youtube.com/watch?v=kIYDNyEkJP4
CINDERELLA (UK/USA 2015) ***
Directed by Kenneth Branagh
After lots of Shakespeare, director Kenneth Branagh now tackles the immortal fairy tale adaptation of Charles Perrault's CINDERELLA. It is a well-known fairly tale made even more popular by the 1950 animated Disney musical of the same name It would do best not to tamper with a classic story, though the writers of the new film, Aline Brosh McKenna and Chris Weitz have taken a few liberties with harmless updates.
The basic story is the same. Cinderella (a very pretty and fresh Lily James) is left orphaned and taken under the 'care' of her wicked stepmother, Lady Tremaine (Cate Blanchett getting star billing) and her ugly stepsisters, Drizilla (Sophie McShera) and Anastasa (Holliday Grainger). Cinderella's mother and father are passed on after 'unnamed illnesses'. Her fairy Godmother (Helena Bonham Carter) grants her coach, gown and glass slippers for the ball. She meets Prince Charming (Richard Madden) and the rest of the story is known to everyone. But the story is given a bit of a different prospective as the voiceover changes from Cinderella's to her Godmother's.
The story is expanded to include quite a bit about Cinderella growing up with mother (Hayley Atwell) and father (Ben Chaplin). The tale also includes a new chance meeting between Cinderella and the Prince while he is hunting in the woods. She imparts some wisdom to him, which he uses to better his character. Cinderella does not sing with the birds - that is Sleeping Beauty, but she does play with the mice in the house.
The musical numbers are limited to the grand ball and the end credits. Cinderella and Prince Charming's first dance is as mesmerizing as the wonder of first love. The special effects are nothing short of spectacular, though this is a not a 3-D (there is a fairy Godmother for movie audiences somewhere) feature. The transformations of mice to white horses, lizards to footmen and goose to coach driver are the best that CGI can offer, and even more when the the transformations are reversed. The colour and magic of the costumes, gowns and pretty countryside all work to create the effects of a fairy tale.
The humour is slight, as evident in the painting segment of Prince Charming. The temptation for Monty Python-ish type humour (as can be found in the Cinderella section of INTO THE WOODS - amputated toe of stepsister to fit the glass slipper) is avoided.
Branagh and the scriptwriters generally play it safe. Blanchett does not have to resolve to crass overacting as her counterpart villainesses did in MIRROR, MIRROR, MALEFICENT and SNOW WHITE AND THE HUNTSMAN. The result is a rather conventional adaptation of Cinderella that no one should complain about. At the same time, there is not that much to get excited about either.
The film is catered more to the family audience with a few messages ("Have courage and be kind") put in for good measure. The film should be good for adults and children alike.
Trailer: https://www.youtube.com/watch?v=LfR8Su4ulX0
THE COBBLER (USA 2014) ***
Directed by Thomas McCarthy
Writer/director Thomas McCarthy is a filmmaker fond of dark comedies. THE STATION AGENT, THE VISITOR and his most recent WIN WIN proves his mettle. His latest project, co-written with Paul Sado is his oddest piece, his only film made with a comedian, who happens to be the incomparable Adam Sandler. In his interviews, McCarthy claims that the fascination of a shoemaker fantasy is what prompted him to make this film.
The story centres on a lonely and lovelorn Jewish shoe repairman, Max Simcin who owns a little shop in NYC that has been past down generations. The only two people in his life appears to be his ailing mother and a friend, the barber (Steve Buscemi) from the shop next door. When Max discovers a magic heirloom in the basement, he finds that he can transform into the different owners stepping into the shoes he has stitched with the machine. Max then decides to become different people to change his mundane life. However, knowing writer/director McCarthy, he lets a dark side creep into the story while keeping the fantasy going. Max ends up doing good, while coming up against a bad lady land developer (Ellen Barkin).
The atmosphere of the little shoe shop in NYC's Lower East Side with all the musty surroundings is effectively captured on screen. Good props are on display here, especially the stitching machine heirloom at work, which is the key magical apparatus in the story. The sad and dark look matches Max's character completely.
Though Sandler is mostly dead serious in most of the film's segments, McCarthy keeps the tone of the film light. The comedy is not provided from Max Simcin's character but from all the characters he becomes when he steps into the different shoes. So, all the supporting characters have to do the comedy that Sandler would have done looking like them. It is an offbeat scenario, but McCarthy makes it work and keeps the laughs strong, for example in the funniest segment when Sandler suddenly turns into an ugly old man in the car he is being kidnapped in.
For Sandler fans, THE COBBLER is very unlike Sandler's juvenile comedies like THE WEDDING SINGER and the GROWN UP films. One must hand it to him for trying different things such as his only serious venture, PUNCH-DRUNK LOVE. Despite the low ratings THE COBBLER has garnished, I found THE COBBLER much, much better than I expected. I had several laugh-out laughs and was totally immersed in this whimsical adult well-intentioned fantasy.
Trailer: https://www.youtube.com/watch?v=kMVGScC0vDA
THE HUNTING GROUND (USA 2015) ***
Directed by Kirby Dick
The film begins (quite unlike a documentary) with the reactions of successful college applicants when they receive the news that they have been accepted to their dream campuses. They are elated with joy. The camera records at least half a dozen of these bouts of joy before revealing that something more sinister is afoot. These campuses also serve as the hunting grounds for sex predators.
After the sexual assaults which more than often result in rape, most of these go unreported. Those that do have their victims being blamed by the campus administrators who wish to have the crime unreported.
THE HUNTING GROUND is a stirring documentary about sexual assaults on college campuses in the United States directed by Kirby Dick and produced by Amy Ziering. Their first documentary THE INVISIBLE WAR which dealt with similar issues - sexual assault in the U.S. military inspired them to make this new film. While statistics of women in colleges (20% assaulted as compared to 50% in the military), the issue is still disturbing. There is more material to play with here, and director Dick uses it to his advantage, though it is for a good cause.
One cannot help but feel sorry for the victims but director Dick does more. He makes the audience mad. By having the interviewed victims cry on camera followed by the news of the suicide of one victim, this is manipulative documentary making at its best (or worse), be it for a good cause.
One particular predator, Florida State University quarterback Jameis Winston, a twice accused rapist getting off with nothing more than a slap in the wrist, gets an entire section in the film. Kirby puts his punitive powers into good use here. Winton might have got away in the past but not in Kirby's film. He is totally put to shame. And the angered audience should be pleased. All the information is derived from Erica Kinsman who publicly speaks about the incident at length for the first time.
The reasons behind the campuses remaining hush on the sexual crimes are examined. The film also follows the victims that turn into activists. The film riles up the anger's audience with loads of statistics of how many predators that got away with mere expulsion from the colleges and climaxes with statistics on how the activism has resulted in named colleges punished by the government for not taking appropriate action. A kind of Hollywood happy ending!
Lady Gaga lends a hand with her song "Till It Happens to You".
The documentary is also formulaic in the way it creates anger in the audience at injustice being done to the victims, and as expected there is a number to call or website to be accessed if one wants to do something solid.
Trailer: https://www.youtube.com/watch?v=GBNHGi36nlM
LOITERING WITH INTENT (USA 2014) **
Directed by Adam Rapp
Producers and writers Michael Godere and Ivan Martin star in their debut feature LOITERING WITH INTENT. It is an earnest low budget effort about two struggling artists in New York who are distracted by an assortment of odd friends and family. Every character has a problem of some sort, but the problem is that these are clearly written into the script, not really realistic problems and not ones that audiences will care for anyway.
Actor buddies Raphael (Martin) and Dominic (Godere) go on a retreat in the country to write a script that obviously includes characters they can play. The cabin in the country is owned by Dominic's sister, Gigi (Marisa Tomei). But Gigi is kind of neurotic, falling for the advances of Raphael, while still having feelings for her ex. Her friend Ava (Isabelle McNally) comes into the picture as does her ex, an even weirder ex-military, Wayne (Sam Rockwell) and his surfer brother, Devon (Brian Geragty).
On paper, the film appears that it has plenty to go on. But flaws overcome Godere and Martin's intentions of an impressive debut. For one, their characters are annoying slackers. It is totally predictable that the script that they write reflect their real lives. It has all been done before, art imitating life (many Woody Allen films). The film just rambles along with pseudo dramatic set-ups punctuated with cheap jokes and occasionally happy moments.
Martin and Godere can barely carry the movie on their shoulders. The only two well known names in the cast, Tomei and Rockwell (who also co-produced the film) fare better, creating contrasting and more compelling scenes whenever they appear. The film's best segment is the one with both of them in confrontation. Newcomer Geraty is surprisingly good as the clueless surfer who somehow has all the luck in the world on his side. This is the freshest character in the script.
Though there is nothing really wrong with the film, there is nothing much to get excited about either. No one really cares about any of the characters and the script does not try too much to make one feel sympathetic either. The result is a so-so film that goes nowhere and nowhere slowly, unintentionally reflecting the careers of Raphael and Dominic.
Trailer: https://www.youtube.com/watch?v=tQiDpAspH6Y
MERCHANTS OF DOUBT (USA 2014) ***
Directed by Robert Kenner
Documentarian Robert Kenner (FOOD, INC) takes on in his latest feature the MERCHANTS OF DOUBT, professional skeptics, whose services are bought and paid for by corporations, think tanks and other special interests to cast doubt and delay public and governmental action on climate change. The main targets in Kenner's film are the tobacco companies and oil companies. The battleground is to have the public doubt global warming and the dangers of smoking. The delays in the public learning the truth is enough for these companies to generate profit during the interim. Kenner has assembled quite the impressive interviewee list but he concentrates on three. One is the enemy Marc Morano. "I'm not a scientist, but I play one on TV," says Marc Morano, a man frequently cited as a specialist on climate change who goes down so dirty that he writes death email threats to the scientists claiming climatic controls. On there other side, he lets Dr, James Hansen speak on how frustrating it is to have he public believe that the truth has been hidden from then. The third is Congressman Bon Inglis who has crossed the political divide once he learns the truth. It is a film that will make you both angry and surprised at the state of deception carried on by big corporations.
Trailer: https://www.youtube.com/watch?v=j8ii9zGFDtc
RUN ALL NIGHT (USA 2015) ****
Directed by Jaume Collet-Serra
Liam Neeson has had a good run of actions film as of late despite his age. Neeson is non-stoppable. Is there any logic in the filmmaking world? Within a month of release of the successful TAKEN 3, a similar actioner surfaces in which a man has to protect his family from mobsters.
But Spanish director Jaune Collet-Serra (UNKNOWN, NON-STOP, ORPHAN) who also co-produced the movie, is one step up from Neeson other action blockbusters. In fact RUN ALL NIGHT is one of Neeson's best.
One of the reasons is the impressive cast that includes Joel Kinnaman (a rising Swede star in American films), Ed Harris (his nastiest since A HISTORY OF VIOLENCE) and Vincent D'Onofrio (most memorable as the recruit who shot himself in FULL METAL JACKET). The other is the continuity of the action scenes, a rarity in films these days with quick edits and chops with many bad chases shot where the audience has no idea where everything is. In RUN ALL NIGHT one chase takes place with predator and prey hopping over fences in the backyards of houses. The camera is quick to show the start end and middle of the case. The car pursuit of Jimmy's car with the police cruiser is also expertly shot. The action sequences are lengthier than in the average action film. Collet-Serra never seems to keep his defences down. It is of the one action sequence after the other. The fight scenes are also above average. Collet-Serra demonstrates how difficult it is to kill another human being, as in the subway toilet segment when Jimmy takes ages before strangling Frank to death. This is intercut with Jimmy's son, Michael dodging way his pursuers. It is not since Don Siegel (DIRTY HARRY, CHARLIE VARRICK) that I can remember for such totally absorbing action scenes.
Collet-Serra is fond of aerial zoom shots as he takes action from one part of NYC to another. He is don of sleazy establishments like the bar that Jimmy drinks at or the boxing gem tat his son Michael trains at. The film's score is layered. The action segments contain lyrics to a song, often satirical to what is occurring coupled with pounding beats and layered with noise in the background.
The story is relatively simple, but added with subplots to enhance credibility, to invoke emotion and highlight drama. It is also a tale of loyalties and redemption. Jimmy Conlon (Neeson) has done many bad things in the past with crony Sean (Harris). In an accident, Jimmy shoots Danny who is about to shoot his own estranged son, Michael (Kinnaman). Sean goes after Michael for revenge, with all he has got. Jimmy also goes all out, to get Sean in order to protect his son. All the action takes place within the time span of 16 hours, just before night fall and running into the early hours of the morning forming the film's climax.
The script imposes taut segments with confrontations involving quotable dialogue. "Wherever we are going, when we cross that line, we are going together, me and you," says Sean to Jimmy in an early friendly conversation only to be repeated after when things fall apart. The film also captures the emotion at hand. Sean effectively describes his wishes of seeing Jimmy's empty eyes after knowing his son is dead before shooting Jimmy. The climax of the film involving Jimmy's confrontation with an almost unkillable professional assassin (Common) is nothing short of edge-of-the-seat suspense.
The suspense segment in which Michael's brother-in-law is hiding the crayons from 2 killers who have invaded his home to kill Michael's family would make Hitchcock proud.
RUN ALL NIGHT is an excellent taut thriller. Despite a few minor flaws (exaggeration of certain events), Collet-Serra has proven himself a master of the action thriller as well as the horror genre.
Trailer: https://www.youtube.com/watch?v=7uDuFh-nC-c
THE PRICE WE PAY (Canada 2014) ***
Directed by Harold Crooks
The subject on display here is tax evasion. Director Harold Crooks (SURVIVING PROGRESS, THE CORPORATION) tackles the dirty world of corporate malfeasance with this incendiary documentary about the dark history and dire present-day reality of big-business tax avoidance, which has seen multinationals depriving governments of trillions of dollars in tax revenues by harbouring profits in offshore havens.
Very well organized with a slew of informed international experts Crooks takes his audience on an informative journey as he analyzes the origins, damaging repercussions, and complex moral issues arising from corporate tax dodging. Tracing the increase in off-shoring of corporate assets to the City of London in the sixties, and charting its dramatic rise in the eighties during the Thatcher and Reagan administrations, Crooks follows the thread through to the present day, where tax avoidance has directly contributed to the dominance of the "one percent" and further deepened income disparity and wealth inequality.
If the purpose of Crooks is to rile up the audience to action, he succeeds. The protestors on screen serve to promote his message.
Trailer: https://www.youtube.com/watch?v=k3bvuKuiaiI
THE SEARCH (France/Georgia 2014) ****
Directed by Michel Hazanavicius
THE SEARCH, first screened at Cannes is supposed to be a remake of the Fred Zinnemann 1948 film about WWII concentration displaced children but the setting is completely different. It is set during the Chechnya War in 1999 when Putin was (and still is) the President of Russia.
THE SEARCH begins with a totally black screen when a soldier first finds a video camera and attempts to get it to work. He films a horrific incident of the mother and father of a family being slaughtered by Russian soldiers for entertainment. The 9-year old son escapes with his baby brother while his sister searches for him. This is THE SEARCH of the film's title. Many, including myself are unaware of this war and its effects.
The film contains twin stories that are intercut though their time lines are different and revealed at the film's end as sort of a clever plot twist.
One story sees a young Russian teen, Kolia, recruited for military duty. Kolia's morals are compromised by the facets of war as he transforms from a normal teenage boy into a ruthless killing machine that embodies no hope of redemption. He learns to kill innocence and leave what's left of his childhood behind. This serves to explain the horrors that have resulted in the Chechnya War.
The other story follows orphan Hadji, a young lad who witnesses his family's murder by the soldiers at the beginning of the film. Hadji flees his home in search of someplace safer and is reluctant to be picked up by refugees and taken to an orphanage. He does not know however that his teenage sister, Raissa, managed to survive. She begins to search for Hadji, whom she believes is still alive. Hadji is aided by human rights worker, Carole played by the director's wife Berenice Bejo.
Both stories are equally important and pressing as well as equally compelling.
The theme of Europeans ignoring the humanity problems in Russian states is not a popular one, which might account for the reason for the film's lack of success. (But film was selected for TIFF.) This theme of non-involvement is emphasized in the meticulously shot film's best segment. Carole delivers her well prepared speech to the U.N. where a number of members show disinterest. One strolls in late into the room and exchanges greetings during her speech while another appears texting and yet another dozing off with his eyes open. It is a powerful scene which emphasizes how much needs to be done to influence a select few.
Hazanavicius' film shows moments of great sensitivity in simple scenes like Hadji's first hugging Carole or his first scream of joy when he meets his sister. Hazanavicius could have gone for the tears but holds sentiment back. The result is a clear message delivered in a very tasteful and carefully thought of film.
It is difficult to fathom that it is the same director Michel Hazanavicius who made the light and entertaining Oscar Winner THE ARTIST and the spy spoof OSS 117 comedies. THE SEARCH is deadly serious, makes its point and hits the audience hard in the message across.
Trailer: https://www.youtube.com/watch?v=GcimmToPFR0
BEST BETS:
Drama: '71
Action: Kingsman: The Secret Service
Foreign Language: Wild Tales (Spain/Argentina)
Animation: Paddington
Comedy : What We Do in the Shadows
Best documentary: The Hunting Ground