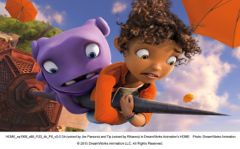 Family or crass humour? Dreamwork's HOME opens as well as the comedy GET HARD. Two excellent foreign films WHITE GOD (Hungary) and THE RESURRECTION OF A BASTARD (Netherlands) are definitely worth a look.
FILM REVIEWS:
BOYCHOIR (USA 2014) ****
Directed by Francois Girard
There is much to enjoy and appreciate in the well-made BOYCHOIR, a drama that centres on 11-year old Stet (Garrett Wareing). It is a coming-of-age film, a story of redemption of his father (Josh Lucas), a musical film centred on choir singing (very rare these days) and an overall feel good movie.
Stet is an angry 11-year old who can sing like an angel. Left an orphan after his mother is killed in a car accident, Stet is set up by his wealthy father who had abandoned them both, in an East Coast musical boarding school. The father has a family with a wife and two daughters and does not want his illicit affair to come to light. Stet is upset with life but is smart to realize that the school and his gift of singing is his only way out. But Stet finds himself at odds with Choirmaster Carvelle (Dustin Hoffman), a disciplinarian of the old school. But Carvelle recognizes something in Stet's voice, and pushes the boy. It is perfect drama when two hard headed characters come into confrontation. Carvelle tells Stet off that he has squandered his talent while Stet calls Carvell an old man whose clock is ticking.
The cast is nothing short of perfect. Hoffman is still likeable while being as stern as stern can be. Kathy Bates steals avery scene she is in, as the head of the school while Eddie Lizzard is a disgruntled egoistic fellow choir director. Newcomer Wareing is a complete angel in his role that wins the audience's sympathy and love.
The only complaint is that the story is a little similar to the old 1962 Disney film ALMOST ANGELS (alternatively titled BORN TO SING in the U.K. and Singapore where I had seen the film). That film centred on the Vienna Boys Choir and also had a subplot involving the enmity between the two best young choirboys. The story also involved problems with the boys changing of their voices at the age of 12 when they can no longer sing in their falsetto voices. This problem is overlooked in BOYCHOIR except for one or two brief segments when Stet is told off and the other when he wonders why the rigorous training when all that has been learnt will be rendered useless once his voice changes.
The film builds up to a good climax with Stet singing the solo part in Handel's Messiah, a piece that everyone loves to hear, time and again.
This is Canadian director François Girard (THIRTY TWO SHORT FILMS ABOUT GLENN GOULD, SILK, THE RED VIOLIN) best film. Don't let the film's family label discourage you from viewing this film. BOYCHOIR is an assured piece of filmmaking in all departments, and pardon the pun, hits all the right notes.
Trailer: https://www.youtube.com/watch?v=6dX47YOLyRs
HOME (USA 2015) **1/2
Directed by Tim Johnson
The image of the furry fat cat (called Pig in the film) resting on the head of pudgy alien Oh (voiced by TV's THE BIG BANG THEORY Jim Parsons) says it all. The filmmakers are aiming at cuteness which is so apparent from start to end that it encompasses everything to the point of too much.
The film deals with an alien race called Boovs who are always on the run to take over other planets in their escape from the Gorg, who for some reason (revealed only at the film's end) are always after them. The Boovs take over Earth. When Oh, (Parsons) a Boov, lands on Earth and finds himself on the run from his own people, he forms an unlikely friendship with an adventurous girl named Tip (Rihanna) who is on a quest of her own to find her mother (Jennifer Lopez). Through a series of comic adventures with Tip, Oh comes to understand that being different and making mistakes is all part of being human. And while he changes her planet and she changes his world, they discover the true meaning of the word HOME.
Tip and Oh begin their relationship with mutual disgust. But since they are not of the same species, the audience is at least spared from a silly romance. The one of friendship that ensues is at least tolerable.
The voice characterizations by Steve Martin as Captain Smek and Jennifer Lopez as Tip's mother are barely recognizable. Parson's is instantly recognizable from his squeaky voice and smug remarks from The Big Bang Theory. But these are no match to the comedic genius of Mike Myers, Eddie Murphy and Antonio Banderas in the SHREK films.
For a 3D film, with a theme of aliens taking over the Earth with a mother ship, there is plenty of opportunity of explosions and debris to be splattered out of the screen. The film is quite manic in noise and images which might not be the best film to to go to on an early morning. The kids during the promo screening appear pleased, judging from the way they added to the film's soundtrack.
The target audience for the film are younger children as the cuteness and colourful images should entertain with a story easier to comprehend. The message is also cute and applicable to the younger impressionable years. Adults have to contend with the goofiness for their humour and entertainment.
Director Tim Johnson is well known as the director of ANTZ and OVER THE HEDGE, ok animated features but nothing too special like the THE LEGO MOVIE, SHREK or the recent PADDINGTON. Dreamwork's last disappointment THE PENGUINS OF MADAGASCAR seems set for Dreamworks to play safe and rehash the formulaic safety in HOME. Cuteness, lots of mindless special effects, a plot involving saving the world, message on meaning of true friendship and ok songs, a few of which were already used hits. The beginning of HOME when Oh remarks "Today is the Best Day Ever", together with accompanied song is a complete rip-off of the success of the formula of the song "Everything is Awesome" in THE LEGO MOVIE.
Like Oh says many timesharing in the film in broken English "We are safety!" But Dreamworks may still have a hit by these standards.
Trailer: https://www.youtube.com/watch?v=MyqZf8LiWvM
IT FOLLOWS (USA 2014) ***
Directed by Robert David Mitchell
David Robert Mitchell's (THE MYTH OF THE AMERICAN SLEEPOVER) second feature has a simple premise. A person is stalked by another for the purpose of murder. No one can see the stalker except the stalked unless this curse is passed on to someone else through sexual intercourse. The plot sounds nothing short of absurd, but Mitchell makes it all believable by creating a real scary atmosphere complete with sounds and a haunting repetitive 5/4 time signature soundtrack score.
The latest victim is nineteen-year-old Jay (Maika Monroe) stuck with the sexually transmitted serial haunting. In the light of day, she is stalked, followed, and attacked by terrifying, half-naked figures that none of her friends can see. Jay eventually passes it to someone else who is willing to take the risk for her (or rather have sex with her for the price of death). Monroe is quite drop dead gorgeous.
IT FOLLOWS is basically a cheap rip-off of the zombie movie. It is cheaper in IT FOLLOWS as there in only one zombie needed and with minimal make-up. And the person playing it changes, so that if there is a sequel, another low paid newcomer can be hired.
Though a bit slow paced for a horror film, director Mitchell keeps the scares coming steadily. Horror fans will be pleased.
Trailer: https://www.youtube.com/watch?v=QX38jXwnRAM
QUEEN & COUNTRY (Ireland/France/Romania 2014) ***
Directed by John Boorman
John Boorman's (DELIVERANCE, THE GENERAL, ZARDOZ) long awaited sequel to his 1987 award winning critically acclaimed autobiographical HOPE AND GLORY took more time to hit the big screens than the boy character, Bill got to grow up.
Bill Rohan (Callum Turner) is now 18 and at the start of the film, called in for 2 years of National Service. He befriends Percy (Caleb Landry Jones) on the first day of their conscription in what Bill (who loves the cinema) describes in Humphrey Bogart terms as: 'the beginning of a beautiful friendship'. Though Percy ends up as quite the troublemaker, they stay true to their friendship, which is a high point in the film.
Just as the two who are in commando basic training never get to be shipped overseas to fight (they are posted as typing instructors for military clerks), the film never sees any battles on the war front. As such, QUEEN & COUNTRY turns out to be a post war film with the only war going on being the Korean war in the background. The main battle they fight is the one against their superiors, notably a by-the-book regimental sergeant major, Bradley (David Thewlis of NAKED and HAPPY POTTER) and Major Cross (Richard E. Grant). Major Cross is always cross and his name hints at the humour derived from the character of Major Major Major Major in Joseph Heller's satirical war novel CATCH-22 made into the Mike Nichol's film.
The film is beautifully shot bringing to life the period setting of post-war Britain of 1952. Boorman's film is entirely watchable and easy to follow. But the trouble is that the film appears to lead nowhere. But it may be argued that this is an autobiographical story about Bill growing up, finding romance in the oddest of circumstances and him finding life's bearings. But the film would benefit from a stronger narrative. Humour is provided primarily by Pat Shortt as the skiver Redmond.
The big plus of the film is the depiction of post war trauma in a post war film that contains no battle scenes. The victim in this case is RSM Bradley who has covered up his post world war II stress by following very military order by the last letter till he is uncovered by the said two heroes. The one scene in which Bill visits the RSM in the military hospital is a very sad and real tragedy of post war trauma.
The young actors Turner and Jones make up a believable troublemaking duo. While HOPE AND GLORY has Sarah Miles and John Hayman, Thewlis and Grant here steal the show. Sinead Cusack takes over the Sarah Miles role as mum while Hayman reprises the role of the father. Discerning cineastes will also be excited when they notice the framed family photo of the original cast from the opening credits of Hope and Glory in the background of scenes in the living room of the Rohan home.
Boorman who eventually grew up to become the great film director that he is today is shown as Bill toying around with a camera at various points in the film. It is a fine nostalgic look at how he blossomed into the director of film classics like DELIVERANCE and HOPE AND GLORY. QUEEN & COUNTRY is a worthy tribute of a filmmaker on himself without too much ego thrown into the process.
Trailer: https://www.youtube.com/watch?v=y5oVLWqRSUU
THE RESURRECTION OF A BASTARD (De Wederopstanding van een Klootzak)
(Netherlands 2013) ****
Directed by Guido van Drie
Opening the 2013 Rotterdam Film Festival and wowing cinema art-house audiences since then, the oddly titled THE RESURRECTION OF A BASTARD is based on director Guido van Driel's 2004 graphic novel Om mekaar in Dokkum. The film feels like a Tarantino film in sedate mode and this is a good thing. The bastard of the film title is shot and left for dead but is given a second chance (his resurrection).
The first 20 minutes of film show the bastard Ronnie (a larger than life performance by Yorick van Wageningen) as the nicest guy imaginable. He is intolerant of the racial slurs made by his driver, Janus (Juda Goslinger), extremely polite even when served a grotesque looking dish of trout and pomegranates while always quiet and pensive. Janus remarks: "This is not the old Ronnie! He has totally changed". The film flashback to what happened before with the title "The Old Ronnie" appearing on screen.
For what is expected to be a violent film, the graphic violence is minimal. Except for a few scenes of blood (Ronnie lying on toilet floor in a pool of blood), most of the violence is implied but not shown. There are no close-ups of the child slapping, woman hitting or the vacuum sucking out of an eye. But the thoughts are just as disturbing.
The film tells multiple stories. Besides the story of gangster Ronnie working for the really bad man who goes by the name of James Joyce (the late Jeroen Willems,who the film is lovingly dedicated to), there is the one of of Eduardo (Goua Robert Grovogui ), a young asylum seeker from Angola who lives at the refugee centre in Dokkum and who works at a local farm. He is unable to talk about his experiences, but forms a gentle friendship with the farmer's grandson, Manick. Another is an elderly couple who has a vendetta to complete.
Director Van Driel introduces these these characters at random without notice. But before one can complain about the abrupt breaks in the story, it is also good to see how he interweaves all these bits together as the film finally comes together at the end. Small details (like a screwdriver hidden in the drop ceiling or a drawing of a hand and mouth, the coat-of-arms tattoo on a wrist) which appear inconsequential at several points in the film make their re-appearances later on.
The film contains lots of Dutch references that North American audiences are not familiar with. One is the town of Dokkum in the province of Friesland. The history of refugees and the killing of a missionary (Saint Boniface at Frisia which is now part of the Netherlands) are referenced and make important points in the story. Though most of these are explained, one can imagine quite a few jokes that would be lost on non-Dutch audiences.
From the insides of a posh club celebrating an all white dressed party to the evening silhouette of Ronnie riding his bicycle on top of a dam, the film is stunningly shot.
Guido van Drie has crafted a different film - a beautifully shot, well-acted slow paced violent film with a message on redemption told with lots of black humour. And a different film is always welcome.
Trailer: https://www.youtube.com/watch?v=MdGIDbjgF-U
THAT GUY DICK MILLER (USA 2014) **1/2
Directed by Elijah Drenner
Documentary subjects usually take the form of the brilliant (Stephen Hawking in A BRIEF HISTORY OF TIME and the 2013 doc HAWKING), the genius (Alfred Hitchcock), the flamboyant (Gore Vidal in GORE VIDAL: THE UNITED STATES OF AMNESIA) or the notorious (Lance Armstrong in THE ARMSTRONG LIE). This is one of the few documentaries that has been made on a person because he has been so overlooked in life. Dick Miller has been in films too many to count (200 films; 6 decades) and according to director Drenner an actor to be reckoned with. As the documentary reveals, Miller is an actor who is not only talented but one that puts his imprint on the film and makes a valid mark.
Film fans get rare glimpses into Dick's family life, his early days in New York, the move to L.A., his struggles, his process and his artwork. Augmented by animation, illustration, and hundreds of clips, personal home movies, and 47 interviews we can see why "that guy's in everything!"
Miller has worked with important directors like Mike Nichols, Joe Dante, Roger Corman and Steven Spielberg. And he has appeared and shared the screen with Robert De Niro, Jack Nicholson, Arnold Schwarzenegger, Boris Karloff, Ray Milland, Jada Pinkett Smith, Julianna Margulies, Kim Novak, and David Carradine. The doc includes clips from famous films like THE GRADUATE, GREMLINS, EXPLORERS and others that will make one wonder how Miller got so popular.
Miller is now an old man who lives with his wife and an obedient dog. He is still as talkative as ever and the clips from his old films show him performing from a young man to the present.
THAT GUY DICK MILLER is an ok film about an ok actor living an ok life. There is nothing special about this doc but nothing badly wrong about it either. But the novelty of a secondary actor not becoming famous wears thin pretty fast. There is also another story on director Joe Dante that wants to burst out into another movie, as director Drenner emphasizes a lot on what Dante's films represent. If one has time to spend 90 minutes of ones time watching a film about somebody relatively unimportant, then this film might be satisfactory. I think a lot more people would be more deserving of a 90 minute documentary, myself included, than THAT GUY DICK MILLER.
Dick Miller will be in attendance for select opening weekend screenings of the documentary, with special added screenings of classics LITTLE SHOP OF HORRORS and A BUCKET OF BLOOD. That should be a hoot!
Trailer: https://www.youtube.com/watch?v=hSKTIe-HRG8
WHITE GOD (Hungary/Germany/Sweden 2014) ****
Directed by Kornél Mundruczó
Though it's a dog's life, every dog will have its day!
The film begins with a girl on her bike being chased through apparently deserted streets of a city by a pack of dogs. They gain lead on her. The film flashes back to the incidents leading to this state. But the audience is already amazed by the impressive filming. And the animal filming gets even better.
WHITE GOD is a Hungarian film about a girl and her dog. They are separated and the two undergo an exhaustive search for each other. But this is no Disney or Lassie movie. Director Kornél Mundruczó's fable on racism is violent, disturbing and a compelling watch, hidden by a seeming innocent face of the girl and her dog.
Man is shown in all his cruelty. The film has an abattoir segment at the start in which a cow is gutted with its innards flowing out. An inspector's stamp of approval for consumption is matter-of-factly stamped out on the meat. But what follows is even worse than the killing. The abuse of the canines, in the animal shelters in over crowded conditions is nothing compared to the brutal dogfight scene which is almost unwatchable for its sheer cruelty. How the trainers get these scenes shot is beyond belief.
This is the story of both Hagen, the four-legged best friend and 13-year-old Lili (Zsófia Psotta), who is forced to spend the summer with her father in Budapest. The dog is a mutt, not a thoroughbred, which seems to annoy everyone from the dad to his neighbours who call the authorities. It is not clearly explained the reason mutts are hated this much, except for some tax or other that is mentioned in brief. But this serves as a clear metaphor of unaccepted racism.
The father dumps Hagen on the road. Lili then runs away from the apartment to search for her lost dog, that meanwhile gets into quite the bit of trouble. Hagen leads the escape of all the dogs at a shelter, killing several human beings in the process. Hagen is obviously no Lassie.
Hagen is portrayed by twin dogs in the film. If there is an animal Oscar, these two dogs would win it, paws down. Great work too on how the trainers manage to get impressive performances from the dogs, like the vicious dogfight. Hagen is also shown at one moment teeth grinding in anger and next with a licking friendly tongue out.
WHITE GOD won the Un Certain Regard film prize at Cannes last year. It is a remarkable film, remarkably shot. But animal lovers beware, as there are many unbearable scenes. For information sake, there is another canine feature called WHITE DOG (title not to be confused) directed by Samuel Fuller about a racist dog trained to kill black folk.
Trailer: https://www.youtube.com/watch?v=kIGz2kyo26U
BEST BETS:
Drama: '71
Action: Kingsman: The Secret Service
Foreign Language: Wild Tales (Spain/Argentina); The Resurrection of a Bastard (Netherlands); White God (Hungary)
Animation: Paddington
Comedy : What We Do in the Shadows
Best documentary: Merchants of Doubt
Horror: It Follows