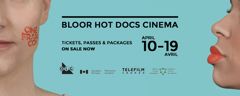 CINEFRANCO 2015 (10th -19th April)
Now in its 18th year, Cinefranco is one of the longest running film festivals in Toronto. One must give praise and credit to the ever cheerful and tireless directrice of the festival, Marcelle Lean who is always present to say 'bonjour' to Cinefranco fans. It is hard to survive in this festival eats festival world, but Cinefranco has got a loyal base of sponsors that come back year after year not to mention a good selection of films from France, Quebec, Belgium and Africa.
With 22 feature films and 7 shorts, including many award-winning and highly acclaimed films from festivals around the world, there is much to enjoy for French filmgoers, from comedy fans to thriller aficionados. Films from Belgium, Canada, France, Tunisia, The United Arab Emirates and Morocco will grace the big screen, including 7 North American Premieres, 9 English Canadian Premieres, 1 Canadian Premiere and 1 Ontario Premiere.
Last Year's Cinefranco was in my opinion one of the best due to the high quality of commercial films screened. You win some, you lost some. One cannot expect best films every year, but last year had the best comedy I and seen in the year 9 MOIS FERME, Marcel Pagnol's FANNY and MARUIS and great period action dramas like ANGELIQUE. There are excellent films this year, not to worry. This site hopes to aid you in selecting the good ones, unless you are a true Cinefranco fan with the festival pass.
One big bonus this year is the drop in ticket prices. The best deal is the festival pass. The films are screened at the Bloor Hot Docs Cinema, so there are lots of seats and little chance of a sell out.
For complete program information, ticket pricing and bookings, please check the Cinefranco website at:
http://2015.cinefranco.com/en/
This site is grateful to Cinefranco and Virginia Kelly Publicity for providing screeners for the capsule reviews below:-
And don't forget to say 'Bonjour' to Marcelle.
Bon Cinema!
CAPSULE REVIEWS:
Please note: Capsule reviews will be aded daily. Check the stite for updates!!
(Trailer links provided at the end of each review)
ALMOST FRIENDS (ON A FAILLI ETRE AMIES) (France 2014) ****
Directed by Anne Le Ny
Every year at Cinefranco comes a major surprise. ALMOST FRIENDS is it - and my fav pic of the festival. Two French divas (Karin Viard and Emmanuelle Devos) play two middle-aged French women who prey on each other for a much needed change in they lives. Carole (Devos) is unhappily married and owns a Michelin star restaurant with her alpha male husband while Marithe (Viard) is her career alternative trainer who wants him. Marithe arranges for Carole to be with her lover while she attempts to steal her husband away from her. What makes the film work is obviously the chemistry between the two fabulous actresses - which is nothing short of amazing. They are funny to the T and evokes laugh-out loud belly laughs. The best thing about Le Ny's film (she also gave herself a supporting role in the film) is the fact that this is a feminist film celebrating women at their best in their careers and independence without being preachy or annoying. The male characters are also well written and not mere pawns or idiots, getting what they want in the end, as well as the women. A brilliant film (though looking so simple) in many ways and thoroughly hilarious and entertaining.
Trailer: https://www.youtube.com/watch?v=Fi83lojVWEs
GERONIMO (France 2014) ***
Directed by Tony Gatlif
Director Tony Gatlif's l(LATCHO DROM, MONDO, SWING) latest film is a Romeo and Juliet tragedy (Turks vs. Gypsies) in which everyone loses because of family honour and nonacceptance. The film begins innocently with two passionate lovers Nil and Lucky (who is not lucky in the remotest sense) escaping on a motorcycle. They come from warring families. Nil's brother wants to kill her and Lucky to keep the family honour. In the midst of all the turmoil comes Geronimo, who tries her uttermost best to bring peace to the families. But tragedy occurs when she hides the lovers away at a hideout, aided by hre Spanish friend (Sergi Lopez). Gatlif incorporates lots of dances and music, a lot of them gyspy-style. His film occasionally feels like a more violent version of WEST SIDE STORY only with less dancing.
Trailer: https://www.youtube.com/watch?v=2gEqcf7PcNI
THE EASY WAY OUT (L'ART DE LA FUGUE) (France 2014) ***
Directed by Brice Cauvin
This French comedy on a dysfunctional family concerns three brothers - all drama queens, one of which is gay. They face the music of their own drama, worsened by meddling parents. The gay one, Antoine (which the film concentrates primarily on) is cheating on his partner while accepting his lover's proposal to buy a house and settle. Meanwhile, Gérard who works with his mother cannot stop loving his ex-wife and will not date anyone new. Louis is engaged to marry Julie but is having an affair with another. It is good to see Guy Marchand who has not been seen a long time as the patriarch of the family. Based on Stephen MCauley's novel, director Cauvin (who will be present to introduce his film) keeps the film fresh throughout by moving all the action fast and characters interesting. This is Cinefranco's closing night film.
Trailer: https://www.youtube.com/watch?v=5dYVgaj8U6c
GERONIMO (Franc
JACQUES A VU (Belgium 2014) **
Directed by Xavier Diskneuve
Couple Brice and Lara move to Chapon-Laroche, a rural village far from the city bustle. They put all their money in an overpriced house that, they just learned, will sit near a Dutch theme park. Now they can say good-bye to living in peace!... Enters Brice's cryptic cousin, Jacques, who, in a state of grace, kneels to look up to a divine vision. Brice uses his cousin's vision splendour to prevent the Dutch invasion by going all out to proved the authenticity which includes going to the Vatican. Can a miracle save Chapon-Laroche? But tourists eventually descend in droves to Chapon-Larohe after the vatican verifies the apparition as real. Obviously, director Diskneuve attacks religion, commerce and several other targets. But the film is filled with too many gags that are just plain stupid, unfunny or make no sense. Whether the apparition is real or not does not matter to the story. Eventually nothing else in the story makes any sense in this film.
Trailer: https://www.youtube.com/watch?v=_fKdxXjGwgU
MAINTENANT OU JAMAIS (NOW OR NEVER) (France/Belgium 2014) **
Directed by Serge Frydman
A simple film based on a simple premise that director Frydman believes too heavily in. A couple, Juliette (Leila Bekhi) and Charles Lesage (Arthur Dupont) live the golden life with their 2 children: he is a financier and she a piano teacher. They are soon to move away from noisy Paris into a big house. All of a sudden, everything comes crashing down: Charles is fired; the bank threatens to repossess the house; Juliette is mugged by Manu (Nicolas Duvauchelle), a street thug. Juliette is so obsessed with losing the new house that she convinces Manu to help her rob the ATMs where her husband used to work. The film is slow but Frydman holds the tension up to a point. But he opts for drama rather than suspense. But his film does not cut it for drama. The impetus for her robbing a bank, knowing nothing about crime for the sake of a house out in the country is just not credible enough. The actual heist is too simplified though something does go wrong. The loose end with Manu left hanging does not leave for a satisfactory ending, which is much needed in this film.
Trailer: https://www.youtube.com/watch?v=f7q74q76HBE
NEXT TIME I'LL AIM FOR THE HEART (LA PROCHAINE FOIS JE VISERAI LA COEUR) (France 2014) ****
Directed by Cédric Anger
Adapted from the novel Un assassin au-dessus de tout soupçon by Yvan Stefanovitch and set in 1970s Oise, France, the film tells the true story of Alain Lamare, a police officer who was later revealed to be a horrific serial killer. The name of the gendarme has been changed to Franck, but the story is still as disturbing. The film begins with the killer running down a cyclist and then shooting and killing various hitchhikers. The gendarme investigating the serial killing happens to be the culprit revealed 30 minutes into the film. The film turns more macabre as the audience sees the warped mind of a crazed criminal at work. In real life, Alain Lamare has been put in a mental institution since his arrest. More disturbing is the fact that he woos an innocent Sophie (Ana Giradot) who wants to marry him. Guillaume Canet (Cesar winning director of the 2006 thriller TELL NO ONE) delivers an eerie unforgettable performance as the police efficient madman. Director Anger shoots his film in darker shades with the majority of scenes taking place after dusk in the countryside and in the dimly lit apartments or police stations, thus sustaining the dark mood of the story. An efficient taut thriller that unfortunately tells a true story.
Trailer: https://www.youtube.com/watch?v=4YZPBO3jyNc
LES NUITS L'ETE (SUMMER NIGHTS) (France 2014) ***1/2
Directed by Mario Fanfani
Winner of the Queer Lion Award at the 2014 Venice Film Festival, LES NUITS D'ETE (SUMMER NIGHTS) is a very serious film about drag queens. Director Fanfani resists all the cheap, easy laughs that go with cross dressing to conjure up a very original period piece set in Metz of 1959 where a group of men come together at a secluded private villa they name Villa Mimi to form a small community. The articles they have to obey in order to 'play' as women are meaningful and includes a key one that says: "We are not born women but become women". The key character is Michel Aubbertin (Guillaume De Tonquédec), a notary who gives up everything to realize his desire or urge or pleasure, however one wants to describe it. He lives with Helen (Jeanne Balibar) but escapes with another cross dresser and friend Jean Marie aka Flavia (Nicolas Bouchard). A subplot involves a AWOLed soldier (Matthieu Spinosi) keeps interest maintained. Fanfani balances the drama and humour while keeping the audience entertained. Excellent period atmosphere with lots of cabaret musical numbers to keep the action up!
Trailer: https://www.youtube.com/watch?v=4D_iYia6q3g
PAS SON GENRE (NOT MY TYPE) (Belgium/France 2014) *
Directed by Lucas Belvaux
The film begins with young Parisian philosophy professor Clément (Loïc Corbery) transferred to the northern French town of Arras. His bourgeois educational world is turned upside down. In this small working-class community far from the wonders of Paris, he meets Jennifer (Émilie Dequenne), the simple, charming and brassy blond coiffeuse from the local hair salon. The romantic comedy has the audience believe that the two have nothing in common and that their differences will break down to show that there is something deeper between them. This is worse than any Hollywood shtick. For one, the two leads have no chemistry. The pretentious philosophy stints of Clement teaching his Arras class and quoting Kants are not fooling anyone. The dance segments with the two, especially with Jennifer flaunting her stuff is nothing more than annoying. This is below par commercial romantic fluff – et pas mon genre de film!
Trailer: https://www.youtube.com/watch?v=0rKI5AhdtBY
TOKYO FIANCEE (Belgium/Canada/France 2014) ***
Directed by Stefan Liberski
A Belge, French an Canadian co-production, Liberski's (BUNKER PARADISE) light romanic comedy would appear the perfect choice to open Cinefranco. A cross-cultural story involving Japanese who want to be French and voce versa. The story follows our 20-year old heroine, Amelie (Pauline Etienne) as she returns to Japan her birthplace. She earns a living initially by giving French lessons though her only pupil is Rimri (Taichi Inoue). They fall in love, get engaged while assimilating their cultures. The boy's parents have mixed feelings on the marriage which is disrupted (every romance has obstacles) by a huge earthquake which forces Amelie to leave Japan and return to Europe. Etienne is perfect as the unlikely heroine who must face fate at the very end. Nice Cinefranco fluff, acceptable as that is all it is.