02
Apr
2015
Details

Category: Movie Reviews
Written by Gilbert Seah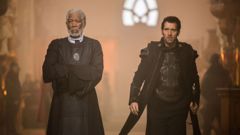 FURIOUS 7 roars into theatres this Easter weekend Watch for Cinefranco - French films in Toronto that begin Apr 10th.
WOMAN IN GOLD, LAST KNIGHTS and the GLEN CAMPBELL: I'LL BE ME doc also debut.
FILM REVIEWS:
CAST NO SHADOW (Canada 2014) **
Directed by Christian Sparks
Directed by Newfoundlander Christian Sparks and written by Joel Thomas Hynes who has a starring role in the film as the boy's father, CAST NO SHADOW is a low budget Canadian feature that has a few bright moments.
It is a coming-of-age story of Jude Traynor (Percy Hynes White), a 13-year-old boy trying to navigate life in an unnamed rugged seaside town. When Jude's abusive father, Angus (Hynes) is sent to prison, Jude takes refuge with a local recluse named Alfreda (Mary-Colin Chisholm) who nurtures his active imagination, but warns against using it as a means of escape. When Jude's father is released, he turns Jude against Alfreda with rumours of her involvement in Jude's mother's mysterious death. Alfreda reveals what happens, but the film remains vague whether this is the real truth. Haunted by this truth, Jude lashes out at the few people he loves in a misguided effort to protect himself and prove his worth. But he finds himself trapped between the pressures of his criminal father, his dark imaginings, and the one friendship he has with Alfreda.
The film benefits from the magnificent landscape of Labrador and Newfoundland where the film was shot. The sea, cliffs and craggy caves all add to the mystery and adventure of the story. Jude believes in trolls and that one is living in the cave at the bottom of the nearby cliff.
Sparks' film contains too many false alarms. At more than one instance does Jude awake from a terror that is exposed as a dream. The witch that Alfreda is reputed to be turns out false, with her in reality being a kindly old lonely woman.
A lot of the film's weight lies in the performance of the boy, newcomer Percy Hynes White as troubled Jude. White is not a handsome kid, but one whose face depicts a troubled life. White delivers a worthy performance in the film.
For a film shot in Newfoundland and Labrador and with a director from St. John's it is weird that the town the characters are from is unnamed. It is assumed that it is an American town and not a Canadian one - a sorry state as Sparks' film was championed by Canada's own Micro-Budget Production program. This is evident in the one scene where Jude's friend counts the money he obtained from selling eggs. The money he ruffles through are American, not Canadian notes.
Sparks' film suffers from the lack of a satisfactory and solid ending. After putting his audience thorough all of Jude's troubles, one would expect some satisfactory closure. The script also contains a few loose ends, such as the reason Angus is so aggressive to his son, Jude. The violence that occurs in a key segment is also surprising and one wonders if the killing is necessary.
CAST NO SHADOW is well shot and well acted but not well put together in terms of story. Perhaps Sparks' second feature will prove himself a talent to watch.
Trailer: https://www.youtube.com/watch?v=TTM647yOpOc&feature=youtu.be
FURIOUS 7 (USA 2015) ***
Directed by James Wan
At the start of FURIOUS 7, a furious Decard Shaw (Jason Statham) leaves an exploding London hospital vowing vengeance on all those good guys that have done harm to his little brother in the past furious films. Why the hospital is burning or exploding is never explained nor the reason of the brother's death. It would be reasonable that some explanation be given or that the audience be reminded of what happened in the other six FAST AND FURIOUS movies. But director James Wan (who also did the SAW films) know that this is unnecessary. Besides, he has thrown all logic to the wind. Neither do the laws of Physics apply in his movie. Cars fly, drivers drive their cars off cliffs in the jungle and survive. The weirdest logic of it all is that Wan proves he can master an entertaining film despite a totally incoherent plot. Just bring on the fast cars, sexy women and non-stop action.
The story involves Decard Shaw out to kill the FAST AND FURIOUS gang. To stop him, the leader Dominic (Diesel) has to help Frank Petty (Kurt Russell) steal back the biggest surveillance gadget from terrorist Jakande (Djimon Hounsou). In return, Petty will lend Dominic the gadget so he can track and kill Shaw before he kills the entire gang.
The film contains the largest assortment of muscled actors - Johnson the largest, Statham, Diesel, Walker, Gibson, Bridges and lots of gorgeous female flesh like Rodriguez and Emmanuel. Both sexes should be satisfied. The film contains no shortage of awesome, unforgettable scenes. These include cars parachuting from a plane to the winding mountainous roads and driven off (have to be seen to be believed), a sexy girl fight between Michelle Rodrigues (GIRLFIGHT) and Ronda Rusey (MMA star) (proving that you don't always need scratching or hair-pulling), a stunning sports car flying between top storeys of three high rise penthouses (again, have to be seen to be believed), one-on-one street-styled fights (Statham vs. Johnson and Statham vs. Diesel). The only thing missing, which audience will likely not even notice for reason of the film's fast pace is a sex scene.
There are no drag racing or any other type of car race featured, unlike in the other films. But cars are used here on any excuse. If there is a computer gadget, it has to be hidden in a car. No matter where a car is, even in a penthouse, it has to be driven.
Wan has never made the Saudis look sexier - both the males and females. Shooting in Abu Dhabi showcases an exotic and different world - full of shameless luxuries seldom on display.
This is the first film with Brit Jason Statham playing the bad buy. It looks weird on film when Statham is fighting, say Dwayne Johnson or Vin Diesel. One wants him to win half the time.
The film is dedicated to the late Paul Walker, star of all the past FAST AND FURIOUS films, who died in November 2013 from a car accident. FURIOUS 7, the best of the lot makes a worthy tribute to the handsome actor. FURIOUS 7 is supposed to be he last of the series. A fantastic ride, no doubt but will this be the last or will there be a reboot?
Trailer: https://www.youtube.com/watch?v=Skpu5HaVkOc
GLEN CAMPBELL: I'LL BE ME (USA 2014) ***
Directed by James Keach
This Glen Campbell documentary follows one of America's greatest country and western singers on his farewell tour. Campbell's struggles with Alzheimer's disease.
I"LL BE ME is a film of two parts. One is comprised of the farewell tour concerts in which the audience is given the spectacle of the man at his best. When songs like Rhinestone Cowboy and Wichita Lineman are performed by Campbell, the film soars. The other part is the artist coping with Alzheimer's disease. As he loses his memory, it becomes tougher to focus less perform. Keach's film shows the love of his family, particularly his wife as well as his fans offering full support. Keach is keen to show too the artist's sense of humour as well as personal problems such as forgetting where exactly the loo is.
There have been many films made about Alzheimer's like Sarah Polley's AWAY FROM HER and the recent released STILL ALCE with Julianne Moore. But there is nothing more moving than the real thing - as it is does not rely on theatrics, fictional dialogue and imagines circumstances. Campbell's medical condition is the heart felt!
During the filming, Campbell was sued by a Los Angeles production company which claimed that he had broken an agreement to film a documentary with them. Doubt that their film would do better. So far, Rotten Tomatoes reports that the film has received a 100% "Fresh" rating, with 17 positive reviews and no negative ones.
Trailer: https://www.youtube.com/watch?v=LAtgraWN5-I
LAST KNIGHTS (USA 2014) **
Directed by Kazuaki Kiriya
It looks like the Koreans and Czechs have taken over King Arthur and the knights of the round table. So, despite the dead seriousness of the enterprise of honour, glory, loyalty and all that, the film is a mess in terms of plotting, characterization, atmosphere and logic.
Raiden (Clive Owen) leads a band of loyal knights serving under their Master, Bartok (Morgan Freeman). Unfortunately they are ruled by a corrupt Emperor (Peyman Moaadi), not a King, who has given almost full authority to an even more corrupt and evil First Minister called Gezza Mothh (Aksel Hennie). After Master Bartok is beheaded for some silly reasoning called 'ego', the knights go into hiding while Gezza is under watchful eye for any uprising. The uprising finally takes place. Using false documents - yes this sounds really silly - the knights get into the castle grounds to set up their weaponry when they finally attack at night. Of course, no surprise here, Gezza is defeated, but not without many casualties.
For an action film, there is more drama than fights. The only action sequences take place towards the end of the film when the knights storm the castle. Japanese director Kiriya keeps the tension taut during the drama as in the Master's speech during his execution. The film is mostly devoid of humour. The little bits of humour are found in the sexual innuendo dialogue between Raiden and his wife and in another scene in a drinking establishment.
Story-wise the script contains lots of loopholes. For one, if the knights could have equally attacked during the day with less casualties. The scene in which the knights are handed out fake document is laughable. The Emperor is noticeably missing during the attack on the castle. This man also seems like a slimy character with no backbone and one wonders how he got the job and respect as Emperor. As this appears to be a Korean financed film, a lot of Koreans appear in the film, making a film about knights look strange. It would be no surprise if pork bone soup was served during one of the banquets. The architecture depicted in the segments are also too new and modern for a film set in medieval times. The place and time setting of the film are conveniently left out.
The result is an unconvincing tale of knights fighting for their Master. The film is weird enough that it is not boring, but that is not saying much for the film.
Trailer: https://www.youtube.com/watch?v=e44QilQbvB0
WOMAN IN GOLD (USA/UK 2015) ***
Directed by Simon Curtis
WOMAN IN GOLD is based on the true story of the late Maria Altmann - she died in 2011 - (played by Oscar winner Helen Mirren) an elderly Holocaust survivor living in Los Angeles who, together with her young lawyer, E. Randol Schoenberg (Ryan Reynolds), fought the government of Austria for almost a decade to reclaim Gustav Klimt's iconic painting of her aunt, Portrait of Adele Bloch-Bauer I. The painting, the WOMAN IN GOLD of the film title was confiscated from her relatives by the Nazis in Vienna just prior to World War II. The film traces Altmann's legal battle all the way to the Supreme Court of the United States, which ruled in her favour in Republic of Austria v. Altmann (2004).
WOMAN IN GOLD plays out very alike last year's PHILOMENA. In the latter, Judi Dench plays an Irish woman, complete with Irish accent in a desperate search for her missing daughter with the help of a reporter played by Steve Coogan. This time, it is Helen Mirren on the desperate quest, playing an Austrian Jew with German accent, looking to retrieve her stolen painting, with the help of her lawyer. What is missing in WOMAN IN GOLD is clear when one recalls the previous film. In WOMAN IN GOLD, the two lead characters are perfect. Lawyer Randol is of faultless character, giving up his meaningless job to pursue what is right, supported completely by his wife and one can do no wrong. PHILOMENA's reporter however, is an egoistic nuisance half the time, and often admonished by Dench for his lack of character. The moral question of abortion and abuse is examined in the former film while all the morality is force fed to the audience in the second film.
It is no doubt that Curtis hits (rather than presses) all the right buttons. But too many and too often, leaving nothing for the audience to think about. The music and segments force the audience to feel a certain away and the funny punch lines also tell the audience when to laugh and when to feel good. It does not help that the story is predictable. One knows that Maria Altmann will eventually win her case despite all the obstacles the script has laid out before her and her lawyer. The Austrians are entirely depicted as the bad guys, except for one (Daniel Bruhl) who helps them, Nazi-lovers who will not admit to defeat or telling the truth. The script also allows them to be the recipients of all the film's insults which of course, are funny to lighten the film's mood.
The script is written by openly gay-Brit Alexi Kaye Campbell best known as the promising author of the play PRIDE. The dialogue is often too play perfect for it to feel authentic. Example is when Randol's law firm senior tells him after Randol tells him that he has a feeling about the at restitution case: "Since when do we pay you to have feelings." The perfect speeches do to help either. The reason for Maria's quest is in her words: "Because of the young.. they need to believe."
Production design wise, the film does looks stunning, especially the Nazi parade when the film flashes back to the war days. WOMAN IN GOLD shows Mirren again in an impeccable performance, rising again above her material.
Trailer: https://www.youtube.com/watch?v=geJeX6iIlO0
BEST BETS:
Drama: '71
Action: Kingsman: The Secret Service
Foreign Language: Wild Tales (Spain/Argentina); The Resurrection of a Bastard (Netherlands); White God (Hungary)
Animation: Paddington
Comedy : What We Do in the Shadows
Best documentary: Merchants of Doubt
Horror: It Follows