24
Apr
2015
Details

Category: Movie Reviews
Written by Gilbert Seah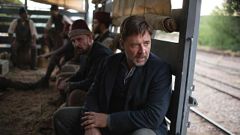 Films opening include THE AGE of ADALINE, LOST RIVER, THE WATER DIVINER and THE SALVATION.
Toronto BIG Hot Docs Film Festival begins this week.
FILM REVIEWS:
THE AGE OF ADALINE (USA 2015) **
Directed by Lee Toland Krieger
Directed by Lee Toland Krieger (THE VICIOUS KIND) and written by no less than 4 writers, the romantic drama THE AGE OF ADALINE is less a romance fantasy than a tragedy for the reason of Adaline's indecisive character.
What happens in the early 20th Century is that Adaline (Blake Lively from THE TOWN) undergoes a freak accident involving snow, a car crash and lightning causing her to remain 29 years old for almost 8 decades. Because the authorities like the FBI will not leave her alone, Adaline Bowman has lives a solitary existence, never allowing herself to get close to anyone who might reveal her secret no friends, no lovers, no life. But a chance encounter with charismatic philanthropist Ellis Jones (Michiel Huisman of GAMES OF THRONES) reignites her passion for life and romance. Their meeting is right out of a typical Hollywood romantic comedy. When a weekend with his parents (one of whom is played by Harrison Ford) threatens to uncover the truth, Adaline makes a decision that will change her life forever. But one would have expected her not to change her mind after 80 years.
One would also have expected that a person who discovers the fountain of youth be a happy person. Instead Adaline has decided to make her own life as miserable as ever. She spawns love, lives ins exclusion and allows herself the least of life's pleasures. The writers and director Kreiger do not help her character or their film either. The film is entrapped by the silly premise, made only sillier for the fact that they take the fantasy too seriously. It does not take a genius to guess that Adaline will eventually fall in love and that she will somehow gain the process of growing old as a normal human being. But by that time, the audience would have been bored to tears. Kriegr has not forgotten to add in some unwanted sentiment either. Most romances would have an obstacle placed in the pursuit of true happiness, but this reason of agelessness takes the cake.
It does not help that there is absolutely no chemistry between the two leads Lively and Huisman. The film is more believable when they are arguing. The only actress that gives some class to the enterprise is Ellen Burstyn who plays the Adaline's grandmother.
The voiceover that explains what happens to Adaline only serves the fact that the filmmakers have to resort to this tactic to make the story more believable. And unfortunately, the voiceover has to be used twice, at each of Adaline's accidents.
The Thomas Hardy period romance FAR FROM THE MADDING CROWD opens in a few weeks. In the mean time, there is still the love story of THE LONGEST RIDE. Give THE AGE OF ADALINE a miss.
Trailer: https://www.youtube.com/watch?v=7UzSekc0LoQ
THE FORGER (USA 2014) ***
Directed by Philip Martin
Philip Martin's directorial debut is a competent piece that combines the elements of family drama and heist suspense. The film is held together primarily by John Travolta, who has shaped up lean and mean for the role and who appears in almost every scene. He plays forger, Ray Cutter who gets out of jail in order to be with his dying son Will (Tye Sheridan), a brave role that is surely most difficult to play, given what has happened to him in real life. His get out of jail card has to be paid by pulling off a heist as payment. The job involves snatching Claude Monet's Woman with Parasol from the museum and replacing it with a replica so perfect that no one will notice. The suspense scenes are handled efficiently enough and so are the dramatic and few action scenes. Solid supporting performances by Christopher Plummer as Ray's onerous dad and Abigail Spencer as an undercover cop deserve mention.
Trailer: https://www.youtube.com/watch?v=GAgDjpawyzA
LOST RIVER (USA 2015) **
Directed by Ryan Gosling
LOST RIVER centres on Billy (Chrisina Hendricks) a pretty but out of luck mother of two boys about to lose the house as she is unable to make the owed 3 months rent. Her bank manager, Dave (Rob Zabrecky) offers her alternative employment as a performer in an illegal S&M club/brothel. Meanwhile, her son Bones (Iain De Caestaeker) is on the run from a local thug (Matt Smith).
That is much as the story goes and nothing much develops from here. Director Gosling, in his directorial debut plays around with all the departments of filmmaking to create a distinctive different film. But the film is so derived that one wonders what his real style is.
LOST RIVER is an shameless rip-off of David Lynch's MULHOLLAND DRIVE and Danish director Nicolas Winding Refn's style. Gosling has worked twice with Refn in DRIVE and ONLY GOD FORGIVES. LOST RIVER and MULHOLLAND takes place in a dreamlike city with a female protagonist in distress. But the style does not work for the LOST RIVER script. For one, the taut tension and violence is Refn's films is wasted in LOST RIVER as there is no real action or climatic violence required in the story. So, the tension is just built up and left to burn off as does the brothel in the last scenes. As for Lynch, though his film is open ended with no logic defined, his narrative for the first 3/4 of his MULHOLLAND DRIVE is strong and makes perfect logical sense. LOST RIVER on the other hand, is an incoherent mess, with flashbacks, intercutting, sound and lighting all used to full effect, often simultaneously with no direction.
Gosling does inject a few scenes of genuine suspense and oddness. The grocery store scene is perhaps the film's highlight. The S&M segments are quite sick to look at but Gosling has got his point across of getting the audience disgusted.
Iain De Caestaeker plays young Bones, a Ryan Gosling look alike 10 years younger, if Gosling would have cast himself in that role. Christina Hendricks as the mother looks totally bewildered throughout the movie, which fortunately is the way her character is supposed to be. The weird villain bank manager Dave played by Rob Zabrecky is a cross of the weird Dennis Hopper and suave Dean Stockwell character in MULHOLLAND DRIVE. The only problem is that the character of Dave is not suave or weird enough. If Gosling is ripping off Lynch so much, he might as well have the Dave character inhale ether. Eva Mendes (Gosling's partner) has a supporting role as Billy's mentor in the S&M brothel. It is clear that she is having the most fun in the film. Her priceless line in the film: "You made me chip my tooth." Saoirse Ronan, sadly missing from the screen for a while has a welcome role as Rat, Bones' girlfriend.
LOST RIVER will be seen for the reason of being actor Ryan Gosling's directorial debut. The film is not dull though it moves at a snail's pace. The film is poetic, eccentric in lighting and sound, but unfortunately incoherent to a fault.
Trailer: https://www.youtube.com/watch?v=H8ngDiG9V8w
THE SALVATION (Denmark/Sweden/South Africa/UK 2014) ****
Directed by Kristian Levring
This Danish western is an immensely satisfying film despite the familiar plot of revenge. The lead character is Jon (a brooding Mads Mikkelsen) living out in the American west in the 1870s. Jon and his brother Peter (Mikael Persbrandt) are veterans of Denmark's army who both moved to the U.S. seven years before. Jon has saved enough money and the film opens with him meeting his wife and son whom he has brought over. But tragedy falls on the family. On the stage coach ride back, Jon is thrown out while the two drunks inside kill his son and rape his wife. Jon kills them both but the brother of one of them, Delarue (Jeffrey Dean Morgan) who terrorizes the local town wants Jon's head.
It does not help that the townsfolk headed by the mayor (Jonathan Pryce) are cowards that turn him in. But he is aided by a youth whose grandparents were killed by Delarue and a mute woman, Madelaine (Eva Green). Indians had cut out her tongue.
Despite the familiar revenge story in a film with no plot twists, there are differences between this Danish piece and Hollywood films. Hollywood films such as the TAKEN has the hero (Liam Neeson) go all out to protect his family. In the Spaghetti westerns and Japanese samurai films, the hero single handedly takes on a whole bunch of villains, often being brutalized before doing so. And in this story, Jon's family are killed within the first 15 minutes of film. It is no protecting of family but plain revenge - which the audience feels. But director Levring soon has his audience rooting for him, familiar though the plot may be.
Mikkelson is the perfect anti-hero, growling and never smiling. Eva Green also captures her scenes though not uttering a single word of dialogue. Both of them had been together before in the Bond film CASIN ROYALE.
The film has the feel of the classic HIGH NOON western for two reasons. The town gives up on the hero and a woman ends up standing by his side. But there is much more to enjoy in Levring's film. His wide camera shots and camera placement makes this a sprawling, stunning western to look at. When the youth clambers on the roof of a building shooting at the baddies, the camera sweeps to show the sky and the mountains. The end of the movie when the camera slowly pulls back to show dozens of wooden oil derricks also has a weird message that Levring is putting across.
The showdown action segment is top notch in terms of suspense and violence (knife poking an eye). Levring captures the cruelty of the old west and what it takes to survive. THE SALAVATION is still a curious piece made by the Danes and with a fair portion of the film shot in Danish. But Levring's western is a good one as he understands the genre and delvers the goods. It has been a while since there has been a good western.
Trailer: https://www.youtube.com/watch?v=bfoSCdnwOB8
THE WATER DIVINER (Australia/Turkey/USA 2014) ***
Directed by Russell Crowe
THE WATER DIVINER begins with the title inspired by true events'. Whenever the words 'inspired' and 'events' appear instead of the phrase 'based on a true story', one can anticipate that certain liberties will be taken with the story.
Russell Crowe's directorial effort traces one farmer's (called Connor played by Crowe) desperate and almost hopeless search for his 3 sons who fought the Gallipoli War in Turkey in 1915. It is a story of the triumph of the human will against unbeatable odds. Connor leaves his farm after wife's suicide to land in Turkey to look for his sons amidst thousands of graves. It is a handsome production from the beautiful Turkish calligraphed starting titles to the segments of the action sequences on the train to the hand-to-hand combat fights in the dark trenches. But Crowe has also fashioned a sentimental melodrama, well-intentioned as he may be. He brings the cross cultures of two former enemies the Australians and Turks to solve the mystery of Connor searching for his sons for it is the right thing to do. Turkey is also shown for its splendid landscape and exotic buildings and culture.
Crowe's film is poetic in a way. The suicide of his wife is revealed ambiguously as she is found drowned one night. Crowe wisely stays away from any romance Connor might embark, which would distract the main issue at hand. Connor does meet a beautiful but feisty Turkish woman Ayshe (Olga Kurylenko) who has lost her husband in the same war. They find a common bond though starting off at loggerheads.
Crowe's film is a worthy directorial effort of a mix of probable romance and the futility of war. Crowe puts care, dedication and thought in his film and it shows. THE WATER DIVINER shows Crowe, despite him being reportedly hot tempered and troublemaking bad news like fellow Aussie, Mel Gibson having a good heart.
Trailer: https://www.youtube.com/watch?v=8CkLC4Zr2Mw
BEST BETS:
Best Film Opening: The Salvation
Drama: '71
Action: Kingsman: The Secret Service
Foreign Language: Wild Tales (Spain/Argentina)
Animation: Paddington
Comedy : What We Do in the Shadows
Best documentary: The Salt of the Earth
Horror: It Follows