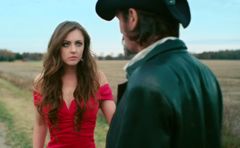 HOT PURSUIT opens this week, together with documentaries LAMBERT AND STAMP and GOING CLEAR. 88 and MAGGIE also open.
TIFF Cinematheque begins a series on Georgian Cinema
FILM REVIEWS:
88 (Canada 2014) **
Directed by April Mullen
Why would a film be called 88? The writer Tim Doiron and director April Mullen ensure that there are plenty of reasons that include the important room number of the hotel being 88, the highway number as well as the length of the movie.
But this is not the only gimmick in the movie. The other is a mental state called the fugue state, which according to the opening credits occurs in one in every 2000 human beings. It is similar to the state of amnesia when one forgets for varying periods of time.
The protagonist of the film, Gwen (Katherine Isabelle) suffers from this state. She wakes up in a diner and discovers a gun in her purse and accidentally shoots the waitress leading her to be on a wanted list. To find out what is really happening Gwen must piece together her memories which occur in a jumbled state of images like this badly edited film. The film could also be told in a straight forward fashion without Gwen ever entering this state.
So, when Gwen runs around, the film switches back and forth from the past to the present. It is really confusing to the viewer trying to piece together what is happening. It is more irritating that the edits occur too often and the segments are too short. Director Mullen helps the situation a little by having Gwen wear a red dress in the flashbacks and black in the present, but at some point, one is never clear, and some scenes seem to be in the present when she is wearing red.
A twist in the plot occurs, which is expected, since her memory is fuzzy and anything can happen. But by the time this occurs, no one really bothers where the story is heading.
Though the film is Canadian, the action is supposed to take place in Tennessee.
It does not help that the heroine is a really annoying individual who has not got her s*** together. Most of the other characters are not that likeable either, so no one cares if anyone dies in the course of things.
88 might have looked promising on paper, but turns out a badly executed crime flick. Best forget this film and leave it in the gimmickry fugue state.
Trailer: https://www.youtube.com/watch?v=FCSjyz3c5as
BEING CANADIAN (Canada 2015) **
Directed by Robert Cohen
BEING CANADIAN is a very likeable documentary, which will be more appreciated if one is Canadian, though the film is quite thin in plot and narrative.
Director Robert Cohen is a Canadian born in Calgary, Alberta now living in Los Angeles. He is a bit perturbed about the large number of people (not only Americans but others from India and England) who knows little about Canada. So, Cohen assigns himself the task of touring the country from coast to coast answering his own made up questions with the hope of providing the answer of what it is to be Canadian. The trip begins in Nova Scotia and ends in British Columbia ending on July the 1st, which is Canada Day.
Questions Cohen poses include: "Why are Canadian so polite?", "Why are Canadians so funny?" Most of the questions do not really reveal what it really is to be Canadian, just superficially in terms of traits. The questions are not really answered either, just example given. For example the reason Canadians are polite is attributed to their English background, with comical examples given such as Canadians bumping into a couch and automatically telling the couch, "Sorry", as voiced by Catherine O'Hara, one of the members of the popular Canadian comedy troupe SCTV which is an example of funny Canadians.
Cohen knows a lot of Canadians in show business. Whenever he introduces a new guest, a title indicates the number of years they have known each other. The impressive list of interviewees includes comedians O'Hara, Dan Akroyd, Eugene Levy, Martin Short, Mike Myers, actors Michael J. Fox and William Shatner and bands such as Rush. They don't really have that much important to say, except to add in their two cents worth.
The idea of telling anecdotes to tell the story of what it is to be Canadian wears out its novelty quite fast. Jokes are plentiful but mostly mildly funny. The film tends to drag towards the middle.
It is hard for a Canadian critic, less a polite one to trash a well-intentioned Canadian film on what it is to be Canadian. At the start of the film the titles on the screen say: "Sadly, all this is true" seems to ring false as the film ends on a bright note with the British Columbian Canada Day parade where everyone is happy, showing their pride at being Canadian. BEING CANADIAN celebrates what it is to be Canadian and does nothing much else.
(No trailer available)
GOING CLEAR: SCIENTOLOGY AND THE PRISON OF BELIEF (USA 2015) ****
Directed by Alex Gibney
From his Oscar winning TAXI TO THE DARK SIDE and his Oscar nominated ENRON: THE SMARTEST GUYS IN THE ROOM, documentarist Alex Gibney has proven that he can both capture the attention of his audience as well as get them intensely riled up on the subject at hand.
In his latest film GOING CLEAR: SCIENTOLOGY AND THE PRISON OF BELIEF, Scientology is the target. It is an easier target than his other films, so Gibney spends the initial part of the film illustrating what fascinates people about Scientology. After that, he reveals the faults of the organization followed by their underhanded tactics. By the end of the doc, he has the audience so upset with Scientology that anyone would be willing to do anything to stop them from expanding or even existing.
Though Gibney has less to research than his other films since his film is based on the book by Lawrence Wright, he still assembles a impressive cast to tell the story. Among them are several former Scientology members, like film director Paul Haggis (CRASH) and actor Jason Beghe, and former big time Scientology members such as Mark Rathbun, who was second in command to church board Chairman David Miscavige, and Mike Rinder, former chief spokesman for the church. But the best is the assembled footage of Tom Cruise, so well manipulated by them to advance their course before he left them. Expectedly, Cruise refused (as well as John Travolta and Miscavige) to be interviewed, probably for reason of embarrassment. Gibney' voiceover over the Cruise footage makes Cruise looks like a full ninny while forwarding his course of how Scientology manipulates their members.
A fair portion of Gibney's film is devoted to the founder of Scientology, L. Ron Hubbard. Hubbard is comically shown as a writer of pulp science-fiction stories, who exaggerated his war credentials (he claimed to have sunk enemy submarines while in reality he had bombed an island by mistake) and lived in mortal fear of the Internal Revenue Service. He is best shown as a psycho and jealous lover, ready to murder his wife if he found her unfaithful.
Through running over 2 hours, Gibney's film fascinates and is a compelling watch from start to end. He is fortunate to be able to get ex-member Paul Haggis to testify against Scientology. But the best testimony is delivered from Rathburn who tells of members put in an un-livable hole when they cross Scientology. Hilarious too, are how certain members can be termed S.P. (subversive person) and members urged not to communicate in any way with them So the question ultimately arises whether Scientology is a religion (tax-free as the claim they deserve) or a cult? Whatever the answer, they are shown to be a danger to mankind.
As formulaic as the film might be, Gibney has fashioned an informative, disturbingly scary and even hilarious documentary on an organization that is so efficient that it has fooled the world for such a long time. Finally they are in trouble when this doc comes out, as this expose is as convincing as Scientology was efficient.
Trailer: https://www.youtube.com/watch?v=5-wa7dcMMlw
HOT PURSUIT (USA 2015) **
Directed by Anne Fletcher
HOT PURSUIT is a no-brainer lazily written comedy that relies on the chemistry of Oscar Winner Reese Witherspoon and Sofia Vergara to provide the laughs.
The silly plot involves a by-the-book disgraced officer, Cooper (Witherspoon) who has a chance to get back into the field to deliver a reluctant witness, Mrs. Riva (Vergara). The drug kingpin, Cortez (Joaquin Cosio) has his henchmen after them as well as crooked cops. The plot twist is nothing special with the film meandering towards its predictable finish, complete with an unbelievable romance. In the journey, the audience is expected to believe that Cooper learns the reality of life while Mrs. Riva to put her vengeance aside and rely on the law to do its course.
The majority of the film relies on the laughs provided by the unconventional relationship between the pair of misfits. The scene of Officer Cooper forcing Mrs. Riva in her tight Anita Ekberg-like body hugging dress dragging her suitcase is actually quite funny. The loose storyline does provide the film its quota of laughs but that is about it for the film. But equally unfunny are segments like the one when the two pretend to be lesbians to distract a redneck (Jim Gaffigan). The bus chase segment also demonstrates how difficult it is to stage good comedy.
In the end credits, the funnest moment is when Witherspoon remarks that this is her most demanding role. The film should make enough at the box-office but hopefully not enough to generate a sequel.
Trailer: https://www.youtube.com/watch?v=fUeOBdxSjc8
MAGGIE (USA 2015) **
Directed by Henry Hobson
MAGGIE, an independent horror film that got sold to Lionsgate is an oddity. It is more a drama than a horror film on zombies. It stars all action hero star Arnold Schwarzenegger in a non-action hero role. He plays the father, Wade who stays by the side of his teenage daughter, Maggie (Abigail Breslin) when she has been infected by zombies. She has to weeks before she 'turns'. 3 options, she can be put into quarantine, administered a lethal dose or shot dead with no suffering.
The main issue at hand is the loving relationship between father and daughter. Everything else is secondary. Director Hobson gets the audience quickly to the current state of affairs within 5 minutes of the film's opening using radio news as a voiceover relating what has happened. How Maggie got infected is just brushed though in the script as well as the relationship between Wade and her mother, Caroline (British actress Joely Richardson).
Whatever is lacking in action is more than made up in gross-out scenes. These include Maggie chopping off her infected finger and Maggie's bloodied mouth after killing a fox.
There is no real surprise in the plot. John Scott's script leads the film to its logical end without much incident considering what had happened before. One wonders the purpose of this film being made. It is more a family drama. Schwarzenegger delivers a restrained (no one-liners at all) and dramatic performance. His and Breslin's performances are the highlights of the film.
But the zombie angle of the film could be totally left out. Maggie could be suffering from a terminal disease that has no cure and nothing much from the film would have changed. But this is a very depressing horrific film. There is one scene in which Maggie's friend is about to be turned into a zombie and the cops arrive to take him to quarantine. This reminded me of my ill mother who refused to be taken by the medics in an ambulance to the hospital. And Maggie waiting to die? It reminded me of how I could not tell my mother in the hospice that she is put there as they are waiting of her to die. There is no reason for this horrific story to be put on film as the little message of hope (the bed of daisies on the grave at the end of the film) does little to lift the film from depression. The film enforces the horror of death.
There is nothing really wrong in the film's execution. But why would anyone wish to pay good money to watch a depressing and horrific film like this one?
Trailer: https://www.youtube.com/watch?v=EWU0D9K1g5E
PHOENIX (Germany 2014) ***
Directed by Christian Petzold
PHOENIX is the club where Nelly Lenz (Nina Hoss) sees Johnny (Ronald Zehrfeld) for the first time again after World War II. It is an important time for her and hence derives the film title.
The setting is post World War II Berlin. The best thing gong for the film is the creation of a destroyed city complete with tons of rubble around it. The film has the look of Carol Reed's THE THIRD MAN and Lars Von Trier's EUROPA. The wardrobe, the score, Cabaret songs and sets help create the gorgeous but bleak atmosphere of the film.
The story is equally bleak. It is a story of true love lost. Nelly Lenz undergoes significant reconstructive surgery to repair a facial injury caused by a bullet wound. Presumed dead by her friends and relatives, fixated on the memories of her former life and unable to accept the shattered reality before her, Nelly returns to Berlin to fulfill the dream that sustained her throughout her imprisonment: reuniting with her husband, Johnny. But she is haunted by terrible, whispered rumours that it was Johnny himself who betrayed her to the Nazis. Director Petzold, who has worked with Hoss before in BARBARA creates a suspenseful romance that locks the viewer's attention to the very end, when the truth finally arrives of whether true love will prevail.
The story of a Jewish prisoner surviving the war and concentration camp, emerging with a disfigured face, unrecognizable by her husband is not new territory. The same premise was used in J.Lee Thompson's 1965 British drama RETURN FROM THE ASHES. Ingrid Thulin had to undergo plastic surgery, but still unrecognizable by her husband played by Maximilian Schell. Both films involved a scheme of the husband not knowing the wife and inviting her to pretend to be her in order to get an inheritance from the authorities. But the similarities end here. RETURN FROM THE ASHES concentrated more on the story whereas PHOENIX more of the setting and the mood.
PHOENIX moves occasionally at too slow a pace. The film never dwelt on the inheritance and the fate of Nelly's friend comes as too much of a surprise to push the story along.
Still Petzold's film is a handsome production, well acted by both Hoss and Zehrfled and aptly directed by Petzold.
Trailer: https://vimeo.com/104179101
WE WERE WOLVES (Canada 2014) **
Directed by Jordan Canning
WE WERE WOLVES is director Jordan Canning's first full-length feature after several short films one of which, OLIVER BUMP'S BIRTHDAY went on to win the Best Short in Berlin. WE WERE WOLVES is a simple two-handler, two estranged brothers meet after a decade of absence to settle past grievances and hopefully bond again. It is good to observe a film about males directed by a female. Steve Cochrane who plays one of the brothers produced and wrote the film with Canning.
But there is one thing woman directors cannot resist doing (which I totally detest as a feminist thing) is to have their male characters cry on screen. Never mind she also has two scenes of males cooking. Canning falls into the temptation with a brother, Danny crying his eyes out after sex for no real reason.
But the setting of Kawartha Lake and its surroundings make good scenic photography. The brothers take to the water in a few key scenes scene. The lake is also used as the sight of the cottage where they hang out.
The title WE WERE WOLVES is emphasized in the one scene where the brothers tussle with each other like animals one night after dark.
But who really wants to watch two strangers, brothers or not, settle their differences and make their peace? There is no audience anticipation at all. One scene occurs after another and no one really cares what happens next. The brothers do argue, settle their differences and the film comes to a rather boring end after boring incidents that takes place in the duration of three days amidst drinks, pot, bad food and yes, bad company. The introduction of the annoying female (Kathleen Boyd), who is too eager to please both brothers, into the picture to arouse more differences does not help either. And it is aways the same old drama for films of this nature. One family member refuses to grow up, another is resentful for having to care for an ill parent, past skeletons come out of the closet and the inheritance poses more conflict.
The drama contains a few touches of welcome humour lifting the drabness of the situation. Danny (Steve Cochrane), the elder brother often calls the other Nick (Peter Rooney) Snickers, as Nick was fat at one stage in his life - the running joke in the film.
WE WERE WOLVES would make a hard sell at the movie theatres. The film had a presentation during the Toronto International Film Festival last September and goes straight to Video On Demand (VOD) May 12th.
Trailer: https://www.youtube.com/watch?v=jhW3HRRPzM4
BEST BETS:
Best Film Opening: Going Clear: Scientology and the Prison of Belief
Drama: '71
Action: Kingsman: The Secret Service
Foreign Language: Phoenix
Animation: Paddington
Comedy : What We Do in the Shadows
Best documentary: Going Clear: Scientology and the Prison of Belief
Horror: It Follows