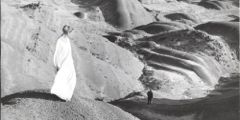 TIFF Cinematheque Presents - Discovering Georgian Cinema
Have you seen any films from Georgia? If you are one of those who cannot even name a film or a filmmaker from Georgia, his is a chance to discover Georgian Cinema. The series runs May 8 -19.
Featuring rare 35mm prints from film archives around the globe, this travelling retrospective offers North American audiences a chance to explore the rich cinematic heritage of a region that has produced such internationally acclaimed filmmakers as Otar Iosseliani and Sergei Parajanov.
For the complete program, film listings, venue and ticket pricing, please check the TIFF
Cinematheque website at:
http://tiff.net/spring2015-cinematheque/discovering-georgian-cinema
Capsule Reviews of Selected Films:-
FALLING LEAVES (Georgia 1967) ***1/2
Directed by Otar Iosseliani
This is the first full-length feature by the director Otar Iosseliani famous for his popular film FAVOURITES OF THE MOON years later. FALLING LEAVES, a subtle satire about a teenage boy who discovers the gap between idealistic theory and corrupt everyday reality when he takes his first job at a wine-making collective shows Iosseliani's talent. The film is tight in structure though loose in narrative with keen observations made on bureaucracy. The key characters are the boy and his elder who both get their first job in the collective. The elder is eager to please and climb up the corporate ladder while the teen holds on to his principles while finding romance and a lesson on the way life goes in a corporate world though in a collective. This simple but winning satire is hilarious, smart and totally entertaining. The film won the FIPRESCI prize at the cannes Critics Week 1967.
THE MACHINE WHICH MAKES EVERYTHING DISAPPEAR (Georgia 2012) **
Directed by Tinatin Gurchiani
Despite the nifty title, this cinema-vérité documentary is quite a plain one with a novel idea that unfortunately goes nowhere. The machine in question is nothing much more than a movie camera. Why the machine is called that is anyone's guess. The director puts in an ad to interview actors from ages 15-23 for a movie. A series of subjects turn up, many of them outside the age range. They are all interviewed and their stories are carried on by the director for a short while before dwelling on the next person. Those interviewed include a slacker who wishes to be in the military but can't because of a previous conviction, a girl who meets her birth mother for the first time, an elder photographer among others. The metaphor of the director bring like a God directing the lives of others is too obvious. Apart from different slices of Georgian life on display, the film is plain and as boring as the typical Georgian life seen on screen. But Gurchiani
did win the 2013 Directing Award in World Cinema at Sundance.
MOLBA (Georgia 1967) ***
Directed by Tengiz Abuladze
Suppressed by Soviet authorities for nearly a decade, this historical epic by director Tengiz Abuladze (director also of THE WISHING and REPENTANCE shown in this series), which is also acclaimed to be one of the greatest of all Georgian films is a black-and-white stunningly photographed essay. It is poetic down to a fault. It is best that one reads the subtitles silently in ones head in order to follow the film's narrative. The story, if one wants to flow it, follows a man's quest of love, hatred and revenge as well as freeing himself from pursuit. Warning that this is not everyone's cup of tea, but the film is not without its pleasures.
MY GRANDMOTHER (Georgia 1929) ****
Directed by Kote Mikaberidze
This silent restored gem with titles in Georgian and narration in English is a black, scathingly brilliant anti-bureaucratic satire that is amusing from start to finish - a kind of mixed Chaplin and Gogol. The title MY GRANDMOTHER derives from the first requirement of being successful in a bureaucratic office - which is to get or find a grandmother. (The second is to be a complete pest.) Never mind if this fails to make any sense - as the film is pure fun as it is. The most hilarious section of the film has an ambitious geek pester his administrator to write him a letter of recommendation that he delivers confidently (not knowing what exactly it says) to the superior of the company. What occurs is hilarious beyond belief. There is so much to enjoy in MY GRANDMOTHER that includes wicked satire, slapstick, drama, inventiveness, animation, puppets and silent comedy. The film's German expressionist look and camera angles are an added bonus.
REPENTANCE (Georgia 1984) ****
Directed by Tengiz Abuladze
Released in 1987 after being banned in the Soviet Union for 3 years, this FIPRESCI Prize winner of the Grand Prize of the Jury, and the Prize of the Ecumenical Jury at Cannes is a semi-allegorical critique of Stalinism. Set in a small Georgian town, it follows a woman, Ketevan Barateli (Zeinab Botsvadze) who keeps digging up the corpse of the town's dead mayor, Varlam Aravidze (Avtandil Makharadze). She claims he does not deserve to be buried for his past terroristic regime. Varlam's rule is revealed in flashbacks. More incidents occur, many of them involving the major's son, Abel (Avtandil Makharadze), who denies any wrongdoings of his father, and the family. The result is tragedy. REPENTANCE runs at 150 minutes or so and is occasionally brilliant as it is bitingly funny as only the best satires can be. Makharadze with his ridiculous looking Hitler-like moustache (see image above) delivers a tour-de-force performance in what is the best Georgian film in this program.
THE WISHING TREE (THE TREE OF DESIRE) (Georgia 1976) ***
Directed by Tengiz Abuladze
This simple entertaining piece of Georgian cinema celebrates what it is to be Georgia as one character in the film praises - there is only ONE Georgia. The setting is a Georgian village where many stories unfold. Though they are serious in tone, director Abuladze gives them a light touch - a new addition to the village, a beautiful nubile girl brings about jealousies resulting in the death of her true love; the mother of a backward teen runs around the village paying nobility to slap her son which she believes will cure him (according to the fortune teller); an ageing queen laments the loss of her true love 40 years ago. These tales reveal village life in rural Georgia as the characters dramatic souls turn out to be motley fools.