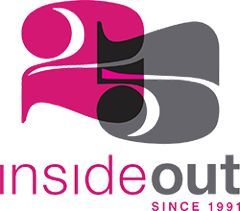 INSIDE OUT LGBT Film Festival 2015
The 25th year of INSIDE OUT runs from Thursday May 21 for 10 days till May 31. Tickets are already on sale.
The festival opens with Lily Tomlin in GRANDMA and closes with the Canadian entry, PORTRAIT OF A SERIAL MONOGAMIST by award-winning co-writers/directors John Mitchell and Christina Zeidler. Francis Ozon's THE NEW GIRLFRIEND will be a treat, showcasing again the French director's taler for drama and comedy.
New this year the Festival presents Spotlight on Canada, a program that highlights the latest narrative and documentary features from Canqueer talent. Highlights includes Sophie Deraspe's THE AMINA PROFILE, a suspenseful documentary on a Montreal woman's plight to save her kidnapped girlfriend in Syria; Erica Tremblay's IN THE TURN, a documentary about a mother's fierce love for her transgendered daughter and their mutual love of roller derby; the North American Premiere of Alon Kol's TRANSFIXED, a compelling film documenting the struggle a transgendered woman faces when trying to have gender reassignment surgery; and Maureen Bradley's TWO 4 ONE, a romantic comedy about unconventional pregnancy.
The International Showcase, a showcase of favourites from the international festival circuit will entertain, educate, and inspire audiences. Highlights include Mark Christopher's 54: THE DIRECTOR'S CUT, a reconstruction of the original 1998 film that includes 45 minutes of footage that was removed from the original theatrical version; the latest film from Marco Kreuzpaintner, director of festival favourite SUMMER STORM, returns with his new heartfelt comedy COMING IN; the North American Premiere of Roberto Cuzzillo's DON'T ACCEPT DREAMS FROM STRANGERS which tells the timely story of blossoming love between an Italian competitive swimmer and his translator in Putin's Russia; and the latest from award-winning queer-filmmaker and curator Jenni Olson, THE ROYAL ROAD.
For the complete schedule of films check the festival's website at:
Capsule Reviews of Selected Films:
EISENSTEIN IN GUANAJUATA (Netherlands/Mexico/Belgium/Finland 2015) ***
Directed by Peter Greenaway
Combined with stunning sets, art direction, costumes and period atmosphere are shit, vomit and explicit sex. This is Peter Greenaway (THE COOK, THE THIEF, HIS WIFE AND HER LOVER, DROWNING BY NUMBERS). His latest target is the great Russian director Sergei Eisenstein who fresh off his success of Battleship Potemkin, travelled to Guanajuato to direct his film Que viva México in 1931. While encountering a new culture, Eisenstein (Elmer Back)is assigned a handsome tour guide Palomino (Luis Alberti), a married man who has no qualms introducing Eisenstein to the pleasures of the siesta hour and anal sex. And when Greenaway does gay sex, it is a no holds barred affair. The film is a free-flowing interpretation of Eisenstein's stay in Mexico till the day is forced to leave and forced off the picture. Not for everyone's taste, his film is still a feast for the eyes.
EVERLASTING LOVE (AMOR ETERNAL)(Spain 2014) *
Directed by Marcal Fores
Marcal Fores' (ANIMALS) EVERLASTING LIVE begins with a group of youths discussing about love - eternal love being one aspect of it. The film looks like a documentary on love before the film shifts, after the opening credits to a fictional tale about a teacher banging his student in his chinese class. The setting is Barcelona. The teacher is middle-aged Carlos and the student is Toni. After cruising in a nearby park, Carlos' favourite haunt, Carlos gives Toni a ride home. Torrid sex starts. Despite a murder in the park, the two continue their relationship. Do not expect a film of the sophistication of STRANGER BY THE LAKE (L'INCONNU DU LAC), a French film also about murder that takes place in a cruising park. This one is a shallow film that thrives on dirty sex that really makes no sense at all, especially the last reel.
FOURTH MAN OUT (USA 2015) **1/2
Directed by Andrew Nackman
The coming-out theme in a gay movie is a well trodden path. In FOURTH MAN OUT, the premise of a car mechanic in a small, working class town coming out of the closet to his three unsuspecting, blue-collar best friends (played by Jon Garrus, Chord Overstreet and Parker Young) is a slight variation of the coming-out theme. The film focuses on the three friends and not on the gay character, Adam (Evan Todd). But this novelty is insufficient to lift the film above predictability, stereotyping and lame drama. The four unknowns try their best though there is nothing really demanding in their roles. The film is mildly funny and a good time waster for those unfussy about their moves.
GRANDMA (USA 2015) ***1/2
Directed by Paul Weitz
After grandmother Elle (Tomlin) has broken up with her younger girlfriend, Olivia (Judy Greer), her granddaughter, Sage (Julia Garner) appears at her doorstep asking for money for an abortion. Elle has none. They both ride together making many visits in order to come up with the money before the evening abortion appointment. The wise-cracking Tomlin delivers an honest, hilarious and dramatic performance without resorting to cheap theatrics. The film is divided into 6 sections each headlined under titles from 'endings' to 'apes' to dragonflies'. Weitz covers a dozen or so different issues that include family relationships, abortion, gay relationships, responsibility, loyalties and romance. GRANDMA is a little gem, unpretentious, well-intentioned and a feel good movie. The film also contains several excellent comedic set-ups the best one being the confrontation with Cam, the unlikely, unresponsive father who finally ends up getting beaten up by grandma.
Clip: http://deadline.com/2015/01/grandma-lily-tomlin-movie-paul-weitz-video-sundance-1201355250/
LIMITED PARTNERSHIP (USA 2014) ***1/2
Directed by Thomas G. Miller
Just as one would think gay films have run out of new themes (coming-out, gay romance, aids, senior gay coming-out, gay rights, gay marriage etc.), comes a documentary that re-visits he theme of gay rights through immigration. The film traces the trials of a couple through the period of the 70's to the present - a 40-year period that is on film, seems as fresh now as it was then. It is the courageous love story of Filipino-American Richard Adams and his Australian husband, Anthony Sullivan. After meeting in a Los Angeles gay bar in 1971, the men became one of a handful of same-sex couples who were issued a marriage certificate in 1975 by a forward-thinking county clerk in Boulder, Colorado. But they were not allowed to remain in the United States. In an official letter from the Immigration and Naturalization Service, their petition was denied because they "failed to establish that a bona fide marital relationship can exist between two faggots." The couple then sued to prevent Tony's deportation – thus filing the first federal lawsuit seeking equal treatment for a same-sex marriage in U.S. history. This is their tireless struggle that every person should feel for. Miller's film also pays tribute to the other brave people in the story like the courageous county clerk in Boulder, Colorado who issued the marriage certificate and the immigration attorneys that fought on the couple's behalf. A compelling and still relevant documentary that turns into a love story at the end!
Trailer: https://vimeo.com/95349718
UNE NOUVELLE AMIE (A NEW GIRLFRIEND) (France 2014) ****
Directed by François Ozon
Ozon (8 FEMMES, SITCOM, THE CRIMINAL LOVERS, JEUNE & JOLIE) does Ozon and much more. The film adapted and directed from a novel by Ozon centres on Claire (Anais Demoustier) and her late best friend's husband, David (Romain Duris) who cross dresses. Claire develops a relationship (girly-wise) with David where they go shopping and he dresses up sexily as Virginia. They go dancing and even take off secretly on the weekends. Ozon takes his film up several levels because he is not afraid to take his material seriously but still with a pinch of very salty humour. There is sex and nudity to amuse his fans, male and female, female and female, male and male and even more…… The film gets a bit too serious towards the end with a car accident and David (or Virginia) going comatose. But like any Ozon film, a happy ending is around the corner as is a very satisfying and saucy film.
A SINNER IN MECCA (USA/Saudi Arabia/India 2015) **
Directed by Parvez Sharma
Director Parvez Sharma the director of the controversial A IHAD FOR LOVE attempt to answer the question of whether it is possible for a gay man to be a good Muslim in his new documentary A SINNER IN MECCA. Sharma turns the camera on himself, documenting his journey on the Hajj pilgrimage to Mecca, which all Muslims are required to fulfill at least once in their lifetime. Sharma's journey is fraught with danger. Homosexuality in Saudi Arabia is punishable by death, and filming at the holy sites is forbidden. It is a very personal film, with him talking to the camera most of the time. But it is quite the chore to have to listen to him complain about everything all the time. He fusses about Islam not accepting gays but he himself has not respect for any rules. He films in religious places where it is forbidden, accepts no rules and puts down everything. There is a very disturbing scene of a live goat sacrifice that need not be seen. The film provides a cry biased negative look of Islam, eye-opening in certain areas but one cannot understand why this Sharma has continued to brace something that does not accept him.
TAB HUNTER CONFIDENTIAL (USA 2015) ***1/2
Directed by Jeffrey Schwarz
The title comes from the tabloid magazine Confidential - a journal much feared in Hollywood as it exposed the subject so much so that his or her career could be ruined in the process. Hunter's arrest at a gay party was one such article in the paper. TAB HUNTER CONFIDENTIAL is the story of the actor/singer told by the star himself talking to the audience throughout the film. The film details his entire life from a boy brought up by a single mother, how he got into show business, achieved fame, lost it and came out. His romance with a star skater is also a revealed. The era of the 50's when homosexuality was outlawed is effectively evoked as well as the nostalgia of the past and glamour of the movies. For those that were born around the time of the baby boomers, this film all bring back sweet memories of an era begone, good and bad. he segment on the death of Hunter's old fling, Anthony Perkins is indeed sad and moving. Hunter's take on Perkins' marriage is both admiral and insightful. The documentary is a well-told biography, revealing, insightful and entirely entertaining.
THOSE PEOPLE (USA 2015) **
Directed by Joey Kuhn
THOSE MEN is a un-inspirational story set in Manhattan, that has been seen in movies, straight or gay before. A character falls in love while his true love is actually his best friend who happens to have the same feelings. This comedy drama includes a wealthy best friend whose father is jailed for embezzling his clients funds while he, Sebastian has a few mental issues. Charlie who has just moved in with Sebastian to offer support but falls in love with a foreign pianist,Tim. When Tim gets a job in San Francisco and Charlie plans to move away, all hell breaks lose. The main fault of the film is the main actor playing Charlie who is annoying while smiling and trying to look cool all the time, and basically a terrible actor. The supporting actor playing Sebastian, however, is awesome, resulting in the supporting character taking all the limelight from the main one. But the film is neither dramatic or funny enough.