26
Jun
2015
Details

Category: Movie Reviews
Written by Gilbert Seah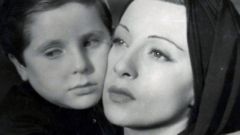 TIFF CINEMATHEQUE PRESENTS - VITTORIO DE SICA
The series entitled "More Than Life Itself: Rediscovering the Films of Vittorio De Sica" begins June 26th 2015.
This series goes on in conjunction with TIFF Cinematheqiue's Summer in Italy series.
Dedicated to the great Italian maestro, De Sica are rare and restored prints of classics including Bicycle Thieves, Marriage Italian Style, Umberto D. and Two Women.
All the above 4 films and THE CHILDREN ARE WATCHING US are capsule reviewed below.
CAPSULE REVIEWS:
THE CHILDREN ARE WATCHING US (IL BAMBINI CI GUARDANO) (Italy 1944) ****
Directed by Vittorio De Sica
It is exactly how the title implies. Prico is the young boy who quietly observes the mother Nina's infidelity with her lover, Roberto. It all begins when she takes him to a park for her rendezvous. Thing get complicated when she leaves suddenly and then returns home to the family out of guilt for the boy. Films told from a child's point of view have always that certain innocent charm that wows the audience. This film is no exception. It is one of innocence lost in an adult's corrupt world. The scene in which the boy lies to the father to protect the mother is one of the film's most moving segments. It also confirms De Sica's mettle at working with children in films (BICYCLE THIEVES, SHOWSHINE). It helps that Luciano De Ambrosis playing the boy is absolutely adorable. The film will be screened in a rare imported 35mm print. Th film's ending is incredibly powerful and unforgettable.
LADRI DI BICICLETTE (Bicycle Thieves) (Italy 1948) *****
Directed by Vittorio De Sica
One of the most beloved and heartbreaking films of all times, De Sica's LADRI DI BICICLETTE is the ultimate neorealist film. It tells of a man, Antonio Ricci (Lamberto Maggiorani) who has his bicycle, his only means of making a living stolen. Desperate, he roams the streets on a Sunday with his son (Enzo Staiola) hunting down the thief. The adventures provide more trouble than ever, as the thief is found, but there is nothing that can be done with no evidence or witnesses. De Sica ups the suspense many times during the film, especially in the early scenes when the audience knows that the bicycle is going to be stolen, or when Antonio is deciding whether to steal another bike. The non-professional actors are surprisingly perfect, especially Staiola as the son. The poor working class atmosphere is effectively created as well as the desperation of the Romans unable to get decent work. LADRI DI BICICLETTE is still a pleasure to watch, time and time again!
MARRIAGE, ITALIAN STYLE (MATRIMONIO ALL'ITALIANA) (Italy/Fr 1964) *****
Directed by Vittorio De Sica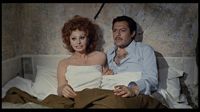 Simply put, MARRIAGE, ITALIAN STYLE is the best romantic comedy of all time. Full of heart, Italian charm, romance, emotion, drama and tons of laugh-out loud laughs this is one must-see film that will blow you away. Based on the play Filumena Martunaro, the film begins with the World War II era story of a cynical, successful businessman named Domenico (Marcello Mastroianni), who, after meeting a naive country girl, Filumena (Sophia Loren), one night in a Neapolitan brothel, keeps frequenting her for years in an on-off relationship (as she continues working as a prostitute). He fools her to meet his mother only to have her take care of her - an ailing, senile woman, who comically, dies in the film's next scene. She fools him to marry her, him believing she is about to die. She reveals to him to be the mother of 3 sons, one of which is his. Typically Italian, the film is full of shouting and full of keen observations on Neopolitan life. Loren, nominated for the Best Actress oscar is simply magnificent and beautiful in every way, especially in the scene where she climbs out of the window of a bus. The film was also nominated for the Best Foreign Film Oscar.
TWO WOMEN (LA CIOCIARA) (ITALY/FRANCE 1960) ****
Directed by Vittorio De Sica
The Italian title La Ciociara translates to 'the woman'. The English title TWO WOMEN refers to Cesira (Sophia Loren), a wealthy shopkeeper in Rome and her 12-year old daughter, Rosetta (Eleanora Brown) who suffers from a weak heart. When allied bombs fall in Rome during the second world war, they travel to the village where Cesira was born. TWO WOMEN is a road trip, in a way as they do a lot of travelling with major incidents occurring then. The film spends a fair amount of time in the village where Cesira meets a communist intellectual Michele (Jean-Paul Belmondo) who falls in love with her. But the most disturbing segment is when mother and daughter get raped by soldiers hiding in a church. This cruel event is too much for the always powerful fighting Cesira and she suffers from a breakdown. A drama that has a light touch till the rape scene. De Sica captures both the human condition during the horrors of war. Loren won the Oscar for Best Actress for her role in this film.
UMBERTO D (Italy 1952) ****
Directed by Vittorio De Sica
Made after LADRI DI BICICLETTE, though not as good but still effective in its storytelling, UMBERT D begins with a march of elderly men for the raising of pensions which is quickly stopped by the police because the men had no permit to march. The crowd files out of the square, still muttering their protests, with the camera eventually focusing in on one of the marchers, Umberto D (non-professional actor Carlo Battisti). The story centres on this old man who needs money to prevent his eviction from his rented room. He is unable to find the money and is depressed to the point of suicide. His old friends are a pregnant maid and Flike, his dog. De Sica's camera follows UMBERTO D around the town evoking the audience's emotions as a decent man tries to survive in a hard world without enough money. The simple climax is sufficient to shake the audience out of their seats.