16
Jul
2015
Details

Category: Movie Reviews
Written by Gilbert Seah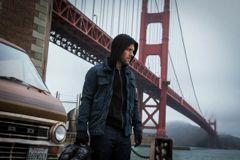 Opening this week are ANT-MAN and TRAINWRECK. Smaller films opening include JIMMY'S HALL and a transgender comedy TWO 4 ONE.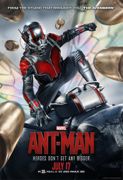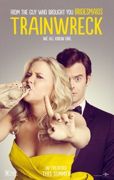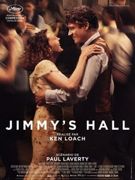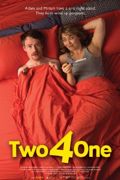 FILM REVIEWS:
ANT-MAN (USA 2015) ****
Directed by Peyton Reed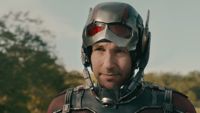 In the 12th instalment of the Disney/Marvel collaboration, ANT-MAN is seen on the screen for the first time and a sort of super anti-hero.
Armed with the astonishing ability to shrink in scale but increase in strength, master thief Scott Lang (Paul Rudd) must embrace his inner-hero and help his mentor, Dr. Hank Pym (Michael Douglas), protect the secret behind his spectacular Ant-Man suit from a new generation of towering threats. Against seemingly insurmountable obstacles, Pym and Lang must plan and pull off a heist that will save the world.
The characters are all developed. The secret side of the thief Lang reveals a good man (the film's message is embedded in this character) caught dong wrong. Michael Douglas' Dr. Pyn character surprises from the scene when he pulls, literally the first punch. There is also a little romance between Lang and Dr. Pyn's daughter, Hope (Evangeline Lilly) that is played mainly for laughs.
ANT-MAN has 3 major and many minor things going for it. The first two are the writers. Edgar Write of SHAUN OF THE DEAD and Joe Cornish from ATTACK THE BLOCK both ensure a script that is hilariously funny, original and explosively exciting. The film is also co-scripted by Paul Rudd, Stan Lee and Adam McKay. Even the silly subplots like Lang's connection to his daughter and problem with his estranged wife (Judy Greer) an new beau (Bobby Carnnavale) work effortlessly to amuse. The third major factor, Paul Rudd playing ANT-MAN guarantees a different super-hero, one that is reluctant, funny and also sexy. Rudd has developed quite the 6-pack body since his last movie. Then there are the minor additions that make the film unforgettable. This is Michael Douglas' best (since playing Liberace in BEHIND THE CANDELABRA) and funniest role as Dr. Hank Pym. It is also Michael Cena's best role. Cena has mostly been seen in serious dramas like MILLION DOLLAR BABY, END OF WATCH and GANGSTER SQUAD. But his supporting role as Lang's cell mate and member of his heist team generates laugh-out loud laughs in almost very scene he appears, even the one where he falls asleep.
An additional bonus is the film's parody other Marvel films. The film pokes fun at IRONMAN as Ironman also dons a special costume. There are also cameos from Anthony Mackie as Falcon and an uncredited Chris Evans as Captain America.
The action scenes that involve lots of CGI as ANT-MAN fights accompanied with hundred of different ant species are spectacular as well as stunning to look at.
ANT-MAN is terrible smart, too funny and entertaining to the tilt. I have not heard an audience applaud and cheer that loud this year at a promo-screening. Highly Recommended!
ANT-MAN is the funniest Marvel super-hero film made by Marvel/Disney so far. ANT-MAN is a minor Marvel super-hero, that many (like myself) have not heard of before. The clip at the end credits prime the audience to loud cheers of an upcoming sequel. This minor super hero that many have never heard of before is going to become a major Marvel super-hero.
Trailer: https://www.youtube.com/watch?v=pWdKf3MneyI
JIMMY'S HALL (Ireland/UK/France 2014) ***1/2
Directed by Ken Loach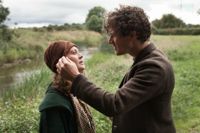 Known for his social political films (KES being his best film, SWEET SIXTEEN and MY NAME IS JOE, RIFF-RAFF and LADYBIRD, LADYBIRD being my favourites and THE WIND THAT SHAKES THE BARLEY his Cannes Palme d'Or Winner), JIMMY'S HALL is yet another of the veteran director's offering in the same vein. It is a period piece set in the 20's and 30's when Irishman Jimmy Gralton (Barry Ward) built a dance hall, only to be condemned a communist and traitor and banished to leave his birth country. The story is loosely based on true events.
The film begins with a titled commentary informing the audience of the film's setting and its state of affairs. The time is the early 30's and Jimmy Gralton has just returned to his county of Leitrim in Ireland from New York City. Not much had been said about his past but that he was a bit of a troublemaker. So, the audience is primed for some troublemaking. This trouble takes the place in Jimmy's re-opening of the old Pearse-Connolly Hall, a place where the youth (and older too) could come in to learn, socialize and mainly dance. Th film contains a few early forms of Riverdancing.
With 15-minutes of flashback, the history is revealed when the hall was first opened and grew in popularity with its socialist and free-spirited reputation bringing it to the attention of the church and politicians who forced Jimmy to flee and the hall to close. Now history is about to repeat itself.
It is a simple story that occurs twice in the film - starting and closing of the hall and extradition of Jimmy Gralton. But it is not the story but the characters that matter. Though Jimmy is supposed to be politically communist, his political views are largely lightened in the film.
The film's two most interesting characters are Jimmy's mother (Francis Magee) and Father Sheridan (Jim Norton). The script allows Jimmy's mother her say, and she does have her full say in a newspaper article where she voices her thoughts. One cannot help but root for a mother who loves her son, above everything else. Father Sheridan, despite being the main instigator against Gralton's endeavours, is shown with some compassion. But his conversion from non-compassionate to compassionate by Jimmy's words in the confession box is hardly convincing.
JIMMY'S HALL is an affable film but lacks the power of Loach's more controversial films. His best film KES, for example really strips down all the social layers to get into the soul of the film's character. JIMMY'S HALL attempts to just re-tell of Jimmy's exploits and that is about all.
Still the film is a homage to the Irish, their language, dancing, life and country. The teaching of a gallic song in Jimmy's Hall is particularly moving. And it is a well made period piece with a lot of heart.
Trailer: https://www.youtube.com/watch?v=iUQ9s2ex4HE
THE TRIBE (Ukraine 2014) ****
Directed by Myroslav Slaboshpytskiy
THE TRIBE, which garnered three Critics' Week awards, including the Grand Prix — is an unforgettably original drama set entirely in the world of the deaf mute. The film begins with the warning that there are no subtitles, translation or voice over. The result is a film that often is difficult to understand, less put together unless one understands sign language.
The protagonist is teenage Sergey (Grigoriy Fesenko), arriving at a boarding school for the deaf and mute, and greeted by more than the usual challenges of integration. He is put through the requisite initiation rites, he proves himself worthy and is brought under the protective wing of the school's gang leader. But he falls in love, setting up major problems.
That is pretty much the film's story. Sergey's development from novice to patriarch. It is a disturbing story of youth but one everyone can relate on one level or another. There is the bully, the bullied, the used, the user, the victim and the innocent.
Director Slaboshpytskiy shoots his film mainly with long shots, stationary and tracking. Closeups are not used. The film contains no music. The soundtrack, mainly of background noises add to the solitude of the youth. The film sound eerie without music or human dialogue.
One can argue that THE TRIBE is a gimmick film. But it is one that would still work without the gimmick. The main gist of the story can easily be understood. Trying to understand exactly what is happening, might not really be necessary, (another example being last year's troubled youth film STARRED UP). But love, drama and raw emotions need no language to understand - as the film quips. I have see the film twice, the first time at last year's Toronto International film Festival. The first viewing blew me away for its shock value and unexpected storyline. The surprises are gone on the second viewing but THE TRIBE is still a compelling watch from start to finish.
Trailer: https://www.youtube.com/watch?v=pXN7hS-Evao
TWO 4 ONE (Canada 2015) **
Directed by Maureen Bradley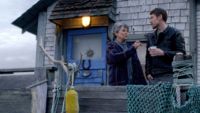 First screened in the Canada's Spotlight section at the Inside Out LGBT Film Festival, TWO 4 ONE is a rare transgender comedy about a transgendered female Melanie to male Adam (Gavin Crawford) who unexpectedly gets pregnant as a man. Never mind the medical specifics if this is possible, the writer/director assumes the audiences just goes with the flow.
Adam, a transman agrees to have a one-night stand with his ex-girlfriend Miriam (Naomi Snieckus) during which he will artificially inseminate her with donated sperm. However, an accident during the encounter leaves Adam, who has not yet completed the surgical phase of his gender transition, pregnant and forced to confront the ways in which the situation confounds his gender identity.
On Gavin's twitter site, "I make faces on TV, sometimes I am funny" is twittered. But there is one tweet that says this: "Please, no more pictures!" Humour is perhaps only in the eye of the beholder. Crawford's characters is assumed to be comical, a bit sad and perhaps sympathetic. But it comes across as humourless and pitiful rather than sympathetic. The actor's performance as a whole picture is the key. But to be fair to the actor -it is also the fault of the script and the director's timing.
For a comedy, a lot of the jokes fall flat. The best example is scene in the cabin scene between Adam and his mother (Gabrielle Rose). The mother makes crack after crack at his/her comments on becoming pregnant, but the comedic timing is completely off. In proper hands, that scene might be an unforgettable laugh-out loud moment.
The film's best segment is the one in the bar when Adam tells his construction co-workers that he was previously Melanie. Though their reaction is expected, their positive attitude still makes a winsome moment, much lacking throughout the rest of the film. The cordial mother/son relationship also helps the film win audiences to the story's side.
As for story-wise logic, one wonders for the poor fate of Miriam's current live-in girlfriend (Andrea Menard) who has to put up with Mariam's infidelity and dishonesty. She is still there for Mariam after a catastrophe. No one in their right mind would put up with it.
At least the film is unafraid of being Canadian. A lot of small budget films disguise their Canadian roots to cater for a larger American audience. Crawford has his roots in Toronto theatre.
But the film won a few awards, for Gavin as Best actor (ACTRA) and Gabrielle Rose for Best Supporting Actress (Leo awards).
Two 4 One is a small, earnest, well-intentioned film, a gimmick film about a male getting pregnant. But a film needs for than a gimmick to work. A similar 1972 film, the little seen Jacques Demy's THE SLIGHTLY PREGNANT MAN with Marcello Mastroianni, at least showcased the gay director's modern idealistic future lifestyle in his work.
Trailer: https://vimeo.com/106037011
BEST BETS:
Best Film Opening: ANT-MAN
Best Animation: INSIDE OUT
Best Documentary: AMY
Best Action: ANT-MAN
Best Foreign: A PIGEON SAT ON A BRANCH REFLECTING ON EXISTENCE
Best Indie: DOPE and TANGERINE
Best Western: SLOW WEST