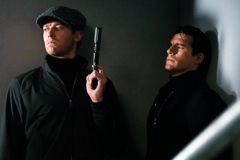 Big Films opening this week are THE MAN FROM U.N.C.L.E. and STRAIGHT OUTTA COMPTON. Female movies opening include DIARY OF A TEENAGE GIRL, THE KINDERGARTEN TEACHER and SHE'S FUNNY THAT WAY.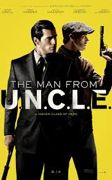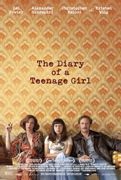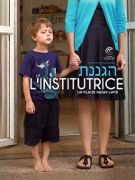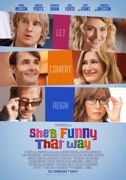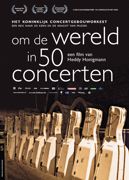 FILM REVIEWS:
AROUND THE WORLD IN 50 CONCERTS (Om de wereld in 50 concerten)
(Netherlands 2014) ***
Directed by Heddy Honigmann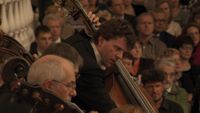 The film begins rather erroneously with a cymbal player in the orchestra talking about his important position. It goes on for almost 10 minutes before the audience realizes that the film is not about him, but about the orchestra he is in. And the documentary goes on to follow the orchestra, the Royal Concertgebouw Orchestra (RCO) as it tours the world in celebration of its 125th anniversary. It is 50 concerts, as the title informs spread over 50 countries. But the film is not that ambitious to show all the countries but a few - Africa, Argentina and Russia).
As one can probably guess from the first paragraph description of the film, AROUND THE WORLD IN 50 CONCERTS is all over the place. It cannot decide on who to interview, on which country to concentrate on on what is most important in the film. Watching it puts one in quite the disarray. But the film is not short on surprises. For one, the music is beautiful. One cannot complain about listening to a symphony orchestra. The stories told by the selected orchestra individuals are amazing and enlightening.
Director Honigmann lived in Peru and is the daughter of Polish-Jewish Holocaust survivors. Her film understandably stresses music's ability to unite classes and races. One segment has Russian retiree Sergej speak movingly of a life scarred by the oppressions first of Hitler, then of Stalin. Another has a cab driver in Africa talk about how classics help him get over the vulgarity of the streets.
So the best thing when watching this film is to sit back and enjoy and not worry about anything else. Documentary maker Heddy Honigmann lands with the orchestra in Buenos Aires, Soweto and St Petersburg and shows how the ensemble succeeds in gaining the hearts of people with a different cultural background. It is a remarkable journey to the centre and the power of music which knows how to touch unexpected emotions and which helps to overcome the pain of living.
Trailer: https://www.youtube.com/watch?v=H2Hs2zksyV0
DIARY OF A TEENAGE GIRL (UA 2015) ***
Directed by Marielle Heller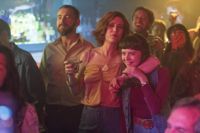 One can expect writer/director Marielle Heller to know the character of her teenager protagonist quite well. After all, she had already adapted Phoebe Gloeckner's graphic comic (first given to her at Christmas by her sister) into a play which she starred in herself. Minnie Goetze (Bel Powley) is a complex teenager, immature and unsure with what she wants but still intelligent enough to make the right choices in life. Heller paints a winning portrait of a teenager who comes off better when she first started.
The premise of the film is a teen daughter who has an affair with her mother's boyfriend. She comes to terms with her emotions and grows up in the process - a sort of coming-of-age story.
Minnie is first seen as an insecure teenager. She writes her diary which tells her story. The first encounter with the mother's boyfriend, Monroe (Alexander Skarsgard) occurs rather matter-of-factly that the audience cannot pin-point exactly who is to blame (both should be) or who started it. Of course, mother, Charlotte (Kristen Wiig) eventually finds out. The aim of director Heller is to create Minnie as a typical teenager with normal problems and challengers, showing that the trouble she got into could be one that any other teenager could also get into.
What is marvellous about the film is its believable portrayal of a teenager. When Minnie goes head over heels in love with Munroe, it is totally expected. Where Munroe takes the affair as a meaningless fling, she wants a relationship. All Munroe worries about is mother finding out. And finally when Minnie can get him, she thinks twice. The notion that a person wants what he or she cannot get is so real, and well depicted in the film.
Bel Powlet is close to perfect as Minnie the teen displaying both the vulnerability, testiness and intelligence of youth. As for looks, she is pretty enough, but could also be classified as 'ordinary' looking.
Despite the film's title and the central character, DIARY OF A TEENAGE GIRL is not a film for teenagers, but for grownups who have all gone through the teenage phase in their lives.
Trailer: https://www.youtube.com/watch?v=M9LNsSjnqBM
FINAL GIRL (USA 2013) **
Directed by Tyler Shields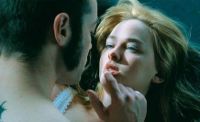 The premise is straight forward enough. A young girl, Veronica (Abigail Breslin) is selected and trained by a strange man William (a buffed up Wes Bentley) for the task of being an assassin. Her target are for four boys who hunt and kill blondes for sport.
The film takes the story to its logical end with Veronica accomplishing her mission.
A narrative mess with quite a few plot holes that the scriptwriter chooses to ignore, FINAL GIRL also is so-so acted, unbelievable and contains the worst action sequences put on film this year or in 2013.
The connection between William and the 4 boys is never explained. Was William hired by the families of the victims? Or is William a victim out for revenge? The audience is told that William's wife and daughter were killed but with no other details given. The audience is also informed of the death of Veronica's two parents. If the four boys have been active murdering girls for such a long time, why is the police not active and why are there no notices on the missing girls?
Veronica's training is silly and she does not look tougher or that she has learnt anything. One scene has her taught the uselessness of a gun because guns run out of bullets. This logic makes no sense at all. When the boys are given a hallucinatory drug by Veronica, their confronted fears are too conveniently put together.
The film picks up a bit once the preliminaries like the plot is done. This occurs around the film's 30-minute mark. Then it is blonde vs. the four boys. The film becomes a reverse slasher horror pic but without any nudity.
Acting is tolerable at best. Breslin is totally unbelievable as the deadly assassin. She looks too frail to do any fighting, especially against opponents bigger than her. Her choke holds looks stupid and unbelievable.
The film is set in the 50's. Why? It really does not matter when either as most of the scenes are in the woods. The wardrobe and makeup could be taken from any decade.
The film also lacks a satisfactory ending - the one with the pancakes makes no sense. The girl accomplishes her task, as expected and that is about it.
The only thing that is a minor lift is the film's photography. The shots in the woods look eerie enough and occasionally stunning. The film is also availbale on vod Aug 14th.
Trailer: https://www.youtube.com/watch?v=Ec1-3Fjxy0c
GUIDANCE (Canada 2014) ***
Directed by Pat Mills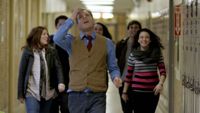 The ad for the comedy GUIDANCE says: "Everyone needs guidance." No one needs more guidance than the film's central character, David Gold (played by actor/writer/director Pat Mills) who has just lost his job, about to lose his apartment for failure to pay the rent and cut off from his sister's good books. David needs help. The irony is that he fabricates credentials to score a last-ditch job as a high school guidance counsellor. Surprisingly, he succeeds in dealing with the students' problems, getting along with the students and staff until the identity theft is discovered.
The premise of a screwed up individual making good as a school guidance counsellor is nothing novel. I have two f**ked up friends who are in this occupation in real life. (Hopefully for my sake, they are not reading this review.)
The film plays a bit like the TV series MR. D and the classic back to school comedy STRANGERS WITH CANDY.
GUIDANCE makes good use of the Toronto landscape. David is often seen riding his bike along the streetcar tracks (a Toronto familiar site) and walking around the Liberty Village area.
GUIDANCE is not the perfect movie. It has both flaws and pluses. But it also contains a certain winning charm. And credit should be given to one-man show Pat Mills for an occasionally very funny film. Though not highly original as mentioned earlier, the ending is off-beat enough not to go for the typical Hollywood happy ending. For all the effort Pat Mills has put in, his film deserves a look.
One can only wonder what project Mr. Mills will be concocting up next.
Trailer: http://searchenginefilms.com/guidance/
I AM CHRIS FARLEY (USA 2015) ***
Directed by Brent Hodge and Derik Murray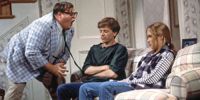 I AM CHRIS FARLEY celebrates the late comedian's work, tracing his fame from Second City to Saturday Night Live to films like TOMMY BOY till his death at the early age of 33, in December 1997. Talking heads are his pals who have worked with him like Adam Sandler, Mike Myers, Tom Arnold, Christina Applegate, David Spade and writer Bob Odenkirk. The film features quite a few of his successful sketches including appearances on the late shows. This is a 'happy' film, concentrating on the man's talents rather than his problems in life. Interviews include his family members as well as from a brother, Kevin Farley who also does stand-up.
The film is a worthy tribute that does Chris Farley justice as a comedian.
This film will be inevitably compared to the recent documentary AMY, about Amy Winehouse, the talented singer who suffered the same tragic fate of drug overdose as Farley. Unlike AMY which was unafraid to depict her drug abuse (including the scene where she was unable to perform at a concert), director Hodge largely ignores Farley's drug abuse. A few segments like the ones with sad Bob Odenkirk and Bob Saget talking about it make the point.
The most entertaining parts of the doc are the comedy clips. Farley's performance as 'motivational speaker, Matt Fole' for Second City and then on Saturday Night Live with David Spade and Christina Applegate with the latter giving her point of view is the film's best. His appearances on the late shows (David Letterman and Conan O'Brien) are also priceless.
But the film lacks more insight to the Farley's demons. His highs are mentioned but little else is heard of his troubles. What drove him to drink and drugs? What kind of drugs was he hooked on? His social and love life are also ignored. (Farley went to rehab 17 times and died of an overdose of morphine and cocaine.)
Why a full documentary on Chris Farley? Farley though a talented comedian is not a great person that changed the world or made the world a better place to live in. As for talent, there are other more important influences of the day like the old classic comedians like Sid Caesar, Milton Berle, Jack Benny, Mel Blanc - a list too many to mention. The doc got made because Farley's friends wanted a pay tribute to a funny person. No harm in that! In the words of Farley himself: "Everyone loves it when Tubby falls down." Hopefully this film will be a catalyst for other films about comedians to be made.
Trailer: https://www.youtube.com/watch?v=r835keCmzHM
THE KINDERGARTEN TEACHER (Israel/France 2014) ***
Directed by Nadav Lapid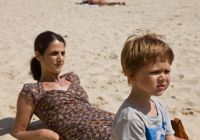 Kindergarten teacher of 15 years, Nira (Sarit Larry) discovers a child prodigy in the form of her 5-year old student Yoav (Avi Shnaidman). She nurtures his talent of poetry writing.
But this is not the typical Hollywood story. One would expect a tear jerker film in which the teacher goes against all odds in championing the boy's talent. The story would likely have the boy be a rebellious one, who would have his nature tamed by his talent. Lapid's story is completely different.
Lapid's film centres on the teacher instead of the boy or the boy's talent. Nira shields him and his talent to the state of perverseness. She believes that the boy should be protected and she protects him at all costs. She even goes to the extent of kidnapping him at the end of the film. When she discovers that the boy's nanny is stealing the poems for her acting auditions, Nira gets the many, Miri (Ester Rada) fired. But she herself steals the poems for her poetry group, claiming the boy's poems as her own. This is a disturbing story of a disturbed person. But on the outward, Nira appears normal with a husband and two children. Director Lapid pulls a good one on his audience.
But Lapid's film also reflects the current Israeli society. The film clearly imposes Lapid's beliefs. At one point in the film, a character compares the decision of joining the army to that made by a moron, which is quite a harsh comparison. Clearly Lapid's film favours poetry and art but the film need not condemn others uninterested in the arts. Apparently, decorator lapis also wrote poems as a child.
The film also feels perverted in the way the camera also seem to linger on Nira's breasts or to display the uncomfortable sex scenes.
The boy Yoav looks too innocent to be able to write the poems recited in the film. Perhaps this is Lapid's intention to display the disbelief. But it goes on a bit far. The audience is led to believe that a 5-year old child who has barely learnt to speak or write in his mother tongue be able to write poems while just strolling up and down.
One also wonders at the purpose or message of the film. No doubt the film decries the decay of art and loss of individuality, but the story is a strange one in relaying the message.
Lapid's film is nicely shot in Tel Aviv and Jerusalem adding a bonus to the film's story.
The result is a complex film that demands more thought on reflection. Though not the perfect film, THE KINDERGARTEN TEACHer is a worthy effort and a good thought provoking feature. The ending (not the be spoiled in this review) is also a strange one.
Trailer: https://www.youtube.com/watch?v=Ewo2SA4qVVg
THE MAN FROM U.N.C.L.E. (USA 2015) ***
Directed by Guy Ritchie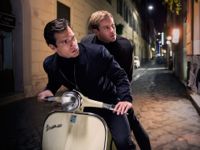 U.N.C.L.E. (which stands for United Network Command for Law and Enforcement, that is only revealed at the end of the film) agents Napoleon Solo (Henry Cavill) and Illya Kuryakin (Armie Hammer) are recruited (blackmailed to work in reality) to save the world. The duo team up on a joint mission to stop a mysterious international criminal organization led by super gorgeous Lady Gaga-like Victoria Vinciguerra (Elizabeth Debicki), which is bent on destabilizing the fragile balance of power through the proliferation of nuclear weapons and technology. Solo rescues Gaby Teller (Alicia Vikander), the daughter of a vanished German scientist, who is kidnapped to build a nuclear warhead.
As expected from Guy Ritchie, who penned the script with Lionel Wigram, the director of stylist action comedies like SNATCH and LOCK, STOCK AND TWO SMOKING BARRELS, THE MAN FROM U.N.C.L.E. is more style than substance. The opening action sequence, especially the car chase (neck-to-neck) is extremely well done, which can hardly be matched by any of the other action sequences in the film.
The chief complaint of adapting popular TV characters is found in Ritchie's film. Ritchie completely butchered Sherlock Holmes and Dr. Watson in his SHERLOCK HOLMES films turning them from thinking sleuths to action heroes. Not only is the famous MAN FROM U.N.C.L.E. music theme missing in the film (something that the MISSION IMPOSSIBLE films kept to good advantage) is that the agency of THRUSH is completely omitted. The soundtrack is filled with spheSolo and Kuryakin's boss Alexander Waverly is changed from American (played by Leo G. Carroll) to British (Hugh Grant) and the girl from U.N.C.L.E. never appeared till long through the TV series. In the film, Solo and Kuryakin are constantly fighting as American and Russian. They never fought in any of the TV series.
But THE MAN FROM U.N.C.L.E. lies somewhere between spy spoof and action flick. The problem is that this film and the series in particular are a bit of both. As for spy spoofs, audiences have seen better in AUSTIN POWERS and in the two French OSS 117 spoofs and as for the other, there are countless action blockbuster flicks released monthly.
The standouts of the film are its 60's stylish atmosphere. The outlandish sets, wardrobe and props as well as the titles and split screen look something right out of the films of the era. What is short on excitement is substituted for style.
There were a total of eight MAN FROM U.N.C.L.E. films made based on the series. They were low budget, camp and more fun. I have seen all of them from TO TRAP A SPY to HOW TO STEAL THE WORLD and would swap the viewing of any of these to this one. Still for anyone growing up on TV in the 60's, like me, this film still offers a good dish of nostalgia even though it just whets the appetite.
Trailer: https://www.youtube.com/watch?v=4K4Iv_N9Nno
SHE'S FUNNY THAT WAY (USA 2014) **
Directed by Peter Bogdanovich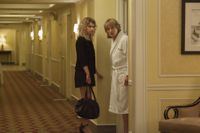 SHE'S FUNNY THAT WAYis advertised as a screwball comedy. But it feels like a bedroom farce. Hookers hide in bathrooms and appear at restaurants while wives and other lovers storm in and out of bedrooms and restaurants.
The film features the interconnected personal lives of the cast and crew of a Broadway production with established director Arnold Albertson (Owen Wilson) as the central character providing the link. The trouble starts when he casts his call girl-turned-actress Isabella "Izzy" Patterson (Imogen Poots) in a new play to star alongside his wife Delta (Kathryn Hahn) and her ex-lover Seth Gilbert (Rhys Ifans). Why? The script calls for lots of these unexplainable acts. So don't ask! Into all this comes Izzy's therapist Jane (Jennifer Anniston), who is consumed with her own failing relationship with Arnold's playwright Joshua Fleet (Will Forte), who, to complicate matters also developing a crush on Izzy.
Bogdanovich fascination with call girls in this film is understandable given his past films like SAINT JACK that got the director banned for life from entreating Singapore. He made a film about a returning British soldier to Singapore after the war to open a brothel. Knowing that the government will not approve the film due to con ten , he submitted a fake script entitled JACK OF HEARTS. Obviously the government found out. In SHE'S FUNNY THAYT WAY, Izzy's line of work flows into the film, as does her colleagues and boss, Vicki (Debi Mazar).
The script is co-written by Bogdnovich and his ex-wife Louise Stratten. In their real life, Louise's sister was a porn star that Bogdanovich cast as an actress. The sister was sadly murdered and stalked by her husband who ended up shooting himself. So, the part of the director casting a call girl flows into this film.
The film benefits from the impressive list of stars including cameos from past Bogdanovich films. Tatum O' Neal from PAPER MOON appears as a waitress as does Cybill Shepherd from THE LAST PICTURE SHOW and DAISY MILLER. Joanna Lumley and Quentin Tarantino also make welcome surprises.
The idea of play within a play and art imitating life and vice versa is played too obviously. In a lot of dialogue, the audience is to be intentionally vague as to whether the dialogue refers to the real life or acted characters. But it is the comedic setups that are the problem. From the first one, in which Izzy, now a successful star is being interviewed by a reporter (Illeana Douglas) to the hotel room mix-up, they do propel the plot but unfortunately do not generate many laughs. Most of the characters are also not used to their full comedic potential. Because the film is quite dialogue intensive, it feels like a Woody Allen romantic comedy, and especially when the Jewish characters like the judge (Austin Pendleton) shows up.
Its been a while since director Bogdanovich had a hit since THE LAST PICTURE SHOW, WHAT'S UP DOC? and PAPER MOON. SHE'S FUNNY THAT WAY is not it. But the screwball comedy haS a few good moments.
Trailer: https://www.youtube.com/watch?v=h7kLUOjKAqE
BEST BETS:
Best Film Opening: How to Change the World
Best Animation: INSIDE OUT
Best Documentary: AMY
Best Action: ANT-MAN
Best Foreign: A HARD DAY (South Korea)
Best Indie: DOPE and TANGERINE