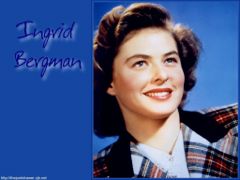 TIFF Cinematheque presents - Ingrid Bergman
TIFF Cinematheque celebrates Ingrid Bergman's 100th birthday with a slew of her best films that will be screened at the Bell Lightbox from Aug 22nd to Sept 6th.
Bergman comes in threes. Bergman won 3 Oscars in acting for GASLIGHT, ANASTASIA and MURDER ON THE ORIENT EXPRESS. She also starred in 3 Hitchcock film, all three of which will be screened, NOTORIOUS, SPELLBOUND and UNDER CAPRICORN. She also made 5 films with Roberto Rossellini,the 3 most famous being STROMBOLI, EUROPA'51 and YOYAGE IN ITALY.
For the complete program, ticket prices and dates, please check the Cinematheque website at:
http://tiff.net/summer2015-cinematheque/notorious-celebrating-the-ingrid-bergman-centenary
Capsule Reviews for most of the films in the program below:-
ANASTASIA (USA 1956) ****
Directed by Anatole Litvak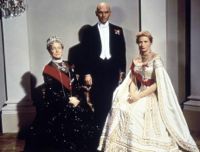 Ingrid Bergman won an Oscar for her grand performance as the Duchess Anastasia or the impostor of Anastasia. Bergman does a lot of crying and screaming in this film. The scheme of General Sergei Pavlovich Bounine (Yul Brynner) is to find the missing heir in order to claim a tidy sum of millions of pounds. But the trouble besides having to teach her manners, her history, her background etc. is that he falls in love with her. Helen Hayes has the role of the Dowager Empress Maria Feodorovna, the grandmother whose reaction would convince the world whether the lady presented to her is the real Anastasia. Litvak's film, beautifully directed, is a grand period piece with rich and funny dialogue to match. The Dowager has a priceless line - the funniest one I have heard this year in a film, as she tells her lady-in-waiting: "At your age, sex should be nothing more than gender."
THE BELLS OF ST. MARY'S (USA 1945) ****
Directed by Leo McCarey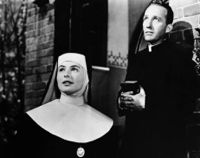 Directed by Leo McCarey based on his story, THE BELLS OF ST. MARY'S is an old fashioned feel good movie when good triumphs over all. The audience is led to believe that a tycoon Horace Bogardus (Henry Travers) would have a change of heart and donate his new building to the praying nuns. The nuns are led by Sister Benedict (Ingrid Bergman) who comes to a bit of a conflict with the newly arrived Father O'Malley (Bing Crosby). Both are of so good nature that the fights end up with each one offering to give in. Crosby croons a few tunes and so does Bergman. Both are excellent in their roles (both winning Oscar nominations for best performance along with Best Picture and Best Director), with their facial expressions doing a lot of the acting. A bit over-sentimental but all this should be taken with a good heart. This is one film that is difficult to dislike.
CASABLANCA (USA 1942 ) *****
Directed by Michael Curtiz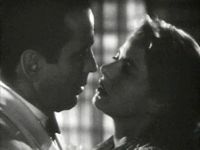 CASABLANCA is arguably the best romantic film of all time and with the most quotable lines. "Here's looking at you kid!", "This is the beginning of a very long friendship", are lines no cineaste can ever forget. Humphrey Bogart and Ingrid Bergman play war-torn lovers forced to finally make an important decision at the climax. Set in World War II Casablanca, Bogart plays Rick who owns he bar 'Cafe Americain', which everybody goes. All goes well till Ilsa, Rick's ex-lover shows up with her Czech husband (Paul Henreid) asking for escape papers. Beautifully acted, stunningly shot and directed with great period atmosphere aided by songs sung by Sam including the hit "As Time Goes By", CASABLANCA is a classic to be seen time and again. Curtiz deservedly won the Oscar for best Director for this film.
GASLIGHT (USA 1944) ****
Directed by George Cukor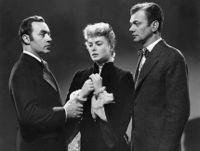 Two great performances here. Ingrid Bergman won her first Oscar as the new wife, Paula whose husband, a mysterious pianist played with evil relish Charles Boyer who intends to drive his wife inane and have her committed. His aim is to steal the jewels of her aunt, whom h had murdered before. The little games that he plays pretending that she is forgetful, losing things that he has tucked away and tormenting her are enough to drive anyone insane. Cukor's camera captures all of Boyer's classic gestures of nasty mischief. The huge mansion in which the couple live in aids in the story's creepiness as does the London fog that is always outside at the late hours of night. Good supporting cast too from Joseph Cotten (if one can dismiss his American accent) as a Scotland Yard detective who saves her, Dame Edith Witty as a nosy neighbour and Angela Lansbury as a Cockney maid.
MURDER ON THE ORIENT EXPRESS (UK 1974) ****
Directed by Sidney Lumet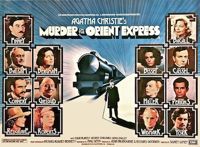 The most lavish and also one of the best of the Agatha Christie adaptations on the big screen sees an all-star cast with the excellent Albert Finney as Hercule Poirot, the famous Belgian detective. Ingrid Bergman plays a missionary, speaking English with her native Swedish accent, winning her 3rd Oscar for best Supporting Actress. But Bergman is not the only actress delivering a stellar performance. Wendy Hiller, Rachel Roberts, Lauren Bacall are just a few that offer the film's delights. While abroad the Orient Express, an American tycoon (Richard Widmark) is murdered. Under the request of the train manager, Bianchi (Martin Balsam), Detective Poirot solves the murder. Director Lumet keeps the interest sustained with a very slick and polished mystery/thriller that has its humorous elements in the script by Paul Dehn as well. The revelation of the murderer or murderers takes almost a full half hour to reveal but it is not the murder but the interaction of all the high society characters portrayed by the top-notch actors that give audiences their ultimate pleasure.
NOTORIOUS (USA 1946) ****
Directed by Alfred Hitchcock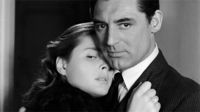 One of the most suspenseful of Hitchcock's spy films (TORN CURTAIN, TOPAZ), Ingrid Bergman plays the romantic lead and also the damsel in distress. Alicia Huberman, (Bergman) a German expatriate whose father has just been convicted as a German spy is hired by the Americans. Devlin (Cary Grant) brings Alicia to Brazil in hopes to arrange a meeting with Alex Sebastian (the fantastic Claude Rains); another German spy who just happens to have a history with Alicia insofar that he was in love with her. The plan is to get them together so that she can spy on Sebastian and his colleagues so that the Americans can get a leg up on their mutual espionage. Of course, love develops between Devlin and Alicia, which complicates their operation and of course, their lives. Performances are top notch and special mention should be made of Rains who makes his villain a human one, with a mother obsession. The key suspense scenes is the climax in which Devlin brings Alicia down the stairs with the villain, Alex accompanying them. A full 10-minutes of nail-biting tension! The overhead shot of Bergman collapsing on the living room floor after being poisoned is also classic Hitchcock.
SPELLBOUND (USA 1945) ****
Directed by Alfred Hitchcock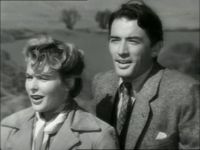 The first of the two Ingrid Bergman films made by Hitchcock, SPELLBOUND in 1945 followed by the equally excellent NOTORIOUS the year after. Both films show Bergman hopelessly in love with the leading character. Bergman plays Dr. Constance Petersen. When the head of the Green Manors mental asylum Dr. Murchison (Leo. G. Carroll) is retiring to be replaced by Dr. Edwardes (Gregory Peck), a famous psychiatrist, it is discovered that Edwardes is an impostor with amnesia. Constance, who has fallen in love with Edwardes helps him regain his memory. The explanations of psychoanalysis that appear on the screen are quite dated and humorous and should be ignored. Hitchcock's film hooks one from the start right to the end. The dream sequences designed by Salvador Dali are creepy enough (crooked wheel, blank cards) aided by Miklos Rozsa's haunting score. NOTORIOUS is a brilliant suspense thriller and mystery and one of Hitchcock's finest works with Bergman and Peck making one of the screen's best looking couples.