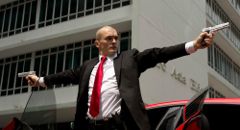 Big Films opening this week (about about efficient human killing machines) are AMERICAN ULTRA and HITMAN:AGENT 47.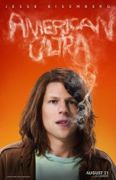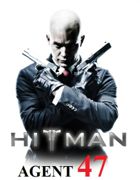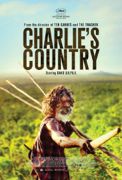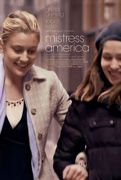 FILM REVIEWS:
AMERICAN ULTRA (USA 2015) ***1/2
Directed by Nima Nourizadeh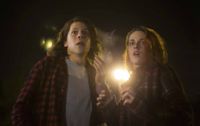 There is one scene in a car where the couple Mike Howell (Jesse Eisenberg) and Phoebe Carson (Kristen Stewart) are arguing in a car. Mike: "Get out of my car!" "This is my car!" shouts back Phoebe. "Then get out of THE car." comes the reply. The next instant, a another vehicle bulldozes the car down a bridge.
Such manic action is expected from the director Nima Nourizadeh who helmed the even more manic PROJECT X about a house party gone to totally out of control and the more disciplined scriptwriter, Max Landis (John Landis' son) of the excellent youth acton hero flick CHRONICLE. And both deliver in the form of silly but manic entertainment but more geared towards a younger audience.
The premise of the film is simple enough that any stoner can understand while under the influence. Mike is a pot smoker living his small town life with his perfect girlfriend, Phoebe. Mike is activated as a highly efficiently trained killer by Victoria Lasseter (Connie Briton) to save him. Mike is thrust into the middle of a deadly government operation and is forced to summon his inner action-hero in order to survive.
Eisenberg and Stewart develop good romantic chemistry on screen.
The villain of the piece, elegantly played by Topher Grace is a cowardly pencil pusher who hides behind his soldiers when shot at. He is complemented by another CIA operative played by Connie Briton who goes against him. In one brilliant scene, both are brought face to face with their boss (Bill Pullman) both quivering for their lives in the woods. John Leguizamo has a small role as Mike's drug dealer, reprising a similar role he did in the drug movie SPUN.
The comedy and action are as fast and furious as in Nourizadeh's PROJECT X. Beware of the ultra violence, foul language and drug smoking scenes. For the not too demanding viewer, AMERICAN ULTRA has plenty to please.
Trailer: https://www.youtube.com/watch?v=bLGFwkRx2HA
CHARLIE'S COUNTRY (Australia 2013) ***
Directed by Rolf de Heer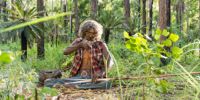 Though North Americans might avoid this social drama because it is based on a people far away down south - the native Aborigines from down-under, the story could easily apply to the native Indians of North America. The whites have stolen native land have imposed rules on the natives who have not only lost their land but their rights.
Charlie (David Gulpilil from WALKABOUT) is an ageing Aborigine. He is of poor health but that is the least of his worries. Charlie lives in in Arnhem Land, paints tree barks and fishes barramundi fish, all the while feeling out of place in an Australia which is no longer his. After his spear is confiscated by the police who think it is a weapon, he decides to leave his Aboriginal community and go to the bush. He dreams of being in what he calls his mother's country. He enjoys it for a short spell but eventually falls ill and is rushed to the hospital in Darwin. Shortly after, he befriends a woman who buys alcohol illegally for other Aboriginals, and he gets arrested after smashing the windscreen of a cop car. As a result, he is sent to prison. Director de Heer spends quite a bit of screen time showing Charlie in prison. These segments really work they way into the audience feeling sorry for the man.
CHARLIE'S COUNTRY is partly written (he co-wrote it with Heer) by actor Gulpilil, who puts his heart and soul into the film. He won the Best Actor Award at Cannes in the Un Certain Regard section. The film has the added authenticity by being shot in the Aborigine language which resulted in the film also submitted to the Oscars for Best Foreign Language Film.
The serious film is not without humour. "White bastard", Charlie scolds a cop who remarks back: "Black bastard!" But the important message still come across.
CHARLIE'S COUNTRY turns out to be an important film about human rights. The other issues like health and old age also comes into play. It is a sad film but the truth is not always pleasant.
Trailer: https://www.youtube.com/watch?v=qpcfNQ6tiiE
HITMAN: AGENT 47 (USA/Germany 2015) *
Directed by Aleksander Bach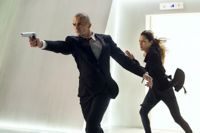 From the trailer, 20th Century Fox 's HITMAN: AGENT 47 looks as stylist and action packed like their recently released and box-office successful KINGSMEN: THE SECRET SERVICE. 'Looks' is as far as it goes. Unlike KINGSMEN, HITMAN, based on at the video game is a complete bore and inherently put together. It lacks thrills, a good story and good action set pieces. The only novelty is that the film was shot in Singapore - very few films are. Singapore looks more modern than any other metropolitan city, with its sleek skyscrapers and stunning architecture.
HITMAN: AGENT 47 is remarkably similar to two other films released at this same time. Human beings engineered to be super-efficient killers in a government secret program that is to be discontinued. This line can apply to both HITMAN as well as the other film AMERICAN ULTRA which also share the same opening date. Then next week, another super slick thriller with another efficient smart looking killing machine opens - THE TRANSPORTER REFUELED.
So, this film centers on an elite assassin, Agent 47 (Rupert Friend) who was genetically engineered from conception to be the perfect killing machine, and is known only by the last two digits on the barcode tattooed on the back of his neck. He is the culmination of decades of research - and forty-six earlier Agent clones -- endowing him with unprecedented strength, speed, stamina and intelligence. His latest target is to stop a mega-corporation led by Le Clerq (Thomas Kretschmann), headquarters in Singapore, that plans to unlock the secret of Agent 47's past to create an army of killers whose powers surpass even his own. Teaming up with a young woman, Katia (Hannah Ware) who may hold the secret to overcoming their powerful and clandestine enemies, 47 confronts stunning revelations about his own origins and squares off in an epic battle with his deadliest foe, John Smith (Zachary Quinto).
For such a simple plot, the story is difficult to follow at the start as the plot points are delivered sloppily. The script, credited with 3 writers contains too much moralizing. Lines like "I am what I need to be..", "We become what we are by what we do.." sound like something out of a children's book.
The action scenes contain too many cuts, thus lacking continuity They look stylish but lack any suspense or thrills. The action sequences are badly staged. The street scenes in Singapore where the action takes place contains lots of traffic that clearly do not move at all.
Agent 47 is supposed to be a robot like human being and so does John Smith. With these two as main characters, the acting look very wooden. Veteran actor Ciaran Hinds plays Katia's father, who is supposed to hold the secret Le Clerq is seeking after. This is Hinds' worst performance ever - Hinds, literally wheezing all his lines, because he is supposed to be suffering from lung cancer, Stage 3.
HITMAN: AGENT 47 could not even be enjoyed as mindless action. It ends up a total bore and waste of time from start to finish.
Trailer: https://www.youtube.com/watch?v=alQlJDRnQkE
MISTRESS AMERICA (USA 2015) ***
Directed by Noah Baumbach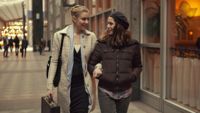 If you enjoyed FRANCES HA, MISTRESS AMERICA would certainly be your film dream come true. MISTRESS AMERICA has everything that FRANCES HA has and much more and served in more intensified doses. It has quirky writing, nuanced characters and odd situations. The female view is also very strong, surprising as it is co-written and directed by a male., Noah Baunmbach (THE SQUID AND THE WHALE being his best film). But Greta Gerwig must have been a strong influence.
But Gerwig plays the secondary character. The lead is Tracy (Lola Kirke), a lonely college freshman in New York, having neither the exciting university experience nor the glamorous metropolitan lifestyle she envisioned. But when she is taken in by her soon-to-be stepsister, Brooke (Greta Gerwig) - a resident of Times Square and adventurous girl about town - she is rescued from her disappointment and seduced by Brooke's alluringly mad schemes. It is like FRANCES HA meeting her match.
The story's premise involves Tracy helping Brooke secure money for her payment she is short of in opening a new restaurant. The journey takes them to visit Brooke's ex-friend, Mimi Claire (Heather Lind), now married to a millionaire, Dylan (Michael Chernus) she used to date. The film is given Tracy's perspective of life, from her voiceover.
The film plays like a female Woody Allen film without the Jewish slant. So, if one enjoys a Woody Allen film, there is plenty of similarities in MISTRESS AMERICA. For one, the setting is New York. Favourite Allen issues include therapy, adultery and talk about sex. The characters are occasionally neurotic and paranoid . They speak intelligently as if they are all writers. Non-literary characters do not exist in this world.
The script by Baumbach and Gerwig contains a few neat quotable lines such as "I need someone I can love, not someone I can keep up with". The are also bouts of continuous funny dialogue as in the segment in which Dylan is surprised at all then people in his house when he returns home. "Where do these people come from?", a simple line like this one evokes laugh-out loud laughter from the comedic set-up. But the occasional brilliance also stands out - the part about Tracy's mother and Brooke's father calling off their marriage. Suddenly the stepsister bond is no more with Tracy and Brooke now with no ties at all.
But MISTRESS AMERICA tries too hard at times and appears to be all over the place. An example is a joke on being broke by investing in taxi-periderms. It is a joke that is funny but would fly over the head of most, but they still kept it in the film. The film flies off the handle once too often, but once can argue that it is this tactic that gives the film that rare spirit.
The film would appeal more towards females, especially those who read a lot or write a little. The MISTRESS AMERICA of the film title is the name of the piece Tracy is writing for the book club. But the film is still entertaining to all, as it is a hilarious, quirky and inventive piece of moviemaking.
Trailer: https://www.youtube.com/watch?v=6z8MCW16uZY
STEVE JOBS: THE MAN IN THE MACHINE (USA 2015) ***1/2
Directed by Alex Gibney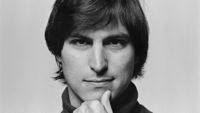 Four years after the death from pancreatic cancer of Apple co-founder Steve Jobs, documentarist Alex Gibney offers audiences a good look at the man behind the Apple personal computer. Though not the first film made on Jobs, there was a fictional film on him with Ashton Kutcher in the title role, this one could be considered the exhaustive account of the man. Gibney's film reveals both the good and evil of the genius. Yet another Steve Jobs film is due for release, this one directed by Danny Boyle and starring Michael Fassbender.
For a film that tells this intimate a story, director Gibney has accomplished quite the feat. His film has the appearance of being current, as if Jobs was still alive giving interviews and talking about his work. The archive footage on display here is impressively put together.
The film begins appropriately with the world mourning the loss of Steve Jobs, just after his passing four years back. From Japan, a place Jobs frequently visited to examine his inner being to the U.S., strangers who have used Apple products place wreaths on pictures of the man. The film then goes on to explain how Jobs got to be this well-known and respected.
Jobs wanted to change the world at all costs. This is where Jobs ran into trouble.
As evident from Gibney's best documentaries TAXI TO THE DARK SIDE and GOING CLEAR, Gibney's talent is exposing controversy and riling up his audience's anger at injustice. In TAXI, the brutality and torture of suspected terrorists were on display as was Scientology in the latter film. At the end of each film, Gibney got the audience close to begin ashamed of being an American as well as despising totally the Scientology leaders. As for Steve Jobs, Jobs was seen as abusing his fellow colleague inventor by stealing all the credit for an invention, not paying deserved alimony for his daughter while being filthy rich an treating family and colleagues in a cruel manner. But the worse thing Gibney shows about Jobs is his attack on an Asian reporter who picked up Jobs' new iPhone he left behind at a bar. Jobs went all out to get his man. But Gibney does not go that far as to make the audience hate the man. Instead, Gibney achieves the opposite. Despite Jobs' faults, the audience regards the man as one of the most influential and greatest inventors ever lived. One segment has Jobs' former employee Bob Belleville, an engineer behind the Mac, blaming Jobs for work demands that caused him to be estranged from his family. But when he becomes all tears when reading a tribute to Jobs after his death, one sees the power Jobs has on his fellow man. Also, using Jobs illness, Gibney engages the audience's sympathy.
Jobs humanity and his need for fulfillment are given sufficient screen time. His visits to Japan and his quest for enlightenment are also on display.
But for better or for worse, Jobs indirectly put a personal computer in every home. He made it cool to own an Apple. He fought against the biggest company in the world - IBM and won.
In the end, Gibney's documentary is a worthy tribute to the man in the machine - Steve Jobs, for he has his audience teary eyed, like Bob Belleville who have seen both sides of the man and have realized that the world is a better place with rather than without him.
Trailer: https://www.youtube.com/watch?v=jhWKxtsYrJE
BEST BETS:
Best Film Opening: AMERICAN ULTRA
Best Animation: INSIDE OUT
Best Documentary: AMY
Best Action comedy: AMERICAN ULTRA
Best Foreign: A HARD DAY (South Korea)
Best Indie: DOPE and TANGERINE