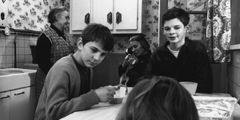 TIFF Cinematheque Presents - The films of Maurice Pialat
TIFF Cinematheque presents from October 22nd, a retrospective of the films of Maurice Pialat, the Cannes Palme d'Or Award Winner (for SOUS LE SOLEIL DE SATAN and LE GARCU).
The program is called LOVE EXISTS, which is taken from both the title of his first short L'AMOR EXISTE and the common theme of many of his films.
Pilat is well known for his raw, rigorous, loose styled films. He started filmmaking relatively late at the age of 44 with his first feature film L'ENFANT NUE in 1969. That film was co-produced by Francois Truffaut of the Nouvelle Vague directors. Pialat is considered to be post-Nouvelle Vague (New Wave).
In his film career, the late Pialat made only 10 major features, many starring Gerard Depardieu and Sandrine Bonnaire. Pialat himself appeared in a few of his films as in A NOS AMOURS. Personally, I would consider his first two films, both of which will be screened in the retrospective, L'ENFANT NUE and WE WON'T GROW OLD TOGETHER his best.
For the complete program of the Pialat films, showtimes and ticket pricing, please check the TIFF website at:
https://www.tiff.net/fall2015-cinematheque/love-exists?gclid=Cj0KEQjwqZKxBRDBkNmLt9DejNgBEiQAq8XWPgyeJX4wfRpBWP9HIuuT_F1HTAX8t5-0ysBhD6qpYkMaAlPo8P8HAQ
Maurice Pialat's widow, Sylvie will be present at selected showings to introduce her late husband's films.
Her Schedule: L'Enfance nue (1968) onThursday October 22 at 6:30 p.m., Under the Sun of Satan (1987) on Friday October 23 at 6:30 p.m. and Loulou (1980) on Saturday October 24 at 3:30 p.m., as well as the North American premiere of Guillaume Nicloux's Valley of Love (2015), on Saturday October 24 at 6:30 p.m. which is one of the five films in a small companion series called Sylvie Pialat: From the Gut, that includes a selection of films that her production company Les Films du Worso has produced recently.

The retrospective iwill also run at MOMI (the Museum of the Moving Image) in New York (October 16 to Nov 1)and at the Harvard Film Archive: September 18 – November 29, 2015.
Scroll down for capsule reviews of selected films. The films were provided courtesy of TIFF Cinematheque.
CAPSULE REVIEWS (Selected Films):
A NOS AMOURS (FOR OUR LOVES) (France 1983) ***1/2
Directed by Maurice Pialat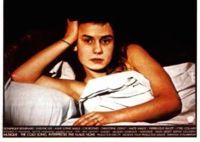 Another raw film from Pialat, this time with the director in the role of the lead character's father who slaps her around occasional before disappearing from the story. Suzanne (Sandrine Bonnaire) is a promiscuous 16-year old who sleeps around. This is the ono thing that keeps me happy, she says. She keeps the affairs from her family who somehow find out anyway. Her father, mother (Evelyn Ker) and brother Robert (Dominique Besnehard) slap her around. he cannot take it anymore. It is hard for the audience to root for a character so loose in her fidelity. Suzanne also breaks he heart of hr many young lovers. The film won the Cesar for Best Film and Bonnaire for Best promising Actress. But despite the loose narrative and difficult subject matter, A NOS AMOURS is a compelling watch aded by exceptional performances.
Trailer: https://www.youtube.com/watch?v=7Gki-BOZsmg
(Screening Thu Oct 29 630pm)
L'ENFANCE NUE (NAKED CHILDHOOD (France 1968) ****
Directed by Maurice Pialat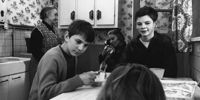 Major directors have done their best work with children (Francois Truffaut for LES QUARTE CENTS COUPS, L'ENFANT SAUVAGE; Alan Parker for BUGSY MALONE; David Lean for OLIVER TWIST; GREAT EXPECTATIONS; Terence Davies for THE LONG DAY CLOSES). Maurice Pialat's first film about a misunderstood orphan, Francois who comes of age from kindness shown by his latest foster parents is a masterwork that is charming, moving and raw yet never sentimental. Francois steals but he has a kind heart, says Madame Thierry, after he is reprimanded by the police. The film opens with him in one foster home that he is eventually kicked out of. He has killed his step-sister's cat by dropping it from a stairwell. Yet, he buys his foster mother on the day of his leaving a parting gift. It is a moving goodbye from her with mixed feelings. Francois is then sent to an orphanage (welfare centre) till Madame Thierry and her second husband take him in. It is a simple story, a humanistic tale but a tale that works on so many levels. Francois gets alone well with Mdm. Thierry's aged mother, which she recognizes. The segment with the aged mother singing to him from an old song book in her bedroom is priceless. This is the first time I have seen L'ENFANCE NUE and it is undoubtedly the best film I have seen this year.
Trailer: https://www.youtube.com/watch?v=Ywp-YgxU0v8
(Screening Thu Oct 22 630pm)
THE MOUTH AGAPE (LA GUEULE OVERTE) (France 1974) ****
Directed by Maurice Pialat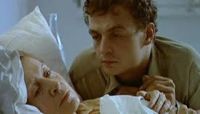 The third of Pialat's films and arguably the most raw of his films. The centre of the piece is a dying woman (Monique Mélinand) in the later stages of her terminal illness. She is a burden to her womanizing husband Roger (Hubert Deschamps) and over busy son Philippe (Philippe Léotard) and his wife Nathalie (Nathalie Baye). As the family rallies together, they surprisingly show the dying lady great affection though becoming more embittered towards each other. Is death a way out for quarrelling people? As in most of Pialat's films, classical music forms a large part of the soundtrack. Here, Mozart's opera Così fan tutte is used to to poetic effect, enhancing the emotional impact of many scenes. The title of the film refers to the open mouth position sometimes found in corpse. The film is beautifully shot by Nestor Almendros.
Trailer: https://www.youtube.com/watch?v=eP9DCWq3vss
(Screening Sun Nov 1 330pm)
POLICE (France 1985) ***
Directed by Maurice Pialat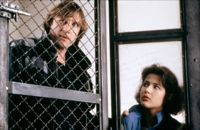 Pialat's POLICE has more of the same that can be found in his first two films, the only difference is that his film has a more fiction feel. The film has a loose narrative dealing with a brutal cop (Gerard Depardieu) who has a soft spot for a girl (Sophie Moreau) involved with a Tunisian drug gang. But she is guilty and uses him to rescue her kidnapped brother and rejecting the love-lorn lug in the end. It is a raw film - all of Pialat's films are raw - and depicts the cop beat crook, crook beat crook, crook beat cop nasty world of drug trafficking. Depardieu is super in his role, managing to elicit the audience's sympathy for a role of a nasty character. Sandrine Bonnaire bears all in the role of a hooker with a good heart. One of the harder Pialat films to sit through mainly because of the unlikeable characters and what they do to each other.
(Screening Fri Nov 13 630pm)
WE WON'T GROW OLD TOGETHER (NOUS VIEILLIRONS PAS ENSEMBLE) (France 1972) ***1/2
Directed by Marie Pialat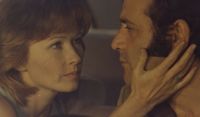 "She doesn't want me to come. Then she invites me for her birthday." "I like when you write me letters." "Here, I can't finish reading this." "I don't want to see you any more." Next scene, they are together, he just after buying her flowers. The above dialogue show two things - the caustic relationship of the couple that is due to each of them being irrational and unable to make up their minds; it also shows the film's discontinuity, which is characteristic of the film from start to end. Pialat's autobiographical and second film traces the break-up on the 5-year relationship between Jean (Jean Yanne who won the Award for best Actor at Cannes, 1972) and his mistress, the much younger Catherine (Marlene Jobert), a female that keeps returning to the abusive affair. Jean is portrayed as a cruel bastard, a filmmaker like Pialat himself who subjects Catherine to emotional and physical abuse. The scenes with Jean and his wife are minimal and more cordial. It is a difficult film to watch, naturally, because of its content, but an original and cry realistic film. The film was a box-office hit in France when it opened.
(Screening Sun Oct 25 345pm)