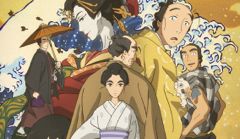 REEL ASIAN FILM FESTIVAL (TORONTO) 2015
The Toronto Reel Asian International Film Festival (Reel Asian), presented by National Bank, celebrates its 19th annual festival from November 5-15, 2015 in Toronto and Richmond Hill.
The Toronto Reel Asian International Film Festival is an annual film festival in Toronto, Ontario, Canada, devoted to Asian cinema, specifically the cinematic works of East and Southeast Asia, as well as those by Asian-Canadian and Asian-American filmmakers.
Besides multiple screenings of international and local films, the festival offers a variety of events for the general public. One of the festival's events is the So You Think You Can Pitch Contest.
A selection of diverse films are screened from countries as Korea, Japan, China to India and Indonesia.
New this year, festival programming has been divided into sections that highlight new genres, master works, and trailblazers that have influenced Asian film culture across the borders.
Marquee titles spotlight gala presentations, featuring notable directors, actors, and writers who have traversed the international red carpet. The films in Vista introduce a fragment of critically acclaimed contemporary Asian cinema. Pulse features short films from around the globe, including the world premiere of films made through the Unsung Voices summer workshop. Finally, Reel Asian:X transcends media, genre, and form, introducing a new body of work that expresses the Asian diaspora beyond the traditional.
For the complete program, venue, ticket pricing and showtimes, visit the Reel Asian Festival website at
Capsule Review of Selected Films:
BALI BIG BROTHER (Japan 2014) ***
Directed by Toshio Lee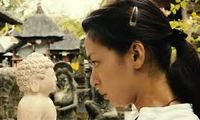 Toshio Lee's (DETROIT BIG CITY) latest comedy is based on true events which is Japanese tycoon Takatoshi Maruo's success story set in the Indonesian island of Bali. It is actually adapted from Sho Kuroiwa's bestseller "Degaseba daifugo" ("If You Work Abroad You Can Become a Tycoon") but the comedy is so silly and story so stretched that the film dispenses with the any titles 'based on true events' as audiences will find the film quite unbelievable. It begins with an unsuccessful businesswoman, Shoko (Machiko Ono) about to jump off a cliff in Bali only to be rescued by Ryu (Hiroshi Tamaki). Ryu introduces her to Aniki (Shinichi Tsutumi), who is the Maruo character in real life. What transpires then is his teaching her lessons on how to succeed in business while her initial disdain for the 'old show-off" transforms into admiration. The saying 'the jokes are so stupid they are funny' applies here. Take the scene where Shoko is cleaning a toilet bowl when kids push an iguana at the back on her neck before dunking her head into the toilet bowl water. It is funny! The actors all overact, typically the same way most do in cheap Asian films, but this cheap looking comedy is still enjoyable in a way if one wants to ignore subtlety and wit in a movie. Though credited as an Indonesian film, the film is mostly shot in Japanese with a main Japanese cast with only a bit of Indonesian (or Malay) spoken.
FULL STRIKE (HK 2014) ***
Directed by Derek Kwok and Henri Wong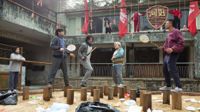 The madcap crazy comedy follows the misadventures of Ng Kau-sau (Josie Ho) a former badminton champion who is banned for life from playing due to her bad temper and poor sportsmanship. She now works (and sleeps) at his brother's restaurant becoming, in his words a fat, lazy cunt. One night while stuck by a meteorite in the shape of a badminton shuttle cock, she is inspired to train a group of misfits to win a championship. She crosses paths with three ex-cons who are hoping to redeem their criminal pasts. Badminton, they insist, is their only road to redemption, and fate has brought them together to form a new, indestructible team —or so they hope. The film is so silly, it is funny, aided by a surprise list of canoes that include characters called 'suck nipple Cheung', 'Champion Chil','Grandma Mui' (SUSAN SHAW) and others. In the vein of Stephen Chow's SHAOLIN SOCCER and just as goofy.
INITIATION LOVE (Japan 2015) **
Directed by Tsutsumi Yukihiko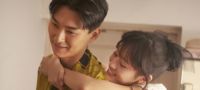 Set in Shizuoka City in the 80s, the film, based on Kurumi Unui's novel tells the story of awkward and overweight Yuki Suzuki. Invited as a filler on a group date, he meets the pretty and disarmingly Mayu (Maeda Atsuko). They fall in love. After Mayu gifts him a pair of Nikes, Yuki promises to take up running and get in shape. The newly fit and confident Yuki — who now goes by Takkun — is transferred to Tokyo, where he soon finds his love to Mayu seriously tested when he falls in love with a sophisticated coworker Miyako (Kimura Fumiko). Takkun becomes torn between the woman who made him who he is and the woman his new self wants. The decision to have two different actors play Suzuki when fat and Takkun when fit is a bad one. No one will believe that they are the same person. The film also has a puzzling ending that makes absolutely no sense. A while lot of nonsense about teens falling in love that no one will really care about.
KIRUMI (India 2015) ***
Directed by Anucharan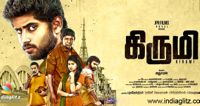 Director Anucharan's debut feature is an assured Tamil thriller that tells the story of a disgruntled youth, Kathir. Despite being married and having a child, he is waiting for a job offer that he feels meets his standards. Meanwhile, his wife Anitha is the breadwinner of the family. Prabhakar, a friendly neighbour who acts as his father figure, gets him a job as an informant with the less than honest local police inspector. This is when things start to go wrong. Kathir also indulges in illegal activities, which gets him into bigger trouble. KIRUMI is a film that credibly reveals the difficult life of etching a living in a poor town. The message comes through clear when Kathir eventually gives up his well paid informant job to start a decent living at a lower paying job. Well executed exciting chase scenes in an authentic setting and apt performances from the unknown cast lift the film above the average family drama.
MISS HOKUSAI (Japan 2014-2015) **1/2
Directed by Keiichi Hara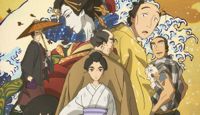 The Japanese animated feature is set in 1814 in Edo (just before it became Tokyo) where peasants, samurai, merchants, nobles, artists, and courtesans live together in apparent harmony. The artist is the film's subject. Accomplished artist Tetsuzo spends his days creating astounding works, from a giant Dharma portrayed on a 180-metre-wide sheet of paper to a pair of sparrows painted on a single grain of rice. Short-tempered and with no interest for saké or money, he (Hokusai) would charge a fortune for any job he is unwilling to undertake. But it is his daughter, O-Ei who is sane and completes the work her father leaves unfinished. Based on the manga Sarusuberi by Hinako Sugiura, MISS HOKUSAI is the untold story of O-Ei, aka Katsushika Oi, a free-spirited woman overshadowed by her larger-than-life father. The animation is impressive especially when during the fire and water (very difficult to animate) scenes but the film lacks dramatic drive. The fact that a lot of mythical elements are introduced does not help the film;s credibility either.
OUR TIMES (Taiwan 2015) **
Directed by Frankie Chen Yu-shan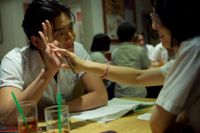 OUR TIMES is a teenage romantic comedy set in Taipei of the 1990's directed by first time director Frankie Chen. The plot follows a young Truly (Vivian Sung Yu-hua) in her school girl days. She has a crush on Ouyang (Dino Lee Yu-shi). But Truly, through the ridiculous notion of chain letters has a run in with school thug, Hsu Taiyu (Darren Wang Da-lu) who has a crush for another girl. Truly and Hsu get together to plan the destruction of their crushes' romances. It does not take a genius to figure out that these two will eventually fall for each other. It takes too long for this to happen - more than 2 hours of film running time and a lot of useless time wasting incidents like a school rebellion against an over strict director and Hsu's gang related activities. It does not help that the actors portraying Truly and Hsu are incredibly annoying, despite their good looks. OUR TIMES is totally suited for annoying teens, so others should stay away.
PORT OF CALL (Hong Kong 2015) ***1/2
Directed by Philip Yung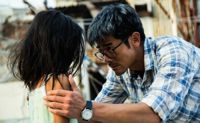 PORT OF CALL based on a real event of the murder of a young prostitute is as anti a commercial film as an anti-commercial film can get. Yung's film stays way from the action and concentrates on the characters surrounding the incident - mainly the unsavoury ones from the investigating detective (Aaron Kwok) to the murdered girl Jiamei (Jessie Li) herself to her foul mouthed mother. Kwok portrays Detective Chong as a gross, unkempt and untidy overworked detective that looks more a criminal than an officer upholding the law. He is obsessive in his investigation, never turning in reports on time, much to the consternation of his supervisor. The film also has a gritty look, shot by Master cinematographer Christopher Doyle, which pretty much makes this film a worthwhile watch. The story unfolds in non chronological order. Often when a character says something, or does something, like when Fat Ting talks about his cut hand, the film intercuts to the scene of how it happened. Yung's film does turn out as not the typical run of the mill feature, but he is not without talent and his film would be definitely be more interesting to film buffs than the average filmgoer.