12
Nov
2015
Details

Category: Movie Reviews
Written by Gilbert Seah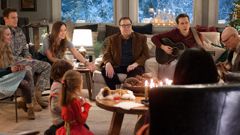 Opening this week are THE 33 and the Christmas comedy LOVE THE COOPERS. Other films opening include the limited release of BY THE SEA, the weird drama comedy ENTERTAINMENT, and drama SPOTLIGHT.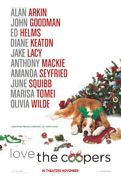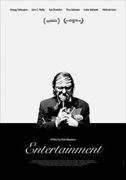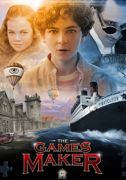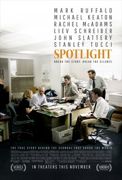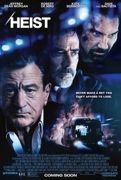 The European Union Fim Festival (Free!!!) also begins its two week run. There are a lot of good films here. Check out separate article.
FILM REVIEWS:
BY THE SEA (USA/France 2015) **
Directed by Angelina Jolie Pitt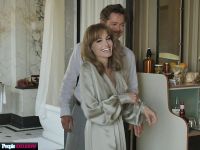 By the sea… by the wonderful sea! At 132 minutes, this overlong Angelina Jolie Pitt (since when did she change her name to Jolie Pitt?) self indulgent romantic rubbish is far from wonderful. The last time a powerhouse Hollywood couple made a movie about their troubled marriage in an exotic location, the end was their real life divorce - a case of life imitating art. It was BOOM! with Elizabeth Taylor and Richard Burton. Burton as drunk half the time with the director Joseph Losey, but that was a perfect camp unforgettable camp film. BY THE SEA, in contrast is a heavy load, with few strands of comedy.
The setting is a seaside resort in France supposed in the 70's judging from the clothes, vintage telephones and dress. The visiting couple is one that has grown part. Vanessa (Jolie) is an ex-dancer, likely extremely famous in her hey day, but now retired because of as in her own words, 'old age'. Jolie's idea of old age is something else. The husband is chain-smoking Roland (Brad Pitt) with a writer's block. They do not have sex any more. When a newly wed couple Lea (Melanie Laurent) and Francois (Melvil Poupaud) move into the next hotel room, they watch them having sex, because of the convenient hole at the convenient position for them to observe all. All this brings about more chaos in the couple's lives, something that the audience can only watch at a distance sans interest.
The metaphor of the fisherman taking his boat out every morning and returning very evening is explained and overused in this un-subtle script, written by Jolie. There is a surprise revelation at the film's end which makes one wonder how autobiographical this story of the Hollywood couple really is.
Pitt does Pitt and Joli does Joli with characters one expects of the Hollywood couple. Cesar Winner Niels Arestrup (as Michel, the lovelorn bar owner) plays Roland's patient listening ear while an unrecognizable Richard Borringer has little to do as the hotel owner. One can imagine a larger role written for the hotel owner but it being cut out due to the already overlong film. Laurent and Poupard have not much to do either but to flaunt their youthful bodies. Pitt still looks incredibly sexy but Jolie looks anorexic unless clothed fully.
Jolie loves to pay attention to details, like the camera focusing on the appearance of a cat, or her sunglasses being turned to face the correct way by Roland. Trouble is that these details stand for no purpose nor do they propel the story or enhance any importance to a scene.
But at least the film looks great with its likely costly production values. The sun drenched seaside landscape looks very inviting, but one can only imagine the place being only available to the rich and famous.
BY THE SEA is still a watchable time waster, because Pitt and Jolie are stars, and there is a reason they are stars. They are able to draw audiences into their world, whether relevant or not.
Trailer: https://www.youtube.com/watch?v=j8lMbJTsUGU
ENTERTAINMENT (USA 2014) ***1/2
Directed by Rick Alverson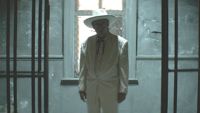 Directed and co-written by Rick Alverson, Tim Heidecker and the film's lead actor Greg Turkington, ENTERTAINMENT is far from entertaining as far as the meaning of the word goes. The film is about a stand-up comic who supposedly entertains, or so he thinks, but neither he nor the film entertains. But the film isn't half as bad. A non entertaining film need not necessarily be a bad one as Rich Alverson's rare film proves.
The main protagonist is one dead beat loser of an unfunny standup comedian. But one will laugh at him and not at his jokes. The comedian (Turkington) has gigs in prisons where they are forced to listen or watering dives where the drunks do not want to listen. When they heckle him, he (no name is given to this character in the film) goes on a rampage insulting them to no end. There is one segment when he gets on the case of a lady who happens to make a bit of noise during his routine. He calls her a whore and hurls real nasties at her to the point that she lays wait and beats him up when he exits the bar.
No name is given to the character likely because he might not deserve one or that he stands for the 'rest of the world' - the ones who are unsuccessful, do not make it and are forgotten.
When the film opens, the comedian is en route to meet his estranged daughter and attempting to revive his dwindling career, a broken, aging comedian play in a string of dead-end shows in the Mojave desert. He never succeeds in either as this is not the purpose of Alverson's film. The purpose is questionable - perhaps to show how dead beats behave, as there have never been so many deadbeats in any one film seen this year.
Do not expect to laugh at any of the comedian's jokes either, because they are downright awful. An example: What is the difference between Courtney Love and the American flag? You don't piss on the American flag. He also spews a lot of 'why' jokes such as "Why don't rapists eat at T.G.I. Friday's?" Because rapists cannot rape with a stomach ache. He does get a laugh from the last one, delivering that one up in a prison. The comedian does his routine in a nasal voice, breathing heavily and a drink in hand with never a smile on the face.
Turkington knows his character and delivers it. Turkington is an ugly man, always hunched with bad posture, thin with a gut and pale as a ghost. To make matters worse, he wears cheap suits has his tie crooked and slicks his hair back showing his retreating hairline. John C. Reilly has a supporting role as a cousin, an equal dead beat of a loser, who pretends to like the comedian's material only trying to make a buck out of representing him. Tye Sheridan plays his warm up opener, offering dirty humour dressed as a clown. The best and most awkward scene (besides the baby delivery in the washroom) is the one with Michael Cera (in a cameo) as a young hustler trying to make a quick buck in the toilet.
Alverson has no sympathy for his character and neither expects his audience to have any. He plays it as it is. The results a very awkward film that will obviously not cater to the average filmgoer. So stay away if you are not up to this kind of thing. But ENTERTAINMENT is quite the odd film of the year.
Trailer: https://www.youtube.com/watch?v=laCKBx6dmW8
THE GAMES MAKER (Argentina/Canada/Italy/Colombia 2014) ***
Directed by Juan Pablo Buscarini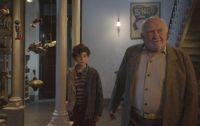 THE GAMES MAKER is an ambitious handsome production shot largely in Argentina and based on the best selling novel The Inventor of games by Pablo De Santis.
Shot in English to be marketed to English speaking countries, THE GAMES MAKER has a latino look, no doubt about that. Even actor Joseph Fiennes is made up, moustache and all to look latino. The protagonist is a young boy with huge dreams. It is a fairy tale that most boys and adults can identify with, but strong female content is also included for the sake of the female audience.
The Game Maker of the film title is young Ivan Drago (David Mazouz). When the film opens, the audience is informed of his love for games. In Ivan's world, games are everything until a twist of fate lands him a comic book with a game making contest. But father (Tom Cavanagh) wants his only son to be a sportsman but Ivan is terrible at anything physical, as demonstrated in a few funny vignettes. Ivan enters a game making competition, encouraged by his mother (Valentina Lodovini) keeping all this a secret from father. Winning first prize allows Ivan to escape to the town of Zyl, where he meets his long lost grandfather (Edward Asner), after losing his parents in a hot balloon. There is a bit where Ivan is forced to live in a boarding school, which looks like Harry Potter's school version of hell. Believing his parents to still be alive, he goes against the villain Morodian (Joseph Fiennes) in a fight for life and death.
The film contains stuff that boys dream off. These include escape from a horrible school, a journey to a new place to search for dreams to come true, a romantic fling with a mysterious girl, Anunciacion (Megan Charpentier) and lots of magic. The film has the look of Martin Scorcese's HUGO, but not so pretentious.
Youngster David Mazouz (best known as Bruce Wayne in GOTHAM) shows lots of enthusiasm in his role of Ivan. Good to see too, Edward Asner (The Mary Tyler Moore Show) in a rare role as the funny grandfather.
The special effects are different and quite stunning. The best of these is the sinking school. Others include a climax involving a sweeping hot air balloon and a few magnificent sets like the fair setting. The film contains 3 settings - Ivan's home, boarding school and the town of Vyl. But it is the weird assortment of supporting characters that keep interest strong. Principal Possum (Raymond E. Lee) is sufficiently menacing and eccentric.
Though magical, weird and wonderful, the film lags over its length of close to 2 hours. It could be edited to a short and sharp more effective 90 minutes without losing much of its magic. Still THE GAMES MAKER is the rare original piece where the villain is not taking over the world and the film is not a 3D special effects action pic with objects thrown at the audience.
Trailer: https://www.youtube.com/watch?v=F66dsn_NLqo
HEIST (USA 2015) **
Directed by Scott Mann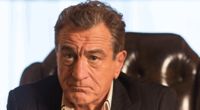 HEIST is a fast moving incident driven film about a heist involving a hijacked bus after a robbery. All this proves too much to take for director Scott Mann and his scriptwriters Stephen Cyrus Sepher and Max Adamsresulting, in a too-many-plot holes unbelievable caper film.
A single father, Luke Vaughn (Jeffrey Dean Morgan from GREY'S ANATOMY) plans a heist to rob a casino owner, known s the pope (Robert de Niro) alongside his co-worker , Cox (Dave Baistisa last seen fighting Bond on the train in SPECTRE) in order to get the money to pay for treatment of his daughter's illness. When things go awry, they are forced to hijack a bus. A sympathetic cop, Kris (Gina Carano) helps out.
There is too much going on in the film. The fact that Luke is doing all this for his daughter in hospital will lift most eyebrows. (Sob-sob!) Luke gets to be the absolute good guy despite hijacking the bus. The film's story contains lots of loopholes that will not be mentioned in this review. Will leave the fun for the audience to point them out one by one.
Trailer: https://www.youtube.com/watch?v=BvJDL8v8lTk
KILO TWO BRAVO (UK 2015) ***
Directed by Paul Katis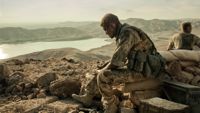 Films about explosives or land mines have always provided edge of the seat suspense, like LE SALAIRE DE LA PEUR. This is the second film this year about soldiers and land mines (the other being the Danish THE LAND OF MINE) and is just as exciting. Both films are based on true stories. Set in the mountains of Afghanistan in 2006, the story centres on a small group of soldiers positioned on a hilltop outpost in the country's rugged (and beautiful) interior First time director Katis' has created a film in which there is much waiting and watching. The soldiers are basically stuck in a mined region with mines going off one after the other. The soldiers have their limbs severed as they wait for the medical helicopter while being bandaged and given morphine. Not an easy watch, but it is all true and shot with many segments in real time.
Trailer: http://tiff.net/festivals/festival15/citytocitylondon/kilo-two-bravo
LOVE (France/Belgium 2015) ***
Directed by Gaspar Noe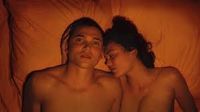 Gaspar Noe is rightly known as l'enfant terrible du cinema. Noe broke into the filmmaking scene with his one-hour CARNE followed by the one hour SEUL CONTRE TOUS a few years later. In the latter film, he had a warning 10 minutes before the film ended for people to walk out if they cannot take violence, the clock ticking for a minute on screen while allowing people to leave. At my screening, a few left during that minute, but a third of the auditorium cleared during the last 10 minutes. In LOVE, a love story told from the sexual point of view, Noe seeks to provoke once again. He opens the film with the lead character Murphy (Karl Glusman) cummng after being given a hand job by his girlfriend, the unstable Electra (Aomi Muyock) in a very erotic scene shot with filters to give the segment a sexy, forbidden look.
Murphy receives a phone call from Electra's mother New Year's morning saying that Electra has not been seen for days. Murphy is now living with Omi (Klara Kristin) who happened to get pregnant as a result of Murphy's infidelity. This unwanted pregnancy ended the relationship between Murphy and Electra on a sour note. For the rest of this day, Murphy recalls his past with Electra, filled with drug abuse, rough sex, and tender moments.
The name of the character Murphy was chosen as it was the maiden name of his mother Nora Murphy but one would guess it was likely used because of Murphy's Law that is demonstrated in the film. "If anything can go wrong, it will," which applies to Murphy in the film.
Noe's film depicts a man's world. Though there is little of the the female's point of view, a lot is revealed of the man's feelings. Murphy's feel on life, his emotions and explanations of his action are not inhibited. His feelings are narrated out loud by his voice, like the way he discloses his displeasure of Omni's living with him, his private space invaded and how he wishes her to be quiet and look after their kid.
Movies play a big part in Noe's life and in the film. There is a poster of FREAKS and TAXI DRIVER in Murphy's room. And Murphy claims his favourite film is 2001, the director of which, Stanley Kubrick is Noe's inspiration for his filmmaking.
As for performances, the two actresses are women Noe met in a club while actor Glusman is an actor. As for the multiple sex scenes, Noe claims he puts the actors in the appropriate positions and the actors take it to the next level, naturally. The sex scenes are very erotic and sensual - no doubt about that.
As in Noe's other films, LOVE is difficult to watch, though not as difficult as IRREVERSIBLE and SEUL CONTRE TOUS. Still Noe has proven himself a viable director whose work cannot be ignored. Again, see this one at your own risk.
Trailer: https://www.youtube.com/watch?v=62yCdFzP9Mc
LOVE THE COOPERS (USA 2015) *
Directed by Jessie Nelson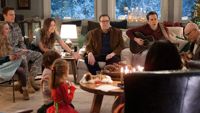 LOVE THE COOPERS joins the ranks of Christmas films like CHRISTMAS WITH THE KRANKS and NATIONAL LAMPOON'S CHRISTMAS VACATION that open in November way before the festive season. It not only keeps the tradition of being just plain awful films, but it breaks the ranks by being the most awful of them all. And the worst is the director's gall to compare it with the Frank Capra classic IT'S A WONDERFUL LIFE at the end.
Ambitious to a deadly fault, the script by Steven Rogers (P.S. I LOVE YOU and STEPMOM) covers four generations of the Cooper family that come together Christmas eve for their dysfunctional family reunion. As expected, there are too many characters in the film resulting in director Jessie Nelson doing more traffic control of which character is coming on next than actually directing a film.
The matriarch and patriarch are Charlotte (Diane Keaton) and Sam (John Goodman) Cooper, their marriage falling part. This is their supposedly last Christmas dinner with family and they will break the news. It therefore does not take a genius to guess that the two will eventually get back together, after reliving old memories. Coming for dinner is Charlotte's estranged shoplifting sister, Emma (Marisa Tomei) and again it does not take anyone with an iota of intelligence. to guess that the enmity between the sisters will be wiped away. Also coming for dinner is daughter Eleanor (Olivia Wilde) who brings home a stranger, Joe (Jake Lacy) to prove she can meet a decent fellow. Of course, the two will hit it off at the end. So, all the plot points are predictable and cliched with nothing left to the imagination. Most of the characters are annoying, Eleanor and Joe particularly as well as the other son, the unemployed snorting (why make him even more annoying?) Hank (Ed Helms), not to mention his kids. Charlotte's dad, Bucky (Alan Arkin) also shows up for dinner, with a stranger, a diner girl called Ruby (Amanda Seyfried) who is there for no real reason. Bucky has a stroke in the middle of the dinner. Has Alan Arkin never been in a movie lately that he does not fall ill or die?
As for laugh out loud segments, there are hardly any, unless one belongs to the category of having a horrid sense of humour, laughing at anything remotely funny. The guy sitting next to me at the promo scenting belonged to this category, giggling all the way through, snuggling close to his girlfriend - all the more reason for her to dump him. There are a few sweet moments though like the segment when daughter Eleanor tells mother not to make 'that face', which she does subconsciously. Another sweet moment has Charlotte and Sam riding a toboggan.The film has an impressive cast with others like Anthony Mackie, and June Squibb. The task of narration is handed down to the family dog, voiced by Steve Martin.
Rediscovery of family bonds, rekindling of lost relationships, new romances, spirit of Christmas? These are items in a story that make the worst Christmas movies. And LOVE THE COOPERS is no exemption - turning out to be a horrid evening out at the movies.
Trailer: https://www.youtube.com/watch?v=-TSX_0rwPNc
MAN VS. (Canada 2014) **
Directed by Adam Massey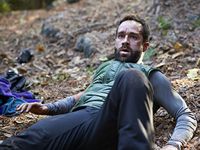 MAN VS. what? That is the question. The film answers that question two thirds into the movie and that is where it starts getting silly and falling apart.
Doug Woods (Chris Dimamantopoulos) is supposed to spend 5 days in the wilderness in the Canadian shield in northern Ontario, Canada for some silly reason like supporting his younger brother. The script, co-written by Massey has Doug's marriage in shambles, yet the wife is supportive of him, with Doug constantly receiving messages from her and their daughter while surviving the wilderness.
Two things allow the film to interest audiences. One is the anticipation factor. Massey creates quite a few of these. When Doug makes camp, there is a background shot of a canoe rowing past. The rabbit that he has hung on a tree is being lowered in the background while he goes to bed - though he does somehow eat the rabbit the next day, a fact of story inconsistency. A scream is heard at night; the cell phone disappears; his chess game pieces have been moved. All these serve to intrigue the audience though many are really left unexplained. "There is clearly someone out there," Doug claims at one point.
The second is the lead actor Chris Diamantopoulos's presence. He is a scene stealer and the script offers the excuse of a documentary being made of his trip to allow him to speak to the audience and thus keep the film's story in perspective.
So the magic question is who is out there? Aliens, his friends or psycho mountain men? The answer is revealed at the film's 110 minute mark, and as mentioned before then gets silly and falls apart. Pity! The film also suffers from a satisfactory ending.
To Massey's credit, he does create an scary and a claustrophobic atmosphere despite the open spaces. The landscape of the Canadian wilderness enhances the desperation of Doug's situation.
It is difficult to review more of this film without revealing the ending of MAN VS. Massey's film is not without merit, but he faces a difficult task given the main script plot.
Trailer: https://www.youtube.com/watch?v=3pAqDqalqUk
SPOTLIGHT (USA 2015) ***1/2
Directed by Tom McCarthy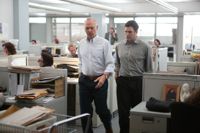 SPOTLIGHT deals with the cover-up by the institution known as the Catholic Church of their priests committing the unspeakable sin of child molestation. But it is not so much a revelation drama - as everyone knows the fact already after the news has already spread - but how the Boston Glove uncovered the fact.
SPOTLIGHT is the account, based on actual events, that the words claim at the start of the film to add credibility of the Pulitzer Prize-winning Boston Globe investigation that rocked the city and eventually the world. The characters are the "Spotlight" team of reporters. These are investigative reporters who pick a controversial topic and take it all out to provide readers of a story that would hopefully change lives. When the new top editor, Marty Baron (Liev Schreiber) comes on board to put in some bite in the paper, new stories are sought. He comes across a priest being accused of molestation which leads to his initiation of the year-long investigation covering a decades-long cover-up at the highest levels of Boston's religious, legal, and government establishment, touching off a wave of revelations around the world. This tense investigative dramatic-thriller traces the steps to one of the biggest cover-ups in modern times.
The film is more a technical account of how the team discovered the facts and how they went about getting their information from the courts and past documents. The script by director McCarthy and Josh Singer that won the Hollywood Screenwriter Award is a meticulously detailed account tracing the events, believably and comprehensively in an otherwise already too technical film. The script intersperses human elements with just a few confrontational scenes, but enough to get the audience's emotions riling.
The team is made up of Mike Rezendes (Mark Ruffalo). Walter Robinson (Michael Keaton), Sacha Pfeiffer (Rachel McAdams and Ben Bradlee (John Slattery), all aptly performed by the respective actors. Stanley Tucci does a good turn as aiding lawyer Mitchell Garabedian, looking quite distinguished with his hair piece.
Despite the controversial topic, the film manages to get its message across without resorting to any unnecessary disturbing scenes of child molestation. It is a story already told, but still one in which the world has to be reminded of, so that the past sins will not be re-committed and the guilty punished.
Trailer: https://www.youtube.com/watch?v=Zg5zSVxx9JM