03
Dec
2015
Details

Category: Movie Reviews
Written by Gilbert Seah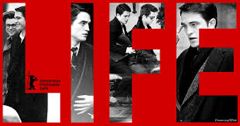 No big movies opening this week, but some significant ones. LIFE and LEGEND are two worthwhile films making their debut. AL PURDY WAS HERE and TRUFFAUT/HITCHCOCK are two docs that also open.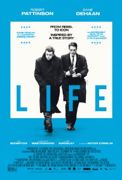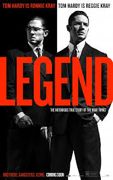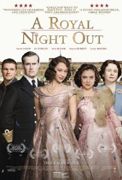 FILM REVIEWS:
AL PURDY WAS HERE. (Canada 2015) ***1/2
Directed by Brian D. Johnson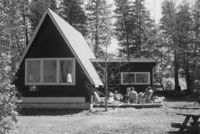 The first feature by the President of the Toronto Film Critics Association whose film experience was previously limited to making film montages for the association Gala Dinner proves to be an accomplished piece.
Who is Al Purdy? Where is the 'here' referred to in the title? The answer to the second question is the Purdy's resort out in the country in Ontario, Canada that is reserved as a haven for artists. They go there to create.
The well researched documentary asks several passers-by who have no idea who this Canadian poet (arguably the best Canadian poet) is. This is despite the fact that they have just walked past his statue in Queen's Park. The film also looks at the A Frame, which is a retreat for other Canadian artists out in the Ontario country. Johnson's film follows Purdy's rise to fame, his personal life including his secret second marriage an other son, Brian Purdy. Purdy is given character and proper recognition in this worthy tribute to a man who ironically flunked out school after Grade 10 and hilariously called Margaret Atwood a academic, a big insult to a poet. The film also contains a good mix of Canadian artists performing including Bruce Cockburn with original music by Casey Johnson.
Despite the title, the film delves only a bit into Purdy's place.
Trailer: https://www.youtube.com/watch?v=7S7hLk1EQbE
HITCHCOCK/TRUFFAUT (USA/France 2015) ***
Directed by Kent Jones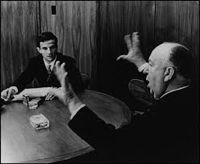 Hitchcock and Truffaut are my two favourite directors of all time. I learnt French so I could understand the films of Truffaut. So for me and other cineastes, HITCHCOCK TRUFFAUT, the documentary by Kent Jones on the famous Truffaut's interview of Hitchcock in 1966 resulting in the must-own book is a must-see. Filled with famous shots from Hitchcock's films, the film also interweaves interviews by 10 famous directors, including David Fincher, Peter Bogdanovich, Martin Scorcese et al. all in rather playful mode on the influence of the Master. But with such high expectations for such a film, there is bound to be disappointment. For one, most of what transpires on screen has been told many times or already known by cineastes, so that there is hardly new insight on the Master on his films. Still, it is a wonderful nostalgia, and the film teases on what films could have resulted if the master were still alive and made films with Robert De Niro, Al Pacino or Dustin Hoffman. This film is still a must-see for all cineastes and is still a worthy tribute to both artists, Truffaut and Hitchcock.
Trailer: (unavailable)
I SMILE BACK (USA 2015) **
Directed by Adam Salky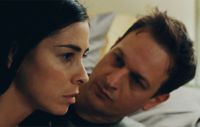 The feel lousy film of the year, I SMILE BACK is a film that focuses on the self destruction of a middle aged housewife who attempts one last attempt at redemption.
For an 85-minute film, the film is full of incidents, which unfortunately does not reveal more of her character but enforces it. In the film's beginning five minutes for example, the audience witnesses Laney Brooks (Sarah Silverman) naked bearing her breasts, having sex doggie style, snorting cocaine, talking trash during her family and husband Bruce's (Josh Charles) dinner and rejecting the pet dog given to her.
Based on the book by Amy Koppelman and adapted to the screen by her and Paige Dylan, this second feature by Adam Salky (DARE) follows the downward spiral of Elaine Brooks. Difficult to reason why as she has a loving, steadfast husband, two terrific kids, Janey and Eli and a comfortable suburban home. She has everything going for her, yet she's putting it all in danger. Between dropping the kids off at school and doing the shopping, she does her trash including regular sex with her husband's best friend, Donny (Thomas Sadoski) who is about to become a father. When she can no longer hide her addictions, she agrees to go into rehab, but her too-brief stay isn't enough to alter a lifetime of self-medication or to heal the deep psychic wound underlying her wild behaviour. Laney is on the road to recovery, but how far can she go without a map when temptation waits at every turn?
Silverman's performance is not bad though not as stellar as most critics have praised. It is more of a brave performance in which Silverman is willing to discard her comedic roots - there is hardly a funny moment by her - and bare all, literally, to create her dramatic role. But the film suffers from the limitation of the book, not going into more depth of its main character. The source of Laney's troubles is hinted as coming from her father, who is having a few problems of his own. But it is not a convincing one for a woman who has it all destroy herself to this degree. The film's also hints at some mental problem of hers, but she is portrayed as a pretty sane person who is just uncontrollable.
The open ending leaves the audience undecided as to whether Laney has redeemed herself or whether she is a total lost case or whether she will be given a last chance by her husband who just looks on. One could also argue that it is a cop-out ending.
Though the film is a frank account of a woman's struggle to get back on her feet, it is hard for the audience to sympathize with Laney's character given the circumstances laid upon her by the novel and script. The script does not compromise, which in this case is both a good and bad thing.
Trailer: https://www.youtube.com/watch?v=gTRqt4s64SE
LEGEND (UK 2015) ****
Directed by Brian Helgeland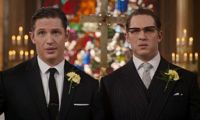 The second film about the notorious Krays, (the first was called THE KRAYS in the 80's directed by Peter Medak) the gangster twins that terrorized London the 50's and 60's is given a glossier more modern approach. But just as violent. The Kray twins in LEGEND are both played by Tom Hardy.
Written and directed by Brian Helgeland (L.A. CONFIDENTIAL his best film) and based on the book The Profession of Violence: The Rise and Fall of the Kray Twins by John Pearson, the film is told from the point of view as well as narrated by Frances Shea (Emily Browning) the wife of Reggie Kray. She met Kray at 16 and married him aged 22 in 1965 . She committed suicide in 1967, and narrates the film from beyond the grave. "It took a lot of love to hate him the way I did," were her famous words.
When the film begins, the Krays are already established gangster princes. The script does not detail how they got to be such prominent gangsters except by having them usurp the turf from Charlie (Paul Bettany) and his brother Eddie, childhood friends of the Krays and the leaders of notorious south London gang (also known as the Torture Gang). That was when Reggie met Frances. The film that goes on to deal with the further rise and fall of the Kray twins; the relationship that bound them together, and charts their gruesome career to their downfall and imprisonment for life in 1969. And all from Frances' angle.
LEGEND is necessarily violent. The best segment is the well executed fight between the two brothers (made trickier to shoot as both brothers are portrayed by the same actor) which is guaranteed to make you cringe in your seat.
The script is set up to have the audience take the side of Reggie, the sane brother. The other, who is ultra violent and homosexual and certified insane not once but twice is the script's set up for the downfall of the Kray's empire.
Hardy does an exceptional job playing the Krays, definitely proving to be Oscar material here. He creates two very different characters in the Krays, one sane and the other insane. Though the film uses the tactic of Ronnie's glasses to distinguish the twins apart, Hardy creates different nuanced behaviour for each. Of the other performances, David Thewlis stands out as the Krays business and lawyer connection who wants to make the business more legitimate, thus running foul with Ronnie.
Ronnie's homosexuality is treated in the film with campy seriousness. He justifies his gay sexual acts by claiming to be the giver and not the taker. One difference between the two KRAY films is that Medak's dwelt on the Kray's doting mother's influence, the mother played by Billie Whitelaw in THE KRAYS.
The 50's and 60's London atmosphere is effectively created, complete with the period posh suits, vehicles and Burt Bacharach songs like 'The Look of Love'.
Hard to fault, LEGEND belongs to the genre of excellent British crime thrillers of the 70's that used to be popular.
Trailer: https://www.youtube.com/watch?v=yI3v6KfR9Mw
LIFE (Canada/Germany/Australia/USA 2015) ***
Directed by Anton Corbijn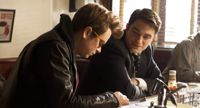 The LIFE of the title is Life Magazine, which featured an article of brooding rising star James Dean, portrayed no other than also rising star Dane DeHaan. The film is not so much a story of James Dean but the odd relationship between equally brooding Life photographer Dennis Stock (TWILIGHT's Robert Pattinson) and James Dean as he is about to land a role in Elia Kazan's EAST OF EDEN.
For a film directed by Dutch born Anton Corbijn who rose to fame with his biopic on Joy Division CONTROL, LIFE is surprisingly sparse in music. Most of the soundtrack is music-less and is concocted more of sounds than anything else. And when music comes on, it is either piano thumping or trumpets blaring or drums beating, rather tan a tuneful melody. Perhaps, these enhance the fact the the lives of the two on display are out of tune.
Corbijn's film is understated and terribly slow. He leaves his audience to interpret each scene while giving them the time to do so. The European director seems more fascinated with the farmland and country of the American mid-west than anything else. Quiet a bit of the film is set in Dean's family farm though there is nothing much there.
Performances-wise, it feels that both Pattinson and DeHaan are competing on who can brood more. DeHaan has a more difficult task of keeping the myth and memory of the James Dean legend intact. For that he mumbles through most of his lines. Whether he succeeds in portraying an accurate account of James Dean is left to the viewer.
The film leaves the audience quite unconnected to both characters. Corbijn does not make it a point to sympathize with each, and even less with Dean. At least for Stock, there are scenes with him trying to connect with his son, whom he rarely sees. And when in one key scene when he throws up on his son, whatever sympathy created is immediately dissipated. But one must give credit to Corbijn for not glamorizing the material. He allows the audience to make their own judgement. The film looks more like an art project than a biopic of James Dean which is clearly not Corbijn's aim.
It is not surprising then that when Ben Kingsley's portrayal of Mr. Jack Warner, the hard-nosed studio head comes on display as when he comes down on James Dean for not keeping to his publicity promises, the film is the most alive.
There a few neat segments in the film. The best of these is a party that Stock walks into, where there is an actor that looks so much like Paul Newman. In fact, that was supposed to be, as James Dean is questioned later on whether he would be more popular than Newman.
LIFE is a meticulously directed by Corbijn and written by Australian Lucas Davies. For a film entitled LIFE, the film is ironically so lifeless. Perhaps Corbijn wants his audience to examine for themselves what he has put on screen. One wonders what the film's message or what the purpose is. Perhaps it would be that life is what you inevitably make it out to be. With that, Dean's death in a car accident that occurs a few years after the time when the film ends, is just treated as a fact of life.
Trailer: https://www.youtube.com/watch?v=UN4iCE7oZ-Q
A ROYAL NIGHT OUT (UK 2015) **
Directed by Julian Jarrold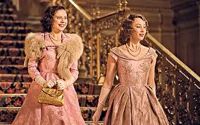 A ROYAL NIGHT OUT is a reversal fairy tale in which the princess envies the common folk and wishes to be enjoy a night like a commoner. It is the opposite spin of a fairy tale that somehow also takes a few tips from CINDERELLA. The princesses have to be home by midnight. The princess meets her Prince Charming and there is a big ball, though the princesses escape from it.
The premise of the story has the two princesses, 19-year old Elizabeth (Toronto's own Sarah Gadon) and 14-year old Margaret (Bel Powley from DIARY OF A TEENAGE GIRL) wish to have a break from royalty during VE day in May, 1945. VE day, as director Jarrold is quick to explain, is Victory Day in Europe when the night is devoted to the celebration of the end of the Second World War. The King (Rupert Everett) has prepared a speech. The two want to celebrate to see what it is like not to, as in the words of their mother, the Queen Mother (Emily Watson), live a life not fully their own. The parents (King and Queen) finally agree. The princesses ditch their goofy chaperones (Jack Laskey and Jack Gordon). Margaret gets terribly drunk and lost while Elizabeth tries to find her with the help of a handsome beau, an AWOL RAF corporal, Jack (Jack Reynor), who she obviously falls in love with.
Nothing is, of course to be heard more of the story after that, as this is a secret outing that is all so hush-hush.
The story is as frivolous as the film and as frivolous as the acts of the princesses. Do not expect any message, lessons in life or even any insight on royalty. The film is just a case of 'girls just want to have fun.' Unfortunately the fun does not translate well to the audience. The film is only mildly funny. When the waiters at the ball set up the champagne glasses fountain display, one knows that it is just a matter of time before they are knocked over. Watching Princess Margaret getting drunk, pulled along by men to 'knocking houses' and wheeled around in a wheel barrow is not as funny as it sounds. And Corporal Jack, the Prince Charming fight all the bad guys like Jackie Chan in a martial-arts movie.
The film is extremely careless on details, not that one would like to be nit picking at trivial mistakes. On the double-decker in one scene, the bus conductor grinds his ticket machine. In 1945, conductors were using the old hole puncher. And a corporal in the RAF (as is Jack int he film) flying dozens of missions is unheard of. But worse still is he sight of a boom hanging from the the top of the screen during the middle of the film.
So is this film based on true events? If it is, mum's the word as nobody was to say anything. And if all this is whimsy? Not that anyone really cares! The Royal Night Out turns out to be one big sizzle!
Trailer: https://www.youtube.com/watch?v=FLc2yo-nhjg
BEST BETS:
Best Film Playing: LEGEND
Best Action: SPECTRE
Best Animation: THE GOOD DINOSAUR
Best Documentary: PEGGY GUGGENHEIM: ART ADDICT and DRONE
Best Foreign Language Film: GUIBORD S'EN VA T-EN GUERRE (MY INTERNSHIP IN CANADA)
Best comedy: THE NIGHT BEFORE
Best Drama: BROOKLYN