24
Dec
2015
Details

Category: Movie Reviews
Written by Gilbert Seah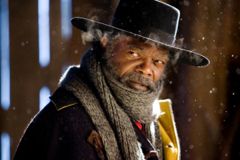 These are the film reviws of the films that open Christmas Day. Among them are CONCUSSION, DADDY'S HOME, THE HATEFUL EIGHT, POINT BREAK, JOY and THE BIG SHORT.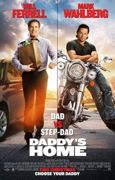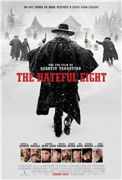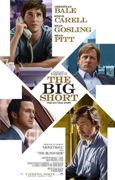 FILM REVIEWS:
ANOMALISA (USA 2015) ***** TOP 10
Directed Charlie Kauffman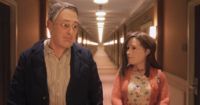 Charlie Kauffman outdid himself and almost everyone else for that matter with the script of FINDING JOHN MALKOVICH, made into a film so inventive, entertaining and fascinating, that one clan hardly imagine anything topping that. ANOMALISA comes close if not succeeding.
As the stop-motion animated adult comedy drama unfolds, slow enough to allow the audience to think over many of the film's details, the immediate question that comes to mind is why animate this story. The question seems more relevant since the animation appears to copy the actual human being and their everyday work as accurately as possible. The characters are animated but the settings like hotel room, cab and props are not. A non-animated film could have served the identical purpose. The answer to the question might be that the story could have been told in either format, but the stop-motion animation serves to highlight certain aspects of Kauufman's ingenious story. For one, the story has surreal elements that are best highlighted in a surreal looking animated film resembling the real thing. Secondly, the artificiality of life is emphasized. And thirdly, the whole enterprise looks like a dream - a Kafka-ish world like an animated cartoon.
The apparently 'normal' story concerns Michael Stone (David Thewlis), an author of books on the subject of customer service, struggling with his inability to connect to people. Michael, born in England and married with a son lands in Cincinnati on a routine business trip. He meets a stranger, Lisa (Jennifer Jason Leigh) who changes his world view as he falls in love with her.
The film appears really odd at the start. All the female characters are voiced by males (except for Lisa) and soon it becomes apparent that all the voices are done by one male actor - Tom Noonan. The reason becomes clear later on in the film.
Kauufman's film works on various levels. It is one of the most human films that is animated. The world as seen by its protagonist is exactly the way it actually is. The most important person is oneself and everything else is secondary. In the same way, to Michael Stone, the only person that matters is himself, which he realizes and that there is only one other person in the world that matters, the one he has fallen in love with and the one that really would make a difference. This is the one that will de-normalize his life and hence he renames her ANOMALISA from Lisa. The film also captures the boredom or everyday life in a most exciting way - a feat Kauffamn achieves, at apparent ease.
The stop animation is a marvel - complete with its accuracy in details. The animated sex scene complete with gentials should be seen to be unforgotten. An old movie seen on TV by the characters is also animated
ANOMALISA has won accolades and prizes where it has been shown. It currently, at the time of writing, hold a 100% rating on Rotten Tomatoes.
ANOMALISA is an almost perfect film in every way, down to the closing song and music. The film is a rare treat that celebrates life and the best of what it has to offer, ironically, without having a happy ending. Not occasionally but frequently brilliant, ANOMALISA is that rare movie, yes out of the ordinary that is definitely a must-see, a near-masterpiece of originality!
Trailer: https://www.youtube.com/watch?v=DT6QJaS2a-U
THE BIG SHORT (US 2015) ***** TOP 10
Directed by Adam McKay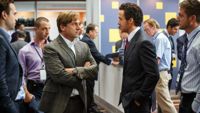 Based on the best-selling novel of the same name by Michael Lewis, THE BIG SHORT
describes several of the key players in the creation of the credit default swap market that sought to bet against the collateralized debt obligation (CDO) bubble and thus ended up profiting from the financial crisis of 2007–2010. But the film mainly highlights the eccentric nature of the type of person who bets against the market.
It should be noted that many of the characters in the book have their names changed - to protect the innocent or the guilty, as the case may be. The Jared Vennett character played by Ryan Gosling and the Mark Baum character played by Steve Carell have been changed from the Greg Lippmann and Steven Eismann characters respectively. Others like Dr. Michael Burry (Christian Bale) have remained unchanged while Brad Pitt's Ben Rickert has been changed from Ben Bockett. It is also strange that Adam McKay, a director known for his outlandish comedies like ANCHORMAN and THE OTHER GUYS be chosen to make this film based on such a serious topic. The housing credit bubble burst cost millions of Americans their jobs and houses. But it is a good bet. No ordinary person would like to see a depressing film about the Ameggedon of the U.S. housing market. McKay makes the whole enterprise hilariously off-beat, so unless one has actually been burnt, severely by what has been described, THE BIG SHORT is one hell of a ride!
For those not well versed in the world of finance, THE BIG SHORT might be too technical. But the film is not without its entertainment value. McKay explains certain terms with great humour. If one is uncertain on what mortgage credit is, he uses Margot Robbie (playing herself) to explain the term while drinking champagne in a bubble bath. McKay also uses Selena Gomez (again playing herself) to explain the various type of CDOs (Collateralized Debt Obligation) while handed a ten and a seven at a Blackjack table in Las Vegas.
There are characters in the book left out in the film. No complaint here, as the film already runs over two hours. But now wonders what magic can be added with the interesting character of Eugene Xu, a quantitative analyst who created the first CDO market by matching buyers and sellers.
The filmmakers have assembled a more than apt and impressive cast. For one, Burry's character, a true one is an ex-neurologist who created Scion Capital despite suffering from blindness in one eye and Asperger's syndrome. One can see what attracted Christian Bale, who appears to be having a field day, to accept this role. Brad Pitt, barely recognizable with glasses and a goatee plays the anti-hero admonishing his two proteges that they should stop dancing after making so much money for the fact that people have lost their jobs and homes a s result. Carell and Gosling also add to the festivities.
For a film based on the worst financial disaster, director Adam McKay and gang might even make the losers shed a tear or two of laughter. An amazing film with an amazing treatment of the material.
Trailer: https://www.youtube.com/watch?v=LWr8hbUkG9s
DADDY'S HOME (USA 2015) **
Directed by Sean Anders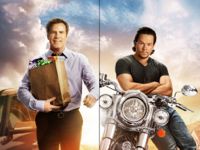 DADDY'S HOME is advertised as a movie with a dad vs. a stepdad. And in the words of the movie, the audience is to be shown the difference between a dad and a father.
As the film opens, a mild-mannered stepdad, Brad (Will Ferrell) is married to his new wife Sarah (Linda Cardellini) and living with her and her two children. The two children are yet to confide in him and Brad tries his best to be a good dad - poor soul. The segments where Brad fails in his attempts also fail in being funny. But Farrell, at least, actually makes his audience sympathize with his character. Then enters Dusty (Mark Wahlberg), the real father who weasels his way into staying at the house. His main aim is to win his wife, Sarah (Linda Cardellini) and kids back. And Brad is too naive to realize what is happening.
The above story is nothing really special to write home about. The script is pretty lame and does not have much room for twists in the plot. What transpires is predictable. Dusty wins his children's affection and Dusty tries too hard. Brad eventually, because of his good naturedness wins Dusty's heart and together make one healthy family with two dads. It is a film where two males do their best to make annoying kids happy.
It is hard to make an unforgettable comedy with such a lame story. There is no big villain, no end of the world scenario and no action sequences. But given the limitations, the film does contain a few really funny laugh-out loud segments.
The film's subplots are not that funny either. One involves Dusty inviting a black handyman, Griff (Hannibal Buress) to stay with the family. Another has Dusty bringing a mongrel, who obviously hates Brad, as a gift for the kids. And another has Brad's boss, Leo (Thomas Haden Church) always having advice or an unrelated story to tell to Brad. These generate a few chuckles at most.
The film's funniest moment occurs when it goes totally ridiculous - a characteristic of Will Farrell's type of comedy. Brad tells his stepson who is bullied that to solve the problem is not to fight back but to do something else like a dance-off, with the added benefit that both parties end up getting fit. The climax of the movie is a dance-off which thankfully is really funny and almost saves the movie.
The film works when the actors let their hair down and play their own characters. The parts where Farrell as Brad takes his shirt off to show his spare tires compared to Walhberg as Dusty's ripped body form the film's funniest parts.
DADDYS HOME ends up a family film with few lewd jokes, the only one being Brad's impotency as a result of a dental accident. Farrell and Wahlberg have worked together in THE OTHER GUYS and make a good team, all things considered. Hopefully, they will team up again in a film with a better script.
Trailer: https://www.youtube.com/watch?v=arhMMJx7tCU
THE HATEFUL EIGHT (USA 2015) Best Film of the Year *****
Directed by Quentin Tarrantino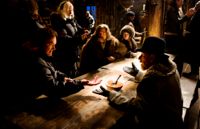 Though not his best film (I reserve that for INGLOURIOUS BASTERDS), Tarrantino's second western after DJANGO UNCHAINED is my personal best film of 2015. This is a director in top form, who knows his material and how to write a good script and direct with surprises around very corner. His film is almost perfect in every department from music to cinematography to acting to sets and costumes.
THE HATEFUL EIGHT is set some years after the Civil War in Wyoming, and revolves around eight strangers who seek refuge in a stagecoach stopover called Minnie's Haberdashery on a mountain pass during a blizzard.
When the film opens, John "The Hangman" Ruth (Kurt Russell) is escorting fugitive Daisy "The Prisoner" Domergue (Jennifer Jason-Leigh) to Red Rock where the latter will face justice for murder. They encounter another bounty hunter named Major Marquis "The Bounty Hunter" Warren (Samule L. Jackson) and later, Chris "The Sheriff" Mannix (Walton Goggins). A blizzard forces the four to take shelter at a stagecoach passover called Minnie's Haberdashery where they encounter four more strangers; Senior Bob "The Mexican" (Demian Bichir), Oswaldo "The Little Man" Mobray (Tim Roth), Joe "The Cow Puncher" Gage (Michael Madsen), and ex-General Sanford "The Confederate" Smithers (Bruce Dern). But not everything is what it seems to be. A lot of the 8 are not who they say they are. This is the intriguing premise that led Tarrantino to write the script. Through betrayal and deception, the eight strangers soon learn that they may not make it to Red Rock after all.
Samuel L. Jackson, a staple in many of Tarrantino's films plays the 'bad' good guy. No matter what character he plays, including the American President in his last film, the words 'mother f***er' never fail to come out of his mouth. In THE HATEFUL EIGHT, the words are splurged out, as expected. Two of Tarrantino's stars in RESERVOIR DOGS, his first hit, Roth and Madsen reprise their smart-ass character roles. Tarrantino's new discovery is Walton Goggins, his new Christophe Waltz, a handsome young smart-talking character with wide faced mannerisms to match.
For those politically correct audiences, beware. The 'n' word is used several times. Though it is mentioned that blacks do not favour the 'n' word in the film, the word was not really degradatory in those times and was used freely. On the other hand the only character that gets punched in the faced and hit and shot several times is the only female in the film. Tarrantino is no respecter of the fairer sex.
The film's best joke is also the title of one of the chapters - 'Son of a Gun". It refers to the front door of the Haberdashery which has to be nailed shut not once but twice as the latch had been broken and the winds of the blizzard are so strong. Every time someone enters, the door has to be kicked open and nailed twice shut after.
Shot in Panavision, Robert Richardson's cinematography is stunning. The film is set in the midst of the Wyoming winter and the landscape is beautiful from the ice covered mountain peaks to the half frozen streams to the wide snowily landscape to the blizzard that arrives with the story.
The one thing about Tarrantino's films is that they are full of surprises. The film divided into chapters - but there are 6 not 8 of them. The beginning overture prepares the audience for an epic. An epic western it is - but not one that would be expected. The 6th chapter entitled 'the 4 passengers' is a flashback with the last chapter forming the climax of the film, in which anything can and does happen. Channing Tatum makes a surprise too - his first appearance as well as disappearance from the film. The film also plays lie a whodunit with like the Agatha Christie story TEN LITTLE INDIANS.
The film also contains lots of 'spicy' dialogue - a characteristic of Tarrantino films. There is an argument of civilized justice compared to frontier justice. Tarrantino also uses good use of music like the playing of "silent Night' during a shootout segment. This is followed by a 15 minute intermission after which the film continues, 15 minutes after what last happened in the last scene.
This is a film that almost never got made. Thank God it did. The original script got leaked which prompted Tarrantino not to make the movie, though he changed his mind. Ennio Morricone who score the spaghetti westerns like THE GOOD, THE BAD AND THE UGLY and FOR A FEW DOLLARS MORE was hired by Tarrantino and one of the main reasons he wanted to make this western.
Though slavery is part background of the story, it is not the main focus, unlike DJANGO UNCHANGED. The appearance of a black man in spaghetti westerns is not a strange phenomenon. Black actor Woody Strode frequented the old spaghetti westerns.
Compared to other Tarrantino films, like his last two, HATEFUL 8 is the longest and slowest. But it is by no means dull and is totally gripping from start to end.
It should be noted that the film opens Christmas Day in 70mm format only. For Toronto, this means screenings only at the Varsity of Bell Lightbox. But the film opens wide digitally on January the 8th. The 70mm film, shot with Ultra Panavision lens will be the 6 minute longer version, with a running time of 183 minutes not counting the intermission. The film begins with an overture lasting several minutes with the score by Italian maestro, Ennio Morricone.
Trailer: https://www.youtube.com/watch?v=GLe2P13oeIc
HE NEVER DIED (USA/Canada 2014) **1/2
Directed by Jason Krawczyk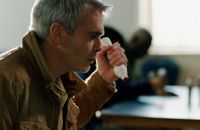 HE NEVER DIED is an odd movie with a theme that counters the good cheer of the Christmas festivities. It is everything the festive season isn't, so if one is fed up of friends and family and want something completely different, HE NEVER DIED might just be the film to satisfy.
The film is an off-beat one with an equally off-beat character. When the film opens, Jack (Henry Rollins) answers a knock on the door. It is his landlady. Paying cash from a suitcase full of money, he asked her for the time, date and day of the week. He then goes to his usual restaurant and orders the same stuff - hot tea. Things get weirder. Apparently, he discovers he has a daughter, Andrea (Jordan Todosey). People are trying to get to him and kidnap Andrea as a result. Jack is shown to display super human strength. Though he gets hurt, bullets do not kill him. And Jack plays BINGO to kill time. (See photo inset of Jack with his dabber.)
So what is the explanation? It comes right at the end of the film. It does not make much sense, but at least it is an explanation. A few things are left unexplained, such as how he got the suitcase of money and how he got some woman pregnant.
But the entertainment of the film comes from Rollins' performance. He is simply the best thing of the film, delivering a deadpan performance, full of one-liners while constantly sneering. Rollins is no newcomer in film, but he has never landed a leading role before. His credits include bit parts in Michael Mann's HEAT, JACKASS: THE MOVIE, BAD BOYS II and LOST HIGHWAY. The supporting cast do not fare badly either. Booboo Stewart plays a native student, Jeremy, capturing the perfect slacker loser character while Steven Ogg plays the villain, Alex over-the-top in contrast to Jack's character. Kate Greenhouse plays Cara, the waitress who tries to date Jack, though one cannot see any reason to do so.
Krawczyk's film is exceptionally violent but deserves to be so. Without it, the film would lose the audience's attention. The violence feeds into the audience so that more and more is wanted. It is human nature to root for the underdog who is trying to survive no matter what reason. So when Jack clips off a victim's finger or breaks another's foot to prevent him from escaping, one can only winch and watch.
The film is a U.S. and Canadian co-production shot in Toronto. The setting of the film is never mentioned but judging from the American notes in Jack's suitcase and one reference to Jack being in the Civil War, it is assumed that the film is set in the States.
But the one-joke one-gimmick film is unable to sustain the 90-minute length. Despite the violence and super-dry dead pan humour, HE NEVER DIES would be deemed too slow for most audiences.
The film opened last week is is still playing at the Royal.
Trailer: https://www.youtube.com/watch?v=6QK2T7I5uUA
JOY (USA 2015) ***** TOP 10
Directed by David O. Russell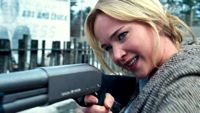 Writer/director David O. Russell has been known to made films with strong family content like SPANKING THE MONKEY, THE FIGHTER and. His last movie AMERICAN HUSTLE shows him successful in a completely different genre - business. JOY, a film about a housewife named Joy Mongano (Jennifer Lawrence), a struggling single mother who with the help of family and friends succeeds in inventing and marking her miracle mop invention combines the best of the two genres.
Joy has not the typical family. Her grandmother (Dianne West) who narrates the story, her TV-addicted mother, Terry (Virginian Madsen), two children live with her in her house together with her divorced husband (Edgar Ramirez) who lives in her basement. Her dad (Robert de Niro) suddenly moves in, and causes some havoc. But to survive, Joy decides to manufacture and sell her magical mop, going all out - to make it or go completely broke. This is a film about mending broken dreams and making them finally come true. JOY is a true joy to watch, a feel-good Christmas film with all the peers and quirkiness found in a Russell movie. The film moves at a manic pace, especially in the beginning, capturing the spirit of AMERICAN HUSTLE.
Jennifer Lawrence (MOCKINGJAY) delivers another knock-out performance capable of winning her another Oscar nomination for Best actress. Her two memorable segments especially the one where she freaks out in front of her daughters is enough to make one cry. The other has her telling her stepsister in words that will eventually go into movie history: "Never ever speak on behalf about my business … again!" Bradley Cooper has a smaller supporting role but one cannot get enough of his character on screen. Ramirez as the divorced husband is surprisingly good and truly as in the words of the film, they make 'the most awesome couple in America", despite not being married.
There is also some neat words in the script. In one scene, Joy's father tells Joy that it is to possible to have the same dream, to which she replies she has had the same dream twice. If one has the same dream, that means having that dream twice, so how may times is the dream dreamt if one has the same dream twice. Funnier still, is the fact that what that dream is, is never revealed in the film. Also, Joy's business financier and father's girlfriend, Trudy's (Isabella Rossellini) four rules of business success is a real hoot.
The trailer has a scene with Joy blasting off a rifle. In the film, she is upset and blasts the file taken in a rifle range next to the father's shop. The trailer leads the audience to think Joy has shot someone, especially with anther scene with two cops handcuffing her and taking her away. But tis is not really what transpires in the film. It is a clever editing of the film to form a trailer to look more exciting with events imagined by the audience. Thought his to be a brilliant touch.
JOY has got mixed reviews so far from critics. I have read a few but am unconvinced of the reasons that JOY is faulted with. JOY to me, is a smart fell-good movie, appropriate for Christmas and shows director Russell in top form.
Trailer: https://www.youtube.com/watch?v=uR-2TiQVY-k
OUR LAST TANGO (UN TANGO MAS) (Argentina/Germany 2015) ***
Directed by German Kral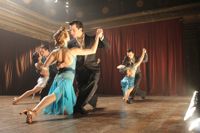 This documentary tells the story of love between the two most famous dancers in tango's history - María Nieves Rego (aged 81) and Juan Carlos Copes (aged 84).
When the film begins, a closeup of Maria has her say that if she was given the chance to do it all again, she would not change a thing - for tango. The only thing is to do it without Juan. The camera moves back to show Maria and Juan standing very close, face to face. They begin to tango. This is a powerful start. Why did Maria make that statement about Juan. Did she bare that much hatred fro him? Or did she love him too much that she cannot handle it? The doc goes on to reveal the reason.
The film would naturally have a slow feel with two aged subjects. Director Kral (who got his film experience working as assistant to Wim Wenders) tries to counteract this by animating his film as much as possible. This is most evident in one scene where Maria's two interviewers more than act out their surprise at Maria's answers to their questions.
OUR LAST TANGO is less a film about the tango than about the relationship between Marian and Juan. And it is not a love but more a hate relationship. It becomes a bit tedious, with each complaining about the other, from start to finish of the film. Director Kral offers two sides of the story, so that the audience takes no sides. Often each would complain about the other at great length. Maria loves Juan too much but not unconditionally. Her pride is terribly broken she Juan bears a child with another woman. On the other hand, one can sympathize with Juan when he says he cannot stand Maria. It is not easy to live with someone whom one cannot stand despite the fact that that someone loves you.
The film has quite a lot of tango dances but not many shown in great detail or to great length. Rather many different types are shown during the different stages of their lives. The duo exported their dance to Broadway with 'Tango Argentino'.
One wishes that there be more archive footage of Maria and Juan dancing together. Young dancers perform too many re-enactments so the film has too much of a made-up feel.
There is little said in the film of how the two became so famous and how rich or successful they became. Their dances on display in the film reveal very little of their talent as well.
OUR LAST TANGO is also a film about ageing, though not much is said of the subject. But one can see on the faces of both Juan and Maria - their past glories and regrets. Maria is also suffering from some nerve problem, evident in her old age. She cannot stop shaking her head.
It is difficult to imagine OUR LAST TANGO being interesting to those with little to do with dance, for the love/hate relationship of the couple is also not something that audiences will flock to.
Trailer: https://www.youtube.com/watch?v=FQW_NSMSZmM
POINT BREAK (USA/China/Germany 2015) *1/2
Directed by Ericson Core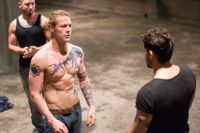 POINT BREAK is a remake of the Kathryn Bigelow 1991 hit film starring Patrick Swayze and Keanu Reeves. Bigelow is a female director able to create big hits with strong male content action films like THE HURT LOCKER, ZERO DARK THIRTY, STRANGE DAYS and my favourite and her first film, NEAR DARK. Director Ericson Core has tough shoes to fill.
The surfing definition of POINT BREAK refers to the type of long-lasting wave found off a coast with a headland or point. A point break is formed when a swell moves around the land almost at a right angle to the beach and a break which begins near the point gradually progresses along the wave. Bigelow's film involves a FBI agent going undercover to infiltrate a gang of bank robbers disguising themselves as surfers.
The difference in the new POINT BREAK is a series of robberies done by not surfers but extreme sport specialists. They do the big surf in the last climatic scene but engage too, in other sports such as snowboarding, rock climbing and wingsuit flying.
The story of the new POINT BREAK involves a young FBI agent, Utah (Luke Bracey) infiltrating a team of extreme sports athletes he suspects of masterminding a string of unprecedented, sophisticated corporate heists. He engages in this quest as redemption after losing his brother in an extreme sport accident. Deep undercover, and with his life in danger, he strives to prove these athletes are the architects of the mind-boggling crimes that are devastating the world's financial markets.
Newcomer Luke Bracey delivers a weak performance. With his blond hair and chiseled body, he looks like a model in many scenes with his perfect blond hair flung across his face. Delroy Lindo playing Utah's boss fairs worse. All he does is bitch about Utah's job. Utah takes the risks and fights the bad guys but his boss keeps complaining and giving Utah a hard time. Edgar Ramirez (an up and coming star, his last film JOY), who plays bad guy Bodhi, cannot help much either.
The film contains some good scenes involving extreme sports. The rock climbing, surfing and motorbike segments are well shot. But the action and fight sequences lack any excitement.
The plot lacks credibility. The eight ordeals that Bodhi seeks make little sense. He ends up completing seven with the last one left in limbo. Utah somehow manages to figure out all the ordeals Bodhi has completed, something hardly believable.
POINT BREAK which costs close to $100 million only made $10 million domestic the first weekend. However, being a Chinese and German co-production, it opened elsewhere a week before North America grossing a remarkable $50 million, which helps the poor domestic numbers. Still, POINT BREAK is far from being a satisfying action flick. The film sags after the first 15 minutes and picks up just a little towards the end. The open ending does not help either. Action fans prefer closure. Open endings are more suited to artsy films which POINT BREAK definitely isn't.
POINT BREAK ends up the most boring action film of 2015.
Trailer: https://www.youtube.com/watch?v=ncvFAm4kYCo
BEST BETS:
Best Film Playing: THE HATEFUL EIGHT
Best Action: STAR WARS: THE FORCE AWAKENS
Best Animation: THE GOOD DINOSAUR
Best Foreign Language Film: SON OF SAUL
Best comedy: THE NIGHT BEFORE
Best Drama: CAROL
Best Comedy/Drama: JOY