02
Feb
2016
Details

Category: Movie Reviews
Written by Gilbert Seah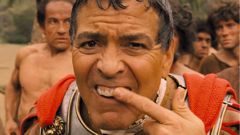 Films opening include the new Coen Brothers comedy HAIL, CAESAR!. The zombie flick PRIDE AND PREJUDICE AND ZOMBIES and MOJAVE provides some scares and thrills.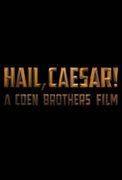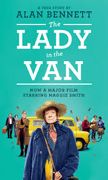 FILM REVIEWS:
HAIL, CAESAR! (USA 2016) ****
Directed by Joel and Ethan Coen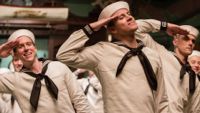 The Coen Brothers remain in top form. They etch out a film almost annually, with almost each one a critical hit. Their films are an annual event many moviegoers now look forward to. Their best films include TRUE GRIT, FARGO, NO COUNTRY FOR OLD MEN and BURN AFTER READING, and all their films share the Brother's keen sense of humour. HAIL, CAESAR! like BURN AFTER READING is pure comedy and this one is a worthy tribute to the Hollywood dream-making machine. It has the feel of a farce yet, it total respects the Hollywood studio system, for all its faults and errors.
The lead character is a Hollywood studio fixer by the name of Mannix, subtly portrayed by Josh Brolin, in the kind of role he has mastered. He is a dead serious character you do not want to mess around with. Or you will get slapped around like his main star, Baird Whitlock (George Clooney) did, before being told to then go out and act like a star. The film begins with Mannix in a confessional box, pouring his heart out to the priest. Mannix is shown to be a decent man, one that respects other human beings, despite their faults and one who loves his wife and kids. He is the backbone of America and the one that make sense in the Coen film. Which is required - or all else will go to nought and the film degenerates into nonsense. Of all the sins confessed, the one that affects him the most is his cigarette smoking. He has promised his wife (Alison Pill) to cut down and is unable to do so. The plot generally follows Mannix around while things in the Studio fall apart, while being offered a smoke most of the time. Mannix fixes things, hilariously yet credibly, and that is the basic premise of HAIL, CAESAR! While all these are going on, he is wooed for a better paying, better hours job at Lockheed Incorporated.
The things that can go wrong provide most of the satire and entertainment. A famous actress, DeeAnna Moran (Scarlett Johansson) is pregnant and her image is about to be ruined. A famous cowboy actor, Hobie Doyle (Alden Ehrenreich) is unable to utter his lines to the satisfaction of his director Laurentz (Ralph Fiennes). Tabloid columnist sisters (both played by Tilda Swinton wearing different hats) want a scoop trying to dig in dirt about star Whitlock. The most jarring problem is Whitlock being kidnapped by a groups of disgruntled scriptwriters who want their far share of the dough. Mannix has to sort them all out.
All these problems provide ample opportunity for hilarity - Coen Brothers style. And they keep the laughs coming with twists in the story as they know best. The brains behind kidnapping turns out to be communist Burt Gurney (Channing Tatum).
The Brothers play plenty of homage to old classics. There is a spectacular swimming Busby Berkley swimming number, Esther Williams style as in MILLION DOLLAR MERMAID, a one-take musical gay-type musical number with no dames to the tune of "No Dames"with nods to ANCHORS AWEIGH and Rogers and Hammerstein's song "There is Nothing like a Dame" from SOUTH PACIFIC and scenes that could be taken right out of William Wyler's BEN-HUR, just to name a few.
The Brothers have also assembled quite the impressive all-star cast, though some on the list only appear for a few minutes in a scene or two. The Jonah Hill character seems present just to utter the line "It's all part of the job, Miss." Fiennes and Johansson are only present for two scenes while Frances McDormand has only one as a chain-smoking editor who gets chokes by the film reel in the editing room. For whatever they do, they leave the audience wanting for more. Relative newcomer Ehrenreich steals the show as the cute cowboy who eventually helps Mannix instead of the other way around.
Great directors have made films about the passion in the making of movies. Fellini had 81/2, Truffaut LA NUIT AMERICAINE, Almodovar BAD EDUCATION and the Coen Brothers HAIL, CASEAR!. Everything comes clear as to what the Coens are up to by the end reel. There are elements that don't work that well or are overdone, but or the most part HAIL, CAESAR! is quite the movie, especially for the moviebuff. HAIL, CAESAR is a minor classic but a major delight! I would see it again!
Trailer: https://www.youtube.com/watch?v=kMqeoW3XRa0
THE LADY IN THE VAN (UK 2015) ***1/2
Directed by Nicholas Hytner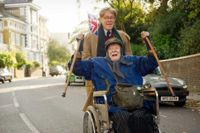 There are several reasons to watch the new Maggie Smith, Nicholas Hytner and Alan Bennette collaboration of THE LADY IN THE VAN. For one, it is based mostly on a true story - the words that appear on the screen at the film's start, signifying a modest comedy on life. And with an equally number of pleasures as well to be derived from the film.
Adapted from the based-on-fact hit West End play by Bennett (best known for THE MADNESS OF KING GEORGE), the film's title referring to a high-born homeless woman, known as Miss Shepherd (Dame Maggie Smith) fallen on hard times who finds temporary shelter parking her van in Bennett's driveway — for fifteen years. It is a chronicle of the unlikely friendship between the writer (played by Alex Jennings) and the elderly eccentric who takes over his driveway.
The play and script is smart enough to have two protagonists - Miss Shepherd and Bennett. Bennett is seen as a double in the film. As explained - there is the man that writes and the one that lives. They speak to one another, the equivalent of the man talking to himself. He gives himself a perspective of his life, humorously as well as dramatically. He is a timid fellow, kind enough to look after his ailing mother as well as Miss Shepherd. In contrast, Miss Shepherd is ornery, impolite, and bullying Not all there, she claims to take advice from the Virgin Mary. And she smells bad. There is a mystery about the woman that is kept from Bennett and the audience but all is revealed by the end of the film. But Bennett, despite his very private nature, takes pity on her and says she can stay there for three months.
Miss Shepherd is seen to be one that hates music. She screams and scares away children that play music outside her van. But she has studied music in Paris and plays the piano. The reason for her current behaviour is an intriguing one, and one that Hytner uses to full effect.
But besides being a film about friendship and old age, it is mostly a film about life. The film depicts the bit seedy yet very respectable London neighbourhood of Camden Town (on the Northern Tube line). (I am proud to say I have lived there - though as a tourist and guest for 15 days and the film brings a good effective feel in of neighbourhood chivalry and friendliness.) The message about life in the film is an obvious one, though one mostly ignored. It is stated clearly at the end - to love life is to start living. It is, put subtly, in the writing of Bennett's character - that he is not to put himself in the writing but to find himself in the writing.
Maggie Smith bares all in the film and she is not afraid of looking old, haggard and ugly for the role. It is a completely different role from her Oscar winning THE PRIME OF MISS JEAN BRODIE. She would get my vote for her second Oscar.
THE LADY IN A VAN is a tale of life, playfully funny and authentically set in Camden Town, London. Great performances in a film relatively well directed from a clever script full of ripe dialogue.
Trailer: https://www.youtube.com/watch?v=OA8tMziteZM
MOJAVE (USA 2014) **
Directed by William Monahan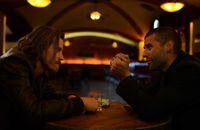 The title MOJAVE stands for the Mojave Desert in California - the setting where the two main characters meet and settle their scores.
William Monahan, best known as the Oscar winning scriptwriter for THE DEPARTED rather than his first feature LONDON BOULEVARD, delivers another low budget forgettable drama/thriller. MOJAVE is a two actor handler, with the two out to outwit each other as well as kill each other off. Both characters are social outcasts, one rich, the other not. There is nothing much to like about each, and Monahan's script makes no effort for the audience to do so.
The good guy is the rich, successful actor/filmmaker. Thomas (Garrett Hedlund) decides his rich and famous lifestyle is not good enough for him. Neither is his beautify wife and daughter. So, he imposes a self-imposed exile in the Californian desert. Who wouldn't want to swap places with him? Herein lies the most fundamental fault of the film. The characters are unbelievable. Worst the is that the script introduces one after another of these characters. Thomas' arch nemesis, a serial killer of some sort, strolls into Thomas' camping space in the desert. Jack (Oscar Isaac) plays a cat-and-mouse game of killer. Thomas accidentally shoots and kills a police officer thinking him to be Jack Jack blackmails him till Thomas turns the tables.
Lines like Thomas' "I've been famous in one way or another since I was 19," does not help the audience feels sympathetic either. The script appears more to impress with flowery words than to establish the film's narrative.
Mark Walhberg has a small role as Norman, one of Thomas' crazy film associates. Wahlberg appears to be the only one having a good old time, always with at least two girls by his side.
For half the time though the film, the audience does not really know what is happening. Disjointed clues are thrown out an it only becomes clear of what is happening after many an incident. Not only is the tactic infuriating but it creates more distance between the audience and the film.
Monahan's film does boasts some impressive images. The desert night scenes are scary and as memorable as the sun drenched scorching hot scenes during the day. The one with the shot of the opening of sunlight from an underground cave, the one in which Thomas shoots the police officer will be memorable for a long time. Credit goes to cinematographer Don Davis.
The confrontation between Thomas and Jack occurs a bit too early at the film's climax. For what it is MOJAVE is a confusing thriller about two men no one really cares about. Stylish in terms of musical score by Andrew Hewitt, dialogue and camera work, but that is all Monahan's film has to offer.
Trailer: https://www.youtube.com/watch?v=AIAjF2JNnyY
BEST BETS:
Best Film Opening: HAIL, CAESAR
Best Film Playing: THE HATEFUL EIGHT
Best Action: STAR WARS: THE FORCE AWAKENS
Best Animation: ANOMALISA
Best Foreign Language Film: RAMS
Best comedy: HAIL, CAESAR
Best Drama: CAROL
Best Comedy/Drama: JOY
Best Horror: JERUZALEM