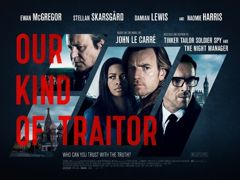 This film reviewer is still on holiday but will be back on July 5th. Things will resume to normal in two weeks. Reviews here are based on previews screened before I left on holidays.
THE BFG and the updated TARZAN open as well as the new John Le Carre thriller OUR KIND OF TRAITOR.
FILM REVIEWS:
THE BFG (USA 2016) **
Directed by Steven Spielberg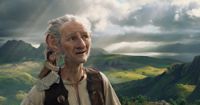 THE BFG (big friendly giant) premiered at Cannes this year in the out-of-competition category to rave reviews. So expecting a lot from Spielberg, the director who is reputed to be a creator of dreams, I went into the BFG film (a film with a story of a giant collecting dreams in a bottle) expecting a lot but was duly disappointed.
The film based on the Roald Dahl children's novel, deals with an orphan named Sophie (Ruby Barnhill) who lost her parents when she was a baby. Sophie is kidnapped from the orphanage one night by the BFG (Oscar Winner Mark Rylance from Spielberg's NEST OF SPIES) and brought to Giant Land. There, Sophie befriends the BFG. The book and film fail to give a satisfactory reason of Sophie being kidnapped. The BFG turns out to be one who captures dreams and delivers them to children in the human world. In Giant Land, Sophie meets the other nasty evil human-eating giants. Going back to London, she convinces the Queen (Penelope Wilton) to capture the evil giants. That is the story, a simpler one compared to other Dahl's stories.
Spielberg opts to leave out Sophie's orphanage life. Nothing is shown about her life there, except of a mention by her to the BFG that the matron Mrs. Conkers is nasty and gives out lots of punishments such as locking children in the cellar which is rat infested. Not one other child is shown in the film leaving out a key element in the film - the human element. Other characters like the Queen's Head of Army and Air Force, the King of Sweden and Sultan of Bagdad are largely left out. There are no 'real' human beings in the film except for Sophie. Everyone else like the queen and her men are shown as clowns and just pawns for the story's movement.
At least the special effects animation and Janusz Kaminski's cinematography are nothing short of stunning. The look of Mark Rylance as the BFG looks very close to Quentin Blake's illustration in the Dahl book. From the very first frame to the last, there is always the feeling of awe. But the basic human story is lost. Special effects have undermined the simple pleasure of a Roald Dahl book. There can always be too much of a good thing. After being in Giant Land for an hour, the special effects animation begin to look normal.
Spielberg keeps his film in family mode. There is not gore or any scene in which a giant gobbles a human being. When Sophie is eaten by a giant in her dream, she is seen thrown into a dark black hole. Spielberg also resorts to cheap laughs like fart jokes The BFG offers Sophie a fizzy drink called frobscottle that causes noisy green-coloured flatulence. The flatulent humour is revisited when the Queen herself drinks the frobscottle.
The film is dedicated to Melissa Mathison, the scriptwriter (she also wrote E.T.) who passed away during the film's production.
Trailer: https://www.youtube.com/watch?v=VG5MtenlP-A
THE DAUGHTER (Australia 2015) ***
Directed by Simon Stone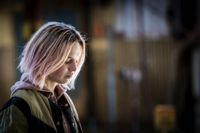 Based on the Henrik Ibsen's 2-act play 'The Wild Duck', THE DAUGHTER is Simon Stone's gut wrenching drama adapted to a small loving town in Australia. It stars Oscar winner Geoffrey Rush who plays an evil father with a fondness for younger women and with no redeeming qualities. About to be re-married, his son (Paul Schneider) visits, only to open dark skeletons in the closet. This leads to things getting from bad to worse, leading to a suicide.
The film was shot in New South Wales, in an area of abandoned factories and logging forests in a soft light, like what would be expected in Denmark. Written also by Stone, the film is a compelling watch despite its over serious content that might turn out to intense for certain audiences. The play is simplified a bit, with the removal of a few characters but with no reduction in the drama.
Rush is always a pleasure to watch, even in the role of a much displaced character.
THE DAUGHTER is Stone's first film, a little difficult to watch because of its content and a bit slow moving, made slower with a lot of slow option sequences.
Trailer: https://www.youtube.com/watch?v=TaC-SrFdRZg
OUR KIND OF TRAITOR (UK/France 2016) ***
Directed by Susanna White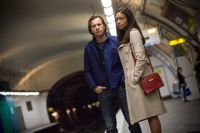 The new John Le Carre film scripted by Hossein Amini is a spy thriller quite different from what audiences have seen in the past. The main character is now an academic, Perry Makepeace, played by Ewan McGregor. McGregor appears in more relaxed Mode compared to Richard Burton, Alec Guinness or Gary Oldman in THE SPY WHO CAME IN FROM THE COLD and SOLDIER, TAILOR, TINKER, SPY respectively. This is not necessarily a bad thing as White's treatment of Le Carre's material has a more feminine - more human touch. This is a huge contrast to the last major Le Carre film adaptation by Tomas Alfredson, the chilling and excellent SOLDIER, TAILOR, TINKER SPY.
The story here is simple and much more straight forward compared to the extremely hard to follow SOLDIER, TAILER, TINKER, SPY. After Perry is offered a tennis game by Russian mafioso, Dima (Stellan Skarsgard), he is 'recruited' by him to help him and his family defect. A sort of mixed STRANGERS ON A TRAIN and TORN CURTAIN Hitchcockian story, White's film plays well blending the cold blooded spy game with a more human aspect. With this main plot, the story weaves in some choice bits of political debate.
Director White is quick to point out that it is not only the Russian mob that are the bad guys in the movie. There is also something very nasty within the British Intelligence as there is in every character in the story. Even Perry is a philandering husband and not one to make his long suffering wife, Gail (Naomie Harris) happy as she is one to point out the faults of her partner. But surprisingly, both Perry and Gail have a change of heart to protect Dima at all costs. In the process their marriage is saved.
As in a Le Carre story, fans will not be disappointed with the plot twists, swift cold blooded killings, car chases and exotic locations, in this case Marrakech, the Alps and the cities of London and Moscow. The film has the look of the spy thrillers of the 60's and 70's. But the Carre story is updated with modern technology such as the downloading of key information (bank account numbers) into a usb memory stick.
The humour is also slick. When asked by Perry the reason he was picked, Dima's reply was that he was the only one left in the restaurant. But a good pick Perry is. A lot of the humour is also derived from Dima's behaviour - how he changes from kindness shown to his family to cold brutality.
The film contains a few outstanding performances that make the movie. Among them are Stellan Skarsgard's flamboyant and hyper ex-Russian mafioso Dima and Damian Lewis' Hector who starts off following British red tape and ends up fighting against it. Jeremy Northam (PRIEST, THE WINSLOW BOY) has a cameo as Aubrey Longriegg, a treacherous British politician.
OUR KIND OF TRAITOR is a milder but still entertaining Le Carre thriller.
Trailer: https://www.youtube.com/watch?v=UYUuFA-Tmmk
SWISS ARMY MAN (USA 2016) *
Directed by Daniels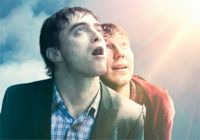 This is not the first time a whole movie is made up of characters dragging a dead corpse from start to end. WEEKEND AT BERNIE'S immediately comes to mind. If that premise seems funny to you, SWISS ARMY MAN will be your cup of tea. If not, like me, SWISS ARMY MAN will come across as a totally stupid, unfunny and meaningless exercise.
The premise of the film, as expected is simple enough to be summarized in one sentence. A shipwrecked man sees a corpse that he drags around the entire film, while learning from him lessons on life.
The directors (Danilel Scheinert and Daniel Kwan) who call themselves the Daniels never make a point at any part of the film to make the premise credible. In fact, they make it all the more absurd.
When the film opens, a man stranded on the island is about to hang himself when a body is washed ashore. The shipwrecked man is Hank (Paul Dano, with complete beard growth) and the corpse is named Manny (Daniel Radcliffe) by Hank. Hank escapes from the island by riding Manny like a jet ski powered by his farts. The scene of the two riding the waves is as silly as it sounds and it defies any logic. It looks like something concocted by a kid in kindergarten who has not been taught any manners by his parents.
What crazily happens is that they are washed ashore again - this time back to civilization. Manny manages to talk and communicate with Manny from twitches and odd bodily moments. They even kiss underwater, supposedly for Hank to get air to breathe underwater.
A subplot involves Manny's cellphone containing a picture of a girl, who apparently Manny never got to talk to, due to his shyness. Wait! As coincidences in the film go, the two meet the same woman called Sarah Sarah (Mary Elizabeth Winstead) as they crawl up to her backyard. This is the time that one should know that the film is full of s***, just as Manny's corpse is full of.
The only realistic thing about this film is Manny's farts, which occurs throughout the film and of which there is no shortage of.
But the worse thing about the entire enterprise is the film getting preachy at the end about learning about life which apparently Hank did from the corpse.
This corpse can do anything from working like a jet ski to being a rocket to a teacher on life lessons. It also has the gift of chasing audiences out of an auditorium.
One other bad joke stands out. Manny gets a hard on when he sees Sarah's little daughter. Does the audience needs to see this scene on pedophilia?
SWISS ARMY MAN could be described as a comedy/drama. But I must add that I did not laugh once. And neither did I feel any worthwhile drama. My personal worse film of the year!
Trailer: https://www.youtube.com/watch?v=yrK1f4TsQfM
WEINER (USA 2016) ***1/2
Directed by Josh Kriegman and Elyse Steinberg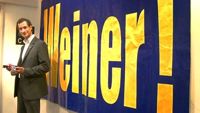 WEINER is the documentary of the rise and fall and rise and again fall of young congressman, Anthony Weiner. His final run for mayor of New York City forms the gist of the film though it ends with his complete defeat.
Weiner's (his name made fun of, throughout his sex scandal) downfalls (twice) are due to his uncontrollable sex urges. He posted pics of him self in underwear as well as engaged in telephone sex. Weiner was caught once causing him to finally resign from his post as congressman. He was largely forgiven as he ran his campaign for mayor, with wife, Huma (she is Arabic) by his side. Huma forgives him. But his phone sex is again discovered and his fans were reluctant to forgive him a second time. The media, obviously has a field day.
But who really wants to watch a not so well known politician fail because of a sex scandal? There are more pressing topics in the world such as ISIS attacks and environmental issues. But directors Josh Kriegman (who also served as cinematographer) and Elyse Steinberg keep their film a fascinating and absorbing watch. Part of this is due to Weiner granting them almost full access in filming both his private and political life. Some of these segments, particularly the ones dealing with his wife and aide reactions are almost unbearable to watch. But it is these issues and the life lessons demonstrated that lift this doc above the average.
One is the side story of Huma, the long-suffering wife who has to stand by her husband for better or for worse. If the story sounds similar to what Hilary Clinton went through, Huma is at present one of Hilary's top aides in her campaign. Though the husband was caught only sex texting or sex phoning and not having actual sex, it is the humiliation that gets the better of Huma - especially when Weiner commits the sex thing the second time.
The human race is so unforgiving for any politician caught in a sex scandal though a notable majority f human beings cheat and watch porn in real life.
Well, the people did forgive Weiner the first time as evident by the booing whenever Weiner's politicians bring up the scandal in their speeches. But people were not forgiving the second time. This sociological behaviour also makes the film completely compelling.
The directors create suspense with captions like day 2 before election day; day of election day; using the countdown to the film's effect. The camerawork is top notch, as evident in the segment in which one crew of cameramen follow Weiner and wife as they escape from their pursuers while the other trail the pursuers. This segment has the thrill like a chase in an action film.
WEINER succeeds as an absorbing documentary about betrayal and its sad effects. There are clearly no winners.