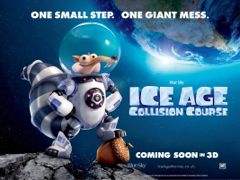 STAR TREK BEYOND opens this week with no screening for press; hence no review for the film. ABSOLUTELY FABULOUS - THE MOVIE and ICE AGE: COLLISION COURSE are two other big films opening.
FILM REVIEWS:
ABSOLUTELY FABULOUS - THE MOVIE (UK 2016) ***
Directed by Mandie Fletcher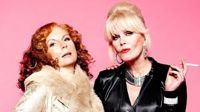 At one point in the movie, Edina Monsoon (Jennifer Saunders) quips: "Sixties are the new forties." When the first AB FAB skit appeared in1990, both actresses Saunders and Joanna Lumley were in their forties. Now, more than twenty years later, they are still at it, creating havoc in the PR world of high fashion.
When AB FAB the movie opens, Edina is still running her PR agency that is quickly running out of money and interest. The duo realize that Edina needs a miracle to save her company and renew her reputation. Edina tries to recruit high fashion model Kate Moss at a party but accidentally pushes her over the balcony into the Thames. To hide from the press and bad publicity, the two take off to the south of France with Edina's grand-daughter, Lola in tow, hoping to tap her youth in the fashion business. Patsy gets married. Other crazy adventures ensue.
Films made from TV series (KEVIN AND PERRY GO LARGE, HOLIDAY ON THE BUSES and THE IN-BETWEENERS) more than always have their characters go on holiday. Though Patsy and Edina do not really go on holidays, they end up in the south of France to escape being arrested. Here at least, the wealthy affluence of the French suits the environment of the characters.
All the characters from the TV series are present from Bubbles (Jane Horrocks), Edina's useless secretary to her daughter, Saffron (Julia Sawalha) to her thieving mother(June Whitfield). The film updates the characters. Saffrom is now a mother who has a daughter, Lola.
Written by Saunders and directed by Fletcher who was responsible for a few TV episodes, the story is often all over the place. At one point the duo's in London at a PR party and the next, Patsy is married in France. Anything can happen and often does. But no one can really take the incidents seriously either. These are the reasons the film works. It is good to laugh at the antics of the two, and they never go stale. But the writing poses a bit of a problem when it tries to rationalize Edina's reckless living. There are also prize comedic set-ups like the chase with the two in a tiny ice-cream van and the hilarious designer Huki Muki event.
A long list of cameos is often common in films on high fashion (ENTOURAGE, ZOOLANDER). AB FAB THE MOVIE contains a list too long to mention though quite a few of the British faces will go unrecognized by North American audiences. A few stand out like Kathy Burke's foul mouthed Magda. Burke is always a joy to watch.
The film has already opened in the U.K. and has broken box-office records. Saunders and Lumley appeared in person during London Pride march a week before the film opening. This comedy is just what the doctor ordered to distract from the world's blues (Brexit, US shootings, ISIS attacks).
Trailer: https://www.youtube.com/watch?v=Dj3ZWhlmexw
LA MARIEE ETAIT EN NOIR (THE BRIDE WORE BLACK) (France 1967) *****
Directed by Francois Truffaut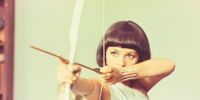 My personal favourite Truffaut movie and French film of all time sees sultry siren Jeanne Moreau do away with the 5 killers who accidentally shot her bridegroom on her wedding day. The Bride has 5 men to hunt, to lure and to kill. Julie Kohler (Moreau) methodically tracks them down one by one and does away with them without remorse. Truffaut gives her femme fatale more human feelings than necessary as she almost falls in love with one of them.
Five of France's most popular actors of the time (Claude Rich, Charles Denner, Michel Bouquet, Daniel Bouloanger and Michel Lonsdale) play 4 of Julie's victims, with Jean-Claude Brialy the common friend to two of them. It is a great delight to watch all of them on the screen again.
This film is Truffaut's tribute to Hitchcock after he interviewed and the Master of Suspense wrote the book Hitchcock. Using Hitchcock's frequent composer Bernard Herrmann, the film has the complete Hitchcock feel.
Truffaut includes the element of guilt, a key element in a Hitchcock film in the scene where Julie confesses her crimes to a priest in the confessional box. in the scene, she claims that she is dead after her groom, David was shot.
The most emotional scene is the one in which Julie realizes that she has fallen in love with one of her groom's killer, Fergus (Denner). It is something she had not expected but she cooly brushes it away determined to complete her lifeline quest.
Truffaut has been described as the kindest of film directors and this film illustrates why. He does not let the innocent characters die. The cleaner who steals and drink from the bottle that holds the poisoned liquor is emptied by Julie. When the school teacher (Alexandra Stewart) Julie impersonates to do away with a victim is arrested, she calls the police to prove her innocence. The film's best and most touching scene has the teacher enter the school gate after release only to be swarmed by all the children of the school offering their hugs and love.
The only thing missing in the story is how Julie managed to find the identity and whereabouts of the killers. Perhaps this is best left out as it might damage the credibility of the story if too much is explained.
THE BRIDE WORE BLACK is unfortunately Truffaut's least favourite film as he had a big argument with his cinematographer on the look of this movie, but to this critic the film is still perfection! I have not hailed more than 5 films in my lifetime as masterpieces but THE BRIDE WORE BLACK is surely a Masterpiece!
The film will open the Truffaut/Hitchcock tribute at the Bell Lightbox in July 2016.
Trailer: https://www.youtube.com/watch?v=xbb7LBLJvoc
(Special Screening July 28th ONLY at TIFF Bell Lightbox)
ICE AGE - COLLISION COURSE (USA 2016) **
Directed by Mike Thurmeier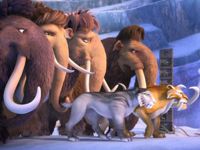 Saving the world is a common theme in action hero and animated movies these days. The same is applied in the latest and 5th instalment of the ICE AGE franchise, appropriately called ICE AGE - COLLISION COURSE as the planet is about to be destroyed by asteroids, according to the reading of the pillar by Buck (Simon Pegg).
The film has its signature ice age segment of Scrat (Chris Wedge) chasing his runaway acorn which somehow always gets away. It's a mostly silent segment and has grown in popularity just as Beep Beep and the Coyote are now famous in the Looney Tunes world. Popular as they are, these antics grow tiresome. I am not a fan of either Beep Beep or Scrat's acorn antics. In ICE AGE COLLISION, the antics lead to an almost destruction of the planet by an steroid, unless the hero can save the world.
The story goes on like this. While trying to bury his acorn, Scrat accidentally activates an abandoned alien ship that takes him into deep space, where he unwillingly sends several asteroids en route of collision with Earth. Not very original a premise of an alien ship hidden in the Arctic or Antarctic! Meanwhile on the planet Earth, Manny (Ray Romano) is worried about the upcoming marriage between Peaches (Keke Palmer) and her fiancé, Julian (Adam Devine), while Sid (Joh Leguizamo) is dumped by his girlfriend, Francine (Melissa Rauch), just as he is about to propose to her. During Manny and Ellie's (Queen Latifah) wedding anniversary party, some of the asteroids strike the place and the herd barely escape with their lives. Meanwhile at the underground cavern, after stealing a dinosaur egg from a trio of Dromaeosaurs, Buck discovers an ancient stone pillar, which he takes to the surface, where he meets Manny and the others.
The story is nothing really original nor does it contain a lot of comedic potential. What follows is a rather lame series of mildly funny at best, incidents that lead to a climax that is also not particularly exciting.
Actors from the other ICE AGES movies, Ray Romano, John Leguizamo, Denis Leary, Queen Latifah, Keke Palmer, Jennifer Lopez, Simon Pegg and Chris Wedge all reprise their roles while new additions Jesse Tyler Ferguson, Adam DeVine, Nick Offerman, Max Greenfield, Stephanie Beatriz, Melissa Rauch, Carlos Ponce, Michael Strahan, Jessie J and Neil deGrasse attempt to breathe new life into the franchise.
The film is again directed by Canadian Mike Thurmeier of Blue Sky Studios, who did a few of the other ICE AGES films.
The ICE AGE series were never that funny or inventive compared to other animated series like SHREK, TOY STORY or MONSTERS INC. But they somehow found themselves into the hearts of many, which has resulted in a total of 5 films. I am hoping this will be the last as the series. Scrat chasing his and his acorn has become terribly tedious.
Costing a frugal $50 million to make compared to other more expensive animated features, there should be enough ICE AGE followers for Fox Studios to make their money back. Hopefully, Blue Sky Studios will come up with more original animation as their next project.
Trailer: https://www.youtube.com/watch?v=Ohq6NmKMja8
LIGHTS OUT (USA 2016) **
Directed by David F. Sandberg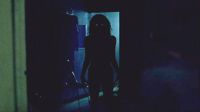 LIGHTS OUT is a new low budget horror produced by HOSTEL's James Wan and directed by David F. Sandberg based on his short story.
LIGHTS OUT is based on several potentially scary premises. There is the mother with mental health problems, the imaginary friend who could be a figment of mother's imagination (or not), a boy scared of the dark and a monster that disappears and burns in light, surviving only in the dark. But one second thoughts, none of those are original concepts. The last one, though seemingly new is the same premise used in all vampire films.
But the movie plays confidently as a film that scares from things that go bump in the night. A large part of the film obviously takes place at night. The majority of the scares come from the ghoul called Diana who can appear out of nowhere, but only in the dark. As the lights go out in the house, a large mansion of course, the survivors have to arm themselves with torches or flashlights, batteries that soon run out of juice. This 'novelty' runs out very fast. After half an hour, the film really gets monotonous, with Diana appearing and disappearing. A bit of distraction is also provided in the script in which Diana might be imaginary and in the head of the mother, Sophie (Maria Bello), who was previously a mental patient.
Sandberg knows how to incite fear from small and dark enclosed spaces. But it takes much more to make a complete horror film.
The story goes like this. When the film opens, a creature kills a man who had promised to return home to his son who had complained of his mother being mental. The boy, Martin (Gabriel Bateman) is still afraid years later with the mother still having problems now manifested in Diana, who she has befriended in the mental hospital. Now Diana is able to appear as a creature but only in the darkness. Diana is breaking her promise that she will not hurt the mother's children. Enter (out of nowhere), Rebecca (Teresa Palmer), Martin's older sister and her sexy boyfriend, Bret (Alexander DiPersia) to rescue Martin from crazy mom and monster Diana.
The film makes the rules of the monster as it goes along - how it exists and so forth. The actors all do their screaming convincingly with Bret being the beau in distress. This is more of a female film where the women are heroes with the male and female roles reversed. No complaint here, as it is good to see things going the other way for a change.
But LIGHTS OUT would have succeeded as a 30-minute short film. It is stretched out too long, even at only 80 minutes. Boring, over manipulative and predictable, the film is a good idea that unfortunately does not play out as a full length feature. But it should make its money owing to its low budget. It would be interesting to see what writer/director Sandberg comes out with next.