13
Oct
2016
Details

Category: Movie Reviews
Written by Gilbert Seah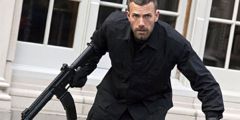 Two high profile Hollywood films opening this week are THE ACCOUNTANT and THE KEVIN HART concert movie. The interesting doc ART BASTARD and excellent animated French feature LONG WAY NORTH deserve a look.
FILM REVIEWS:
THE ACCOUNTANT (USA 2016) ***
Directed by Gavin O'Connor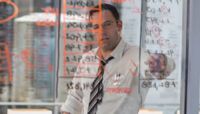 Directed by Gavin O'Connor (WARRIOR, PRIDE AND GLORY) and written by Bill Dubuque, THE ACCOUNTANT is a action thriller that strives to be stylishly different. For one, it centres on an accountant, one that cooks the books for dangerous drug cartel members. He is hunted down by Revenue Federal agents. Is THE ACCOUNTANT a good or bad guy? How can he be made into an exciting action hero? How can he be made into a more than special human being? All these factors are infused into Dubuque's script, which often appears to be trying too hard, resulting in a film more confusing and complex than need be.
As the film stars Ben Affleck who plays a human fighting machine, the film feels like a BATMAN with numbers.
Christian Wolff (Ben Affleck) is a mathematics savant (autistic) with more affinity for numbers than people. His childhood is traced, in flashback till the present. As a child, Christian's military father believes that difference is perceived as a threat to most people. To protect his son, he forces Christian to better himself in martial-arts. Grown up, Christian is a top-notch accountant who uses a small-town CPA office in a strip-mall as a cover. He makes his living as a forensic accountant for dangerous criminal organizations. With a Treasury Revenue Agent, Ray King (Oscar winner J.K. Simmons from WHIPLASH ) hot on his heels, Christian takes on a state-of-the-art robotics company as a legitimate client. As Wolff gets closer to the truth about a discrepancy that involves millions of dollars, the body count starts to rise. With the help of a new Revenue recruit, Median (Cynthia Addai-Robinson) who Ray blackmails into helping, Wolff's identity is revealed. The showdown finally takes place in the mansion of the company owner (John Lithgow) who turns out to be the villain of the piece.
Besides Dubuque's clumsy script, the film contains too many unintentional funny moments. The result is the promo audience laughing at too many parts during the climax. Median's character could also be eliminated from the script for a leaner film, without much effect.
Affleck delivers an almost perfect low-key performance as the stoic accountant, whose body movements are basically stationary unless absolutely necessary as in the action scenes. Of the remainder of the cast, Jeffrey Tambor shines as Wolff's cellmate, who was also involved with the drug cartels. Thankfully, the audience is spared the torture scenes, though a few hints (like the sight of a blow torch and damaged face) are enough to make anyone shudder.
Near the end, the film suddenly decides that it has to provide some message on autism. This results in one of the film's most awkward segments with the music tuned to 'melancholy'. For a film supposedly positive towards autism, the film contains some really disturbing scenes involving strobe lights and loud sounds.
Despite all its faults, THE ACCOUNTANT is a well-mounted film, with very exciting actions segments aided by crisp editing that conveys the accountant's martial-arts training. THE ACCOUNTANT at least, attempts to put in some originality into the well-worn action genre.
Trailer: https://www.youtube.com/watch?v=DBfsgcswlYQ
AMERICAN HONEY (UK/USA 2015) ****
Directed by Andrea Arnold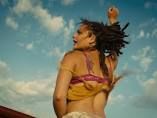 The fifth film and fourth feature (I have seen every one of her films) sees British director Andrea Arnold covering similar material in a total different setting. All her films have a disgruntled female as the central character often living a life in the outskirts of a city, one that the protagonist strives to get out of and make something of herself. Her first short, WASP, had a middle-aged woman go to her ex-husband's home to beat up his woman and take her children out. She ends up leaving her children outside a pub while she goes in for a drink hoping to pick up a man. Her next two films RED ROAD and FISH TANK were hard hitting dramas, both of which were excellent, but her last film, a modern adaptation of WUTHERING HEIGHTS did not work and was plain awful. Her new film AMERICAN HONEY, that premiered at Cannes (that also won her the Jury Prize) is her first film set in America, about a 18-year old teenager, Star (newcomer Sasha Lane who was pick up from a beach by Arnold for a screen test) following a crew of hard-partying teenagers criss-crossing the Midwest while working as travelling magazine salesmen.
Star leaves her mother and her siblings, after being enticed by Jake (Shia Labeouf) who she meets at Walmart to work as a magazine sales crew. The crew is a hilarious gang of misfits: slugging hard liquor in the backs of vans, crashing in rundown motels, and selling fraudulent magazine subscriptions. Star and Jake are ecstatic in each other's company. They begin dreaming of a house and family to call their own. But their relationship offends the crew's queen bee, Krystal (Riley Keough).
Arnold knows how to film confrontation - the film's best scenes are the confrontations between Star and Krystal.
One can see the fascination America has for British director Arnold. She shoots the lead characters first meeting at an American icon - a Walmart. Arnold loves the landscape of Kansas City and the barren landscapes that the van passes during their sale trips. Her verite style can be seen in the film's loose plot and her frequent use of the hand-held camera.
Arnold is also fascinated by insects as revealed in many of the film's scenes. Star is seen twice saving insects, a bee from a window and a ladybug from drowning in a lake. A pretty butterfly is also filmed while Sasha falls in a bog in another scene.
But the film has its English roots. The gang is immediately reminiscent of the gang of pickpocket and thieves in Dickens's OLIVER TWIST. The character Krystal is a cross between Fagin and Bill Sykes. But redemption here, unlike in the Dickens story is up to Star herself, with no one to help. It is a hard life on the American road, even for veteran salesman Jake who Krystal finally gets bored with as a sex object.
` The film's soundtrack varies from E-40 to Rihanna to Bruce Springsteen with the song AMERICAN HONEY used in the soundtrack at the end of the film. Star and Jake also meet to the dance beats of Calvin Harris and Rihanna's 2011 smash "We Found Love".
This is Arnold's longest film, running at 2 and a half hours, an epic opus to life of American youth living on the outskirts, as seen by a Brit.
Trailer: https://www.youtube.com/watch?v=y1SpWZm1PLc
ART BASTARD (USA 2015) ***
Directed by Victor Kanefsky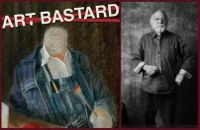 "Art from day one for me was the special part of life – the part of life that was above the gutter." – Robert Cenedella. In a madcap art world obsessed with money, fame and hype, how does an artist driven by justice, defiance and his own singular style thrive? Cenedella was the contemporary of Andy Warhol, but in reality was anti-Warhol.
When ART BASTARD begins, the camera takes the audience through a tour around the NYC Transit where a few of the subject's paintings are seen. The artist, obviously the ART BASTARD referred to in the film title is a little known artist known as Bob Cenedella.
So who is this Cenedella? Fortunately Cenedella is still alive. Director Kanefsky allows Cenedella maximum screen time to introduce both himself and his works. His family members are interviewed too along with art experts in order to put Cenedella's work into perspective.
Foremost, Cenedella's paintings are introduced. The main characteristic of his paintings is the inclusion of many, many faces crammed into a scene. The year in which the paintings were drawn and a good detailed shot is provided. Examples of these include:
Fun city 1979
The Fight 1964
Give to Cenedella 1977
The film contains a few diversions. One is an examination of contemporary art and what it means. Several art experts give their view in the context of Cenedella's paintings. A discussion also follows on what art rises and what art fails. The individuals are pawns who can hardly make a difference. Cenedella also discusses family life. He is clearly upset about his father and the film contains quite a few scenes with him and his son. Cenedella claims it is not hard to become a good father.
Cenedella's character is also revealed on screen. He is shown to be an artistic person. He loves Beethoven and made quite a bit of money in his youth selling Ludwig pins. He does not like Elvis. His joy as a teen are his weekly visits to the New York Metropolitan.
The film's best scenes are those that show Cenedella actually painting and teaching it. "Holding a bush is one of the greatest disciplines in the world", says Cenedella convincingly.
As a fair bit of the film's running time is devoted to Cenedella's family, some insight is added into his paintings. When Cenedella was young and his mother very drunk one night, she told him that his father is not his real father. He therefore felt like an outsider within his family. Similarly, he despised the art scene feeling like an outsider too and hence the film title ART BASTARD. Cenedella finally meets his biological father finding him to be a bit weird with a huge sense of humour. His painting in 1964 entitled 'The Fight' shows his father and stepfather battling each other in a boxing ring. Another one, called 'The Third Movement' one of his series of 'orchestra paintings' shows all the characters fighting each other. His paintings often are inherently funny, satirical and often contains a deeper meaning.
One can hardly complain about ART BASTARD as a documentary. Director educates his audience with interviews, archive footage of films and photos while explaining quite a few of the paintings. The film though serious in most parts, contains a bit of humour,primarily because Cenedella had a good sense of humour.
ART BASTARD is an interesting, entertaining enough documentary in which everything one wanted to know about the artist is dished out.
Trailer: https://www.youtube.com/watch?v=eXhy5prz83k
CHRISTINE (USA 2016) ***
Directed by Antonio Campos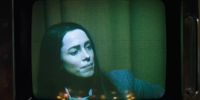 Based on real life on the suicide of Christine Chubbuck (Rebecca Hall) a Sarasota (Florida) news reporter, this realistic but grim account of events leading to her death is a hard watch. "If it bleeds, it leads." - is is the newsroom's unofficial motto for successful news ratings.
What begins as an ordinary person's struggle for recognition leads to her downfall after many failures. Director Campos also shows failures in Christine's personal life with her inability to get a date, her lost love with anchorman, George (Michael C. Hall), her virginity and her relationship with her mother, Peggy. It turns out that she lets out all her troubles to work, finally coming head to head with her boss, Michael (Tracy Letts, delivering another winning performance after playing the Dean in INDIGNATION).
Hall delivers a knock-out performance especially in the confrontation segment with Letts. Credit also should be given to the creation of the outstanding period atmosphere of the 70's. But one does go away with the feeling that the film has been over-dramatized inan otherwise humourless film. It would be interesting also to watch the documentary on Christine Chubbuck called KATE DOES CHRITINE, also released this year.
Trailer:https://www.youtube.com/watch?v=v0itmG80oLI
LONG WAY NORTH (Tout en haut du monde)(France/Denmark 2015) ****
Directed by Remi Chaye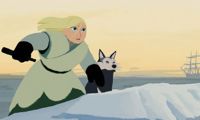 LONG WAY NORTH is a French (screened in Toronto in the English dubbed version) 2D animated feature from screenwriters Patricia Valeix and Claire Paoletti and director Rémi Chayé (THE SECRET OF KELLS).
For what LONG WAY NORTH lacks in modern animation - it cannot be compared to the lush expensive modern animation of Pixar and Disney Studios - it more than compensates in story and charm. The proof is in its win of the Audience Award at the 2015 International Annecy Animation Festival where it premiered.
The film's setting is 1892 in St. Petersburg, Russia centring on an aristocratic family. Sasha, a young Russian aristocrat, has always been fascinated by her grandfather's life as an adventurer. A renowned explorer, he designed a magnificent Arctic ship, but he hasn't returned from his last expedition to the North Pole. To save her family's honour, Sasha runs away. Headed towards the Great North, she follows her grandfather's trail in search of his famous ship.
The young female protagonist Sacha is as winning and charming as the story. She loves her grandfather who has told her wonderful stories of the cold Arctic. So, when his ship the Davia disappears, Sacha uncovers a route map which leads her to believe that the search expedition has looked in the wrong location. Armed only with her determination, she takes a ship to the North Pole in search for her beloved grandfather. Who will not root for such a lovely lass?
Being a fully animated film, the film avoids all the problems of having to film a voyage under extreme Arctic conditions. Imagine having to shoot ice avalanches, a polar bear attack, the ship breaking ice and finally coming down under an avalanche. Chaye's animation captures both the danger and beauty of unchartered territory. Even animated, the sight of a drawn ship tracking through the ice and water of the Arctic is stunning. LONG WAY NORTH reminds me of the little seen excellent Dutch 1993 mockumentary THE FORBIDDEN QUEST written and directed by Peter Delpeut. The film interviews a fictional J.C. Sullivan, the carpenter on that ill-fated voyage and is the last known surviving crew member of the Hollandia. Though THE FORBIDDEN QUEST was an amazing film, LONG WAY NORTH is able to show more hardship because it is animated.
Chaye never forgets the importance of the human elements in a story. From the old woman at the sailor's bar who takes Sacha in thus saving her to the young boy who forms a bond with Sacha, LONG WAY NORTH is full of heart.
Though the story is quite an improbable one demanding the audience's belief that a little girl can achieve so much, the treatment of the story like a Russian fairy tale allows one to forgive the implausibility of many events.
The film will be released either in French with a voice cast including Christa Theret as Sasha, Féodor Atkine as Oloukine and others or in English with an English voice cast led by Chloé Dunn as Sasha with Vivienne Vermes.
(French) Trailer: https://www.youtube.com/watch?v=pW7JDw2Qimo
TOWER (USA 2016) ****
Directed by Keith Maitland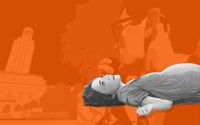 TOWER is an animated mixed archive footage recreation of one of the most chilling incidents in American history. On August 1st, 1966, a sniper rode the elevator to the top floor of the University of Texas Tower and opened fire, holding the campus hostage for 96 minutes. When the gunshots were finally silenced, the toll included 16 dead, three dozen wounded, and a shaken nation left trying to understand.
This is the first of America's mass shootings. The film explores this untold history through the first-person stories of seven specific characters: two students who were shot that day, the two police officers who ended the siege, two civilians who inserted themselves into the story to provide aid to victims and police, and the radio reporter who broadcast live from the scene for more than an hour and a half, and whose broadcast was picked up nationally, bringing the events in Austin to listeners around the nation.
Once the film goes into first person, the audience is immediately immersed in the current situation looking at it from the person's objective. Being animated, distractions are a minimum. The exact reactions and emotions, as realized by the animator can be most effectively conveyed. The identity of the shooter is clearly omitted, thus creating a more mysterious, chilling feel.
The film's listenable soundtrack of hit tunes of the 60's most effectively creates the feel of the 1966 film's setting, aided by the arrival footage of vintage cars and people walking in 60's garb. Maitland also uses the classic "Claire de Lune" (clearly his favourite music piece) during the siege and closing credits of the film
One can also consider the film to be short stories of the different victims. The first victim is 18-year old Claire Wilson. She is first shot and she is revisited as she recounts her story - a sad one. Claire says: "All of a sudden I felt like I'd stepped on a live wire, like I'd been electrocuted." Her boyfriend Tom reaches down to help her and he is struck down as well. For over an hour of the siege, Claire remains exposed to the shooter, conscious and steadily losing
blood. Claire knows that her boyfriend has been killed and that she's lost her baby too. "After some time, a really lovely young woman with red hair ran up to me and said, "Please, let me help you." I told her to get down so she wouldn't attract attention, and she lay down next to me. She stayed with me for at least an hour. It was a beautiful, selfless act."
Some stories are more effective than others. Claire's is the most touching. Halfway through Maitalnd's film, a shiver would surely be sent down ones spin as one admires the heroes who sacrifice being shot while aiding the wounded victims. The film is also intersperses with the talking heads of actors of the real heroes, now aged since 1966, but their presence makes a marked impact to the story.
Maitland's approach to documenting the tower shooting incident is no doubt novel and one may question why not enactment by real actors. A valid question, no doubt but this approach has produced a successful account, just as a live re-enactment might have achieved the same purpose. It helps tremendously that Maitland has worked close to the material, obtaining all the facts - from interviews of the surviving victims and then animating the action.
Trailer: https://vimeo.com/153727380
UNLESS (Canada/Ireland 2016) **
Directed by John Glesenen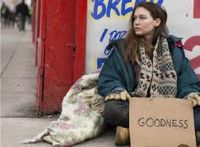 Academy Award nominee Catherine Keener and Hannah Gross star in this adaptation of the final novel by the late, great Canadian novelist Carol Shields, about a writer who discovers her runaway daughter panhandling on the street and seemingly deprived of speech.
Good novels do not always translate into good films and this is another case. An accomplished writer and translator, Reta Winters (Keener) is blindsided and flummoxed by the recent actions of her eldest daughter, Norah (Hannah Gross). For no discernible reason, Norah has dropped out of university and now spends her days panhandling on the sidewalk outside of Toronto landmark Honest Ed's. The cardboard sign she affixes to her chest features only one word: GOODNESS.
Reta fears losing her connection to her daughter, but is it possible Norah is seeking some way of reconnecting to the world? The film works best when the voiceover is used to put things into perspective while revealing the thoughts of the mother. Other than that, the film has nothing much to offer in terms of suspense or mystery. The final explanation comes at the film's very end, which feels like a long wait even though the film runs less than 90 minutes. The characters do not do much in the movie.
Trailer: https://www.youtube.com/watch?v=boaJ7zxYiMA
BEST BETS OF THE WEEK:
Best Film: HELL OR HIGH WATER
Best Action: THE ACCOUNTANT
Best Animation: WAY FAR NORTH
Best Documnetary: TOWER
Best Drama: AMERICAN HONEY
Best Foreign: STANDING TALL