20
Oct
2016
Details

Category: Movie Reviews
Written by Gilbert Seah
Afro Toronto has 5 mvoie giveaways for the latest and last Uwe Boll's action packed film entilted RAMPAGE PRESIDENT DOWN.
The first 5 readers to email:
This email address is being protected from spambots. You need JavaScript enabled to view it.
will win a free movie thru itunes.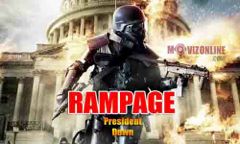 Good Luck!
Trailer:
https://www.youtube.com/watch?v=2iRwnZDGaNI
REVIEW of the film will be posted opening day!
Please let me know if you'd be interested in hosting an iTunes give-away for the film RAMPAGE: PRESIDENT DOWN on your site/social media channels! The film is Uwe Boll's last ... so you aren't going to want to miss this opportunity!