20
Oct
2016
Details

Category: Movie Reviews
Written by Gilbert Seah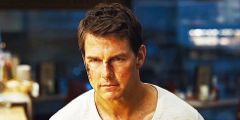 Films opening thsi week are the new Jack Reacher film, JACK REACHER NEVER GO BACK and AMERICAN PASTORAL.
FILM REVIEWS:
AMERICAN PASTORAL (USA 2016) ***
Directed by Ewan McGregor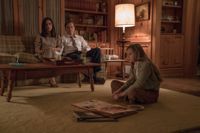 As Seymour's story is told from the points of view of Zuckerman's recollections and his brother Jerry's disclosure, two sides of the life story of a hero is portrayed. Seymour (Ewan McGregor) is the all-American hero but something went terribly wrong in his daily life. The trouble with the film is that it does not pin down exactly when this happens or the real deep reason why.
Ewan McGregor makes his directing debut and stars alongside Oscar winner Jennifer Connelly and Dakota Fanning in this ambitious adaptation of Philip Roth's Pulitzer Prize–winning novel, about a "perfect" American family that is torn apart by the social and political upheavals of the 1960s. One must give the actor credit for choosing such a dauntless task as a adapting a Roth novel for his directorial debut.
The film is framed by a high school reunion in which 60-year olds Zuckerman (David Strathairn) and the brother (Rupert Evans) meet. They discuss the life of Seymour (the Swede) as the film unfolds with the details. The reason for this form of storytelling becomes clear at the end of the film and serves as Roth's message, which will not be revealed in this review.
The Swede, as he is referred to in many parts of the film is a businessman with a happy family Seymour's life begins to slide off the rails when his teenaged daughter, Merry becomes radicalized in reaction to the war in Vietnam. Soon she rejects her family's comfortable existence for a secret life of violent protest. She is involved with the bombing of a gas station in which an innocent man, Mr. Hanson is killed. As Merry goes into hiding, the father slowly seeks her out. His wife (Jennifer Connelly) however, goes into mental breakdown mode, resulting in an affair after getting a sought after facelift. There are subplots involving Seymour's stern father (Peter Riegert) and Merry's somewhat kooky therapist (Molly Parker).
McGregor's direction and John Romano's (INTOLERABLE CRUELTY and THE LINCOLN LAWYER) script lack the sardonic wit, punch and edginess of a Roth novel. The film, consisting of a series of dramatic set-ups also lacks any humour. Certain segments like the encounters with the therapist are primed for humour but sadly they are just set up form plot motion.
To the film's credit, the lush 60's atmosphere with the vintage cars, props and wardrobe work well. The then President's (LBJ) face can be seen on the old television set as well.
As far as McGregor playing the all-American football star, it takes a lot of credibility. There is a shot of him in a sports singlet, looking more cutesy than athletic. The only casualty in the story appears to be McGregor's character. He gets both his wife's and daughter's rejections and to make it all worse, is diagnosed with prostrate cancer.
At one point in the film, the father questions how the daughter suddenly came to be such a rebel. The audience would no doubt feel the same with respect to answers. The book delves int Merry's rejection from her stuttering to her obesity, but these factors are ignored in the film.
AMERICAN PASTORAL is an interesting enough satisfactory film and a worthy directorial debut. One can only wish a better adaptation of Roth's Pulitzer Prize novel from a veteran director.
Trailer: https://www.youtube.com/watch?v=HLNIFsFWuF0
THE DAVID DANCE (USA 2013) **
Directed by Aprill Winery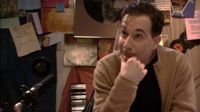 THE DAVID DANCE follows the adventures of a local gay radio DJ, David (Don Scime) in Buffalo, New York.
The film tackles quite a few issues. At the film start, David listens and calls a rival radio show in which an Anita Byrant type woman, June Hendley (Jordan Baker) makes her stance against homosexuals. She is against gay marriage, gay sex and almost everything gay just like the original Byrant. An easy target no doubt, David through his show gets the better of her. David then meets his new technician Chris (Guy Adkins) who pines for him. The two have met before at one of the weddings of David's sister, Kate (Antoinette LaVecchia). The film goes into a subplot of a sibling relationship before revealing that dear old sis has plans of adopting a Brazilian girl. She needs support that he reluctantly gives. David visits a nursery, sees a baby that smiles at him and gets all baby happy. He discusses children with Chris. David and Chris fall in love.
The film flows smoothly from one topic to another. Gay films these days have the problem of originality. In the 70's when gay films were the rage in the business, topics like coming-out, children adoption, same-sex romance, gay marriage, rent boys were all hot topics never covered before. Now 40 years later, every gay issue has been covered and films are in need for a fresh look at used topics. Unfortunately, THE DAVID DANCE touches on too many of these topics without any fresh take. The romance between two older middle-age guys is something seldom covered, but the romance is mired in melodrama and sentimentality.
One must admire director Winney for trying hard in a small budget movie. But trying is not good enough. The film plods along just like the the film's protagonist - without much aim and just letting things come and go. And like the protagonist, the film needs more firm direction.
The film becomes extremely self-defeating towards the half way mark. Just when things begin going great for David, such as his positivity towards his sister's adoption, his new love and his newly found boldness, he sinks back into self pity. He tells Chris that he is not ready when asked to move in with him, starts retreating from he adoption idea and turns negative on TV. During one TV spot, he goes on and on , saying: "Why don't people just ask gays to shut up?" Maybe the filmmakers should heed the advice, shut up about the complaining.
The film has been described by a few critics as a charming little film. But the film is riddled with cliches with the tough spots that David keep running into tiresomely put in by the manipulative script. It would have worked if they made the David character a more charismatic gay man. But the actor who plays David also wrote the script, which means he likely convinced the filmmakers to cast him in the lead role.
Director Winney takes her film outdoors as much as she can, whether in a car or on the road with some well shot scenes like the hillside cemetery that David visits.
At another point in the radio show, he condemns gays as lonely people, being out of place even among themselves. He complains that he is too unattractive to dress up or go dance and have a good time. This statement makes one wonder who the film's target audience would be. If the filmmakers are aiming at the quiet, shy and less outlandish gays to see their film, They should realize that these are the very same people that would not dish out money to go out see a movie.
The film is lovingly dedicated to the late Guy Adkins who has passed away in 2010 from cancer.
Trailer: https://www.youtube.com/watch?v=R5SZz20YoSk
FIRE AT SEA (Fuocoammare) (France/Italy 2016) ***
Directed by Gianfranco Rosi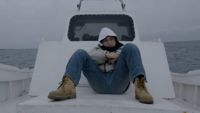 This winner of the Golden Bear at the Berlin Film Festival, FIRE AT SEA takes a look at the shocking European migrant crisis. The film is set in the tiny Italian island of Lampedusa, south of Sicily, which has become a destination for tens of thousands of refugees fleeing wars, violence, and drought in Africa. Director Rosi iwas obviously given almost unlimited access to film there. His documentary has been described as observational filmmaking. His camera looks and records while the audience observes and make their own judgement. Rosi selects a couple of characters including a 12-year-old boy with a slingshot, a radio host and the only doctor on Lampedusa. (who gives the boy an eye patch) among others. A moving and occasionally powerful film.
Trailer: https://www.youtube.com/watch?v=f8Kc5wy0Rxg
THE DAVID DANCE
(to be posted)
JACK REACHER: NEVER GO BACK (USA/China 2016) ***
Directed by Edward Zwick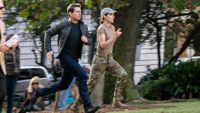 Director Edward Zwick (GLORY, THE LAST SAMURAI) takes over the Jack Reacher director's reigns from Chirstopher McQuarrie in the second instalment of Tom Cruise action hero movie.
Armed with a toothbrush, this lone wolf is still out to dish the justice America needs and never gets in today's world of corruption and politics of Trump and Clinton. At the film's start, the cocky Reacher (Tom Cruise) is almost arrested but tells the sheriff that the phone will ring and that he and his men will be sent to jail. Of course, the prediction comes true just as the cocky hero says. But this loner is presented in this updated story with a 15-year old Samantha (Danika Yarosh) that the bad guys are after. Samantha could or could not be the daughter that Reacher never had. The film switches from lone wolf mode to father protecting his daughter in human element mode. The film works in both modes, though one would never want for example to see a James Bond in a film where Bond is protecting a could-be daughter from the past.
The plot is nothing spectacular. Jack Reacher must uncover the truth behind a major government conspiracy in order to clear his name. On the run as a fugitive from the law, Reacher uncovers a potential secret from his past that could change his life forever. The story contains a few forgettable plot twists.
Zwick is not known as an action director and the film lacks any memorable action set-pieces. The chase on the roofs is exciting enough but has been done before in other action films. Reacher dangles from a gutter, climbs a drain pipe and skids down the roofs. The climax through the New Orleans Halloween parade where killers chase Samantha looks something right out of the James Bond flick, LIVE AND LET DIE. The car chase is also lacklustre. But the editing is sharp enough to satisfy action fans.
Cruise is no longer in his 20's and his age is beginning to show. His co-star Cobie Smulders outshines him as Major Susan Turner as does hunk Patrick Heusinger as the super efficient killer who is all out to get Reacher even after his boss has been taken down. But Cruise still looks good as the lone wolf action hero. The image of him in the black leather jacket with Smulders sprinting makes a good poster.
As far as humour goes, the running gags of "I don't like to be followed" and his utterance "Ex-major" whenever a military man calls him major work well. He is a loner and Major Turner is a female military major. When he insists on going after the villains alone, she takes offence. The feminist banter between the two is a good update in terms of political correctness even though these dialogue lines are mildly funny.
The film ends, expectedly with loner Reacher leaving everything behind and thumbing a ride with nothing more than his toothbrush. Another Jack Reacher movie? Why not? 10 million fans of each Reacher book guarantees success of the Jack Reacher films. Also being a U.S. China co-production, the film is almost guaranteed box-office success in the two largest nations in the world.
Trailer: https://www.youtube.com/watch?v=aRwrdbcAh2s
BEST BETS OF THE WEEK:
Best Film: HELL OR HIGH WATER
Best Action: THE ACCOUNTANT
Best Animation: WAY FAR NORTH
Best Documentary: TOWER
Best Drama: AMERICAN HONEY
Best Foreign: STANDING TALL