26
Oct
2016
Details

Category: Movie Reviews
Written by Gilbert Seah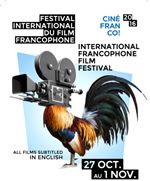 CINEFRANCO 2016 - A CELEBRATION OF FRENCH FILMS
Cinefranco (the 19th edition) continues this year in October after a slight setback from lack of sponsorship. "Better late than never" as the adage goes and Cinefranco returns with a wicked slate of excellent films. Congratulations to Marcelle Lean, la directrice de Cinefranco!
The theme of Cinefranco this year is IDENTITY IN CRISIS AND HUMAN RIGHTS.
Film will be screened at the Spadina Theatre (Alliance française) in Toronto
Thursday, October 27 – Tuesday, November 1, 2016
(I have a great affinity for the Alliance franchise. It is where I first studied French in Singapore. The Alliance franchise there immersed me in French culture, films and language.)
In its 19th year, Cinéfranco continues to celebrate the richness and talents of Francophone cultures around the world showing their diversity through the lens of seasoned and first-time filmmakers. The award-winning acclaimed films this year will tackle the topic of identity and human rights through comedy, drama and thriller genres. With 13 feature films from France, Canada (Quebec, Ontario), Belgium, Tunisia, Morocco and Algeria; and 2 Canadian shorts, Cinéfranco 2016 is proud to present 7 Ontario Premieres, 2 Canadian Premieres and 3 North American Premieres.
Women are often hit by crises. These may be economic as in Back to Mom's/Retour chez ma mère when a 40 year old bankrupt architect is forced to go back to live with her mother, or in Rebellious Girl/Insoumise when an unemployed IT professional has to leave her native Morocco to work as a seasonal laborer. Other crises are more cultural like the muzzling of freedom-loving girls in films like Certified Halal/Certifiée Halal and As I Open My Eyes/À peine j'ouvre les yeux.
For the complete list of films, ticket pricing and purchases, please go to the cinefranco website at:
Below are full reviews and capsule reviews of selected films:
Films were provided courtesy of Cinefranco.
FILM REVIEWS:
AS I OPEN MY EYES (France/Belgium/Tunisia/UAE 2015) ***
Directed by Leila Bouzid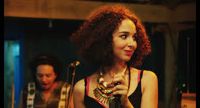 Certainly a film with strong feminine content, AS I OPEN MY EYES is set in Tunisia in 2010 just before the revolution. The plot concentrates on two female protagonists - a mother and daughter who just cannot seem to get along. The daughter is the lead singer in a rebel band running in trouble with the police because of the anti-patriotic songs. The single mother on the other hand wants her to be a doctor and go to medical school. The father visiting occasionally, lends a hand but that is clearly not enough. It is a scenario that is trouble for everyone. In one of the film's best and most dramatic segments, the mother blackmails the daughter in promising not to go out by driving the car at top speed. She promises but never keeps the promise. Also tied into the family drama is the atmosphere of the anger of today's youth. Unfortunately, too many issues tackled in a film translates to a rather cop-out film ending.
Trailer: https://www.youtube.com/watch?v=Ws-yrRADTZg
CERTIFIED HALAL (France/Algeria/Begium 2014) ***
Directed by Mahmoud Zemmouri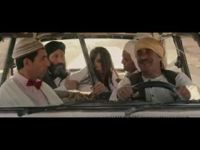 Directed by Mahmoud Zemmouri, an Algerian actor, filmmaker and scriptwriter who mostly built his career in film theatres, CERTIFIED HALAL looks like the typical bedroom farce that is a favourite among theatregoers. In the film, actors runs amok with the would-be brides switched during their road journey to their weddings. This is possible in Algeria as the heads of the brides are fully covered in white. There are twin stories here. In a remote farm in the Maghreb, Hadj Achour is about to give his daughter Sultana to the youngest member of the Laroubi family. Meanwhile in France, young Kenza causes a scandal in the neighbourhood where she lives. A feminist, she goes on a French television program to talk about an upsurge in virginity certificates in her community. Her brother, Chérif, is humiliated and asks his cousin Aziz to arrange Kenza's marriage back home in their village. The film appears hilarious enough with all the actors running around like chickens with their heads cut off, but the humour is more amusing than laugh-out loud. The Alergerain culture comes across strong, which is a major plus in this comedy of manners.
Trailer: https://www.youtube.com/watch?v=176eXefFl6g
MADE IN FRANCE (France 2014) *** 1/2
Directed by Nicolas Boukhrief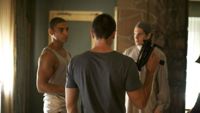 Made before the terrorist attacks on Charlie Bebdo in Paris, MADE IN FRANCE is a tense suspense action thriller guaranteed to keep one at the edge of ones seat from beginning to end. The story revolves around Sam (Malik Zidi), a Franco-Algerian freelance journalist, infiltrating a group of four young people who have been tasked with the creation of a cell. The mission is to to spread chaos throughout Paris by first planting a bomb (home-made) in the heart of Les Champs-Elysee. The cell's self proclaimed leader (Dimitri Storoge)is a religious maniac, ready to sacrifice any cell member for the cause. Sam is even more at risk of being outed with his wife and young son also at risk. The cops are not that willing to help either, leaving Sam to rely on his own devices. The film builds to the exciting climax of a final showdown between the two. Not an easy watch, but a more than satisfying thriller.
Dr. Miloud Chennouffi Professor at Canadian Forces College (Toronto). Chair of the Department of Security and International Affairs - Canadian Forces: Canadian Forces College (Toronto) Will lead a Q&A session after the film
Trailer: https://www.youtube.com/watch?v=TiDhVoYPFTM
L'ODEUR DE LA MANDARINE (THE SCENT OF MANDARINE) (France 2015) ****
Directed by Gilles Legrand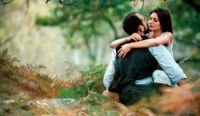 Set in the summer of 1918 during the First World War, the film begins with a mother and daughter in period dress entering a large farm to meet the mother's new employer. Charles (Olivier Gourmet) is a soldier casualty who has lost his leg during the war. He is left at the farm where he needs a live-in nurse. Angelie (Georgia Scalliet) is hired as his home care nurse whose true love is the father of her young daughter who recently died at the Front. United by the need to rebuild their lives, a joyful complicity grows between them which reawakens them to life. At Charles's insistence, Angèle accepts a marriage of convenience. A strong bond arises between them and evolves into passionate love. Legrand's film is full of charm at the start. The film also contains some excellent wildlife scenes like the segment involving riding a horse in pursuit of a moose and the breeding of a stallion as it humps its mare. The title of the film derives front the name of the mare - Mandarine. Her scent is used to tempt the stallion to mount her. Legrand's film also contains tender moments like the one in which Charles proposes to Angelie with his horse kneeling, as he cannot kneel with his crippled leg. The film takes a more serious tome in the second half. All's well that's ends well but not before each has undergone some soul searching. Both Gourmet and Scalliet deliver excellent believable performances, as amplified in the difficult sex scenes. One of the best and most beautiful period love stories seen on the screen this year!
Trailer: http://www.allocine.fr/video/player_gen_cmedia=19554881&cfilm=232152.html
RETOUR CHEZ MA MERE (RETURN TO MOM'S) (France 2016)****
Directed by Eric Lavaine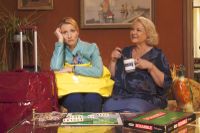 There is one good reason to see the new comedy that is a number one hit in France this year. The reason is Josiane Balasko, France's favourite actress and indeed mine as well. Her most famous films are GAZON MAUDIT (FRENCH TWIST), THE HEDGEHOG, FRENCH FRIED VACATION and TROP BELLE POUR TOI. She won the Cesar for Best Script for her film GAZON MAUDIT. Balasko is a comedy heavyweight and she plays 'la mere' in the movie, carrying the movie and making the audience laugh out loud many times when she appears.
The title gives away the plot of this new charming French comedy. Forty-year-old Stéphanie (Alexandra Lamy) is compelled to return home to live with her mother (Balasko), after she loses everything her job, her husband and all her money. She is welcomed with open arms: she can enjoy the over-heated apartment, Francis Cabrel stuck on replay, furious games of Scrabble and precious maternal advice on how to sit at the table and how to live her life. Both women must exercise infinite patience to cope with this new situation. And when the rest of the clan turns up for dinner, settling of scores and family secrets follow on one from the other in a most joyful way.
Besides the comedy that works, the film's charm comes from the story derived from real life. Everybody has a family of sorts and they all meet, sometimes occasionally for dinner. North Americans have Thanksgiving and Christmas, so they can relate. The film also digs deep in the heart. When the sibling quarrel and fight at the dinner table, mother finally remarks for them to go home repeating that this was the worst night of her life. Lavaine's (BARBECUE) film is able to evoke drama though occasionally dousing the film with a little sentimentality.
Besides the obvious family dinner gathering, there are other prize comedic set-ups. One is the mother trying to get away from Steph to be with her lover who stays in the upstairs apartment. She tells Steph she is taking the train to Avignon, but Steph insists on accompanying her to la gare, with mother trying to lose her at every move.
This is the kind of French comedy like THE WOMAN IN RED, THE DINNER GAME. TAXI and LA CAGE AUX FOLLES that Hollywood will remake into successful hits. RETURN TO MOM'S is an ideal fit. Like all the other originals, the French version is the best. And no one can replace Balasko as the mother.
RETOUR CHEZ MA MERE takes a bit of time to get on its feet, perhaps a third of its running time. But besides being a comedy, it is foremost a film about family. With this strong grounding, the film can not go wrong. Lavaine's film turns out to be an extremely entertaining crowd pleaser and it is no surprise it became a hit in its home country.. And in the words of Lavaine during an interview: "This is a story of a woman who has decided that there's more to life than kids, even if they're moving back in forty years after making them."
Clip (en Francais sans sous-titres): http://cineuropa.org/vd.aspx?t=video&l=en&did=306750
SAINT AMOUR (France 2015) ***1/2
Directed by by Benoît Delépine and Gustave Kervern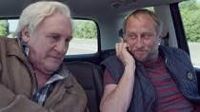 When father and son order a bottle of SAINT AMOUR in a restaurant, the film starts to bubble as the pair take off on an educational wine tour around the wine regions of France. Surprisingly, the education comes in a different form, as the two discover more about life, women and their relationship towards each other, rather than in the wines they savour.
A refreshing French dead-pan comedy, SAINT AMOUR is a road trip movie in which three very different characters embark on a road trip wine tour. There is the father, Jean (his name perhaps taken from his other farming movie JEAN DE FLORETTE), his son Bruno (Benoît Poelvoorde) who he wants to take over the farm and the reluctant young and handsome 24-year old Parisien cab driver, Mike (Vincent Lacoste), who they hire to drive around France. The best scene has the three of them in the cab as if posing for a photo, goofing around and nudging each other way from the cab mirror.
All during the trip, the three try to conquer the opposite sex. But each has a problem. Firstly, Bruno is an ugly, middle-aged, unmarried farmer who immediately comes across as an uncultured hick. Jean, is old and portly but worst still, has not gotten over the recent death of his beloved wife. He still calls her just to hear her voice on the answering service. (But the voicemail finally gets full.) Mike is young and corky but a past illness of Phimosis has left the tip of his manhood black. He has an inferiority complex so bad that he food the other two to think that he is married with children. But his is a French film in fairly tale mode, so the trio naturally get to prove their manhood each in their own way, by having sex with a red-headed type Lady Godiva who first appears to them on horseback.
The comedy woks primarily for the actors. Both Depardeieu and Poelvoorde are not afraid to reveal their weaknesses. Depardieu is simply splendid as the overgrown old bear snoring in his sleep and grimacing in disgust when he cannot connect with his son. It is an experienced nuanced performance, the best that any actor can deliver in a comedy. Poelvoorde is perfect as the hick, constantly pasting back his hair like a child that does not know how to control his bad habits. Vincent, in real life is 23 and is a hapless charmer. The connection among the three are as ridiculous as one can imagine. But the film charms and entertains, the best thing next to a good French wine.
The film's additional bonus is the wide range of characters the trio meet during their journey. One is a hotelier who offers them their room in his house while his entire family sleeps snug in one tiny room in order to make space for their guests. Another is a sincere patriot girl, fearful that France will go broke, who is willing to work for free so as to help France decrease her National Debt.
Fall in love with SAINT AMOUR!
Trailer: https://www.youtube.com/watch?v=H6UZq-G2qPQ