11
Nov
2016
Details

Category: Movie Reviews
Written by Gilbert Seah
Added new category to the BEST BETS of the week - Best African American film. A lot of good ones out there right now - BIRTH OF A NATION, MOONLIGHT and now LOVING.
To find reviews of any film, type the film title in the SEARCH box.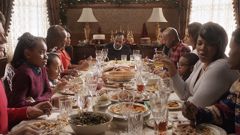 New films opening this week are ARRIVAL, LOVING, AN EYE FOR AN EYE among others.
FILM REVIEWS:

ALMOST CHRISTMAS (USA 2016) **
Directed by David E. Talbert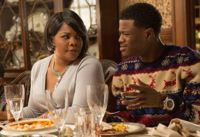 This is the time of the year that Hollywood dishes out their first Christmas films. The subject is often a family set around the big family Christmas dinner. It is as if Thanksgiving does not provide audiences with a similar film already. So as early as the first week of November ALMOST CHRISTMAS (not to be confused with Paul Morrison's film ALL IS BRIGHT that was originally titled ALMOST CHRISTMAS) debuts with all its sweet sugar coating and dabbed with cliches and predictability.
This time around, it is an African American family Christmas. The family patriarch Walter (Danny Glover) is now a widower 10 months after the passing on of his perfect wife. His five children, three daughters and two sons with an assortment of tag-alongs that include wives and husbands, in-laws and grandchildren arrive for the big dinner. There is no turkey in this dinner.
The premise is the patriarch praying for his family to get along. If they can honour that wish and spend five days under the same roof without killing one another, it will be a Christmas miracle. And somewhat of a miracle that a film with this well-worn plot would turn out any good.
As expected in Christmas movies of this sort, the comedic set-ups will include:
setting up of the outdoor Christmas decorations, often on a roof with lots of electric lights that will blow up;
quarrelling siblings with nasty exchanges but all will be forgotten and forgiven as the season of good cheer arrives;
cute kids whose cuteness will overstay their welcome
some silly surprise that will be sprung on the unsuspecting family members (selling of the family house in this case)
silly games that the family members will play (football in this one)
ALMOST CHRISTMAS begins with the film settling on the protagonist, Walter, before any guests arrive. Auntie May (Mo'Nique) is the first one to arrive followed by the children, one by one. There are quite many and it takes the audience a while to figure out who is who. Director Talbert does a good job here and everyone becomes a familiar face half way through the film.
The film is titled from '6 days till Christmas', '5 days till Christmas' till 'Christmas Day'. This is unfortunate as the film really drags on. When the title '3 Days till Christmas appear', the audience can only shrug that there are still 3 days and 3 film segments to go.
Talbert's film begins on quite a serious note with Walter's pouting, trying to bake a sweet potato pie his wife made. The serious note is maintained towards this basic comedy which is not all too funny. The comedic set-ups are already tired formulas tried out once and again in other similar films.
There are two lively musical numbers - the better one being in church, where the entire congregation breaks out into a song and chant. If only churches were this lively! The other is when Aunt May leads the family in an impromptu dance, when all the family members do their thing.
ALMOST CHRISTMAS appears to have satisfied the audience at the promo screening. The film generated a few laughs and also a few tears, but this reviewer did not feel much festive spirit in this movie.
Trailer: https://www.youtube.com/watch?v=aY8pZ68nbrc
ARRIVAL (USA 2016) ****
Directed by Denis Villeneuve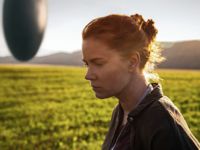 The Quebecois director Denis Villeneuve has never failed to impress. From his early French Canadian films UN 32 AOUT SUR TERRE and MAELSTROM to his English Hollywood films SICARIO, PRISONERS and ENEMY, Villenueve has transcended different genres though his films share one common trait. There is the human angst mixed into a thriller/mystery story. The same can be said in his latest, most ambitious and biggest production to date - ARRIVAL. The ARRIVAL here could refer ever to the first contact of the aliens or the birth of the baby girl to the film's protagonist, Dr. Louise Banks (Amy Adams).
As in any good mystery thriller, Villenueve whets the audience's appetite at the film's start by teasing them with the voiceover by Dr. Banks. "I used to think this was the beginning of your story that we are bound by time and by its order." And then as she holds up her baby daughter, saying: "Come back to me." Why is she saying this to her baby and why is the order of time being questioned. The question is answered as the film unfolds. The pleasure of this film lies not in an action packed climax but the revelation of the mystery of the reason the aliens arrive, in 12 simultaneous locations around the world. ARRIVAL is a thinking man's sci-fi and also a very satisfying one.
When the film opens, 12 alien spacecraft land around the world. Linguistics expert Dr. Louise Banks and theoretical physicist Ian Donnelly (Jeremy Renner) are recruited by the US military to obtain the answer to one question: "What do they want?" Arriving in Montana, working under the leadership of Colonel Weber (Forest Whitaker), Louise and Ian are only remotely aware that their lives and the future of humanity are about to become inextricably linked. As the unlikely pair collaborate to solve this extraterrestrial translation puzzle, 11 other teams around the world are attempting to do the same.
Unlike other films like GRAVITY, ARRIVAL begins with the intimate personal story of Dr. Banks and ties the worldly events to her. In contrast to GRAVITY, for example, where the personal life of Sandra Bullock's character is only tied in (her miscarriage) half way through the film or in THE MARTIAN where Matt Damon's personal life is next to non-existent, the only mention being his tenure at a university. ARRIVAL has the audience connected with the protagonist well way before the alien arrival and the arrival totally affects her life.
The film also cleverly teases with questions like: Why do the doors of the spaceship open every 18 hours? Or "Why are there spaceships in 12 simultaneous locations?
The film also celebrates the human being's ability to communicate by focusing on the fundamentals. The spill by Dr. Banks on how for example, a language like chess could affect mis-communication is excellent thinking fodder.
Bradford Young's arresting cinematography, Johanna Jóhannsson's haunting score (especially during the beginning and ending credits), and long-time collaborator Patrice Vermette's minimalist production design (the monolithic look of the spaceship) all aid in creating the mystery atmosphere surrounding the alien arrival.
ARRIVAL also challenges the audience's logic in appreciating the science of time. Though the notion is rather incredible, the film succeeds in making the audience think that all is possible. A true test of a good film is whether the film survives a repeat screening. After first seeing ARRIVAL first at TIFF and now again, ARRIVAL still amazes.
Trailer: https://www.youtube.com/watch?v=tFMo3UJ4B4g
AN EYE FOR AN EYE (USA/Canada 2016) **
Directed by Ilan Ziv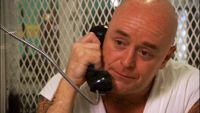 Israeli filmmaker Ilan Ziv's (SIX DAYS IN JUNE) documentary tells the story of death row inmate Mark Stroman and the friendship he forges with one of his surviving victims Rais Bhuiyan, who set about to save Stroman from death row as part of his Muslim faith beliefs.
From 2004 and for the next 7 years, filmmaker Ilan Ziv met and befriended Mark Stroman on Texas' infamous Death Row, where he had been since his capital murder conviction in 2002. At trial Stroman was described by the prosecutor as a "monster, a cancer to society", yet Ilan was perplexed to meet a complex man full of contradictions, who shared the same troubled soul as the most recent "lone wolves" who used Jihad as a cover for their personal failings and justification for their crimes. By then, Stroman had become a man in search of meaning and redemption. So Ziv set out to document what he called "the enigma of Mark Stroman."
Unfortunately the film concentrates on Stroman. The interviews conducted by Ziv's visits in prison depict Stroman as not a very bright person. A film is often as interesting as its subject - and Stroman is simple minded fellow. Stroman declared himself a 'lone wolf' and began killing random Arabs in retaliation for the 9/11 town towers attacks. But Stroman believed his victims were Muslims from the Middle East – but they were actually immigrants from Pakistan, Bangladesh and a Hindu from India who had absolutely nothing to do with the 9/11 attacks. He killed two and partially blinded a young man from Bangladesh. Arrested and sentenced to death in the state of Texas, this man's life is just one big mistake that few can feel sorry for.
Ziv spends too much time in the film trying to convince the audience that Stroman is not a bad guy. When the film begins, Ziv says in voiceover, that when he first visited Stroman he expected to see the eyes of a killer but did not. Ziv also shows the explosions of the twin towers in all their horror not once but twice in the film to convince the audience the reason for Stroman's motive. He further explains Stroman's childhood background - how he was always beaten by his step-father and arrested at the early age of 12. Despite the horrors of Stroman's crime, Stroman is not a very interesting person, so investing so much interview time on him drags the film. Stroman's former boss/employer's description of Stroman sheds more light on him.
When Stroman asked for forgiveness from his victims, one of his surviving victims Bhuiyan publicly forgave him, in the name of his religion and its notion of mercy. The film shifts to the two months before Mark's execution when Rais waged a legal and public relations campaign against the State of Texas and Governor Rick Perry, to have his attacker spared from the death penalty.
The film has one moving part when director Ziv is invited by Stroman to witness his execution. Ziv says that this is the time he crossed the line from a reporter to being Stroman's friend.
What does not work in the film is Ziv attempts to create some excitement in the film by counting down of the days before Stroman's execution while showing the desperate legal tactics used one by one by the lawyers till there were none left.
Ziv's film has a strong message of peace and redemption. He uses the wrong devices to deliver the message ending up sentimentalizing and muddling up the film's power.
Please note that in a special appearance, the inspiring and hopeful Rais Bhuiyan will engage in discussion at screenings of AN EYE FOR AN EYE on Monday, November 14th at 5:20 p.m. and 7:50 p.m. at Canada Square Cinemas, 2190 Yonge St, Toronto.
Trailer: https://vimeo.com/177747964
JEAN OF THE JONESES (Canada 2016) **
Directed by Stella Meghie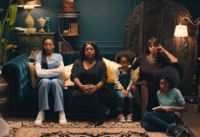 Writer/director Stella Meghie's comedy concerning three generations of vibrant, vociferous, unforgettable women in the Brooklyn-based Jones family is the kind of film that is too smart for its own good. Likely set in Brooklyn in order to be more commercial, the film would do better to be more originally set as an African Canadian film in a black Canadian neighbourhood. The film is slanted black all the way. When a man who shows up at the family home dies, the paramedic, Ray (Mamoudou Athie) who shows up in the ambulance is black. Whites are clearly a minority here and other minorities are absent. The lead character is Jean (Taylour Paige) who falls for this annoying paramedic. The question is what she sees in him, or vice versa. Jean cannot get along with her sister or anyone she is trying to get a free place to stay with. There is hardly anything to be learnt nor anything really humorous in this so-called comedy about an annoying family no one wants to meet. The only funny part is the segment where the sisters are caught smoking up in the car by their grandmother (Michelle Hurst) outside her house.
LOVING (USA 2016) ***1/2
Directed by Jeff Nichols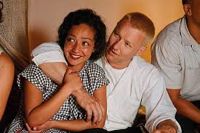 Fall sees a recent spate of supposedly inspirational films based on true stories. HACKSAW RIDGE, SULLY, QUEEN OF KATWE, LION and this reviewed film LOVING are just a few examples. The worst of these are sugar-coated sentimental slush and the better of these are more subtly told tales that let the actual events speak for themselves. Fortunately, LOVING about the injustice of interracial marriage falls into the latter category.
Directed by Jeff Nichols whose previous films MUD and TAKE SHELTER never overdo their material, LOVING is a dead-pan look at a controversial issue that could have been marred by cheap theatrics and melodrama.
Loving tells the true story of Richard and Mildred Loving (with shots of the actual characters at the end credits), who waged a decade-long legal battle that led to the overturning of the state of Virginia's law prohibiting interracial marriage. And it is an excruciating and painful battle.
Mildred (Ruth Negga) and Richard Loving (Joel Edgerton) were arrested in 1958 for the crime of getting married. According to the state of Virginia, she was "coloured," he was "white," and their marriage was illegal. Both were sentenced to a year in prison — a sentence that was only suspended on the condition that they leave Virginia. The couple fought that judgment before the US Supreme Court, which ultimately ruled in their favour, bringing an end to Virginia's anti-miscegenation laws.
Nichols' film traces the infancy of the Civil Rights movement to its eventual progress. Shots of Martin Luther King on television emphasize the era when the film is set. Richard, a construction worker proposes to Mildred at the start of the film, in a sly proposal on the same Virginia acreage where he plans to build their home. It should be the beginning of a blissful period, but trouble is already brewing. Someone informs the authorities of Richard and Mildred's union. It is not long before police break down the couple's door and drag them off to the county jail. They face this indignity with stoicism, but the worst is yet to come.
There are a few questions left unanswered such as who informed the authorities, but it is better these questions are left as they are. A similar situation arises when a brick is left in Richard's car that is parked at the construction site where he works.
Edgerton delivers a quiet but strong performance showing his taciturn but vulnerable personality, using body language to transmit both ferocious love and righteous outrage. He is often silent when his wife Mildred does most of the talking, leaving the audience to wonder if Richard is not as smart or determined as his spouse. Negga, in contrast shows both loyalty to her husband and independence. The film's closing credits have the real Mildred saying after Richard's death from being hit by a drunk driver: "I miss him, he took care of me." These are strong words that not only make the point, but summaries her behaviour in the entire film.
A superb dose of dead-pan humour is provided by Nick Kroll as Bernie Cohen, the couple's lawyer. His cynical and sly looks and well-written lines spike up the film's otherwise dead-serious tone.
David Wingo's score enhances the atmosphere of the film, with songs that create the mood of the moment.
Nichols' LOVING is proof that is that cinema can enhance a powerful true story without having to add unnecessary artificial sweeteners.
Trailer: https://www.youtube.com/watch?v=zRXuCY7tRgk
BEST BETS OF THE WEEK:
Best Film Opening: ARRIVAL
Best Film: HACKSAW RIDGE
Best African/American Film: MOONLIGHT
Best Action: THE ACCOUNTANT
Best Animation: WAY FAR NORTH
Best Documentary: TOWER
Best Drama: AMERICAN HONEY
Best Foreign: STANDING TALL