17
Nov
2016
Details

Category: Movie Reviews
Written by Gilbert Seah
The biggie FANTASTIC BEASTS AND WHERE TO FIND THEM opens this week and is expected to break box-office records.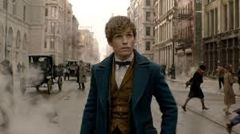 FILM REVIEWS:
THE BIRDWATCHER (Canada 2015) ***
Directed by Siobhan Devine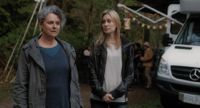 THE BIRDWATCHER is a film where the characters are almost all women. They are strong women, normal women, trying to live out their lives, mistakes and all. But before males can dismiss the above lines as a feminist film to be avoided, Vancouver-based director Siobhan Devine's female film, based on a script by Roslyn Muir is that rare female film with good strong and smart male characters.
A social worker, Saffron (Camille Sullivan), dying of cancer knows the state-sponsored fate that can await orphaned older children. She is driven by desperation and determination to find her mother and leave a family legacy to her temperamental teen daughter Lucy (Matreya Fedor) and enthusiastically precocious eight-year-old son Jonah (Jakob Davies). Online investigation turns up Birdy (Gabrielle Rose), a famous ornithologist (THE BIRDWATCHER of the film title) as her birth mother. Birdy has created a blog as a way of connecting with admirers while avoiding human contact. Her quirks are patiently abided by her devoted and more social husband Finch (Garwin Sanford) an artist who shares her life of birdwatching in the B.C. forest while living out of an R.V. in a camping park. So, Saffron and children arrive at Birdy and Finch's self-contained, somewhat hermit-like paradise. Saffron eventually reveals to Birdy the reason she is there.
Muir's script is manipulative at times. When Birdy's publisher, Matt shows up unexpectedly during the camp buffet, it dos not take a genius to guess that he does not bring good news. This also makes the perfect time for Birdy to be confronted with her birth daughter and for the audience to cheer that Birdy's pompous world will fall apart. It is also predictable who will end up adopting Saffron's children after she passes on.
The best lines in the film are Birdy's mutterings about the birds and their habitats and behaviour. They seem too perfect, like quotations right out of a birdwatcher's manual.
Despite its flaws, director Devine's film has a strong female perspective. The women in the film and their relationships are laid out bare - Saffron and her birth mother and Saffron and her own feisty daughter, Lucy. All these are on full display without having to trivialize the male characters - a trap that most female directors with female content films fall into. Saffron's younger son Jonah is a smart, sensitive kid. Devine spends time writing some fine (and humorous) lines for him, making his character stand out besides being Lucy's obnoxious younger brother. Birdy's husband Finch is kind, also smart and a sensitive man.
THE BIRDWATCHER has already been widely acclaimed, with various awards - best film, director, actress and supporting actress awards and nominations at the Indie Gathering Independent Film Festival in Ohio, Toronto's Female Eye Film Festival, the U.K.'s Southampton Film Festival, B.C.'s Leo Awards and the UBCP/ACTRA Awards. A small film that will likely draw a small audience, THE BIRDWATCHER is by no means a perfect film, but director Devine certainly deserves credit for her debut feature. The film begins a limited run at the Carlton Cinemas, Toronto.
Trailer: https://vimeo.com/120997445
BEING 17 (QUAND ON A 17 ANS) (France 2016) ****
Directed by Andre Téchiné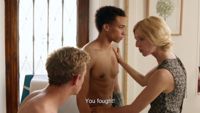 Directed by Téchiné with a script he wrote in collaboration with Céline Sciamma, the film follows the romantic and sexual awakening of two seventeen year old boys as their initial animosity, expressed in violence, morphs into love. For the not-so French literate, Being 17 borrows its title from the second half-line of the first verse of Roman, (1870) by Arthur Rimbaud: On n'est pas sérieux quand on a dix-sept ans.
This is not their first collaboration. Téchiné and Sciamma have worked on several films before including the quite similar and excellent LES ROSEAUX SAUVAGES (WILD REEDS) in 1994 also about young gay love.
The film unfolds in 3 trimesters (three French school terms in a year). The first occurs in winter and the final after summer. The protagonist is 17-year old Damien (Kacey Mottet Klein), a smart (good in math) and sensitive (good in poetry) who lives with his doctor mother, Marianne (Sandrine Kiberlain) and absent father, Nathan (Alexis Loret), a fighter pilot abroad. They lead a relatively comfortable life in a small town located in a valley among the mountains of the Hautes-Pyrénées. Mother and son miss Nathan who comes home occasionally when the military allows.
In high school, Damien gets picked on by Thomas (Corentin Fila), a classmate, who trips him in the middle of class for no apparent reason. From then on there are constant altercations between them while playing sports and in the schoolyard. Both are outsiders at school chosen last for sports teams. In order to protect himself, Damien takes self-defense classes with Paulo, an ex-military family friend. The film goes from there with the story turning into young love - with raging hormones expected of youth at the age of 17.
The main story is supported by significantly moving subplots about Thomas' adoptive mother bearing a child and Damien's father's death, the catastrophe that eventually brings the two boys together.
The change of seasons reflect the sexual awakening of the boys. When the boys are in school the first trimester is set in winter, their sexual desires are as if, hidden in the cold. As spring approaches, Damien's sexual attraction towards Thomas awakens. An excellent segment also occurs later in the film when the two study Latin and discuss the difference between desire and need. Desire is natural but superfluous and pretentious, the reason Thomas tripped Damien in the classroom as he deemed Damien's poem as open pretentiousness.
The shooting of the film in the winter in the mountains of the Hautes-Pyrénées makes stunning scenery. And the sight of the small town from the mountain top, as shown by Thomas to Damien's mother is breathtaking.
For a director over 70, Téchiné captures the vibrance of youth. This can be observed best in the scenes in Damien's school as the kids goof around, take part in sports or take lessons in the classroom. It is also rare in films that both adults and youth are treated as intelligent. In fact, every character is intelligent enough to have a valid say in the story. BEING 17 is both a moving and enlightening entertainment that marks once again another superior work from Téchiné.
Trailer: https://www.youtube.com/watch?v=YOSPninRQwI
BLEED FOR THIS (USA 2014) ***1/2
Directed by Ben Younger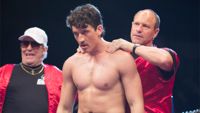 As the title of the film suggests, the success of a boxer depends also on how well he can receive hard punishment in the ring. For real-life Rhode Island boxer Vinnie Paz, the biggest hit he was dealt with was not in the ring, but in life, getting into a car accident that left him almost paralysed..
BLEED FOR THIS is a boxing drama/action film which lies somewhere between David O. Russell's THE FIGHTER and Stallone's ROCKY films in terms of action and drama. The film is so called because the boxer, Vinny Paz (Miles Teller) is able to receive bloody punishment in the ring with almost no bounds. Audiences beware! There is a lot of brutal an bloody fight scenes in BLEED FOR THIS.
The film is a true story of boxer Vinnie Paz. The boxer's ring name is the Pazmanian Devil. Paz is one of few American boxers to hold world titles (encouraged by his coach) in three different weight categories, had his ascent interrupted by a cataclysmic accident. Family is everything to young Vinny. There's his father, Angelo (Ciarán Hinds), his religious mother, Louise (Katey Sagal), who avoids her son's televised fights by hiding in a hallway-closet Catholic shrine, and several fractious siblings. They are all trying to make their way in working-class Rhode Island, and their hopes are pinned on Vinny's boxing. He has every intention of fulfilling everyone's dreams, but he just can't seem to find the edge he needs to get ahead. That changes when he meets Kevin Rooney (Aaron Eckhart), a coach whose problems with alcohol have led to the destruction of his own career. Each finds in the other a second chance. The two bond, they train hard, and Vinny's success seems assured — until a terrible car accident leaves him with a broken neck. The prognosis is that he will never walk again, let alone enter the ring. This is a story of a comeback, and part of it is a redemption story. Director Younger succeeds in showing both the painful but rewarding sides of the story.
Despite the serious nature of the film, director Younger (BOILER ROOM), who also wrote the film, is smart enough to inject humour at various parts of his storytelling. Most of the moments are provided by Eckhart, hamming it ip as Vinnie's trainer.
There are three excellent performances that deserve mention. The first, of course is the lead performance by Miles Teller. Teller was then pudgy and played the pudgy, obnoxious male friend trying to get a date in THAT AWKWARD MOVEMENT. Teller proved his acting ability in WHIPLASH, showing he was just as good as Oscar Winner J.K. Simmons. In BLEED FOR THIS, Teller has also bulked up to the physique of a boxer. He captures the drama with both the pain and exhilarance of fighting in the ring. The other two are the supporting actors. The handsome Aaron Eckhart has done the opposite, putting on weight to be a pudgy alcoholic trainer while Ciaran Hinds plays Vinnie's fiery and domineering father. All three are deserving of an Oscar nomination in the acting category.
Trailer: https://www.youtube.com/watch?v=zQ6ny-fROX8
THE EDGE OF SEVENTEEN (USA 2016) ***
Directed by Kelly Fremon Craig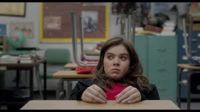 THE EDGE OF SEVENTEEN is writer/director Kelly Fremon Craig's debut feature. It is a coming-of-age story of a very awkward high-school junior, Nadine (played by Oscar Nominee Hailee Steinfeld from TRUE GRIT) who cannot get along with anyone including her own family - except for her father who dies early in the film and one best friend that she loses. Nadine mopes about the entire film till she finally grows up. For a film about such a loser, Craig's film is surprisingly edge, funny and feel-good, though her script can be quite manipulative at times. But manipulative in a good way, one could also argue.
The film begins with Nadine assailing her history teacher, a laid back Mr. Bruner (Woody Harrelson), with her umpteenth breathless — and phoney crises. Tired of Nadine's high drama, Mr. Bruner refuses to offer token consolation, though he does offer her half his cookie. The film goes back in time with humorous voice-over from Nadine providing her awkward point of view on her life. As a child, she never gets along with her mother ( Kyra Sedgwick) or her brother. But she bears a bond with her loving father. But the disaster strikes twice when father dies from a car accident and her only best friend, Krista (Haley Lu Richardson), has starts dating Nadine's annoyingly earnest fitness-nut older brother Darian (Blake Jenner). In the meantime she accidentally sends a lewd text message to the cute, aloof boy who works at the pet store in the mall. The result is disastrous. One might think that all Nadine's high jinx activities are trivial, but director Craig accomplishes the task of having the audience care, even when Nadine is a character with more faults than plusses.
One thing noticeable about Craig's writing is that all her characters are inherently good in nature no matter how bad their actions might be. The overbearing brother ends up being there for his sister at the end. Mr. Bruner turns out to be an exceptionally kind family man and human being despite deceiving outward appearances.
The entire cast of the film is picture perfect, especially the boys. It seems that a requirement of being in the cast is to be of GQ quality. Take for example, Nadine's Korean boyfriend, (Hayden Szeto) who is I bet, the cutest Asian on the planet.
But director Craig has also created a movie (short feature) within a movie. The utterly charming animated feature entered by the Korean in a film competition demonstrates Craig to be a mature filmmaker who can also create fake but excellent student films.
THE EDGE OF SEVENTEEN succeeds as one of those very few films about a walking disaster case which can still turn out to be a feel-good film. And this is achieved not by silly sugar coated set-pieces but by edgy comedy, as demonstrated by the animated short which forms the climax to this thoroughly entertaining coming-of-age film.
The film closed this years's Toronto International Film Festival with positive reviews.
Trailer: https://www.youtube.com/watch?v=EB6Gecy6IP8
ELLE (France/Germany 2016) ***1/2
Directed by Paul Verhoeven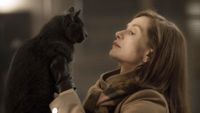 Paul Verhoeven is known for both his Dutch foreign films (SPETTERS, THE FOURTH MAN, SOLDIER OF ORANGE) and Hollywood blockbusters (TOTAL RECALL, ROBOCOP, SHOWGIRLS). His first feature film in 10 years proves to be a critical success as already celebrated at Cannes. Based on the novel Oh... by Philippe Djian, and written by David Birke, the film trails the life of a businesswoman, Michèle (brilliantly portrayed by Isabelle Huppert), who is raped in her home by an unknown assailant and stalks him back. Michèle rules her company like a tyrant but faces personal problems like her failed marriage to Richard (Charles Berling), her slacker son (Jonas Bloquet) and a lacklustre affair with Robert (Christian Berkel). But she has not come to terms with her father's crime. Her father is a serial killer who is still in prison without parole. Her mother is getting re-married to a young buck makes matters worse. Verhoeven plays his film slick and efficient, but the films slags a bit before picking up again. All of Michèle's problems eventually come together in the solid narrative with a bang-on message. The rape scene is played several times, each time just as (but necessarily) gruesome. The film is Verhoeven at his twisted and perverted best.
Trailer: https://www.youtube.com/watch?v=OVBEV1w7too
FANTASTIC BEASTS AND WHERE TO FIND THEM (UK/USA 2016) ***
Directed by David Yates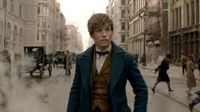 The spin-off of the HARRY POTTER films that began as one of Harry Potter's text books in HARRY POTTER AND THE SORCERER'S STONE, FANTASTIC BEASTS is a Harry Potter film without Harry Potter. Directed by David Yates who did a number of the Potter films, FANTASTIC BEASTS looks just like a J.K. Rowling film (she wrote the screenplay) despite the fact that it is set in New York City. Perhaps the fact that the film was shot in Liverpool to stand in for NYC could be a reason.
The book contains the history of Magizoology and describes 85 magical species found around the world. To get into the spirit of Harry Potter, Albus Dumbledore, headmaster of Hogwarts (not shown in the film), provides the Foreword and explains the purpose of the special edition of this book (the Comic Relief charity). At the end, he tells the reader, "...The amusing creatures described hereafter are fictional and cannot hurt you." He repeats the Hogwarts motto: "Draco dormiens nunquam titillandus", Latin for "Never tickle a sleeping dragon".
Harry Potter is replaced in FANTASTIC BEASTS by a new protagonist, a magizoologist called Newt Scamander, who at the start of the film arrives at Customs in NYC from a boat. He carries a suitcase that contains mythical creatures from his travels - creatures that predictably escape with Newt chasing them all around the city. The creatures are undoubtedly cute and weird, but the chase sequence at the film's start runs too long. It feels like Peter Jackson's KING KONG when the gorilla runs amok in NYC.
But Newt (Oscar Winner Eddie Redmayne) makes a good Rowland hero - a welcome difference from the alpha-male superhero that has graced cinema screens much too often. Newt is shy, wary of romance and bumbling without being too clumsy. Redmayne does well with his mannerisms often whispering instead of shouting his lines.
If there is an Oscar winner in any department, my bet would be another Oscar in the wardrobe department for Colleen Atwood. Her costumes are nothing short of magnificent.
The plot of the film can be briefly summed up as "the adventures of writer Newt Scamander in New York's secret community of witches and wizards seventy years before Harry Potter reads his book in school." It is quite clear that the film has a narrative as weak as the hero's personality. The story also suffers from the lack of a true villain. The villain in this piece, in the form of Percival Graves (Colin Farrell) pops up not often enough. The sequel which is reported to have Johnny Depp in the starring role as the evil wizard Gellert Grindelwald should add the necessary spice into the magic formula. Depp has a small cameo in FANTASTIC BEASTS.
But for a whopping $180 million production cost, Yates' film dazzles the audience well enough though one might complain that the film is too full of special effects. In fact the film lacks a better story. An example is the first Harry Potter in the franchise, which is not the best but survived as the most watchable because it traces the beginning of Harry with a good solid storyline of him being an orphan and first sent to wizard school. FANTASTIC BEASTS AND WHERE TO FIND THEM should break all box-office records regardless and prepare audiences for the next four in the new franchise.
Trailer: https://www.youtube.com/watch?v=Vso5o11LuGU
NOCTURNAL ANIMALS (USA/UK 2016) ***1/2
Directed by Tom Ford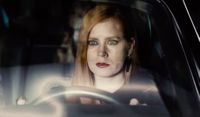 Fashion designer Tom Ford's second film after his successful acclaimed A SINGLE MAN is by no means a perfect film, but Ford is a director who can command an audience's attention. Made up of a number of serious set-pieces, NOCTURNAL ANIMALS is a handsome mounted production, sleek and chic like Tom Ford's designs.
The protagonist of the piece is a successful Los Angeles arts gallery owner and designer by the name of Susan (Amy Adams). Susan often has sleepless nights and could thus be classified as a nocturnal animal. Her ex-husband Tony (Jake Gyllenhaal) has recently completed a book titled NOCTURNAL ANIMALS, about three redneck thugs who prey on a family after carjacking them. Tony sends Susan a copy of his manuscript to read as a privileged reader.
There are dual narratives in the film as there are dual universes - the real and the art worlds. The art world is the one Susan is successful in and the real is comprised of her failed marriages - the first to her ex-husband Tony who she never supported and the second being her present marriage. Susan is currently in a loveless relationship with a prick of a doctor husband (Armie Hammer) - as handsome as he is deceitful. As Susan reads Tony's manuscript the film shifts to the terrorized family of a teacher (also portrayed by Gyllenhaal) whose wife (Isla Fisher) and daughter have been raped and murdered by three thugs. As the story reaches different shock pieces, Susan is jolted from reading of the book as the audience is shifted between Susan's and the teacher's world.
Ford's film has the feel of a David Lynch film - like MULHOLLAND DRIVE and BLUE VELVET, though it never reaches those mesmerizing levels. As in Lynch's two films, the protagonist is landed in a strange new world of darkness. The blackness of night and the grainy lights, as seen from the headlights of the vehicles in NOCTURNAL ANIMALS effectively create the atmosphere of unknown menace.
In NOCTURNAL ANIMALS, the topic of redemption takes centre stage. First is Susan's redemption, as she tries her best to make her present marriage work despite her husband's non-effort. Secondly, the teacher feels guilty when his wife and daughter are murdered and desires revenge. Ford shows the audience right away the man's thought in a painting in Susan's gallery with the word REVENGE painted boldly on canvas - a rare scene in which both worlds merge. The revenge is finally exacted when the teacher finally loses it, as demonstrated in the only scene with Gyllenhaal screaming his guts out. The best performance in the film belongs to Michael Shannon who plays the disgruntled police officer assigned to the case. Suffering from lung cancer, he has nothing to lose in wanting to bring the criminals to justice regardless the consequences. The film picks up whenever his character is on screen with him coughing up the scenery.
But the story in the manuscript turns out more exciting and absorbing than Susan's story, thus eclipsing the more important narrative. But Ford's film is not without his indulgent pleasures, like his stunning opening sequence in Susan's art gallery where four older obese women dance in the nude with sparklers. The sequence emphasizes the irrelevance of the art world on the real world and vice versa.
The company formed for the film's production is called "Fade to Black", the camera technique that closes the film. Intriguing but not always as clever as it ought to be, NOCTURNAL ANIMALS is still a pleasurable and absorbing watch, by any standard.
Trailer: https://www.youtube.com/watch?v=-H1Ii1LjyFU
BEST BETS OF THE WEEK:
Best Film Opening: NOCTURNAL ANIMALS
Best Film: HACKSAW RIDGE
Best African/American Film: MOONLIGHT
Best Action: THE ACCOUNTANT
Best Animation: WAY FAR NORTH
Best Documentary: TOWER
Best Drama: AMERICAN HONEY
Best Foreign: STANDING TALL