20
Nov
2016
Details

Category: Movie Reviews
Written by Gilbert Seah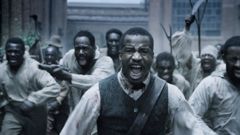 THE BIRTH OF A NATION (USA 2016) ***
Directed by Nate Parker
Writer/director Nate Parker debut drama uses the same title of one of the most instrumental films in early cinema history. D.W. Griffith's THE BIRTH OF A NATION was considered one of the best films in early cinema and one that would influence filmmakers everywhere and at any time. But Griffith's film was racist against the African American and boosted white supremacy and the KKK Ku-Klax clan. Parker uses the same film title hoping it to be a corrective reclamation of cinematic history. This is all very ambitious, especially for a young filmmaker, and even more so for one that has been accused, though acquitted of the rape of a fellow student.
Whether one can argue that an artist should be separated from his work and real life, it is difficult to care for the words of an accused rapist - guilty or not. The result is that the film will likely be ignored by the Academy during Oscar season.
Born into slavery in Virginia's Southampton County, young Nat (Nate Parker) is given to dreams in which his African ancestors anoint him a prophet. He is favoured by his masters, learns to read, and is given a Bible. By the time he is an adult, Turner has become a preacher capable of rousing oratory. He convinces his master Samuel Turner (a barely recognizable bearded Armie Hammer) to purchase Cherry (Aja Naomi King), whom Turner eventually weds. Their romance proves a fleeting idyll, however. Turner is rented out to preach at other plantations where, after years of relatively humane treatment, he becomes fully aware of the depravity and torture wreaked upon slaves — and decides that sermons are no longer a sufficient response to such appalling injustice.
Finally Nat leads a slave revolt. It lasts 48 hours but the result is disastrous. The Whites retaliate by hanging 200 innocent slaves. Nat turns himself in, and is hung.
Earnest as Parker's film may be, its is an ambitious fone - and too ambitious to a fault. At times, Parker does not know where to go, just as his main character is lost after his initial revolt. The character Nat Parker has failed to realize the consequences of his actions - how much more firepower and strength the Whites have. Even if successful, where are all the freed salves going to go? And where to work and live and survive in a blackless commercial world. There is also one scene with a slave cutting the beard of Samuel Turner with a pair of very sharp scissors with Nat looking on. A puzzling scene which appears to be a nod to the Oprah Winfrey shaving scene in Steven Spielberg's A COLOUR PURPLE.
The transition from one period to another in a character's is often difficult. The transition of young Nat to Nat the adult is observed in the fade out and in of a cotton plantation where Nat re-appears as an adult.
The film though jolting at times (Nat's lashing after baptizing a White; the violent slave uprising; the hanging), Parker's film is a conventional told tale, chronologically laid out and inevitably offering audiences what is expected from such a film (wealthy white folk living in a big white mansion in a plantation; cruel slave hunters; insufferable slave living condition et al.). One would expect more from a film with an ambitious a title like THE BIRTH OF A NATION. Still, it is a story, well told and challenging enough transmitted through Parker's craft.
Trailer: https://www.youtube.com/watch?v=ezWiUTXB11A