01
Dec
2016
Details

Category: Movie Reviews
Written by Gilbert Seah
Not many films opening this week. The calm before the storm before all the festive films begin.
FILM REVIEWS:
ANTIBIRTH (USA/Canada 2016) ***1/2
Directed by Danny Perez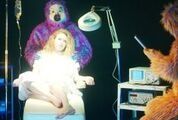 As nasty pictures go, ANTIBIRTH is one hell of a nasty piece. Halfway throughout the film, the lead character, Lou (Natasha Lyonne) remarks: "I am not pregnant. I am infected!" But writer/director Danny Perez infuses an accurate stoner humour into the proceedings. Unlike films like SAW and HOSTEL, which are nasty beyond watchable, ANTIBIRTH is very watchable and entertaining in a nasty way. In the words of director Perez, "I wanted to show the other side of pregnancy besides the feel-good and the glow; i.e. the more gruesome aspects of pregnancy and what it does to the body." He ties the film with UFO Youtube conspiracy theories, which does not always work. Needless to say, the film should be avoided by any woman in the expectancy period.
In a small Michigan town, hard-partying stoner Lou (Lyonne) awakens one morning and finds herself experiencing bizarre symptoms. Her friend, Sadie (Oscar nominee Chloë Sevigny from BOYS DON'T CRY) believes she is pregnant and not telling her about it, despite Lou's claims that she has not had sex with anyone in nearly a year. A mysterious stranger, Lorna (Meg Tilly), however, believes Lou. As conspiracies and stories of bizarre kidnappings around town begin to spread, Lou's visions and grip on reality become more distorted.
Perez wrote his film with lead actress Lyonne in mind. It shows! Lyonne is perfect for the part as the stoner do-not-want-to-be-mother. "I cannot be pregnant. It is not my style." She says. Her character, Lou smokes from a bong with the mouthpiece so large that it fits her entire mouth. She survives on donuts and cigarettes. Meg Tilly, not seen for a while on screen returns in a role as a frumpy weirdo who sees flashes of light and visions, like someone switching on and off a TV channel.
Be warned that Perez is fond of including very gross scenes. One has Lou peeling off a scar tissue at the back of her neck before extracting one of her molars with her fingers, blood and all. But the best (grossest) scene has her using a knife to break open a huge blister on the sole of one foot, followed by all the blood and pus running out. She then wobbles around with a cane, limping around until she delivers. One can appreciate if not feel her pain during the pregnancy - or infection, if one wants to call it that.
The winter setting with the ice and snow as well as the dirty mud aids in the film's gloomy atmosphere. Her trailer home looks even more dismal in the wintry setting.
The best scene? Meg Tilly's face covered in blood smiling after delivery of the monster baby remarking: "Oh my goodness!"
ANTIBIRTH works as a horror film with major stoner attitude. One of the best horror films of the year! See it with caution!
Trailer: https://www.youtube.com/watch?v=Gx1K4yZW5Ds
THE APOLOGY (Canada 2016) ***
Directed by Tiffany Hsiung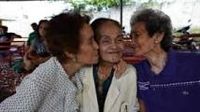 Two important reasons why a documentary should be made are the uniqueness of the subjects or stories that need be to told. For THE APOLOGY, the subjects are - as the titles inform at the start of the film - 'grandmas' or 'comfort women'. These are the young Asian girls (Chinese, Korean, Filipino) who are forced into the sex slave trade by he Japanese during the Japanese occupation. The Japanese are clearly the hated villains in the piece. Hsiung makes sure the point gets across. Unrepentant, the Japs, especially the politicians claim that the trade was necessary and show no remote sign of remorse.
The director of this importance piece, a NFB (National Film Board) production is appropriately Asian - Tiffany Hsiung, who will be present to take questions from the audience in Toronto on December 6 and 8, with Q&As at both Toronto and Vancouver screenings as well.
THE APOLOGY follows the personal journeys of three "grandmothers" (almost equal screen time devoted to each) — Grandma Gil in South Korea, Grandma Cao in China, and Grandma Adela in the Philippines. Some 70 years after their imprisonment in so-called "comfort stations," the grandmothers face their twilight years in fading health. As former "comfort women," they were among the 200,000 girls and young women kidnapped and forced into military sexual slavery by the Imperial Japanese Army during World War II. After decades of living in silence and shame about their past, they know that time is running out to give a first-hand account of the truth and ensure that this horrific chapter of history is not forgotten. Whether they are seeking a formal apology from the Japanese government or summoning the courage to finally share their secret with loved ones, their resolve moves them forward as they seize this last chance to set future generations on a course for reconciliation, healing, and justice.
Hsuing occasionally resorts to sentimentality when she choses to film the tears of the grandmothers or their family or even the audience listing to the stories during press conferences. There is no need to. The stories are strong enough.
There is always something very moving about watching elderly ladies on the screen (especially when they are laughing) or on stage. Their craggy features and deep voices relay that these are human beings with important stories to tell from their experiences. When they are especially older, with ailments that inhibit their ability to walk or hear or see, the effects are even greater.
Will the grandmothers win their much sought of apology at the end? The fact that the Japanese are so stubborn is a curiosity. They have committed so much bad deeds during the World War II and in the past, much worse in Asia (according to many Asians) than the Nazis, that apologizing would only show them to be a more sympathetic race and not hurt their reputation.
THE APOLOGY is a deeply moving documentary that was both the the runner-up for the important audience Award at the 2016 Toronto Hot Doc Fest and the Winner of the Cinephile Award for best Documentary a South Korea's Busan's International Film Festival.
Trailer: https://vimeo.com/159796075
L'AVENIR (THINGS TO COME) (France/Germany 2016) ****
Directed by Mia Hansen-Løve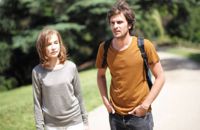 Director Hansen-Løve's (LA PERE DE MES ENFANTS, UN AMOUR DE JEUNESSE, EDEN) latest feature is again a film about life and living. Like in the other 3 films mentioned, her protagonist undergoes a major change in life in the midst of the movie. Nathalie (another excellent performance by Isabelle Huppert) is a dedicated and demanding teacher, wife, and mother whose life is jolted when her husband of many years leaves her for another woman. As her life slowly crumbles (she loses her publications as well), Nathalie slowly adapts using her background in philosophy. Nathalie is not as assured and confident as she is in the past. Her black, obsess cat, Pandora stands also as a metaphor for her life. But Nathalie, at least finds an unlikely friend in a former student, the radical young communist Fabien (Roman Kolinka).
The film is also beautifully shot in Normandy in a beautiful vacation house where the tides waters of the sea come into the backyard (my personal dream home). The musical score ranging from classical (Schubert) to folk (Woody Guthrie) is marvellous. There are lots more to relate, reference and to enjoy in Hansen-Løve's film such as a short clip seen of her husband Olivier Assaya's film in one scene.
As in all of Hansen-Løve's films, L'AVENIR is an intelligent, handsomely mounted production that is an entertaining and insightful look on life and living.
Trailer: https://www.youtube.com/watch?v=UhErAqJ8HGE
THE OTHER HALF (Canada 2016) **
Directed by Joey Klein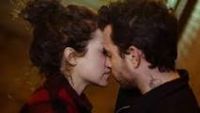 THE OTHER HALF is a Canadian romance drama between one grief-stricken man and a bipolar woman suffering from Rapid Cycling Bipolar 1 Disorder.
Chosen to open the Rendezvous with Madness Film Festival in Toronto this year, which serves as a warning that the film is not an easy watch, the film shows no attempt at easing the audience towards its subject. The result is therefore, yes - a film that is not an easy watch.
The film features two prominent TV actors, Tom Cullen (2016 SAG winner/ensemble cast – TV's Downton Abbey) and Tatiana Maslany (2016 Emmy winner/lead actress – TV's
Orphan Black). The two actors also serve as executive producers which implies the film being a love project for the two. The film's simple story follows the couple, Nickie (Cullen) and Emily (Maslany) from the time they first meet (it is love at first sight), to their brief separation to the romance at the end where something happens (not revealed as would be a spoiler). They meet at the same time as another couple (Mark Rendall and Deragh Campbell), who interesting enough, face problems as well but for other reasons. The romance is not helped by Emily's parents (Henry Czerny and Suzanne Clement). They believe the couple should separate and perhaps try again once Emily is normal. Clement is the actress featured in many of Xavier Dolan's mentally disordered dramas (LAURENCE ANYWAYS, I KILLED MY MOTHER, MOMMY).
The film's message is simple enough. Love conquers all. But as it is a fiction film, anything goes.
In a way too, THE OTHER HALF is a personal film with the director's friends and family helping out. Klein's father, a doctor with a background in English literature, advised on the script. Klein's sister, a psychiatrist, helped prep Maslany before the shoot. His brother did Emily's paintings.
The film, shot in Toronto, feels like Toronto from the familiar streets and the signature streetcars that often come into the frame.
For a film featuring mental disorder, the film contains many disturbing club scenes, shot in dim lighting with strobe lights, lasers and annoying sounds and music.
For a couple with disorders (Nickie also loves to fight), it is surprising that the couple never gets into any heated fights - only into minor arguments that are easily resolved. The one scene in which Emily freaks out at home and has to be handcuffed by a cop is the most effective one showing realistically, the mental anguish. Other than that, the film falls into the same story line about troubled couples - the parents refuse to help, the couple struggles on their own, and final survives.
THE OTHER HALF is an ok film with performances and everything passable in all departments. Yet, there is nothing that will draw a crowd to see the film. Who really wants to watch a film of a a troubled couple with mental disorders? The film also provides no insight about the disorder or how a couple can manage through the difficulties.
Trailer: https://www.youtube.com/watch?v=lvPHGgZB5ys
BEST BETS OF THE WEEK:
Best Film Opening: L'AVENIR (THINGS TO COME)
Best Film: HACKSAW RIDGE
Best African/American Film: MOONLIGHT
Best Action: THE ACCOUNTANT
Best Animation: WAY FAR NORTH
Best Documentary: TOWER
Best Drama: AMERICAN HONEY
Best Foreign: L'AVENIR (THINGS TO COME)