08
Dec
2016
Details

Category: Movie Reviews
Written by Gilbert Seah
FILM REVIEWS:
JACKIE (USA/Chile/France 2016) ***
Directed by Pablo Larrain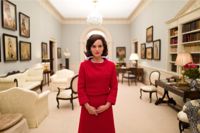 Chilean director Pablo Larrain has made a name for himself with critical hit films like NO and TONY MANERO. But he is an odd choice for the English speaking film biography of the true American icon JACKIE, based on the life of Jackie Kennedy just after her husband, John F. Kennedy's assassination in 1963.
The story follows the events immediately following the assassination. Jacqueline Bouvier Kennedy (Natalie Portman) is being interviewed by a reporter, Theodore H. White (Billy Crudup) for Life Magazine. The film plunges the audience into the devastation using a series of finely crafted flashbacks that cover the fateful day in Dallas, Jackie's return to the White House, arrangements for the President's funeral, and her time spent accompanying her husband's coffin to Arlington Cemetery.
The film is a slow count of what happens. It is the coping of a violent death of a loved one. The film is very American despite being directed by a non-American. The sequences complete a moving portrait of a grieving woman — a widow and mother struggling with overwhelming tragedy and attention. Yet the core of the film is formed by quiet, profoundly intimate moments: Jackie's conversations with her children, her brother-in-law Robert Kennedy (Peter Sarsgaard, also at the Festival in The Magnificent Seven), one of her aides (Greta Gerwig), journalist White (Billy Crudup), and a Catholic priest (John Hurt). Larrain loves the close-ups of Jackie. The scenes between Jackie and the priest are done in a flashback within a flashback.
Portman does a fine job as Jackie Kennedy. She often looks aloof though she says that she is not and concerned about the children and the funeral procession. I don't recall how the real Jackie spoke, but Portman always speaks with her mouth wide open, which I gather is the way the real Kennedy spoke.
For a non-American, the tasks offered to the former First Lady of restoring the artefacts of the White House may seem trivial. Jackie often moves around the different rooms drowning vodka or popping one of her colourful pills, always with a cigarette in one hand. She might not seem convincing when she says she cares so much for the children, but that is the way she was in real life during those times. Non-Americans might either find everything totally boring for incidents portrayed that do not concern them or be totally in awe of anyone being so involved in Americana.
One of the tasks Jackie was in charge of was looking after the White House. In the film's best segment, an inspired one no doubt, Jackie is seen moving about the house, cigarette in one hand, popping pols, pouring drinks or arranging letters to the tune and lyrics of the song CAMELOT. Camelot, the perfect place to be is Jackie's White House.
JACKIE emerges as a rare film about America as seen through the eyes of a foreigner. It is a queer piece which alternates between looking really artificial and surreal, but that might be Larrain's intention.
Trailer: https://www.youtube.com/watch?v=pZTXv5NpgaI
LION (Australia 2016) **
Directed by Garth Davis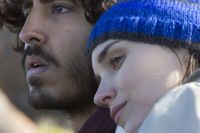 When a feel-good story as in LION is made into a film, filmmakers often still feel the need to add on additional sweetness. PLAY IT LIKE BECKAM, BILLY ELLIOT and the more recent QUEEN OF KATWE are examples of films that fall into this trap. Audiences do not seem to mind as observed in the box-office success of the first two aforementioned films though QUEEN OF KATWE bombed. Critics, however are never impressed with sugar-coated feel-good films. Unfortunately, LIONS falls into this category. Director Davis is still not ashamed to show a tear or two dripping from the face of the main protagonist, Saroo (Dev Patel), not once but twice.
Dev Patel (THE BEST EXOTIC MARIGOLD HOTEL, SLUMDOG MILLIONAIRE), Rooney Mara and Nicole Kidman star in the true story of Saroo Brierley, who was adopted by an Australian couple after being separated from his family in India at the age of five, and then located his original home using Google Earth 25 years later.
The film begins with overhead shot of Tasmania, Australia before settling, oddly in India. Here, the audience sees precocious five-year-old Saroo Khan (Sunny Pawar) in a very poor family. Over-eager to help his older brother Guddu with any odd job that will provide their family with much-needed money, Saroo follows Guddu everywhere he goes. One night the two boys are separated on a train platform in their native Madhya Pradesh, and Saroo winds up nearly a thousand miles away in Calcutta where he is fortunately taken in by a government orphanage. When an Australian couple (Kidman and David Wenham) adopts him, he is taken to live with them in Hobart, Tasmania. It's not until Saroo leaves that island as a young Australian man (Dev Patel) that he begins to wonder what became of his first home and the family he so adored. Saroo falls into romaine with an Australian (Rooney Mara) in an awkward romance. It does not take a genius to figure out that Saroo will eventually be united with his mother in India through the help with Google earth.
Adapting Brierley's own book, A Long Way Home, screenwriter Luke Davies and first-time director Garth Davis infuse the story with just too much heartbreak. Nothing is gained or learnt from this predictable true tale made worse with its tear jerking at every possibility. This is an example of the worst of a based on a true story, tear at your heart-strings film.
The reason the film is called LION is revealed at the very end of the film. Not that it matters any. The film LION arrives with much less than a roar.
Trailer: https://www.youtube.com/watch?v=s3ns9XjWKws&t=7s
MISS SLOANE (USA/France 2016) ***
Directed by John Madden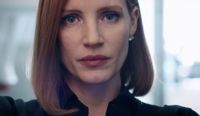 MISS SLOANE is a political thriller that demands the audience believe certain incredible plot points. One is that a person would serve jail time for something he or she believes in.
Directed by John Madden (SHAKESPEARE IN LOVE, BEST EXOTIC MARIGOLD HOTEL, MRS. BROWN) from a script by Jonathan Perera, MISS SLOANE the film is based on the lead character of the same name. In the high-stakes world of political power-brokers, Elizabeth Sloane (Jessica Chastain) is the most sought after and formidable lobbyist in Washington, D.C. Known equally for her cunning and her track record of success, she has always done whatever is required to win. But when she takes on the most powerful opponent of her career, she finds that winning may come at too high a price. At one point in the film when Sloane's campaign faces a major setback, she is asked: "Why don't you quit?" Her answer: "And do what?"
The film begins with her court case in which she is questioned on her ethical practices as a lobbyist. The senator presiding the case is corrupt Senator Sperling (John Lithgow), blackmailed to do the job by George Dupont (Sam Waterston). The film flashes back to the events leading to the inquisition and follows what happens to Miss Sloane after. The film is quick to get the audience on Sloane's side, no matter guilty or not. Sloane is super good at her job, dishing out her advice while tearing down her opponents without any feeling of guilt of any kind. The unfortunate victims include her team members as well, as in Esme Manuchairan (Gugu Mbatha-Raw) who at one point in the film tells Sloane as it is : You are smart enough to know that. You just don't care."
The film does not take sides on the issue of gun control though Miss Sloane is pro-gun control. There is also a segment in the film when the tides are turned (the attempted shooting of Esme) against Sloane's favour. Madden never makes it clear whether the incident was orchestrated by Sloane. It looks as if it was completely planned but Madden leaves it to the audience to make up their own minds. The film also contains some false alarms such as the appearance of Sloane's hooker, (Jack Lacy) at her trial to keep the audience on their toes.
The ultimate question on whether the film succeeds is whether the rats, in the words of Sloane, the parasites of the American democracy can be outed within the credibility of Perera's script. The answer is barely. The film hinges 100% on the credibility of actress Jesiica Chastain's performance. Chastain is good but the plot just asks for too much credibility.
The film contains many highly charged dramatic set-ups, a few too obviously predictable for the seasoned film cineastes and the film critic. But the writing and dialogue is still good to hear. Perera writes choice quotes. Miss Sloane always has the perfect rebuttal to every argument under the sun. As Miss Sloane says in the film: "Lobbying is about foresight. It is about anticipating the moves before the opponent does." In the same way, the film tries its best to stay one step ahead of what the audience anticipates.
Trailer: https://www.youtube.com/watch?v=AMUkfmUu44k
OFFICE CHRISTMAS PARTY (USA 2016) **
Directed by Will Speck and Josh Gordon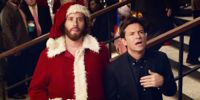 OFFICE CHRISTMAS PARTY, the comedy, about an office party gone haywire is not novel in its idea or conception. The office here is some software tech called Zenotek. The CEO Carol Vanstone (Jennifer Aniston) tries to close the branch of her hard-partying brother Clay (T. J. Miller). Clay and his Chief Technical Officer, Josh Parker (Jason Bateman) must rally their co-workers and host an epic office Christmas party in an effort to impress a potential client, first name Walter (Courtney B. Vance) and close a sale that will save their jobs. It is not a revolutionary storyline, but one that has potential for high jinx comedy. Directors Speck and Gordon (BLADES OF GLORY and THE SWITCH) has fashioned this office party comedy using all means they can get their hands on. The result is them getting their hands too full.
OFFICE CHRISTMAS PARTY will be inevitably compared to other party comedies like the teen PROJECT X and the Blake Edwards/Peter Sellers collaboration THE PARTY. Like both films, OFFICE CHRISTMAS PARTY is about the party that escalates slowly out of control. Here, a dressed up Jesus rides a white horse right down the office cubicles. The building high rise windows get smashed and almost every male gets a blow job. In THE PARTY a painted elephant gets washed with bubbles everywhere while all the surrounding trees and electricity poles get wrecked outside the party house in PROJECT X. But the problem with OFFICE CHRISTMAS PARTY is that just when the party gets funny, right after Walter accidentally gets coked up, the film is taken out into the open where an unfunny car chase takes place ending with the car racing to make a drawbridge - a stunt that is does not come off that funny. The Russian mafia takedown does not generate much laughs either.
The script takes the plot of saving the company too seriously. The audience is supposed to believe that Josh's romantic interest, Tracey (Olivia Munn) has invented some internet communications portal. Who really cares? If one can remember, THE PARTY hardly and any plot but an Indian actor accidentally invited to a Hollywood party and accidentally causing havoc.
The cast contains some bright talents - some funny but some not. Saturday Night Live's Kate McKinnon (she played Hilary Clinton on SNL) is winning as the politically correct HR person, thought the script has to rely on her sex and fart jokes. (She is called the farty lady). Courtney B. Vance is also a scream. Bateman and Munn have straight roles while Miller is not funny at all. Jennifer Aniston is quite game for anything and she does the Meryl Streep role in THE DEVIL WEARS PRADA. Her character makes two grand entrances (remember Streep's unforgettable 10 minute entrance to the Prada building at the film's start?) to the brother's company.
Considering the cast and talent involved in OFFICE CHRISTMAS PARTY, the film could have come up with a higher hit and miss laughter ratio. Still, my bet is the film doing well at the box-office, with a film milking the perfect festive holiday theme of an office party.
Trailer: https://www.youtube.com/watch?v=g_itBfEC_TI
SADIE'S LAST DAYS ON EARTH (Canada 2016) *
Directed by Michael Seater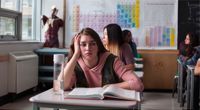 SADIE'S LAST DAYS ON EARTH is advertised as a teen comedy - a genre of film many moviegoers tend to avoid. To be fair to this genre of films, there have been many classics like FERRY BUELLER'S DAY OFF, SIXTEEN CANDLES or even exceptionally funny ones like LICENCE TO DRIVE and WEIRD SCIENCE. The key to teen comedies is to have a very identifiable teen like a loser trying to break out of his or her mould in a very identifiable situation that every adult has been in.
In SADIE'S LAST DAYS ON EARTH, modern teenage anxiety and the universal desire for acceptance from others and ourselves are explored through the protagonist Sadie. The teen in this story appears to be driving herself into a secluded mould of loneliness.
Sixteen-year-old Sadie Mitchell (Morgan Taylor Campbell, SPOOKSVILLE, THE KILLING) is convinced the world is about end. The script does not go into detail where she gets her source or the reason she is so convinced. This is obviously a big flaw as the whole film's credibility hinges on this fact. Undeterred by the naysayers, Sadie has two weeks to ready herself for the coming apocalypse. The film goes with the titles counting down the last days of earth - as if it was going to happen. Sadie has a list of things she needs to master (a sort of bucket list); survivalist cuisine, knitting, but there are other things...personal things; go to a high school party, kiss a boy, and most importantly, get her best friend Brennan (Clark Backo, SHOOT THE MESSENGER) back. These are silly items, unfortunately only important to Sadie, and not to the audience or anyone else in the film for that matter. Within the first few minutes of the film, the audience is quickly detached from the heroine as well as the film. Armed with survival supplies, blueprints and escape routes, Sadie finds an unlikely ally in Jack (Ricardo Hoyos, DEGRASSI: THE NEXT GENERATION) who shows her that her last days on Earth might not be so bad after all.
Just one day before Sadie's predicted last day, the town suffers a minor earthquake. Suddenly, the entire town believes Sadie's prediction of Earth's Last Days. There is of course, such a thing as a minor earthquake happening, so it is ridiculous to see the entire town turning into Chicken Littles.
The film's corny message is that one should live life fully - as if the end of the world is near. Sadie also suffers from insecurity. Too many of the film's character have to remind her that she is smart, funny and bold - which in my opinion, she is not.
Enough is enough. The film is so unwatchable and the characters so annoying (example: Sadie's mother with an Australian accent; Sadie's dj classmate with a fake British accent), that one soon begins counting down the minutes this film will end.
From the same director and writers of PEOPLE HOLD ON, SADIE'S LAST DAYS ON EARTH will likely be as forgettable as their first movie, which thankfully (about group of friends gathering together before a wedding ), I did not see.
Trailer: https://www.youtube.com/watch?v=LLvcFfEMGRM
SUGAR MOUNTAIN (USA 2016) ***
Directed by Richard Gray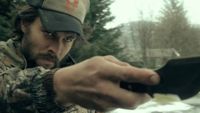 SUGAR MOUNTAIN is the location in Alaska where two brothers device a scam in order to get the money to pay off debts and have a new go on life.
Deep in debt to a local thug (upcoming actor Jason Momoa soon to be seen on AQUAMAN and JUSTICE LEAGUE), Miles (Drew Roy) persuades his girlfriend Lauren (Haley Webb) and brother Liam (Shane Coffey) to help fake a disappearance in the Alaskan wilderness around the town of SUGAR MOUNTAIN. The plan is to sell the story. But unknown to Liam, who is the main subject of the film, Miles has also other secrets that get in the way. Worst still, Liam is in love with Lauren. While the town works together to find Miles, the local chief of police, Jim Huxley (Cary Elwes) begins to suspect foul play. As he closes in on the truth, Liam struggles to conceal the hoax, and in the process exposes a secret that rocks him and Lauren to the core. Now the two are struggling to stay one step ahead of a sadistic thug and the tenacious cops before Miles is gone for good.
Performances are believable by the relatively unknown young cast. It is good to see Cary Elwes (THE PRINCESS BRIDE) nine in the role of the cop father after a long absence in films.
Being shot in Alaska, the film is expectedly gorgeous to look at. From the first scene of Miles lost in the mountains of snow to the boat (the Viking) cruising down Alaskan waters to the mountain sides where the search for Miles is carried out, cinematographer John Garrett never fails to astound. Garrett won the 2015 Emerging Cinematographer Award recipient (American Society of Cinematographers). There is also a remarkable shot scene where the couple find themselves close up to an angry bear.
The script by Abe Pogos based on a story by Pogos and Catherine Hill is interesting enough with sufficient plot twists towards the end. But the film would have world better if it was darker and more violent. One expects these elements in a film advertised a a dark thriller. But most important is the happy ending that is credible enough. The film works best when the audience is not sure what is happening on screen is part of the plan or going on for real.
SUGAR MOUNTAIN is a tough sell being a small budget movie released in the month of December in stiff competition with the big league films like ROGUE ONE, FANTASTIC BEASTS, DR. STRANGE, MOANA as well as smaller budget critical acclaimed hits like MOONLIGHT. To be fair, SUGAR MOUNTAIN is not a bad film, but it is not that remarkable a film either. But it is an earnest film, with a lot of effort put in and is a welcome change in a month where thrillers are noticeably absent.
Trailer: https://www.youtube.com/watch?v=29KpXJVT3IM
BEST BETS OF THE WEEK:
Best Film Opening: L'AVENIR (THINGS TO COME)
Best Film: HACKSAW RIDGE
Best African/American Film: MOONLIGHT
Best Action: THE ACCOUNTANT
Best Animation: WAY FAR NORTH
Best Documentary: THE APOLOGY
Best Drama: AMERICAN HONEY
Best Foreign: L'AVENIR (THINGS TO COME)