20
Dec
2016
Details

Category: Movie Reviews
Written by Gilbert Seah
Here are the reviews of the Christmas films with the recommendations of the 6 best of the season listed below the reviews.
FILM REVIEWS:
ASSASSIN'S CREED (USA 2016) *
Directed by Justin Kurzel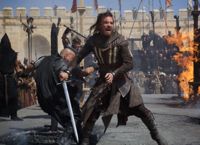 Assassin's Creed is an action-adventure video-game series created by Ubisoft that consists of nine main games and a number of supporting materials. The games have appeared on the PlayStation 3, PlayStation 4, Xbox 360, Xbox One and many other platforms. The games are set in a fictional history of real-world events and follows the centuries-old struggle between the Assassins, who fight for peace with free will, and the Templars, who desire peace through control. From the game came the book series and it is inevitable that a film follows. Very bad idea! For a game about peace, the film is quite violent. Even with Oscar nominee Michael Fassbender starring and producing it, ASSASSIN'S CREED for all its $125 million production cost and star power like Marion Cotillard (barely recognizable), Jeremy Irons, Brendan Gleeson and Charlotte Rampling, the film comes out incredibly dull. For one, moviegoers know the famous adage: "It is hard to get excited over a movie made from a video game." Yes, no matter how much the filmmakers try.
Cal Lynch (Fassbender) is about to be executed as his capital punishment. But he ends up travelling back in time to 15th-century Spain through a revolutionary technology that unlocks the genetic memories contained in his DNA. There, he lives out the experiences of Aguilar de Nerha, a distant ancestor who is also a member of the Assassins, a secret society that fights to protect free will from the power-hungry Templar Order. Transformed by the past, Cal begins to gain the knowledge and physical skills necessary to battle the oppressive organization in the present. There are lots of fighting with Fassbender shirtless showing off his super-toned body.
That is about it for story and plot. The visuals are mainly done though Computer Graphics with the film looking much like a video game with computer generated figures fighting or shown in large crowds. The visuals are nothing out of the ordinary. There are lots of action scenes with characters running about on rooftops, firing arrows or jumping around. These hardly generate any excitement.
The key prize that theTemplars and Creed both seek is the apple, supposedly the one from the Garden of Eden that Eve ate, and so released the knowledge of Good and Evil. The audience is supposed to believe that the non-rotting apple has survived through the years and that anyone who possesses it can control man's free will. So, the Templars wish to control humanity by owning the apple.
The film is directed by Australian Justin Kurzel who directed Fassbender in last year's MACBETH. He did a good job, rising to fame with SNOWTOWN, but none of his talent is observable in this poor effort.
So during the Christmas season, it is a hard toss which is the worst film of the season or for the year for that matter. The three contenders are PASSENGERS, COLLATERAL BEAUTY and this one!
Trailer: https://www.youtube.com/watch?v=gfJVoF5ko1Y
FENCES (USA 2016) ***1/2
Directed by Denzel Washington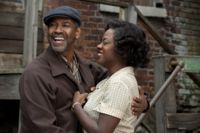 FENCES is the film adaptation of the Pulitzer Prize source material by August Wilson, who passed on in 2005. His only demand for consent of his play being filmed was that it be directed by an African American. So, when Denzel Washington came on board, Wilson could not be too pleased in his grave.
FENCES has been produced twice on Broadway with James Earl Jones in the title role in the first production and Washington in the title role in the second. Both won Tonys for their performances. Washington does justice in his directorial debut, with Viola Davis, playing his long-suffering wife of 18 years. Davis also won a Tony for her performance in the second production on Broadway, and she just shines in her role in the film. The 2016 Best Supporting Actress Oscar is practically hers.
As the film opens, Troy (Washington) is working his garbage collection job with his buddy Bono (Stephen Henderson). The camera is proud to span the streets of the city filled with the vintage cars of the 50's period when the story is set. There is not only two or three cars but a dozen or more - to show that director Washington spares no expense to take his film out into the open. There are as many sets as there are story set-ups. But the film still feels stagey - not for any fault of Washington but for the well written dialogue that come out of the actors' mouths as written by August Wilson.
The film looks stagey. This is expected as the film is based on a play. The same can be said for all Neil Simon film adapted plays (THE ODD COUPLE, MURDER BY DEATH, THE CHEAP DETECTIVE) or for Norman Jewison's adapted play films like A SOLDIER'S STORY and AGNES OF GOD. At least film audiences get a chance to see a good play - when adapted to the screen. And FENCES is more than a proficiently adapted play on film with the play's two stars reprising their roles - and performing their best as well.
As an African American film, FENCES is more positive compared to the other recent ones like MOONLIGHT, THE BIRTH OF A NATION and LOVING. The main character, Troy a black worker believes in the working class system. In fact when he complains that he should be given the position of driver of a trash truck as only whites have been given that opportunity, the complaint gives him the promotion. But Troy is his own worst enemy. He enforces the system he believes in but not for his two sons, For them, hard work achieves results and nothing else. When his younger son is offered the chance of a football scholarship, he resents and prevents his son the opportunity. But it is when he cheats on his wife Rose (Viola Davis) that all hell breaks loose. Sample of confrontation scene as shown in the trailer: Troy: It's not easy for me to admit that I've been standing in the same place for eighteen years! Rose: Well, I've been standing with you! I gave eighteen years of my life to stand in the same spot as you! This marks the film's best segment - well worth the price of the admission ticket.
The film, a bit dated, shows the tragedy of the black working class, but it can be apply to white working class folk as well. FENCES has many good reasons to be seen - Viola and Washington's Oscar winning performances, the convincing period setting, but most of all August Wilson's brilliant written words performed on screen. It is seldom that a hardworking American hero with good heart is laid bare faults and all - due to the fact that no human being can be perfect. The film opens Christmas Day.
Trailer: https://www.youtube.com/watch?v=a2m6Jvp0bUw
GHOSTLAND: THE VIEW OF THE JU/'HOANSI (Germany 2016) **
Directed by Simon Stadler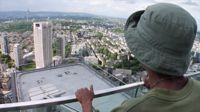 Most filmgoers should remember a small little South African comedy that made it really big in 1980 called THE GODS MUST BE CRAZY written and directed by Jamie Uys. Financed only from local sources, it is the most commercially successful release in the history of South Africa's film industry. Now after more than 35 years, comes a similar film, a documentary called GHOSTLAND about the same Ju/'Hoansi bushmen who are "living well off the land" in the Kalahari Desert.
In THE GODS MUST BE CRAZY, a glass Coca-Cola bottle is thrown out of an airplane and falls to Earth unbroken. Initially, Xi's people suppose this strange artifact is another "present" from the gods and find many uses for it. But in the documentary GHOSTLAND, director Simon Standler takes a more serious (though still humorous) look at the tribe. He shows that life in the vast Kalahari desert has drastically changed for one of the most ancient cultures on our planet. He takes a selected few of the Ju/'Hoansi people, travelling with members of this culture as they become tourists in the "modern" world around them, first in Namibia, and then in Germany and Italy.
When the film begins, titles inform the audience that Government regulations have banned hunting and thus forced the Ju/'Hoansi to abandon nomadism and live in a fixed location, making them dependent on "gifts" from the government and adventurous tourists. They used to kill and eat animals like giraffes and deer that wander into their village. Stadler shows the customs and culture of the tribe before taking them on a tour outside their closed village. So, they venture into the "modern" world, first at home in Namibia, and then -through an invitation to speak at a school - in Europe.
The Ju/'Hoansi are filmed in huge shopping malls in Germany or in trains or elevators for the first time. (Fortunately, they are given modern clothes to wear, or there will lots of screaming German women.) Stadler records their reactions, often of great awe, in their language, with English subtitles. But they still long for their home, as they were born and have grown accustomed to living in the bush.
There is nothing really wrong in filming their amusing reactions to modernization and city living, but it is another thing to have an entire documentary on the subject. It is just as interesting to watch the Germans fascinated by the rituals of the Ju/'Hoansi. But one can tell that each side is being over polite not to offend anyone.
The film offers no real new lessons in life that one has not seen in one form or another. So watching the Ju/'Hoansi's reactions soon becomes repetitious with the display of modernization already too familiar to most audiences who live in large metropolitan cities.
The film did win the 2016 SXSW SXGlobal Audience Award, and has frequently been referred to as a real-life version of The Gods Must Be Crazy. The film opens theatrically in Toronto for a one-week run on Christmas Day 2016 at the Hot Docs Ted Rogers Cinema. The film might prove an unconventional yet still heartwarming holiday option.
Trailer: https://vimeo.com/188730709
HOCKEY NIGHT (Canada 1984) ***
Directed by Paul Shapiro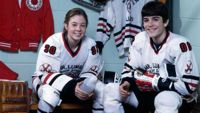 While watching HOCKEY NIGHT, which has a limited release during the Christmas week at the Roncesvalles Cinema in Toronto, I was amazed at how accurate the film captured the 80's look from clothes, to look to atmosphere to everything.
Upon researching the film, I soon realized that HOCKEY NIGHT is a 1984 TV film. Silly me! It has been given a full 4K restoration and a special engagement run.
The film is a small budget film with mainly newcomers except for a few heavyweights like Rick Moranis (SCTV) in a serious role and Maury Chaykin (WHALE MUSIC) who lend their acting talents. The film also made Megan Follows a household name. It is a proud Canadian film, not afraid of being Canadian with familiar street and town names like Queen Street, Oshawa, North Bay thrown into the dialogue. After all, hockey is Canada's national sport. Though a teen movie, there are no teens cussing. This is a good-hearted family film that the whole family can enjoy - particularly at Christmas.
The film begins with two stories, one centred around hockey hopeful Spear Kozak (Yannick Bisson) and the other around Cathy Yarrow (Megan Follows), newcomer to his small town, Parry Sound. For the unaware, Parry Sound is located 160 km (99 mi) south of Sudbury and 225 km (140 mi) north of Toronto. It is the seat of Parry Sound District, a popular cottage country region for Southern Ontario residents. It is also the birthplace of hockey legend, Bobby Orr, who is given a small homage in the film. It does not take a genius to guess that Spear and Cathy will form a young romantic couple. Cathy is bored to death in the town and according to her, "fun hasn't been invented yet in the town. " And where there is no girl's hockey team? Cathy was champ in her team in the Toronto. The answer now is simple: strap on her goalie pads and try out for the boy's all-star team.
Local broadcaster Bum Johnston (Maury Chaykin) does not think a girl's place is in a hockey arena. Chaykin injects a few quite funny moments as the prejudiced announcer at the games, giving his 2 cent worthless input. Lumber magnate Bill Moss (Henry Ramer), the team's sponsor removes Cathy from the team with disastrous results. But Cathy stands firm between the pipes, helping the team win games while winning herself loyal allies in star player Spear and coach Willie Liepert (Moranis).
Hockey Night is a story of adolescent relationships, the struggles of small-town politics and of triumph over the expectations and pressures of the adult world. It is not a big action film with action or special effects, which is the reason this is a TV movie. The hockey matches on the ice are well shot. And like the two young hockey players. the film has its charm. This charm creates a winning film.
Trailer: https://www.youtube.com/watch?v=yLts9uo3Vto
JULIETA (Spain 2016) ***** Top 10
Directed by Pedro Almodovar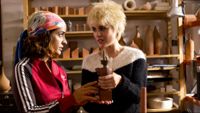 One of pouts of a good adaptation is that the adaptation contains the main story but has the author's distinct imprint on it. From the very first 10 minutes of JULIETA, Almodovar's adaptation of the book, written into a script by himself, the audience sees lots of Almodovar- and the Almodovar everyone likes.
The first scene is the modern apartment of the protagonist. She is dressed in bright red with matching bright red nail polish. She discards an envelope coloured bright blue and books of bright colours like yellow are seen on her book shelf. The next scene, a key one when she chance meets a friend of her daughter's on the street, has the two quickly c friend is bing hurried along by three obviously queer queenie male friends. From the first two scenes, one can tell this is clearly an Almodovar with more surprised and delights on the way. One scene following is comical enough to feature a bright yellow garbage truck in the background.
JULIETE is one of Almodovar's most talky films. Most of his later films have a 10- minute of so 'talky' segment in which some explanation to a plot is given. But JULIETA is talky from start to end. But this is not a bad or boring thing, as the script is filled with colourful dialogue, written by the master himself and full of his private anecdotes.
The film contains many shots of his past films. One for example has a group of young teens playing basketball. The scene has nothing to do with the movie, it is just thee when Juileta walks around the neighbourhood of her apartment, but it is reminiscent of the voyeuristic view of the bathing boys in the river in LA MALA EDUCATION, Almodovar's best film. The same scene is visited later with teen girls playing the game.
JULIETA is about the mystery of life. Julieta's daughter abandons her. It takes Julieat hers before she discovers the reason. It is here i the flashbacks where Almodovar's film turns from stylized melodrama (no complaint) here to mystery, reminiscent of Hitchcock , complete with a score that sounds like Edward Hermann's. In one scene, Lorenzo, Julieta's lover even makes a reference to mystery writer Patricia Highsmith.
JULIETE contains many brilliantly executed scenes. One is the confrontation in which Julieta is told of her daughter's intentions. "She has chosen her path, and you are not on it," she is told. But the best scene occurs in the film's subtle last minute, where a clever line told by Renato to Julieta ends the film.
Almodovar has progressed from comic to a serious director. His early comedies WHAT HAVE I DONE TO DESERVE THIS?, WOMEN ON THE VERGE OF A NERVOUS BREAKDOWN or KIKA have none of the dead seriousness of JULIETA. JULIETA is Amodovar at his most mature and also arguably at his best.
Trailer: https://www.youtube.com/watch?v=YH5_4osOZK8
LA LA LAND (USA 2016) ****
Directed by Damien Chazelle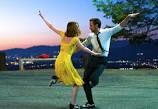 LA LA LAND marks the return of the Hollywood musical but done here with a fresh take. The film tells of the conflict between following ones dreams against sacrificing them up for love. This is what a couple Ryan Gosling, a budding jazz musician and rising play actress Emma Stone face. The film begins with an impressive set up of an extended song and dance number that takes place on a busy highway in Hollywood where the drivers exit their cars to do their thing. The film offers two alternative endings but the one to be followed is the most likely but not the most obvious one. The songs especially "City of Stars" are catchy and this song should have one humming in the aisles. Gosling and Stone make a lovely couple. A few cliched parts like the meeting of the couple (chance argument on the highway and in coffee shop before chance meeting again) mar an almost perfectly executed romantic musical.
Trailer: https://www.youtube.com/watch?v=je0aAf2f8XQ
A MONSTER CALLS (USA/Spain 2016) ****
Directed by J.A. Bayona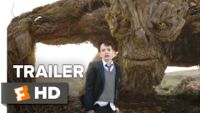 Based on the acclaimed novel by Patrick Ness who also wore the script and served as producer of the film, A MONSTER CALLS must have been a love project from the start and it looks so. A dark, occasionally humorous and exciting film, A MONSTER CALLS reminds one of the best of the horror fantasy films - Guillermo Del Toro's PAN'S LABYRINTH and Nicholas Roeg's THE WITCHES.
The protagonist of the story is young Conor O'Malley - who we are told by voiceover is too young to be a man and too old to be a boy, (a fresh performance by Lewis MacDougall). Conor has been dealt some of life's most devastating blows. His mother (Felicity Jones) has terminal cancer, his father (Toby Kebbell) is not part of his life and his grandmother (Sigourney Weaver) offers no consolation. To top it all, he is bullied at school. Conor has nowhere to turn, until he receives a nighttime visit from an enormous, tree-shaped monster (voiced by Liam Neeson). The monster is to help him, but not in a regular way.
The monster declares that it will tell Conor three stories and that when it has finished recounting the tales, Conor must reciprocate with a story of his own. All of the monster's stories offer a lesson in the complexity of human nature (e.g. the murderous king lives happily ever after and loved by his subjects) and the consequences of the actions — while each of the monster's visits leaves destruction in its wake. When the time comes for Conor to tell his story, he must confront difficult truths that can no longer be ignored.
The stories told by the monster unfolds on the screen with special effects animation. But the very best effect is very basic - appearing in the boy's room where three hanging cut out painted pieces of cardboard dangle coming together to form the face of a monster. But it is not only the animation that dazzles (though it does) but the stories themselves. Each is as dark as dark can be and all have an unexpected twist where expectations are thrown to the wind. These stories are so amazing that they almost eclipse the main plot. The main question in every viewer's mind is how the stories relate to the boy's real life.
But director Baoyna's film teases all the way. Where and when is the film set? As the film has a vintage look, one expects a period setting, but then Conor owns a cell phone. One assumes a British setting from the looks of the houses and buildings. This becomes clear as the school is clearly British but still one is never certain which city the film is set. The only clue is the pier and the amusement park nearby. So it could be Brighton but not Blackpool for the lack of the working class accents. Another puzzle occurs at the end of the film when Conor looks at the drawings of a book, with the author's name Lizzie Caplan in front? Who is this Lizzie?
A MONSTER CALLS proves that a good story is more important than just a movie which dazzles the eye. A MONSTER CALLS has the bonus that it does both. And with the young boy as the protagonist, every adult can sit back and pretend to be young once more, facing and conquering the monsters in life.
Trailer: https://www.youtube.com/watch?v=R2Xbo-irtBA
PASSENGERS (USA 2016) **
Directed by Morten Tyldum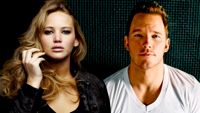 PASSENGERS arrives at the height of the success of polished looking sci-fi hits like THE MARTIAN, GRAVITY and ARRIVAL. PASSENGERS also looks stunning, thanks to the awesome art direction, wardrobe, cinematography and sets. But unfortunately, the film soon gets lost in space, unable to wake up from its initial promise.
The film's action takes place aboard the Starship Avalon, on a 120-year voyage transporting over 5000 colonists to Homestead II, a planet so far from earth the journey takes 120 years. The colonists are placed into hibernation for the journey. The ship hits a meteor storm. A malfunction wakes up a passenger, mechanical engineer Jim Preston (Chris Pratt), 90-years early. The film spends a lengthy first 40 minutes or so with Jim roaming around the spaceship alone discovering the horror of not only being the only one alive but knowing he would be dead by the time the ship reaches its destination. Humorously, he tries to send an S.O.S. message back to earth but realizes that it not only takes 5 years for the message to reach earth but that it will cost him several thousand dollars. He gets some companionship (and free drinks) from a bartender android (Michael Sheen). Preston notices a beautiful sleeping writer in another pod, Aurora Lane (Jennifer Lawrence) and decides to wake her up from hibernation to keep him company. (The script could also have been more imaginative than naming the heroine Aurora.) This means a death sentence for her as well. They fall in love and things go smoothly till she learns the truth. This is when the film falls apart.
The couple eventually get back together with Aurora finally saving Jim from being lost in outer space very much the same way Matt Damon almost got himself lost in THE MARTIAN. Things get even more ridiculous with an oasis present complete with birds (yes, birds - where did they come from?) by the 90 years the ship reaches Homestead II.
PASSENGERS is directed by Morten Tyldum who made the World War II thriller THE IMITATION GAME. In PASSENGERS, he and the scriptwriter Jon Spaihts cannot decide if the film is supposed to be a thriller, horror, romance or sci-fi adventure. They decide on 'all of the above'. This is basically a story of a really intelligent writer and a creepy stalker who should pay for his sins. Instead, he is forgiven and saved and made a hero. PASSENGERS would have succeeded as a horror flick close to what ALIENS was.
The film is also basically a two handler. Lawrence and Pratt are fortunately two fine looking actors that audiences can look at for two hours. But the introduction of Lawrence Fishburne as Gus, an engineer also woken up by pod failure, adds a welcome change to the proceedings.
There are a few action sequences such as Jim's race against time to repair the ship before it explodes in heat and his rescue from outer space. These are two of the film's most ridiculous segments. PASSENGERS ends up both ridiculous and plain silly.
Trailer: https://www.youtube.com/watch?v=7BWWWQzTpNU
RESET (Reléve) (France 2015) ***
Directed by Thierry Demaizière and Alban Teurlai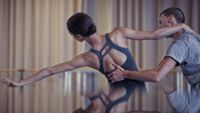 As interesting as RESET is a film about ballet, a non dance audience would likely take a while to get accustomed to the subject of this documentary.
RESET is a film on ballet - as seen through the eyes of the Paris National Opera's new director Benjamin Millepeid. Millespied is the choreographer of the Oscar winning opera BLACK SWAN that starred his wife, Natalie Portman. Millepied was a famed choreographer and former principal dancer with the New York City Ballet, both of which won him the prestigious Paris Opera position.
The film tracks the opening (premiere) night counting down the 39 days till day 1 of rehearsals. Millepied prepares to unveil his first ballet on the 25th of September 2015. From the very first rehearsal up until opening night, directors Demaizière and Teurlai immersed themselves in the world of the Paris Opera, right at the heart of its artistic creation - a musical score, penned by his friend Niko Muhly, inspired Millepied's creative process. The camera follows Millepied as he imagines and arranges his choreographies in front of the studio mirror. This act of creating finally unfolds within one of the most beautiful locations in the world: the Palais Garnier. Except for the limitation of time to get everything in place, the film has little drama or suspense. Everything appears to be working very well, except for Millepied who always appears to be un-trackable. But what the film lacks in drama, it provides more in terms of splendour of ballet. Even for ballet non-aficionados, RESET should still fascinate and inspire.
Millepied chooses the actual shots of the Millepied's premiere (called Clear, Loud, Bright, Forward) as the climax of the film. A wise decision as the sequence shows the performance of the dancers performing at their best after weeks of hard training. Millepied is shown to be extremely happy and proud of what he sees on stage. Not so wise, however, is the directors' decision to juxtapose the actual performances of a few of the dancers with their rehearsals. This do not show much and serves as a distraction tot he continuity of their actual dance.
RESET also reveals Millepied's character and how he has influenced the Paris Ballet. He wanted changes to old school ballet, even casting for the first time a mixed race dancer as lead dancer. RESET also shows that besides having to choreograph, Millepied had to overlook almost very aspect of the show from costumes, lighting, sets, hair and publicity.
The film ends with the titles informing the audience, during the closing credits, that Millepied resigned 4 months after the premiere of his show. No reason is given, but one can only guess the reason from the film - likely that his quest for changes in ballet was not acceptable to his employers.
RESET has a limited run in Toronto from now through January 6 at Hot Docs Ted Rogers Cinema, as well it opening in Vancouver at Vancity Theatre, starting Sunday January 1 and screens through Sunday January 15.
Trailer: https://www.youtube.com/watch?v=_ouBldcZUzw
SING (USA 2016) ***1/2
Directed by Garth Jennings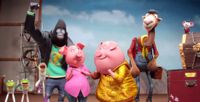 Garth Jennings, director of the not-so-successful THE HITCHHIKER'S GUIDE TO THE GALAXY and the excellent SON OF RAMBO seems an unlikely choice for director of the 3D computer-animated musical comedy film produced by Illumination Entertainment (the DESPICABLE ME films). But Jennings who also voices the old secretary Matilda, the glass-eye popping iguana in the film, proves a worthy choice.
The age-old plot of SING involves the protagonist, here in the form of a cute koala (Matthew McConaughey) putting up a show in order to save his failing theatre. He comes up with a brilliant scheme to save his stage: put audience members on it. "Real talent from real life," Buster declares. Buster is determined to host the world's greatest singing competition, and, given the overwhelming response to his call for participants, the show might just lay claim to that title. After an exhaustive (and entertaining) audition process, his lead contestants left are an exhausted mother of 25 piglets, a timid adolescent elephant, a porcupine with punk, a rodent con artist with Sinatra-esque chops, and a gangster gorilla eager to change careers. Each is as desperate to change their life as Buster is to rescue his business. Who will win? It doesn't really matter as all eventually do their part to save the theatre. Jennifer Saunders of ABS FAB does the voice of ex-diva a sort-of patron for Moon's theatre as she is rich beyond means.
SING is undeniably a feel-good movie with an extra coating of sweetness that stretches credibility to the limit. If the film was not animated, it would never get away with the premise. But animated feature are supposed to be totally crazy and not matter how unbelievable, any crazy premise will always work to its favour.
Water has always been difficult if not impossible to animate. Disney's THE SORCERER'S APPRENTICE (from FANTASIA) with Mickey Mouse demonstrated that. But now with computer animation, all is possible. In SING, Buster Moon decides to create an elaborate lighting sequence for his show using squids in a huge water tank that ends up leaking and blowing up. All this is an excuse to showcase the studio's impressive modern animation with computer aid using water. No complaints here, as the sequence is one of the film's best animated, as in the time lapse rebuilding of Moon's theatre near the end of the film. Disney and Pixar are faced with stiff competition here.
The impressive cast of actors and singers include Reese Witherspoon as Rosita, Seth MacFarlane as Mike, a small white crooning mouse with a big Frank Sinatra-esque voice and an arrogant attitude, Scarlett Johansson as Ashley, a crested porcupine punk rocker, John C. Reilly as Eddie Noodleman, a Suffolk sheep and Buster's partner, Tori Kelly as Meena, a teenage Indian elephant with an exquisite voice, and severe stage fright,Taron Egerton as Johnny, a Cockney-accented mountain gorilla, who wants to sing and Nick Kroll as Gunter domestic pig and Rosita's German-accented, very optimistic and bubbly dance partner.
SING is by no means a faultless feature. It falls into the trap of having too many characters for its own good and not knowing when to shorten its story. The film also hurdles at too fast a pace, as in the father gorilla escaping jail to see his son perform.
The film features more than 85 classic songs from famous artists all more than adequately performed by the animated characters as well as a few catchy original songs.
Like Moon going all out to save his theatre, one cannot help but root of writer/director Jennings in his worthwhile effort and awarding him an "A" for effort.
Trailer: https://www.youtube.com/watch?v=Y7uGHY-t80I
THE WASTED TIMES (China/Hong Kong 2016) **
Directed by Cheng Er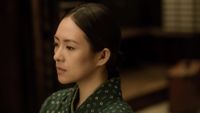 THE WASTED TIMES is a big-budget highly anticipated Chinese-Hong Kong thriller film directed by Cheng Er and starring Ge You, Zhang Ziyi and Tadanobu Asano released by Chia Lion. The film is slated for a Christmas release hoping to make it big at the box-office for both Asian and western audiences.
From the film's opening scene - the meeting among Mr. Lu, the film's protagonist and Japanese collaborators, the artistic design and art direction of the scene are stunning from the lighting to the decoration. The meeting culminates with the shocking dismemberment of a lady's hand still wearing a jade bracelet.
THE WASTED TIMES is a revenge story, set mainly in Shanghai during the conflict with the Japanese from the 1930's up to the end of World War 11 in 1945. The elements of love, hatred, and betrayal are on full display in the story. As loyal to his own people and refusal to collaborate with the Japanese, Mr. Lu is ambushed during an important meeting with the Japanese army, but his sister's husband, Watabe sacrifices himself to save Mr. Lu. Worse still, the Japanese brutally murder Mr. Lu's children and sister. To avenge their deaths, Mr. Lu's mistress attempts to kill the culprit but ends up dead.
The story leads to the end of 1945 when Mr. Lu visits the abandoned wife of his former boss, Mrs. Wang. She reveals that Watabe is still alive and did not sacrifice himself to save Mr. Lu, but is actually a Japanese spy responsible for the deaths of his family members and captured her as a slave in his basement. Given this new revelation, Mr. Lu takes Mrs. Wang to the war camp where Watabe is held to finally make him pay for his bad deeds.
If the story sounds confusing, the film is even more difficult to follow. It does not help that director Er is fond of telling his tale in non-chronological order, making it artistic through weird songs (partly sung in English) and also often changing the setting of his film from Shanghai, to the Philippines to Japan. The languages spoken also shifts from Mandarin to Japanese.
The historical film is made more emotional though the introduction of characters like the county bumpkin (and his sexual innocence) who learns the ropes about gang warfare. Er also seems quite interested in the activity of sex as illustrated in the many erotic sex scenes, including an artistically staged one at the back of a car.
Western audiences are unfamiliar with Chinese history and are more often than not, uninterested. It does not help that the history is not explained either. At least the audience will assume (correctly) that the end of the Sino-Japanese war comes at the end of 1945, the end of World War II. THE WASTED TIMES will definitely be a hard sell for China Lion with this film running into stiff competition with Hollywood films like the commercial ROGUE ONE: A STAR WARS STORY as well as more artistic flair like the musical LALA LAND.
Trailer: https://www.youtube.com/watch?v=pB_Dj-X51RU
WHY HIM? (USA 2016) ***
Directed by John Hamburg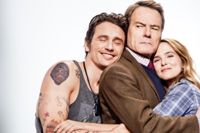 There are smart dumb comedies and there are dumb, dumb comedies. WHY HIM? directed and co-written by John Hamburg (who wrote MEET THE PARENTS, MEET THE FOCKERS and the ZOOLANDER movies) falls into the latter category. But all is forgiven for like the hit comedy DUMB AND DUMBER, WHY HIM? is quite funny.
As in MEET THE PARENTS and MEET THE FOCKERS, it is the story of the guy trying to impress his future in-laws. The hitch in WHY HIM? is that the guy is a weird monstrous hip games designer millionaire who swears in every sentence he utters. So will Laird (James Franco) be able to charm his future father-in-law Ned (Brian Cranston) so that he can give him permission to wed Stephanie (Zoey Deutch).
The audience is set up for an all-out gross film with the beginning scene where Laird is close to show Stephanie his almost black blue balls in a video chat. The scene shifts to Stephanie's dad's birthday celebration where she is video chatting him when Laird suddenly appears in the background and takes off his pants. There is nothing highly original about this comedic set-up but it still brings on the laughs.
Stephanie (Zoey Deutch) invites her father Ned Fleming (Bryan Cranston) and mother Barb (Megan Mullally), along with their 15-year old brother Scott (Griffin Gluck), to stay with her wealthy and famous boyfriend, Laird Mayhew while visiting her at Christmas. Laird's vulgar, gregarious, and blunt personality is slightly overwhelming for Barb and Scott, but causes Ned to downright despise him. However, Stephanie insists that Laird is a nice person, and that he makes her happy. But when Laird reveals he plans to propose to Stephanie in only five days, the race to prove himself worthy of her love so Ned can give them his blessing begins. Laird goes out of his way to win over Barb and Scott, while Ned schemes to make sure Laird goes down in flames.
Laird throws a Christmas party for the Flemings that goes out of control. But the three minute Christmas party segment puts OFFICE CHRISTMAS PARTY to shame. The segment moves on fast, furious and funny and generates more laughs in the three minutes that the entire party section in OFFICE CHRISTMAS PARTY.
For a film about a wild person, the film stays away from lewd scenes. There are no hard core drugs only marijuana and no smoking is shown - only the after effects (the horny mother inching her husband for sex in the bedroom). Swearing, however is plentiful but done in a humorous manner. There are also bukkake and double dicking jokes (but nothing seen) - which the gays in the audience should be familiar with. The film also steals from the Kato and Inspector Clouseau fights in the PINK PANTHER films with Laird's man-servant, Gustav (Keegan-Michael Key) always laying in wait to fight him. But these scenes are still funny.
Where the film starts to slack is when it gets emotional with the different relationships (father/boyfriend; father/daughter and boyfriend/girlfriend). The ending 20 minutes drags too long and is a bit of a let down considering the fast pace of the rest of the film. There is a surprise appearance of a famous band at the end of the film. Still WHY HIM? succeeds as quite a hilarious though quite a dumb comedy.
Trailer: https://www.youtube.com/watch?v=CO6qLC4cL8E
BEST BETS OF THE WEEK:
JULIETA

LA LA LAND
A MONSTER CALLS
ROGUE ONE: A STAR WARS STORY
SING
FENCES