08
Jan
2017
Details

Category: Movie Reviews
Written by Gilbert Seah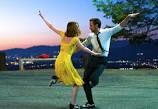 THE GOLDEN GLOBES 2017
The 2017 Golden Globes Awards 2017 were held Sunday January 8th. Jimmy Fallon, the Tonight's Show host is the MC of the Ceremonies held at the Beverly Hilton hotel in Beverly Hills.
Different from the Academy Awards, of course, as this is a dinner/drinks even compared to the Oscars stage show. So there are no spectacular dance presentations for the Golden Globes. But the glamour is definitely still present.
Most noticeable this year is the hosting of Fallon taking over from Ricky Gervais. Gervais made fun of everyone while Fallon made fun of himself. But the biting really funny atmosphere developed by Gervais is sadly missing, while Fallon does do an admirable job.
As expected, it is LALA LAND all the way, the film winning in multiple categories as in Best Actor (Ryan Gosling), Actress (Emma Stone) and director Damien Chazeelle a well as Best Picture (Comedy or Musical) and others.
The lifetime achievement award went to Meryl Streep who gave a moving speech on journalism. Streep made a nasty remark about Presient-elect Trump, that will surely get some 'news' tomorrow. But the Awards Best moment was the tribute given to the mother/daughter's recent passing away Debbie Reynolds and Carrie Fisher.
The Best Speech was probably delivered by Hugh Laurie whose speech was referenced by three other winners. Ryan Gosling gave a moving speech praising his wife and late brother-in-law.
My favourite win is French actress Isabelle Huppert for best Actress in her role in Paul Verhoeven's ELLE. Unexpected was the win for MOONLIGHT over MANCHESTER BY THE SEA for Best Drama. But both are excellent films.
An overall enjoyable Golden Globes presentation, but I personally miss Ricky Gervais who always made me laugh out loud. Hope they bring him back!
LIST OF WINNERS
BEST MOTION PICTURE — DRAMA
Moonlight
BEST PERFORMANCE BY AN ACTRESS IN A MOTION PICTURE — DRAMA
Isabelle Huppert, Elle
BEST PERFORMANCE BY AN ACTOR IN A MOTION PICTURE — DRAMA
Casey Affleck, Manchester by the Sea
BEST MOTION PICTURE — MUSICAL OR COMEDY
WINNER: La La Land
BEST PERFORMANCE BY AN ACTRESS IN A MOTION PICTURE — MUSICAL OR COMEDY
Emma Stone, La La Land
BEST PERFORMANCE BY AN ACTOR IN A MOTION PICTURE — MUSICAL OR COMEDY
Ryan Gosling, La La Land
BEST MOTION PICTURE — ANIMATED
Zootopia
BEST FOREIGN LANGUAGE FILM
Elle — France
BEST PERFORMANCE BY AN ACTRESS IN A SUPPORTING ROLE IN ANY MOTION PICTURE
Viola Davis, Fences
BEST PERFORMANCE BY AN ACTOR IN A SUPPORTING ROLE IN ANY MOTION PICTURE
Aaron Taylor-Johnson, Nocturnal Animals
BEST DIRECTOR — MOTION PICTURE
Damien Chazelle, La La Land
BEST SCREENPLAY — MOTION PICTURE
La La Land
BEST ORIGINAL SCORE — MOTION PICTURE
La La Land