17
Jan
2017
Details

Category: Movie Reviews
Written by Gilbert Seah
BOTTICELLI - INFERNO (Germany/Italy 2016) ***
Directed by Ralph Loop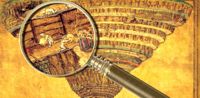 Up next in Event Cinema's In the Gallery series is Botticelli – Inferno. The documentary takes audiences on a journey to discover the secrets behind Botticelli's iconic "Map of Hell" painting.
The hidden stories behind some works of art are the most exciting, fascinating and engaging, so much so that they can even surpass any world-renowned, best-selling thriller. When one merges the style of one of the undisputed masters of the Renaissance, Sandro Botticelli, with the dark circles of Hell in Dante's Inferno, the result is an intriguing plot made up of deadly sins, detailed investigations, inaccessible vaults, and seemingly unsolvable enigmas. Even after many centuries Botticelli's works continue to engage and excite. Every year his most famous paintings draw thousands upon thousands of visitors to museums and exhibitions all over the world. However one of his most intimate and mysterious drawings - perhaps one of the most significant if we are to achieve a deeper understanding of him – lay locked up for years in the climate-controlled vaults of the Vatican. This is the drawing that Botticelli dedicated to Dante's Inferno , and which has now taken the leading role in an original, exciting documentary film.
Everyone is intrigued by the unknown. And if the unknown is scary, interest will be picquet even more. So, Botticelli's painting of hell has fascinated admirers from the past to the present. The recent Ron Howard thriller INFERNO with Tom hanks is an example of Hollywood banking on Botticelli's Inferno.
But it is Dante's Inferno. The Renaissance master Botticelli spent over a decade painting and drawing hell as the poet Dante (his vision of the Underworld) described it. The film takes us on a journey through hell with fascinating and exciting insights into Botticelli's art and its hidden details.
The film is shot all around Europe in exclusive locations such as the Uffizi Gallery in Florence, the Vatican Library and more.
The voiceover is in the first person, as Botticelli, talking about his paintings and of his life in Florence. Director Loop also enlists an expert, an Italian historian who knows the city of Florence in the Rainnasance era to narrate part of the film. It helps that he is an extremely spirited (and knowledgable) person, who brings some humour and spirit to the film. As a result, the film would cater was well to the interest many who have limited knowledge of Bottlicelli. The film is also brought into the present with its restoration. The shots of the digital image scanning that reveals the detail of Botticelli's details are remarkable - the benefits of modern technology.
The most interesting segment of the film is the illustration of modern drawings in contrast to what were done in the age of Botticelli. Now paintings are created using virtual ink on virtual materials using computer software. The film sidetracks too on the Scots influence. The Duke of Hamilton acquired a substantial amount of Botticelli's manuscripts.
The film will run in participating Cineplex theatres January 18 and 29, 2017. For theatres and showtimes, please visit
Trailer: https://www.youtube.com/watch?v=Lobp5HK-TmA&feature=youtu.be