26
Jan
2017
Details

Category: Movie Reviews
Written by Gilbert Seah
Please note:
In order to find a review for a previous film, type in the film title in the search box followed by the ENTER key.
BEST BETS OF THE WEEK:
Best Action: Rogue One
Best Animation: The Red Turtle
Best Comedy: Why Him?
Best Documentary: Bugs
Best Drama: Manchester by the Sea
Best Foreign: Julieta and TONI ERDMANN
Best Horror: Split
Best Romance: La La Land
Among the big openings this weekend are A DOG'S PURPOSE and GOLD.
FILM REVIEWS
THE APPRENTICESHIP OF DUDDY KRAVITZ (Canada 1974) ****
Directed by Ted Kotcheff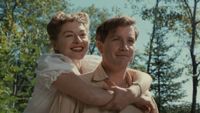 It has been a long spell (thanks to its recent restoration) since the Canadian classic THE APPRENTICESHIP OF DUDDY KRAVITZ got a release again on the big screen. The film is the autobiography of the author, Mordecai Richler based on his best selling novel of the same name.
The film is the story of Duddy (pronounced doo-dee) Kravitz (Richard Dreyfuss), a brash, restless young Jewish man growing up poor in Montreal, Canada. His taxi driver father Max (Jack Warden) and his rich uncle Benjy (Joseph Wiseman) are very proud of Duddy's older brother Lenny, whom Benjy is putting through medical school. Only his grandfather (Zvee shows the motherless Duddy any attention. But Duddy rises the ranks.
There is a scene in which an old Jewish bearded man says that a man without land is a nobody. (This scene is seen in both this film and the Woody Allen comedy LOVE AND DEATH). In this film, it is Duddy's grandfather who tells his grandson the maxim.
Duddy starts a serious relationship with a hotel employee, French-Canadian Yvette (Micheline Lanctôt). One day, she takes him on a picnic beside a lake. Duddy is stunned by the beauty of the setting, and his ambition crystallizes: taking to heart his grandfather Zeyta's maxim "a man without land is nobody" to heart. The film traces Duddy's accomplishment, but not without dire consequences. It is a film of both coming-of-age and growing up - and a very effective one at that.
This is director Ted Kotcheff's best film. His attention to detail, which is evident throughout the film is what makes the movie tick. The best example can be seen in the opening sequence where Duddy in military garb marches in a band while goofing around. The military tune "O When the Saints" bookmarks the ilm, while the lyrics also have some meaning in the story.
It is reported that Richard Dreyfuss hated his performance so much in this film that after seeing the film's final cut, he decided to take the role in JAWS, that he initially turned down. But in my opinion, Dreyfuss delivers an almost flawless performance as Duddy in the film . He captures the juvenility and ambition of the growing Jewish boy. Dreyfuss has proven himself as an actor in the the later AMERICAN GRAFFITI and also in THE GOODBYE GIRL winning an Oscar for Best Actor in the process.
I have a few complaints of the film despite it being a classic. Being a film set in Montreal, I would prefer it being shot in French or at least have more Frecnh spoken in the film. The other is the list of Americans playing Canadians and an Englishman playing the American Hollywood director.
The Apprenticeship of Duddy Kravitz screens as part of Canada on Screen on Sunday, February 5 at 6:30 p.m. Beginning in January and running throughout the year, this free programme will present moving-image installations, special events and guests, an extensive online catalogue, and screenings across the country, all based on a list of 150 essential moving-image works from Canada's history, and compiled through a national poll of industry professionals. Canada on Screen is a co-production between TIFF and three core project partners — Library and Archives Canada, the Cinémathèque québécoise, and The Cinematheque in Vancouver — for Canada's sesquicentennial in 2017. The Government of Canada and RBC are Presenting Partners of Canada on Screen.
Trailer: https://www.youtube.com/watch?v=WYkgUm-ImHw
A DOG'S PURPOSE (USA 2017) ***
Directed by Lasse Hallstrom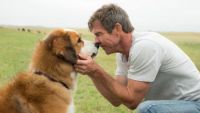 A DOG'S PURPOSE begins with the birth of a puppy. The question: "What is the purpose of life?" is asked in the voiceover. But the answer comes front he canine point of view. The puppy lives its life and dies. (The first life is really short.) It is reincarnated several times starting as a puppy leading different lives as different breeds with different owners. But the main important one is the one as Bailey (all the dogs voiced by Josh Gad) who has a loving relationship with Ethan (K.J. Apa). But the dog remembers all its past lives.
With so many reincarnations come many stories. Director Hallstrom moves his film fast, so that there is hardly a dull moment. There are 4 separate stories with 4 different owners and reincarnations. The stories are all told from the dog's point of view. The script tries to be funny, but the result is only polite laughter judging from the promo screening audience.
The ultimate question arises from the film's title is what a dog's purpose is. The obvious answer is to be man best friend. But the answer (not to be released in this review) provided by the film is even more specific.
The cast has only one well known name, that of star Dennis Quaid who appears towards the end of the film, though he has an important role. The best performances are from the canine actors, credit going to the trainers of course. It is always a wonder to see how these dog players perform so well - for example running where they are supposed to go, under fences into water, jumping through loops and saving helpless human beings and licking them constantly.
The film, typical from Swede director Hallstrom (MY LIFE AS A DOG, CHOCOLAT, WHAT'S EATING GILBERT GRAPE? THE CIDER HOUSE RULES) is undeniably mawkish, milking sentiment whenever possible. It is advisable to bring plenty of Kleenex. My guest who loves dogs who I brought to the promo screening, bawled his eye out.
A few words obviously need be said about the film's controversy. On January 18, 2017, a video surfaced on TMZ showing footage taken from the set of the film, which shows a German Shepherd named Hercules being dragged and dipped into rushing water while visibly resisting. Worst, the following clip shows the dog being submerged in the water at the other end of the tank. As a result, many is expected to boycott the film. So far, Universal Pictures has cancelled the film's scheduled January 19 Los Angeles premiere and the representative from the Humane Association watching for the cruelty and harm to animals has been suspended. One will see during the weekend at the box-office (expected gross is $20 million) if the adage 'all publicity is good publicity' is still valid.
A DOG'S PURPOSE is not the best of Hallstrom's films, but he manages a successful job. The film is an entertaining family film that caters to all dog lovers. It is pitiful that bad press arose from the TMZ videos, but the filmmakers, I am sure had the best intentions in mind for man's best friend.
Trailer: https://www.youtube.com/watch?v=1jLOOCADTGs
GOLD (USA 2016) ***
Directed by Stephen Gaghan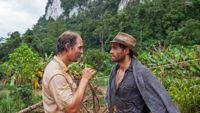 GOLD has been advertised as an American crime adventure film. But the film is not that much an adventure film, feeling more like a biopic of Kenny Wells (Matthew McConaughey), an unlucky businessman who discovers and finds gold, but loses it all including his long-suffering girlfriend, Kay (Bryce Dallas Howard). GOLD is in reality, based on the Bre-X scandal. It is indicated at the start of the film that the film is inspired by true events. So, the Wells character is likely made up.
It appears that the entire story of GOLD can be determined from the trailer. But it is not so. Though the story has a twist, director Gaghan, who directs based on a script by himself, Patrick Massett and John Zinman cannot decide what kind of film (satirical or sincere) it wants to be. It is also part romance, crime, a bit of adventure but feels like a biopic of a totally obnoxious (though fictitious) person that the audience is supposed to root for.
The film turns towards sincerity in the segment where Kay angrily warns Kenny of the business wolves. The satire is mainly found in Kenny's character - for example in the scene with him hugging geologist Michael in his underwear like two gay lovers.
Oscar winner, Matthew McConaughey (DALLAS BUYERS CLUB) looks absolutely horrendous in the movie - intentionally and he flaunts it. He has put on so many pounds that his gut shows. Besides smoking half the time, Kenny spawns a receding hairline, looking half bald with bad skin. It makes matters worse that the guy the audience is supposed to root for is not only obnoxious but ugly.
The film is set in Indonesia where the gold prospecting is being done. Locations in Thailand are used to substitute for Indonesia, for obvious reasons that Thailand is more stable for filming. As far as westerners go, most cannot tell the difference. The film makes sure that the locals in the film including the character of the geologist Michael Acosta (Édgar Ramírez) speak Malay and not Thai.
Of the performances, veteran Stacy Keach as big-shot, Clive Coleman stands out. Others supporting actors like Howard, Ramirez, Bruce Greenwood deliver standard uninspired performances. McConaughey is McConaughey, who can deliver an extremely annoying over-acted performance, as observable in the film's first 10 minutes. But hand it to him, at least his over-acting keeps the film from being boring.
The film begins with Kay and Kenny talking about gold prospects. The script quickly jumps 7 years into the story with Kenny growing bald and fat. The script also calls for the story to bounce to and from from the States to Indonesia. Director Gaghan also, for no reason, resolves to split screen for a few minutes of the movie and then never goes back to it.
The most interesting segments of GOLD are not the location shots in Thailand. They are the ones involving the business wheeling-dealing - often with Kenny being taken for a rough ride. The best of these is the business conference in which a strategic partner is sought with an impossible conversation.
Does GOLD succeed in telling an entertaining story? The answer is up to the audience to decide but as in the words of Kelly when he first discovers gold: "the ride has begun!"
Trailer: https://www.youtube.com/watch?v=gdLXPv5NsA4
THE PASSIONATE THIEF (RISATE DI GIOIA) (Italy 1960) ****
Directed by Mario Monicelli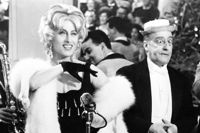 This rarely seen Italian comedy gets a release after its recent 4K restoration.
THE PASSIONATE THIEF (RISATE DI GIOIA) marks the collaboration between dramatic actress Anna Magnani and famed comedian Toto. It is a perfect match as director Monicelli's film is a perfect blend between drama and comedy. RISATE DI GIOIA literally translates to 'laughter of Joy', Joy also being the name of Magnani's character.
The film follows two friends, Umberto and Gioia (Toto and Magnani) who live by their wits working as comedians and cabaret at Cinecittà (the famous cinema production studios centre in Rome), before being invited to friends' parties or masked balls during New Year's Eve in Rome. The two, however, even though they make people laugh all the time in public, live an inner conflict, namely that the two have always to be aware to give a smile to someone, but they can never be rich and happy because they are street artists and with a precarious wage. The meeting with another thief, the well-dressed Lello (Ben Gazzara who appears to speak perfect Italian) throws their relationship into peril. Lello is low-life, classy con-man, while Umberto tries to save Gioia from the wolf's clutches.
Monicelli captures the plight of the poor. The segment where the trio enter a rich German party complete with ornaments emphasize the indifference of the rich. 'The rich loves expensive ornaments that are useless," says Gioia humorously.
Magnani is pure joy to watch - the perfect Italian drama queen. Wearing a gaudy evening dress complete with shiny spikes, her dress only underlines her loudness. The best scene has her screaming aloud when by accident, fireworks are thrown next to her during the New Year's Eve celebrations.
The film is more drama than comedy. The audience can clearly sympathize with both the characters of Umberto and Gioia as they both grab at straws to escape the drowning from poverty. Gioia is hoping for love in the much younger Lello while Umberto finally goes clean in order to save Gioia from Lello.
The ending of the film is both sad and humorous. The audience sees the two after a major setback in their lives trying still to be happy and to enjoy the good life. They dance and laugh while hailing a taxi with comical results.
THE PASSIONATE THEIF looks like a simple film on the surface, but is deep in mood, atmosphere, feeling and life under deeper scrutiny.
The Passionate Thief screens on Sunday, January 29 at 2:45 p.m. as part of TIFF Cinematheque's Volcano: The Films of Anna Magnani, running from January 27 to March 11. Curated by James Quandt, Senior Programmer, this deluxe series celebrates the ferocious Magnani, who was known as "La Magnani" or "La Lupa" ("The She-Wolf") for her volatility and voraciousness. Equally at home in farce and tragedy, melodrama and comedy, she starred in films by some of the greatest auteurs of all time and won her country's adoration for embodying characters that regular people could identify with, including fruit vendors, prostitutes, molls, convicts, stage mothers, film extras and (most frequently) long-suffering proletarian wives.
Trailer: https://www.youtube.com/watch?v=GFwFYySSWS8
THE RED TURTLE (LA TORTUE ROUGE) (France/Belgium/Japan 2015) ****
Directed by Michael Dudok de Wit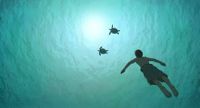 A hit at this year's Cannes, this full animated feature THE RED TURTLE is the first international co-production from renowned Japanese animation giant Studio Ghibli. It enlists the talents of Oscar-winning Dutch animator Michaël Dudok De Wit for a wondrous story about the unlikely friendship between a castaway on a deserted island and an enormous sea turtle. Done without dialogue, it is a mythical tale that could vey be the birth of man like the story of Adam and Eve. The power of the animation is in its apparent simplicity of plot, enhanced by stunning animation and music.
Shipwrecked on a deserted island, a lone man struggles to find his place in this new world. The basics for survival are abundant yet frustratingly out of reach, and danger lurks in the smallest of crevices; every isolated grotto is also a potential grave. The man cleverly uses the forest's resources to support his raft-making efforts, but his every escape attempt is thwarted by an enormous sea turtle (the RED RURTLE of the film title) who seems intent on having him stay. Enraged, he attacks the turtle, intent on killing it. What happens next is the beginning of a new chapter in the man's life, one that will instruct him in the ways of companionship and lead him to understand that nature must take its course. The turtle turns into a red-haired woman. They bear a son who undergoes a same demise of the father, falling into a crevice of water.
A tsunami also hits the island. Death also rears its ugly head but the three inhabitants of the island learn or is forced to cope with it.
THE RED TURTLE is a beautifully conceived tale. Director Michael Dudok de Wit was given Carte Blanche to do whatever he wanted with his film, and THE RED TURTLE shows the stupendous result of independent animation. The sea, the fire, grasslands and bamboo are all shown with their enormity compared to the image of man. The film might be confusing to some - with the turtle turning into a female and vice versa but the trick is to treat the story as a fable of man and his environment. Don't bother trying to figure if there is some metaphor on life hidden in the tale either. Best is just t enjoy the detailed animation and Dudok's artistry without questioning.
THE RED TURTLE emerges an emotional tale illustrating the powers and wonders of nature. Man is present but in this film, has to learn to live with the elements. A beautiful film that will cater more to art house audiences than children.
THE RED TURTLE has already garnered lots of awards. The film premiered at Cannes, where it was nominated for the "Camera d'Or", and won the "Un Certain Regard" Special Prize. It has been nominated for Best Animated Feature by the Critics' Choice Awards, received runner up for the Los Angeles Film Critics Association Best Animated Film, and has been nominated for several awards by the International Animated Film Association Annie Awards including Best Animated Feature – Independent. It recently was named runner up for Best Animated Film by the Toronto Film Critics Association as well as the Los Angeles Film Critics Circle. In February the film is up for five Annie Awards.
Trailer: https://www.youtube.com/watch?v=y3uYequDQqc
TONI ERDMANN (Germany/Austria/Romania 2016) ***** Top 10
Directed by Maren Ade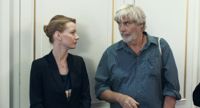 Chosen as the BEST FILM of 2016 by Sight and Sound's international critics poll, this much talked about Cannes hit is everything an excellent film can be. It is an entertaining hilarious comedy with the darker theme of life. TONI ERDMANN delivers a message on life, as subtly revealed through this-matched relationship between a practical jokester father and his over-serious corporate daughter who has forgotten how to laugh.
Germans are renowned for their obsession with organization, punctuality (they are known to alway arrive at scheduled meetings early) and rules. People have also mentioned that the lack of humour in Germans is partly due to the structure of their language. I would like to think then that writer/director Maren Ade (this is her third feature, after FOREST FOR THE TREES and EVERYONE ELSE) understands this and has a made a film based on these beliefs as her biggest joke on the German people.
Winfried (Peter Simonischek) is a retired piano teacher, a divorcee who delights in persistent pranks and impersonations that alienate (and occasionally alarm) everyone in his German suburb. He has not been much for staying in touch with his daughter, Ines (Sandra Hüller), a high-ranking management consultant in Bucharest who is as controlled and rigid as her father is impish. Ines also possesses finely tuned radar for the nuances of social interaction — a trait that serves her well in the corporate world but only intensifies her discomfort when Winfried pays a surprise visit. Whenever Ines is meeting her clients or friends, father always shows up unexpectedly with his ruffled hair and fake teeth, often pretending to be a character called TONY ERDMANN.
The film's prized sequence has father and Ines showing up together unexpectedly at a family party. Father suddenly announces that they will perform a song. He plays the piano while she breaks out delivering Whitney Houston's "The Greatest Love of All", sung not perfectly but from the heart. This is an intimate scene between father and daughter, the song sung by actress Huller herself. The words are true to what the film is all about, which makes this perhaps the best scene in a film this year. This segment got that rare standing ovation mid-way during its screening at Cannes. It is followed by another key one, in which Ines's guests show up to an unannounced 'naked conference' supposedly for work team building.
Ade's film looks so effortless that its success and effect is alarming - but in a good way. The occasional jittery framing reminds the audience that Ade is using hand held camera and mostly that an excellent film can be created without the use of special equipment, special camera or special effects.
Ade must be congratulated for her finely devised comedic set-ups, just as surprising as the unexpected times the father shows up on her daughter. She displays a prefect gift for timing and a keen eye on the surroundings.
TONI ERDMANN s a comedy on life that everyone can relate to. This is the main reason the film is so endearing. It is hilarious with so many laugh-out loud moments and also an observant piece on what corporate society has become. I have watched the film a second time - a true test of a good film if it can stand a second viewing, and I must say the second viewing was more rewarding than the first. It is so good to laugh about life and relationships. The Toronto Film Critics Association (TFCA) which I am a member of, has awarded the film the Best Foreign Language Film, Best Actress and best Director Awards.
Trailer: https://www.youtube.com/watch?v=imRcz9atLfo
WHERE THE UNIVERSE SINGS - THE SPIRITUAL JOURNEY OF LAWREN HARRIS
(Canada 2016) ***
Directed by Peter Raymont (Co-director: Nancy Lang)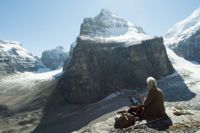 This is the story of Canadian painter and artist, Lawren Stewart Harris, CC (October 23, 1885 – January 29, 1970). After a brief introduction to the paintings, Harris background is outlined. One of his most famous works, "Mountain Forms" recently sold for over $11.2 million. Harris was born in Brantford, Ontario, and is best known as a member of the Group of Seven who pioneered a distinctly Canadian painting style in the early twentieth century. A. Y. Jackson has been quoted as saying that Harris provided the stimulus for the Group of Seven.
The voiceover is often in the first person (voiced by Canadian actor Colm Feore) of Harris as he describes his views and his paintings. Shot in chronological order, which helps the audience understand the shift in his work, the audience sees Harris's works become more abstract and simplified, especially his stark landscapes of the Canadian north and Arctic. His initial paintings showed the city, the poor parts of Toronto where he moved and lived for a while. Harris is also a humble man, not signing nor dating his work, so that his paintings can be judged for what they are - without prejudice.
While the painting are on display, directors Raymont and Lang constantly remind the audience (sometimes too often) of the Harris' purpose he envisioned for his paintings. Harris wants his admirers to embark on a spiritual journey to settle on a different plain of consciousness that hopefully is inspired by the paintings.
The film also includes interviews by experts the Art Gallery of Ontario's Andrew Hunter,
the Vancouver Art Gallery's Ian Thom, curator and former Globe art critic Sarah Milroy, biographer Peter Larisey, author Dennis Reid, curator Roald Nasgaard, collector Ash Prakash, author Lisa Christensen of Heffel's and Harris's grandchildren Stew Sheppard and Toni Chowne. Actor/comedian Steve Martin (in serious mode) also has a surprise appearance here having his say.
It is odd that two thirds through the film. Raymont decides to insert the segment on Harris's life. He goes on to tell of his unsatisfactory marriage to Trixie as well as his romance with another painter, Beth supposedly his soulmate. Raymont uses the segment to explain Harris' transition to abstract art.
An additional bonus of the documentary is the archive film footage shot by Harris himself. As he travelled through the Arctic and across Canada, his shots on film are magnificent. Even Toronto with its streetcars and old automobiles look stunning. It is odd that his painting hardly contained people. But people are plentiful in his footage.
The film also features over 130 paintings, dozens of previously un-seen photos and 8mm family films, plus works by those who influenced him, including Van Gogh, Cezanne, Gaugin, Kandinsky, Emily Carr and Georgia OKeeffe.
Director Raymont (Emmy winner Shake Hands with the Devil: The Journey of Roméo Dallaire) does his subject justice. He is fortunately to be able to show Harris archive films which really helps the audience understand the artist.
Like Harris's paintings, Raymont's documentary is occasionally therapeutic and inspiring.
Please note that this is the 1 hour 30 minute version, not the 60 minute version previously shown on TV.
Trailer: https://vimeo.com/192636801