Big films opening this week are T2 TRAINSPOTTING and BEAUTY AND THE BEAST.
FILM REVIEWS
Please note:
In order to find a review for a previous film, type in the film title in the search box followed by the ENTER key.
AFTER THE STORM (Japan 2016) ***1/2
Directed by Hirokazu Kore-eda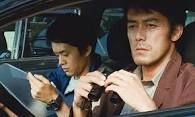 I was totally amazed with the first Hirokazu Kore-eda film I had seen called AFTER LIFE in 2003, which I considered a minor masterpiece. The British magazine did a 5-page article on him and the film hoping the publicity would get the then undistributed film distribution. It did. Kore-eda followed AFTER LIFE with a few other films, most notable being the Cannes Palme d'Or winner in 2013 LIKE FATHER, LIKE SON - again an excellent film.
AFTER THE STORM is not Kore-da at his best but at his mildest filmmaking. Don't expect the drama of LIKE FATHER, LIKE SON or the imagination of AFTER LIFE. Yet AFTER THE STORM is not without its pleasures. On the surface it is a simple film, a kind look at a loser. Ryota (Hiroshi Abe) is a failed writer, a third-rate detective, and a hardened gambler. As the film's title seems to suggest, the salient moments of his life have already passed before the beginning of the story. He won an important literary award when he was young, but his promising career vanished into thin air. Now, his father has died and his wife has left him. What he makes as a private detective, he loses on gambling and can barely pay his child support. After the death of his father, his aging mother Yoshiko (Kilin Kiki) and his ex-wife Kyoko (Yoko Maki) seem to be moving on with their lives. Renewing contact with his initially distrusting family, Ryota struggles to take back control of his existence and to find a place in the life of his young son, Shingo (Taiyo Yoshizawa). Ryoto seems resigned to his position on the sidelines of the boy's life. But Ryota works with another young man, his private-eye assistant, who fills in the position of his absent son.
The audience is left to judge Ryoto. Ryoto is a man, not without vices, but still honest man despite dishonest doings. And he is still a handsome man, besides his age, able to attract the opposite sex, as in the old classmate he meets at the beginning of the film.
Thefilm's climax takes place one night when a typhoon strikes. The broken family is forced to spend the night together at Ryota's mother's home. The ensuing interaction that is both bittersweet and tender forms the film's highlight. "I never want to grow up to be like you.", the son says. "I will always love them. They are my family." The father says at one point. These are the sensitivities always prevalent in Kore-eda's films that make them memorable. Great performances here come not only from Abe but from Kirin Kiki as Ryota's mother, who is so funny she steals every scene she is in. And as in all Kore-eda's films, there are a lot of scenes of trains. Kore-eda has said that this film is based on his personal experience of the death of his parents.
Also interesting is the observation of the ex-couple's arguments. Ryota argues with his ex-wife over seeing his son and child support. In this film, typical of Japanese films, there is argument with reasoning without any shouting or display of cheap theatrics that are common to European and American films.
There is a beautiful shot of a delicious braised pork brewing stew at one point in the film when Yoshiko tells her son: "A stew needs time for the flavours to sink in; so do people." The same applies in AFTER THE STORM - patience is needed for the audience to savour the pleasures of Kore-eda's film.
Trailer: https://vimeo.com/200226397
BEAUTY AND THE BEAST (BELLE ET LA BETE) (USA 2017) ****
Directed by Bill Codon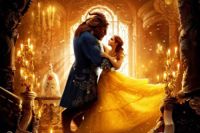 Right after two blockbuster films LOGAN and KONG: SKULL ISLAND with lots of killings and dead bodies, comes the musical family fantasy animation/live action to sober audiences back to sugar sweetness. Having no desire to see a musical live-action Disney re-make of BEAUTY AND THE BEAST, the film proves to be a surprise where magic, music and romance can still charm the hell out of a hardened audience.
It is still the same story, based on the French fairy tale novel BELLE ET LA BETE by Barbot de Villeneuve, most would be familiar with A handsome selfish price is cursed by an enchantress to be a beast forever unless he is saved by falling in love (both ways) before the last petal of her rose falls.
Belle (Emma Watson) is the young woman who is taken prisoner by the Beast in his castle in exchange for the freedom of her father Maurice (Kevin Kline). Despite her fears, she befriends the castle's enchanted staff and she learns to look beyond the Beast's exterior to recognize the true heart and soul of the human Prince within. Meanwhile, a hunter named Gaston (Luke Evans) is on the loose to take Belle for himself and later intends to hunt down the Beast at any cost. He riles up the villagers (FRANKENSTEIN style) to invade the castle, burn it to the ground and slaughter the beast. Belle eventually falls in love with Beast and they waltz together in the grand ballroom to the famous Beauty and he Beast song. Romantics in the audience should have lots of Kleenex handy - especially when Beast utters the tear-jerking line to Belle: "You came back!"
Great pains have been taken to make the film look like a fairy tale. The French village of Villeneuve in the film looks something right out of a fairy tale story book. Belle even sings in the morning, just as Snow White sang to the birds in SNOW WHITE AND THE SEVEN DWARFS. There is the icy cold winter surrounding the beast's castle (like the snow and ice in FROZEN) and the talking tea-pot, cup, candlesticks and clock as in the original animated BEAUTY AND THE BEAST.
Watson is perfect as Belle, the beauty but the film's impressive cast includes stars Emma Thompson (she gets to sing a line of the famous song), Kevin Kline, Luke Evans, Stanley Tucci, Ian McKellen and Ewan McGregor.
Gay audiences should be pleased with the gay content in the openly gay director, Bill Condon's (GODS AND MONSTERS, two TWILIGHT films) film. Josh Gad plays Gaston's gay sidekick, LeFou (obvious to all except to Gaston) who sings and prances about to no end. During the fight at the Beast's castle, one of the invaders is given a 'pretty bad boy make-over' and he is last seen dancing with LeFou in the grand closing dance scene.
BEAUTY AND THE BEAST is more a musical than LA LA LAND with most of the songs being memorable and catchy. See it! You will not be disappointed!
Interesting fact: the animated version cost $25 million while this live-action cost $160 million to make.
Trailer: https://www.youtube.com/watch?v=OvW_L8sTu5E
DONALD CRIED (USA 2015) ***
Directed by Kris Avedisian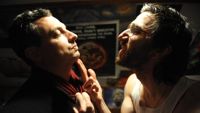 DONALD CRIED is a weird title for a movie. The reason it is called that comes clear after half the movie has passed - and it is as weird a movie as its title. But not a bad one. DONALD CRIED is a two handler comedy about two losers. But don't let what has been said turn you off this movie. Kris Avedisian who wrote and directed the film also stars as Donald and in DONALD CRIED has helmed a very original comedy piece that despite its simple setting, is an absorbing watch from start to end.
The first loser is Peter Latang (Jesse Wakeman). Peter had left his childhood home of Warwick, Rhode Island to reinvent himself as a slick, Wall Street mover and shaker. He is suddenly forced to return home to bury his grandmother. He hates Warwick. When the film opens, Peter arrives at the house and finds that he has lost his wallet on the train and unable to pay the cab driver. Peter is so annoying that the cab driver lets him off with the $15 fare instead of taking him to the train station to try to recover the wallet. Stranded and broke, Peter looks to the only person he can think of to help him out - his next door neighbour and former childhood friend Donald (played by Avedisian).
Then, the audience is introduced to an even greater loser - Donald.
Donald is a man-child who is more annoying than Peter. He speaks too close to ones face, is too much of a hugger and wears really bad clothes. Besides going on and on about things no one wants to hear about, Donald also unknowingly insults the one his is talking too. Imagine the question he asks Peter: "Do you masturbate still?" One scene has Donald at his place, almost naked reminiscing to Peter about old times. But the clincher scene has Peter waiting for Donald to finish playing his video game.
The rest of the film just follows the two 'friends' as they try to wrangle some cash that Peter desperately needs. They meet old acquaintances and do odd things like play football in the snow.
There are two segments that show the audience how f***ed-up Donald is. It is discovered that Donald had been impersonating Peter while is grandmother was sill alive. Donald pretended to be Peter so that the late grandmother would think her grandson had not left town. Another has Donald busting into the sex-making of Peter and his crush. These set-ups work well to test the relationship of the two buddies.
DONALD CRIED has begun its Toronto run at the Carlton Cinema from March 17th. The film won the American Independents Audience Award at AFI Fest and was an official selection at the 2016 SXSW Film Festival.
Trailer: https://www.youtube.com/watch?v=qc6lSzU5loo
GOON: LAST OF THE ENFORCERS (USA/Canada 2016)***
Directed by Jay Burachel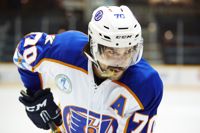 Hockey is a Canadian sport with lots of fights and violence. Hockey films have been made when this essential characteristic was removed and looked down upon. This has resulted in the worst films (SCORE: A HOCKEY MUSICAL; HELLO DESTROYER) ever made on the sport. Fortunately GOON captures the violence and rowdiness of the sport and the two GOON movies can arguably be considered the best Hockey films.
When the first GOON was released, the film poster (with the tongue between the two fingers) created an uproar and all the posters had to be taken down in Toronto. Director Burachel who co-wrote and directed the second GOON, taking over the directing reins from Michael Dowse (IT'S ALL GONE PETE TONG, FUBAR) knows hockey and loves to create 'shit' like his supporting character, Pat in the movie. In real life, Baruchel is an avid Hockey fan who has worked in raunchy comedies before with the likes of Seth Rogen and Evan Goldberg. So, GOON: LAST OF THE ENFORCERS uneven though it may be (as this is Burachel's directorial debut), is still a good effort.
The story follows the first GOON film, with most of the characters still present. The film begins with a fight that puts the lead character, Doug (Seann William Scott) in hospital and unable to play again. Doug gets a job in insurance even though he (and his boss) know nothing about insurance. The insurance segments are very funny. Doug's girl, Eva (Alison Pill) is expecting a baby. He promises to stop fighting, a promise he cannot keep. Anders Cain (Wyatt Russell, also seen in the recent TABLE 19), who put Doug in hospital is brought in as the new team captain. During the pro lockout, Doug's team, the Halifax Highlanders, unites with a bunch of new players. Finally Doug is brought back in. Confrontation and a major fight between the two result.
For a comedy, this film is more violent than any boxing film (taking ROCKY and RAGING BULL as examples). Director Burachel knows how to shoot the fights and they are not easy to watch. Burachel also knows how to film hockey games, and the matches are well executed with all the excitement of a top sports film.
Jay Burachel has a few scenes as Pat, Doug's best friend. Whenever Pat appears, there is trouble. But there are also laughs. The lead Seann William Scott appears here with full facial hair. Scott is a good enough actor, being in teen comedies like the AMERICAN PIE films and DUDE, WHRE'S MY CAR? This is the actor who plays a character that takes a dump in his enemy's cooler at a camp fire (one of the AMERICAN PIE sequels), so a lot of toilet humour ca be expected from him. Canadian actor Callum Keith Rennie plays the team owner.
GOON: LAST OF THE ENFORCERS is a male comedy about hockey. So, don't expect any messages or life lessons. The film is a lot of fun and laughs. It is like the game, very Canadian. I enjoyed it a lot.
Trailer: https://www.youtube.com/watch?v=b4N__jY27zY
THE SETTLERS (Israel/France/Canada 2016) ***
Directed by Shimon Dotan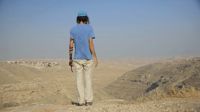 The film begins with the figure shown in the image above of a Rabbi standing and overlooking the land he has settled in. THE SETTLERS are then explained to be Israelis that have settled in the occupied land of the Palestinians. Why? Because these are the lands occupied by their forefathers and the forefathers of their forefathers, down to the Biblical times of Abraham. These are religious people. They believe the land belongs to them. Director Doton shows that some of these people are religious zealots leaning towards terrorist actions. The map of the region is shown on the screen for audiences to understand better the whole picture.
In the press notes Dotan says: "I made The Settlers because, in my view, the Settlement Enterprise has the most dramatic impact on the future of Israel, and the discussion about it, is often misinformed," Dotan says. "I set out to explore the reality in the West Bank settlements. But it soon became clear that I had to go back to the roots, to where and when the West Bank settlements began."
A good point about the film is the fact that desire being directed by an Israeli, it offers two points of view. Dotan himself has lived in a kibbutz when young and served in the Israeli military. Being highly educated, not to be biased but to have an educated point of view, his film takes no sides. He allows a Palestinian, a Human Rights expert a lot of screen time to put the troubles into perspective.
The conflict between the Arabs and Jews, the Israelis and the Palestinians is an unending one. This documentary gives a comprehensive history lesson up to the present time. The events unfolds in chronological order. History can be interesting or boring. Students of history often complain on the irrelevance of the past. The history lesson here is clearly the exception. The assassination of ex-President Rabin is also brought into perspective.
Director Dotan is an all qualified director, as stated above, to present the lesson. Dotan was born in Romania in 1949 and moved to Israel in 1959. He himself grew up in Moshav Arugot, an agricultural cooperative. He then served five years in the Israeli military as a Navy Seal before becoming a filmmaker. He went on to get his BFA at Tel Aviv University, where his student films won Israel's Best Short Film and Best Director Awards twice. Dotan is the recipient of numerous awards including, the Special Jury Prize for Best World Documentary Feature at Sundance Film Festival (Hot House), Silver Bear for Best Actor at Berlin Film Festival (Smile of the Lamb), Best Film Award at Newport Beach Film Festival (You Can Thank Me Later), two times winner of Israeli Academy Award for Best Film and Best Director (Repeat Dive, Smile Of The Lamb) and others. So, THE SETTLERS is a solid documentary filled with archive footage (many grainy black and white), and interviews from rabbis and the first settlers.
Dotan never judges the extremists, though one feels that his film is a bit biased against these settlers, who just enter and occupy Palestinian land. THE SETTLERS ends up more an important and essential history lesson for those that need to know, less understand the conflict that hopefully will come to a peaceful end in the future. What is clear is that there is too much hatred and racism and there is no impel solution.
Trailer: https://www.youtube.com/watch?v=gO2LRxXeBr0
T2 TRAINSPOTTING (UK 2017) ****
Directed by Danny Boyle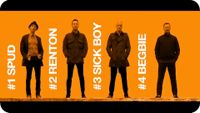 T2 TRAINSPOTTING, the 20-years after sequel to TRAINSPOTTING, is so-called after the filmmakers got the rights to use T2 (hasta la vista baby to T2 standing for TERMINATOR 2) arrives with all the characters as well as the actors and director/writer after ageing a full 20 years. Hopefully, the elapsed 20 years have made each person smarter. Judging from the movie, they certainly have.
The original can be remembered (even after 20 years) for its catchy beginning sequence when Renton runs at full speed on the street only to stop with the camera right in front of him. A reverse of that effect is achieved brilliantly at the start of T2. Renton (Ewan McGregor) is now running on a treadmill at full speed, trips and falls flat on the gym floor. The camera is neither stationary nor the character but ends with both in motion before the final shot.
Boyle is directing in top form with all the energy and innovation as his first films. I have been a Boyle fan for his early films like SHALLOW GRAVE, TRAINSPOTTING and 28 DAYS LATER and not too keen on his later ones like his over talky STEVE JOBS (there is an extended talky sequence in T2 when Renton rants about 'choosing life'), SLUMDOG MILLIONAIRE and not especially with his 2012 summer Olympics opening ceremonies.
Though it is not necessary to have seen or be familiar with the original, it is recommended to view the fist film in order to appreciate T2. All the four characters have gone on in life, though their personalities have remained intact. Renton leaves Amsterdam to return to Edinburgh. He meets up with Sick Boy (Jonny Lee Miller) who still blames him for ripping him of with money from the first film. Begbie (Robert Carlyle) has broken out of prison while Spud (Ewen Bremmer) is still hooked on candy. The villain of the piece is Begbie, who is as violent as ever, seeking to kill Renton for stealing his money.
All the actors are nothing short of perfect in their roles including Kelly Macdonald as Sick's Boy's girlfriend, Diane.
The film is much an action film as a character driven piece. The action sequences are well executed (the car chase/escape where Renton jumps on the roof of a car; the fight in the dilapidated building; the club scene) as well as the dramatic confrontations. Audiences should expect and be warned of the excessive violence, swearing and drug use in the film.
Boyle also dazzles the audience with his fancy camerawork at the start and also in the unforgettable sequence when the camera pulls back from Renton's room into a abysmal corridor.
But T2 delivers - as each actor, director and writer demonstrates. The film is impressive in all departments but most of all, it brings closure to what Boyle celebrated - the use of heroin. This mature film displays the characters now mature and grown up with the drugs perspective put well in place, artistically and less graphically.
Trailer: https://www.youtube.com/watch?v=IGdiACWiMAM
WEIRDOS (Canada 2015) ***1/2
Directed by Bruce McDonald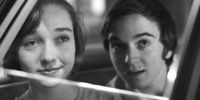 When talking about this film last year at the Toronto International Film Festival (TIFF), director Bruce McDonald says that he does not go commercial because this way, he gets to make the kind of film he wants. WEIRDOS is an excellent example of an indie film, so uniquely McDonald and East Atlantic (the setting being the province of Nova Scotia) as well being written by East Coast Award winning playwright and film director Daniel MacIvor. MacIvor also won the Canadian Screen Awards this year for Best Film Screenplay for this film.
Bruce McDonald (HARD CORE LOGO, THE TRACEY SEGMENTS) turns down the angst a little while keeping the film just as edgy, with WEIRDOS.
The setting is the town of Antigonish in Nova Scotia on the 4th of July of 1976, the American Bicentennial. Music-loving 15-year-old Kit (Dylan Authors) spends his time either alone in his room listening to Elton John albums, or hanging out with his platonic girlfriend, Alice (Julia Sarah Stone, from WET BUM). Like Kit, Alice feels out of place, and her divorced parents have too many issues of their own to offer much comfort. The film pays tribute to (or copies from, depending on how one wants at look at it) films like Woody Allen's PLAY IT AGAIN SAM to John Schlesinger's MIDNIGHT COWBOY. Andy Warhol, played by Rhys Bevan-John advises Kit just as Bogart advises the Woody Allen character. Warhol appears at various points in the film, unseen by anyone except Kit giving silly advice to Kit which Kit never takes anyway. This ploy by MacIvor is remotely funny, but serves no purpose but provide a little humour. The beginning of the film feels like MIDNIGHT COWBOY together with the falsetto part of the song resembling "Everybody's Talkin' of me" by John Nilsson.
I did not think too much of WEIRDOS the first time I saw it at TIFF, but this is one film that grows on you. Throughout the entire film, one has the feeling McDonald thinks he is pretty cool and that his film is pretty cool stuff. The film is a little weird, pretty much like its characters and like McDonald himself. WEIRDOS is the perfect title for the movie.
Just like the Oscar winning Best Film, MOONLIGHT, WEIRDOS has an unexpected coming-out gay story. Though gay, Kit has a girlfriend and also attempts sex, though to no avail. In my opinion, the gay subtext cleverer here that in MOONLIGHT.
The young actors Authors and Stone are both superb, innocent and winning. The older actors also stand out particularly Molly Parker as Kit's slightly crazy mother.
The film also renders a good message for teens. The story has Kit's dad (Stephen McHattie) drive all the way to pick his son up in Sydney when things go wrong. It shows how much parents love and go all the way out for their kids, even though they don't realize or appreciate it.
They is arguable Bruce McDonald's best movie.
(No Trailer available)
BEST BETS OF THE WEEK:
Best Action: Logan
Best Animation: Window Horses
Best Comedy: T2: Trainspotting
Best Documentary: I am not your Negro
Best Drama: Paterson
Best Foreign: Toni Erdmann
Best Horror: Get Out
Best Romance: La La Land