Big films opening this week are LIFE and POWER RANGERS.
FILM REVIEWS
Please note:
In order to find a review for a previous film, type in the film title in the search box followed by the ENTER key.
PERSONAL SHOPPER (France 2016) ***
Directed by Olivier Assayas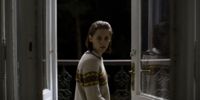 After the modest box-office success of CLOUDS OF SILS MARIA, director Oliver Assayas (IRMA VEP, CLEAN) and actress Kristen Stewart reunite with a moody ghost story called PERSONAL SHOPPER. The title character, Maureen is as the title implies, a personal shopper for a wealthy German model and designer, Kyra (Nora Von Waltstätten). Maureen also has a ghostly encounter from her recently dead brother who she was quite close with.
The closeness is explained in two reasons - necessary to convince the audience why she is so determined to have a spiritual encounter with him. One is that he is her twin. Second is that the both suffer from the same health issue, though someone could live till a hundred with it. What happened to the brother is explained by the doctor as a rarity. But Maureen cannot indulge in any excessive physical activity.
Within the first 15 minutes of the film's running time, the only thing established is that Stewart plays a personal shopper and that she has had one ghost encounter. The audience is obvious primed for a slow haul of a movie. Not much has happened except that Stewart has been walking around, mucking around and just looking at dresses for Kyra. The dresses are very glamorous, for those who like to look at dresses. Maureen is forbidden to wear the dresses. But she does, even masturbating in one of the sexier ones.
PERSONAL SHOPPER works off Maureen's character with a few side incidents. Maureen rides along on a scooter, has a few ghostly encounters (though not fully explained who the apparitions are), runs errands and has an uncomfortable encounter with a stalker on her mobile phone. The film contains a loose narrative but a strong presence in Kristen Stewart's character. Assayas is in playful mood here milking the most out of his actress. One side incident involving a murder is done Hitchcock style. Maureen discovers a brutal murder just as in the scene in Hitchcock's THE BIRDS when the first attack of the birds was discovered.
As a ghost story, the ghost appears as an apparition similar to old ghost films with dust stirred up with blurred figures. The seance scene also looks typical of those in early ghost stories.
In the end, one eventually asks whether this light hearted ghost story is any fun. Well it might be for director Assayas and his star, but it might be too much of a slow and long haul for others. Assayas leaves his film with an open ending that might have some audiences dissatisfied. But on the same hand, PERSONAL SHOPPER is not a film that lends to a Hollywood ending. Having one would have destroyed the entire atmosphere of the film Assayas had so carefully created.
The film is shot in English, with some French and German spoken (and an elaborate German song) with a moody setting in both Paris and London. Interesting but not great!
Trailer: https://www.youtube.com/watch?v=7hghXP4F3Qs
LIFE (USA 2017) ***1/2
Directed by Daniel Espinosa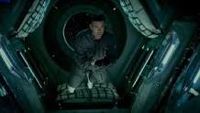 LIFE is a new science fiction horror film directed by Daniel Espinosa, written by Rhett Reese and Paul Wernick (who both penned DEADPOOL and ZOMBIELAND) and starring two of Hollywood's hottest stars Jake Gyllenhaal as Dr. David Jordan and Ryan Reynolds as Rory Adams. The two are part of a six-member eclectic crew of the International Space Station that uncovers what initially seems to be the first evidence of life on Mars.
LIFE is the scariest horror film so far this year. Espinosa and his writing crew know how to shock people with genuine scares, not using silly tactics like false alarms and the volume of the sound suddenly for no reason going three times as loud. The film is set in space. Space is an unknown entity to human beings. Anything can happen in space. The sight of space with little light and vast endless openness is in itself the scariest notion ever.
The film begins with voiceover and scenes describing an international space station. The film is totally successful in grabbing and maintaining the audience's attention. Everyone has to listen and pay full attention - or some important fact will be missed. The first thrill of the film involves the capture of a space probe returning from Mars with a sample inside. This task is obviously successful (so no spoiler alert here). The crew is tasked with studying the sample, which may be the first proof of extraterrestrial life. However, the study eventually backfires as the organism displays incredible strength and gains intelligence. The creature becoming extremely hostile and killing them all one by one. Ariyon Bakare's Hugh Derry is the first casualty in a segment where his pain is matched only by his screaming. Trapped aboard the ISS with the rapidly-growing organism humorously nicknamed Calvin, the crew must find out how to kill it before it manages to escape and destroy Earth.
There are two things going for this horror film - unpredictability and suspense build-up. Director Espinosa builds his film slowly but effectively to a horrifying climax. He knows how to create real terror. The segments in which the victim are attacked by the creature are almost impossible to watch, with the creature's tentacles entering the mouths of its victims. These start occurring after the first half of the fpm right up to the very end. A little spoiler alert here - anyone of the crew could be done away with. Don't be fooled by the star billing.
At times, the film feels like other space horror films like John Carpenter's THE THING or Ridley Scott's ALIEN films. But LIFE tries and succeeds to be different. For one the ending is totally unpredictable. But one has to probably discuss what actually happened as an explanation is not crystal clear and could be open to different interpretations.
Ridley Scott's new ALIEN reboot (ALIEN: COVENANT) arrives in a few months. How it will compare to Calvin is the anticipatory question.
Trailer: https://www.youtube.com/watch?v=LeLsJfGmY_Y
POWER RANGERS (USA 2017) *
Directed by Dean Israelite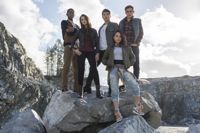 Danger! Danger! Really bad and tacky opening sequence that is a forewarning of worst things to come! The film opens with a confrontation fight between two enemies, Zoltand and (yes, ridiculously named) Rita on the planet Earth before a meteor strikes. Voiceover informs that this is the Cenazora Era - whatever that means. Something is buried which, the audience can guess will be uncovered at the present time. All of what just occurred is a warning that the next 124 minutes of running time will be devoted to stupidity. The third POWER RANGERS film, which is actually a reboot by South African director Dean Israelite is an exercise in stupidity - in story, plot, action sequences and characterization. But the film, based on the successful TV series of the same name, is occasionally stupid fun!
The first POWER RANGERS film, MIGHTY MORPHIN POWER RANGERS: THE MOVIE in 1995 made lots but the second, made two years later, TURBO: A POWER RANGERS MOVIE flopped. Director Israelite has said that his new $100 million version will be more edgy, down-to-earth and deal with more human issues. Israelite who became famous with his found-footage film PROJECT ALMANAC shows the same tactic with his camera placed within the car that is being chased at the start of the film. The resulting jittery screen does not really do anything much in terms of excitement for the car chase. In fact, a better effect was created with the camera on he dashboard of the car in the bank robbery escape scene in David MacKenzie's HELL OR HIGH WATER.
The story follows five teens with attitude (Israelite's more human characters??) are inexplicably brought together by coincidence or destiny to become the newest generation in a line of warriors known as the Power Rangers. The world rests in their hands as Rita Repulsa (Elizabeth Banks), a powerful witch and former Power Ranger, launches an assault seeking the Zeo Crystal with an army of stone golems called Putties and a giant golden monster called Goldar.
Five is a number too large. The film has to give screen time to each power ranger, with boredom setting in as quickly as an unfunny joke falls flat. The leader is a disgraced football player, Jason Scott (Dacre Montgomery) who steals a bull at the start of the film. The other members are an assortment of different races and disabilities so obviously political correct that the entire enterprise looks downright silly. There is the autistic Afro-American (two in one), Billy Cranston (RJ Cyler), the gay Trini (Becky G), the asian Zack (Ludi Lin) looking after his bed-ridden mother and Kimberly (Naomi Scott) the only other white power ranger.
The special effects and action sequences are cheesy if not tacky. It would just as well to see actors in monster costumes fighting each other. The humour is awful and unfunny. Most of the acting is terrible as well. The high school kids are played by actors over twenty. In fact, Ludi Lin is around 30 years of age. Elizabeth Banks, hardly recognizable in heavy make-up and skimpy outfit, at leasts knows how to camp up her villainous character.
POWER RNGERS is obviously aimed at a kids audience. But children's films could be really funny and entertain adults as well, as in films like the SHREK and the recent BEAUTY AND THE BEAST. POWER RANGERS is just plain awful and boring from start to end. This one competes with MONSTER TRUCKS as the worst imagined and executed film project this year.
Trailer: https://www.youtube.com/watch?v=J8ezPMcnnyY
THE SECOND TIME AROUND ( Canada 201) ***
Directed by Leon Marr
Winner of the Audience Award for Best Feature Film at the Palm Beach Jewish Film Festival, and an audience favourite at numerous festivals such as Whistler Film Festival, U.K. International Jewish Film Festival, and Atlanta JFF, among others, THE SECOND TIME AROUND, the title tells it all, is about a second chance - a second chance at love. This is the kind of film that appears every 4 months or so, catering for the seniors, much like hits like COCOON.
Katherine Mitchell (Linda Thorson), a widowed yet vibrant senior, is not looking for love a second time - not at her age, and certainly not with grumpy Isaac Shapiro (Stuart Margolin). Her first line of dialogue in the film: "I prefer cut flowers to plants. When they die, you just throw them away." She is entered into a convalescent home by her daughter, Helen (Laura de Carteret) after a hip injury. She is in a wheelchair. Convenient as made so by the script by Marr and Sherry Soules, both are widowed. Isaac and Katherine slowly fall in love, kissing and eventually taking their clothes off to sleep together (Don't worry, the scene is done in good taste.)
The film moves at a slow pace suitable for the elderly that might be too slow for the video game audience. Director Marr (DANCING IN THE DARK) knows how to work his target audience. He has Mr. Shapiro sing to Katherine while dancing the song "The Second Time Around". One cannot wish for a more romantic set-up. A few tears are also shed in the scene when the character Ben dies.
An artistically impressive seven is the one doe with shadows on he ceiling. Isaac drink and grumbles while Katherine leaves the room, shown as a shadow on the ceiling diminishing in size.
But as that title implies, the film is about a second chance in other areas as well. Katherine gets to Iive her dream of visiting the Opera House in Milan, Italy. But the film does not shy away from the realities of old age as well. As is the immobility, the intolerance of family members go caring for the elders, sickness an pain like athritis and migraines.
BAFTA Award Winner Linda Thorson (she was the first replacement of Diana Rigg's Emma Peel in the popular TV series THE AVENGERS) delivers a sympathetic performance showing how dignified an prey her aged character can be. Stuart Margoloin (most famous for TV's ROCKFORD FILES) also turns on his charm as her love interest. The two leads have good chemistry making the romance believable and charming. The late Don Francks (numerous TV series and the film FINIAN"S RAINBOW) who died last year has a small role as Murray.
The film has a good sweet ending with opera - Katherine's first love. The soundtrack is full of beautiful music from famous opera pieces like Carmen and La Traviatta.
Trailer: https://www.youtube.com/watch?v=ptLJTYw4WEI
WILSON (USA 2016) ***
Directed by Craig Johnson
Woody Harrelson had a supporting role of a neurotic teacher who did not care a f*** in the indie film EDGE OF SEVENTEEN last year. It is as if he expanded that character fully and incorporated the character as WILSON, a film in which the lead character is a lonely, neurotic and funny man who has almost given up on life. When the film opens, he quips that at present all his dreams when he was a kid (like wanting to grow up an astronaut, doctor) are all mired down in disappointment. Wilson (Harrelson) is separated from his estranged wife, Pippi (Laura Dern) but still loves her.
Wilson is likely the saddest protagonist seen in a film this year. Wilson does have a super cute terrier, that he walks daily. Every one would stop to pat this cute thing. Wilson would do a fake dog voice when this happens, creeping the patter out Wilson is also the type who should sit next to a stranger when there are lots of empty seats around i a bus or coffee shop just to strike up a conversation The film uses these segments both for comedy as well as to introduce the character of Wilson to the audience.
As WILSON is a film about losers based on a graphic mover by Daniel Clowes, who also wrote the screenplay, its humour is a bit weird and obviously not for everybody - though I cannot complain as it is very funny.
Alexander Payne (ELECTION, SIDEWAYS, THE DESCENDANTS) was originally hired to direct (he serves as one of the `film's producers) but Craig Johnson (THE SKELETON TWINS) took over, doing a fine job. The best thing about the film is its unpredictability, just like life itself. Wilson never expected himself to be thrown in jail. While confronting his daughter to give her s*** for testifying against him, he is given good news about being a grandfather. The jail term served by Wilson also surprisingly does him good, forcing him to be social in the prison society. It is believable that such a turn in character can occur.
WILSON is the role that Harrelson was born to play - annoying, eccentric, smart-talking while occasionally being smart. But he would not likely receive an Oscar nomination for such a small film. Laura Dern, an often under-rated actress does a marvellous job as the ex-wife, who keeps her dignity amidst losing her daughter and family. Acting honours also goes to the cute terrier.
In a nut shell, WILSON is a film about a sad middle-aged man called Wilson who through sheer termination finally comes of age in the goring up process. A small little small budget film, WILSON is charming and an entertaining enough film.
Trailer: https://www.youtube.com/watch?v=48cCcaxIi_E&vl=en