06
Apr
2017
Details

Category: Movie Reviews
Written by Gilbert Seah
Big films opening this week are the new SMURFS FILM and GOING IN STYLE.
The Toronto International Kids Film Festival also begins.
Best Bets of the Week:
Best Film Opening: FRANTZ
Best Horror: GET OUT
Best Family: BEAUTY AND THE BEAST
Best Foreign: TONI ERDMANN
Best Documentary: MR. GAGA
Best Comedy: T2 TRAINSPOTTING
FILM REVIEWS:
THE DEVOUT (Canada 2015) ***
Directed by Connor Gaston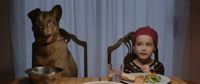 The film is quick to inform that it is based on true events. Right after the titles, the beginning segment shows a documentarist filming several children talking about their past lives.
For one, based on true events could mean a lot of things. THE DEVOUT is is the story of a humble father in a rural Bible belt town in British Columbia who must face his church, his wife and ultimately himself, and most of all the audience, when he begins to believe that his terminally ill, dying daughter was an Apollo 1 astronaut in a previous life. This might be the true fact with everything else occurring on screen being made-up of dramatic set-pieces. But the point is whether director Gaston can create a credible, effective and entertaining film.
The father in the film is Darryl (Charlie Carrick). He is the only one in the family who believes his daughter, Abi (Olivia Martin) was previously Captain Jones who died in the Apollo 1 blast off. His best friend thinks she could have heard or read about it, while his wife, (Ali Liebert) knows Abe could have got the name Jones from her teacher with the same name.
The film meanders on and on demanding a lot of patience on the part of the audience. When Darryl talks to his pastor about the daughter's past life, the pastor's answer is, quoting from the Bible's new testament: "Trust in the Lord and lean not unto thy own understanding." The pastor is straight faced when the words are uttered as is Daryl's, listening but with the words not going in. It is never clear whether the statement is made as comic relief after Darryl's troubles or series concealing. There are similar segments in which one can only guess the intent of the director's intentions.
Director Gaston does not require to have his audience be on the side of Darryl. No one believes Darryl. He is ostracized from his church. His wife thinks he is just too much putting the child through what only he believes. Darryl believes that if his daughter has a past life, then if he could find out what her next life will be, he would be able to contact her and thus her daughter will not really die. During the first 3/4 of the film, the audience is made to feel as well that Darryl is too much. It is only later that the audience feels a little sympathy for the father, only because he is left alone but kicked out by his wife and mother-in-law, Ava (Garbielle Rose) from his home. His stay at a cheap motel is one one the film's funnier bits.
Despite the film's long and slow haul, it picks up nicely for a gripping climax at the end. It is a case of two different worlds of beliefs - Christianity vs. past-lives.
This crisis-of-faith drama has been received very well on its home turf, Vancouver, Canada where it was made. It won a total of 7 Leo Awards last year winning: Best Motion Picture, Best Screenplay, Best Actor, Best Actress and Best Performance by a Female in a Supporting Role for 5-year-old Olivia Martin. It also received honours from festivals such as the Vancouver International Film Festival, South Korea's Busan International Film Festival, the Victoria Film Festival, and China's Shanghai International Film Festival.
Trailer: https://vimeo.com/138141946
FRANTZ (France/Germany 2016) ****
Directed by Francois Ozon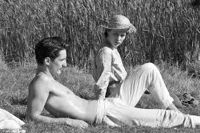 What would be another year without another film from French director Francois Ozon? Ozon's last two films were JEUNE & JOLIE and LA NOUVELLE AMIE and my favourites are SITCOM and LES AMANTS CRIMINELS. Ozon's films have often been about twisted love. FRANTZ is no different.
At one point in the film, the protagonist is given the message to live and love life. The advice is more easily said than done. Ozon's entire film is devoted to prove the fact.
FRANTZ is Ozon's (which he co-write with Phillippe Piazzo) elegant tale of love and remembrance set in a small German town in the aftermath of World War I (1914-1918). A young woman, Anna (Paula Beer) mourning the death of her fiancé, Frantz forms a bond with a mysterious Frenchman who has arrived to lay flowers on her beloved's grave. The mourning is representative of a larger national mourning where many Germans (and French) soldiers lost their lives. The question immediate to ones mind is who the Frenchman is and why he is laying the flowers. With Ozon, an open gay director, the best guess (and mine too) is that the Frenchman is Frantz's gay lover and that the gay relationship was kept from the family. That would have been too obvious. This is not the case. The secret is revealed and only revealed about the half way mark of the film.
Anna's German home town are just beginning to emerge from the shadow of horrendous war. Frantz's parents are shattered over their son's death. The stranger reveals himself to be Adrien (Pierre Niney) who knew Frantz in the pre-war period, when the two of them became fast friends over their shared love of art and, in particular, music. But there is much more to the story, which is revealed a bit at a time in Ozon's carefully calculated though slow moving tale of redemption.
Anna is convincingly portrayed by 21-year old Paula Beer. Pierre Niney, famous for his lead role in YVES SAINT LAURENT shows off his magnificent (despite the artificially inserted made up war wounds) male body, basking in the son, reminding the audience that this is a film by Ozon. Ernst Stötzner and Marie Gruber are also excellent playing Frantz's parents Doktor Hans Hoffmister and Magda Hoffmeister.
A bit of needed tension is provided by the village's hatred for the French. Whenever Adrien walks about alone or at night, there is fear that he might be killed or badly beaten.
There are many issues on display in this post World War 1 drama. The most important is the individual's search for happiness. This is seen not only from Anna's point of view but also from her suitor, Frantz's parents and also from the much oder Mr. Kreutz (Johann von Bülow) who wishes Anna's hand in marriage after hearing of Frantz's death.
This is Ozon's most emotional and sombre film, again meticulously crafted and though might be tedious to some, succeeds in the very end. The film is shot in both German and French, black and white and in colour. Ozon reportedly drew his inspiration from the Ernst Lubitsch's 1932 drama BROKEN LULLABY, with stunning visual references to painter Caspar David Friedrich. His next film L'AMAMT DOUBLE with his regular Jeremie Renier and Jacqueline Bisset should be something to look forward to.
Trailer: https://www.youtube.com/watch?v=XO_z5BRsFnM
I CALLED HIM MORGAN (Sweden/USA 2016) ***
Directed by Kasper Collin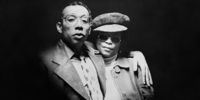 The film begins with the voice of a radio dj, describing the weather of the fateful stormy night in February of 1972, when the talented and much celebrated jazz trumpeter Lee Morgan was shot dead by his wife Helen during a gig at a club in New York City. The murder sent shockwaves through the music community, and the memory of the event still haunts those who knew the Morgans.
This documentary by Swedish filmmaker Kasper Collin (MY ANME IS ALBERT AYLER) is a love letter to two unique personalities and the music that brought them together. The film title implies that it is a twin story of two people - Lee Morgan and the woman, Helen who utters the sentence "I called him Morgan". The film is about love, jazz (lots of memorable jazz tunes performed here) and America, with cinematography by Bradford Young and the clever editing by Dino Jonsäter, Hanna Lejonqvist, Eva Hillström and director Kasper Collin.
The dj at the start ends up a lecturer at the university that Helen takes a philosophy course with. The professor tells his class about his love for jazz. When Helen tells him that he is the wife of Morgan, the professor immediately knows her to be the wife of Lee Morgan and asks to interview her at some point. She grants the interview which enables a large portion of the film to achieve its greatest effect - a candid tale about Lee and Helen Morgan rendered by Helen herself.
The documentary traces all the events that lead up to this sad state of affairs. Helen was interviewed after her release from prison, just a month before she passed away, The film succeeds on several levels - as a jazz history on talented trumpeter Lee Morgan - his fight against drugs; the crime of the shooting as well as Helen's redemption serving the Christian church. Others interviewed, who put a perspective to the proceedings are drummer Albert Heath, saxophonist Billy Harper, and legendary saxophonist and composer Wayne Shorter.
Director Collin does not shy away from describing the individual characters of his two subjects. He shows Helen to be a great cook, a wonderful talker who can make friend easily while Lee to be a classy dresser and big spender who enjoys the riches of his jazz talent. Helen's background is also under scrutiny, with her poverty and being a mother at a very early age even before being her teen years. Her son is also interviewed. The background gives the audience insight of her behaviour. The jazz atmosphere is also captured on film with performances by Lee and his jazz band.
There is much to appreciate in this documentary - whether it being the love for jazz or the love of watching family drama with murder thrown in for good measure. There also are many lessons in life on display. The climax of the film is the detailed description of the murder as well as Helen's redemption.
I CALLED HIM MORGAN is also an absorbing and fascinating documentary on life - how strange life can turn out to be - and how one can learn to control life or let bad things just happen.
Trailer: https://vimeo.com/209778666
SONG TO SONG (USA 2017) **
Directed by Terrence Malick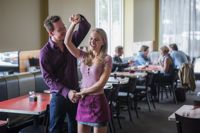 Terrence Malick's films have been accessible to some and highly inaccessible to others. The best example is Malick's TREE OF LIFE that the Toronto Film Critics association awarded Best Film of the year that most of the public hated. Malick's last film was his indulgent ode to the Universe which he made though the man is neither a scientist of physicist. That was a complete mess.
His latest indulgent film SONG TO SONG begins at a concert of some sort where the crowd is wild and violent. It is an energetic scene that provides some promise of an exciting film that never comes to fruition. As the film unfolds, it is revealed that SONG TO SONG is supposedly a film about life that is led from song to song or from kiss to kiss.
SONG TO SONG is a love story set against the Austin, Texas music scene, with two entangled couples — struggling songwriters Faye (Rooney Mara) and BV (Ryan Gosling), and music mogul Cook (Michael Fassbender) and the waitress whom he ensnares, Rhonda (Natalie Portman) — chase success through a rock 'n' roll landscape of seduction and betrayal. The betrayal involves Faye who hides her affair with Cook from BV. BV has a fling with Amanda (Cate Blanchett) while Faye also experiments with same sex with Rhonda. The film intercuts frequently among the couples, without any meaning or direction.
The film contains a lot of voiceover, particularly from Rooney Mara at the beginning of the film.
SONG TO SONG is stunningly shot by cinematographer Emmanuel Lubezki with credit also going to Malick. The best spectacular scenes are the ones with the rooftops, the crystal clear waters, the beaches including interior scenes like the gorgeous decorated and furnished apartments.
It is difficult to judge performances when a film has no narrative or direction. But Malick, has assembled, besides the main stars mentioned above, other famous names in his cast like Val Kilmer, Iggy Pop, Tom Sturridge, Holly Hunter and Lykke Li.
The film's first cut was 8 hours and shortened to two hours with huge snips that included singer Patti Smith totally removed from the film. Even Fassbender thought he would have been totally cut out of the film leaving only his voiceover.
In SONG TO SONG, Malick delves into romantic relationships in an experimental type film where narrative is thrown into the wind. The film is often all over the place. incoherent and senseless.
The critical response to the film has been pretty bad so far with only a few praises. It currently stands, at the point of writing, at just the 50% mark on meteoritic and rotten tomatoes. SONG TO SONG is also one of the lowest rated Malick films.
As in almost every Terrence Malick film, SONG TO SONG is undeniably, a visual treat. But that is all that can be said about the film. It also runs too long at 129 minutes.