27
Apr
2017
Details

Category: Movie Reviews
Written by Gilbert Seah
Quiet week for films opening this week. Chance then to see some good documentaries now playing at HOT DOCS 2017 in Toronto.
Best Bets of the Week:
Best Horror: GET OUT
Best Family: BEAUTY AND THE BEAST
Best Foreign: TONI ERDMANN
Best Documentary: PERFUME WAR
Best Comedy: T2 TRAINSPOTTING
To find a review for a past film, key in film title in the 'SEARCH' box.
FILM REVIEWS:
COUNTING FOR THUNDER (USA 2015) ***
Directed by Phillip Irwin Cooper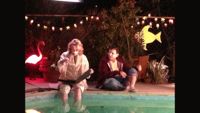 It should be noted that this autobiographical film started out as a one-man play where Phillip Irwin Cooper played no less than 30 different odd characters. But Cooper has taken his play out in the open quite well, as it is difficult to guess that the film originated that way. Cooper does the writing, directing and lead role in the film.
Phillip Stalworth (Cooper) is an actor unlucky in work, money and love. He goes back home from California to the deep south, Alabama to help out during a family crisis. His mother, Tina (Mariette Hartley) has been diagnosed with cancer. He is more attached to her than to his father, Garrett (John Heard) who in turn is closer to his sister (Alison Elliot). So why is this film advertised (billed) as a LGBT film? Phillip is bi, who has made out with both sexes. While back in Alabama, he has a fling with an old school-mate, Joe Tishman (Peter Stebbings). There is no nudity or skin in this film.
The film benefits from two veteran actors, Hartley and Heard. Stebbings is sexy enough or at least plays sexy quite well. Cooper, however, is fond of making awkward faces whenever conversation is made. There is one scene with a key dialogue that goes against Cooper's face making. Mother says the wise words that in a photo, the snapshot taken of there person is one that is frozen and that person will be remembered forever with that pose. This means Cooper will be remembered forever in his film as the man who makes awkward faces.
On the more serious side, COUNTING FOR THUNDER is an honest and earnest film from the heart of Cooper. There is the pain and tenderness of the lead charter that emancipates from the screen. The audience can tell that Coper is playing a real character. Cooper does not go for cheap laughs such as joking about people of the deep south.
The film contains a few really odd yet funny scenes. One wonders if they turned out this way by accident or were they carefully planned. One is the meeting outside the house where
Joe Tischman gives Phillip some collard greens from his garden telling him that he looks frazzled and the greens with olive oil and sea salt will brighten any day. While the two talk, their body language turns weirder, as if they were two roosters fluttering their feathers to see who is the more attractive.
At one point in the film, Thomas asks his mother while high on hashish, "Have you ever felt at any time that nothing in your life has every went the way that it should?" And they burst out laughing. It is an excellent scene showing that Cooper is able to laugh at his own material. But the film is more touching than funny. The film's confrontation scene between Phillip and his father, however feels a bit forced.
COUNTING FOR THUNDER works better as a family drama than as a south middle age coming out story. The film will be released in the U.S. and Canada via Wolfe Video on May 2 on DVD & VOD and across all digital platforms including iTunes, Vimeo On Demand, and WolfeOnDemand.com and many major retailers.
Trailer: https://vimeo.com/202288712
I AM HEATH LEDGER (Canada 2017) ***
Directed by Derik Murray & Adrian Buitenhuis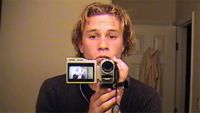 Thunderbird Entertainment is releasing I AM HEATH LEDGER in select Cineplex theatres across Canada for a special event screening on May 4th, Thursday. The film had its world premiere at the Tribeca Film Festival on April 23rd, and takes an intimate look at the remarkable life and career of Heath Ledger, featuring interviews with Naomi Watts, Ben Mendelsohn, Ang Lee as well as his family and closest friends.
The big question is why would anyone but a true Heath Ledger fan want to spend 90 minutes of their lifetime in a theatre watching a documentary of his life.
Before dismissing the film, it should be noted that there are many things that can be learnt from the film, and from the life of Heath Ledger. Heath Ledger died from cardiac arrest after taking prescription drugs. He won an Oscar (posthumously) for his role of The Joker in THE DARK KNIGHT and did a great job as a gay cowboy in BROKEBACK MOUNTAIN, his two biggest roles (clips shown). But there is a lot of the man that many do not know.
The doc on Heath Ledger begins with a musician who talks candidly about the late Australian actor. Ledger has no time for anything that has no risk. He lived on the edge." And more important, these words, "He is one person that is too big for this world."
These are other quotations describing Heath Ledger:
Heath lived life to its fullest.
He knew everything about the camera.
He was documenting everything. He never stopped.
Music was always in him.
He was big in sharing in success.
He truly was an artist.
He was a one-man force of nature (referring to his video direction).
The most engaging effect of Ledger is his energy. He would show up at the early morning at friend's place for breakfast and never run out of ideas as a filmmaker. His constant proximity to a camera allows his doc to show many candid footage of the artist. A few of these show his limitless energy, which is indeed catching and admirable.
Offering insight are the interviews with the famous actors who have worked with Ledger in his other films. Among them are Mel Gibson in THE PATRIOT, Emile Hirsch and Naomi Watts in LORDS OF DOGTOWN and Djimon Hounsou in THE FOUR FEATHERS.
The film spends time on BROKEBACK MOUNTAIN and with reason. Director of the film Ang Lee speaks of his performance how he would nail the acting target. This was the film which he, a top star of the time, plays a gay cowboy. It was a film that changed Ledger's life for two reasons. It marked his maturity as an actor and he met future wife, Michelle Williams, who had a supporting role in the film.
The film is biased in that it sidesteps any bad characteristics of Ledger. His drug use is totally dismissed with nothing mentioned also of his partying and drinking. Unlike the doc on Amy Winehouse, AMY which shows both sides of that singer/songwriter, I AM HEATH LEDGER only shows one side, the good side of Heath Ledger.
Trailer: https://www.youtube.com/watch?v=5PPTDsTnaPk
NORMAN: THE MODERATE RISE AND TRAGIC FALL OF A NEW YORK FIXER
(USA/Israel 2016) **
Directed by Joseph Cedar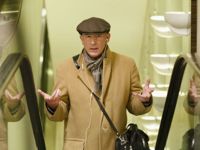 Not to be confused with the other film NORMAN made in 2010, this new NORMAN comes with a long subtext in the title that essentially tells everyone what the film is about.
Written and directed by Joseph Cedar, NORMAN (film's original title was OPPENHEIMER STRATEGIES) tells the moderate rise and tragic fall of the said man. The film is well shot and directed as a combination of set pieces are performed almost meticulously by veteran actor Richard Gere. At the age of 67, Gere could be almost be doing old fart movies like GOING IN STYLE. (Michael Caine, Morgan Freeman and Alan Arkin share the average age of 80), Here in NORMAN, Gere is in top form, articulating his character who still has the ability to charm and 'cheat' investors of their hard earned savings.
Cedar's film begins with two dramatic set pieces that show Norman hard at work. In the first, he is unsuccessful while he succeeds in the second. In the first segment, he stalks a high-profile businessman interrupting his private life, while he is jogging in the morning to pitch his deal. In the second, he successfully courts a young politician, Nicha Eshel (Lior Ashkenazi) after paying for his shoes at a shoe store. (French actor Isaac Bankole is immediately recognizable as the shoe salesman who flatters Eshel.) Three years pass and Eshel becomes Prime Minister of Israel. Eshel's name is used to no end by Norman in all his present and future schemes.
At the film's start in one of Eshel's speech, he says: "I do not look at the way things are and ask: Why? I look at the way things should be and ask, why not?" The same idea can be used to critique NORMAN. The film is fine but the question that should be asked is what the film should have been with the question why not.
For one, nothing is mentioned of Norman's background. Norman is shown the way he is - no girlfriend, minimal family and a loner at heart and in life. It is hard to identify with a person like Norman and especially as he is a trickster at heart. Norman has few redeeming qualities. There is no suspense in the way he could have got caught which could have added some needed suspense into an otherwise monotonous film.
Gere is good and the film contains an impressive cast of actors that include French Bankole and Charlotte Gainsbourg and others like Hank Azaria (always appearing in con films), Michael Sheen, Dan Stevens and Steve Buschemi. One could say that Gere is too good looking an actor to play a shady character like Norman. But one could argue too that as Gere said, when he was here for the film at TIFF that it shows that there is a Norman in each one of us.
The film is shot partly in Hebrew and English in New York City where the story is set. NORMAN is not bad but could be better. And why not?
Trailer: https://www.youtube.com/watch?v=EXFCrl37HzU