04
May
2017
Details

Category: Movie Reviews
Written by Gilbert Seah
This week's big film opening is GUARDIANS OF THE GALAXY VOL. 2 which Disney/Marvel hopes to break lots of records. Other notable films opening include JACKIE BOY and THE DINNER amng a few dcoumentaries. HOT DOCS 2017 is in it final week in Toronto.
Best Bets of the Week:
Best Film Opening: I, DANIEL BLAKE
Best Horror: GET OUT
Best Family: BEAUTY AND THE BEAST
Best Foreign: TONI ERDMANN
Best Documentary: PERFUME WAR
Best Comedy: T2 TRAINSPOTTING
To find a review for a past film, key in film title in the 'SEARCH' box.
FILM REVIEWS:
THE DINNER (USA 2016) ***1/2
Directed by Oren Moverman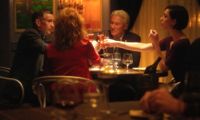 THE DINNER is basically a four handler psychological drama which shows how far parents will (or will not go) to protect their children. In THE DINNER, two family of parents sit down to a dinner at a posh restaurant to discuss the implications of their children who have killed a homeless woman by setting her on fire.
As appropriate for a film entitled THE DINNER, the film is told in four parts - aperitif, main course, dessert and digestif. The film also contains acute and often hilarious observations, lightening the film's serious theme, of the posh restaurant. It is clear that director Oren is not fond of these hip establishments. Paul Lohman (Steve Coogan) constantly hurls insults at the waiters and servers to the point of vulgarity. It is of great relief that at one point the maitre'd finally tells him off.
Director Moverman (THE MESSENGER, LOVE AND MERCY) is expert at getting the audience's attention and creating drama at the dinner table. This is evident at the one hour mark of the film when all the hidden facts of the incident are slowly revealed. The key confrontation scene takes place in the Library section of the restaurant. It is really odd that the music is played quite obtrusively during the conversation. I am not sure whether this is done on purpose to up the ante during the segment because the music is really loud and annoying. It is certain that this kind of music is never played at any restaurant's waiting area.
Steve Coogan ditches his British accent to play a sarcastic American teacher. The reason he was chosen for this film THE DINNER has likely something to do, though it does out really matter, being in the food/restaurant critic films THE TRIP and THE TRIP TO ITALY. Coogan, known to be sarcastic in real life, steals the show, managing to elicit a few laughs from his sarcastic remarks at the awkward dinner situation. It is surprising that he gets second billing to Richard Gere, likely because this is an American film and Americans might not know who Coogan is. Gere is quiet in the first half of the film, showing his true acting colours only after the second half. Laura Linney is as usual, very good as the mentally disturbed wife.
The film accurately touches the right chord on when human beings cannot come to an agreement and cannot no longer live with each other. This comes about, as the film demonstrates, when ones basic principles go against another's. Stan wants his son to pay for his crime, his wife does not and neither does Paul's wife Claire. It is clear that mothers will normally go all out to protect their children, particularly sons, while fathers are more inclined to teach their sons to do what is right.
Moverman manœuvres his film towards an exciting climax where no one can foresee who will do what at the end. The ending turns up quite a brilliant touch too (not to be revealed in the review).
Trailer: https://www.youtube.com/watch?v=zP26KWVw5jE
FIRST ROUND DOWN (Canada 2016) **
Directed by Brett and Jason Butler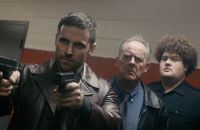 FIRST ROUND DOWN begins with a very impressive start. Hockey stud looks at himself in a tight polo shirt in the mirror. He drives a vintage plymouth with the voiceover saying something about hockey as he speeds his car to deliver, yes, deliver pizzas. He is given flack including insults like "Loser!" But this never gets him down. The recycle trash cans by the street indicate it is not a period piece but a contemporary story. This culminates with a catchy "The Good old hockey game (is the best game you can name)" played to the opening credits and voiceover where the audience learns more of the film's protagonist.
Set in small town Hamilton, the Butlers capture the spirit of the Canadian small town mentality. The guys, especially the hockey fans are loud, obnoxious and male chauvinist pigs. The women are slutty, talking dirty among themselves while the older folk talk of the town's past glory - i.e. Timothy Tucker's glory days.
The film is split into three parts, titled as periods as in a hockey game. The story revolves around Tucker (Dylan Bruce from ORPHAN BLACK), a former hockey prodigy, who returns home to take care of his younger brother after their parents pass on. Having spent the last ten years as a hit man for the mob in Montreal, Tucker now lives on the straight and narrow as a pizza delivery driver, laying low and paying the bills. However, a chance encounter with his former girlfriend, Kelly Quinn (Rachel Wilson, THE REPUBLIC OF DOYLE) coupled with the Sterling Cup reunion and the untimely arrival of his old mob boss in town has Tim's checkered past catching up to him faster than he can plan one final heist to move on once and for all.
The film falls into the trap of having the same identical plot of many small town movies. We have the hero who has returned to the small town to prove himself. He finds his former girl engaged and tries to win her back. There is some celebration organized to remember his glory and the man obviously proves himself. All these elements are present in FIRST ROUND DOWN.
Stage, television and film actor Rob Ramsay must be 'complemented' for playing the most obnoxious and annoying character in a movie so far this year, probably beating Jack Black an actor I just cannot bear to watch. Bobby, who Ramsay plays not only annoys the audience with his shouting and weird noises, but also annoys every character in the film - his best friend, his mates and the girls. Dylan Bruce is ok as the lead hunk who has the good looks for a star hockey leading man.
For hockey as the inspiration for the Butler's film, there is surprisingly few hockey games on display.
FIRST ROUND DOWN started well - funny, stylish and offbeat. But the film unfortunately gets mired down in its silly predictable story.
Trailer: https://drive.google.com/file/d/0B6G5XNDhIpWiSmd0eW1kWUhZYlU/view
GUARDIANS OF THE GALAXY VOLUME 2 (USA 2017) **
Directed by James Gunn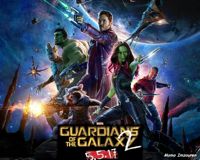 GUARDIANS OF GALAXY Volume 2 follows exactly the path of sequels - louder and more of what were found in the original.
If the first film is your cup of tea, is is doubtless that you will enjoy the volume 2 - because it is nothing more than a replica of the same, only with Disney/Marvel going haywire and completely berserk. The best example is the climatic fight scene where during the battle between the hero and villain, the hero suddenly turns into a pixeled chomping Pacman. (Silly but funny!)
The films does boast an awesome soundtrack. Those who love the oldies, might go out and buy the soundtrack, maybe even skip the movie. There are are familiar songs, some seldom heard for a long time and some choice ones I have never heard before. The film is scored, as in the first film by Tyler Bates.
So, who are these Guardians of the Galaxy? The leader is an unchallenged Peter Quill (Chris Pratt) who has a romantic fling with Gamora (Zoe Saldana), an alien orphan fighting to redeem her past crimes. There is also Drax the Destroyer (Dave Bautista), a highly skilled warrior, Baby Groot (voiced by Vin Diesel) and Rocket (voiced by Bradley Cooper). There is absolutely no explanation why Baby Groot is in this film after a larger Groot died in the original film.
Subplots are thrown in with additional characters like Nebula (Karen Gillan), Gamora's sister. The only other character of importance is Quill's dad, Ego (Kurt, Russell) who turns out to be the film's villain.
The plot of the film involves the Guardians of the Galaxy saving the Galaxy from destruction, once at the start of the film and then again. But the guardians are a comical troupe led by no less than a character of the same mould. They obviously get not trouble while saving the galaxy - all these antics supposedly providing fun and reason for millions of cinemagoers around the world to cough up money for an admission ticket or even more to see the film in imax 3-D.
The film contains lots of irrelevant and meaningless quotes that should amuse those easily amused. When Quill's father turns bad, Quill's adopted father Yondu (Michael Rooker) tells him: "He might be your father, but he is not your daddy!" Or goes the another saying: "I know who you are, because you are me!"
There is a lot of ego on display here. Not only is the villain named Ego but he is also omnipresent as the entire planet which is also called Ego. There is the egoistic rivalry between the two sisters and more important, the rivalry between the father and son. The father is the personification of ego. He says:'What I have planted is an extension of myself so that eventually, everything is me."
It is evident that director Gunn has put in a lot of effort to make Volume 2 worth the price of the admission ticket. But take away the special effects and production design, dazzling and expensive though they may be, and what is left is a narrative mess of a tedious convoluted plot littered with irrelevant humour.
Trailer: https://www.youtube.com/watch?v=2cv2ueYnKjg
I AM HEATH LEDGER (Canada 2017) ***
Directed by Derik Murray & Adrian Buitenhuis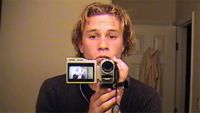 Thunderbird Entertainment is releasing I AM HEATH LEDGER in select Cineplex theatres across Canada for a special event screening on May 4th, Thursday. The film had its world premiere at the Tribeca Film Festival on April 23rd, and takes an intimate look at the remarkable life and career of Heath Ledger, featuring interviews with Naomi Watts, Ben Mendelsohn, Ang Lee as well as his family and closest friends.
The big question is why would anyone but a true Heath Ledger fan want to spend 90 minutes of their lifetime in a theatre watching a documentary of his life.
Before dismissing the film, it should be noted that there are many things that can be learnt from the film, and from the life of Heath Ledger. Heath Ledger died from cardiac arrest after taking prescription drugs. He won an Oscar (posthumously) for his role of The Joker in THE DARK KNIGHT and did a great job as a gay cowboy in BROKEBACK MOUNTAIN, his two biggest roles (clips shown). But there is a lot of the man that many do not know.
The doc on Heath Ledger begins with a musician who talks candidly about the late Australian actor. Ledger has no time for anything that has no risk. He lived on the edge." And more important, these words, "He is one person that is too big for this world."
These are other quotations describing Heath Ledger:
Heath lived life to its fullest.
He knew everything about the camera.
He was documenting everything. He never stopped.
Music was always in him.
He was big in sharing in success.
He truly was an artist.
He was a one-man force of nature (referring to his video direction).
The most engaging effect of Ledger is his energy. He would show up at the early morning at friend's place for breakfast and never run out of ideas as a filmmaker. His constant proximity to a camera allows his doc to show many candid footage of the artist. A few of these show his limitless energy, which is indeed catching and admirable.
Offering insight are the interviews with the famous actors who have worked with Ledger in his other films. Among them are Mel Gibson in THE PATRIOT, Emile Hirsch and Naomi Watts in LORDS OF DOGTOWN and Djimon Hounsou in THE FOUR FEATHERS.
The film spends time on BROKEBACK MOUNTAIN and with reason. Director of the film Ang Lee speaks of his performance how he would nail the acting target. This was the film which he, a top star of the time, plays a gay cowboy. It was a film that changed Ledger's life for two reasons. It marked his maturity as an actor and he met future wife, Michelle Williams, who had a supporting role in the film.
The film is biased in that it sidesteps any bad characteristics of Ledger. His drug use is totally dismissed with nothing mentioned also of his partying and drinking. Unlike the doc on Amy Winehouse, AMY which shows both sides of that singer/songwriter, I AM HEATH LEDGER only shows one side, the good side of Heath Ledger.
Trailer: https://www.youtube.com/watch?v=5PPTDsTnaPk
I, DANIEL BLAKE (USA 2016) ***** Top 10
Directed by Ken Loach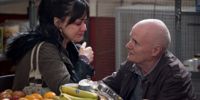 British director Ken Loach is one director that constantly makes films about the country's social problems - be it child services (LADYBIRD, LADYBIRD), the working class (RIFF-RAFF) or growing up poor (KES his first and best feature film, SWEET SIXTEEN). In I, DANIEL BLAKE, his new film, the setting is Newcastle where the Geordies speak with their accent. The accent can be understood as the actors speak slow enough and enunciate clearly but the film still comes with English subtitles.
Daniel Blake (Dave Johns, who won this year's BFTA Award for Best Actor for this performance) is caught in a rut. The government services are sending him in circles and he is out of patience and money. After Daniel suffers a heart attack, he is on the dole. But he is 'sanctioned' and has to show that he is applying for a job to keep his benefits. But he cannot really work because of his heart condition. It does not help that Daniel is not digital by default, i.e. he is not familiar with using the computer. While at one of these meetings, he meets Katie (Hayley Squires), a single mother who has moved from London to Newcastle with her two children because she is finally given a flat to live in. The two poor souls become good friends - each helping each other out.
There is a nice tune in the film called "Sailing On" by Ronald Binge. The tune has a great significance as Daniel's late wife used to tell him while sick with him looking after her: "All I want to do is sail away, with the wind at my back." These words will have again special significance at the end of the film.
Unlike a lot of films about social problems, Loach's film (written by Paul Laverty) shows that there are still good people around - even in government offices, particularly in the scene when one sympathetic officer, Ann (Kate Rutter) offers him, for the first time, decent and heart-felt advice.
The most important message of the film is uttered no less than by Daniel himself. "When you lose your self respect, you are done for." But the film shows how difficult it is to keep this self-respect and honesty. His neighbour, a black nicknamed China (Kema Sikazwe), finally had it and starts selling sneakers mailed from China selling them at 80 quid while these same shoes are found sold in stores in the high street at more than double the price. Daniel frowns on China. The film shows easy money could come by like an opportunity knocking at ones door, though it may not be a good thing. Katie's children are in dire need of essentials like food and shoes. She opts for the easy way out like shoplifting (though she does get caught) and later on more desperately as an escort. Daniel finds out. The confrontation scene between the two on the subject is deeply emotional and gut wrenching to watch.
Ken Loach shows that a film appearing so simple with no special effects, cheap theatrics, sugar coating or pretentious dramatics can turn out to be so moving and absorbing. I, DANIEL BLAKE is a great film. It took away the Palme d'Or this year at Cannes. Bring lots of Kleenex!
Trailer: https://www.youtube.com/watch?v=ahWgxw9E_h4
JACKIE BOY (Canada 2015) ***1/2
Directed by Cody Campanale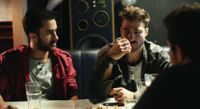 As far as nasty films go, JACKIE BOY is arguably the nastiest screened this year. But this is not necessarily a bad thing. Ottawa based writer/director Cody Campanale has nailed a gritty, disturbing yet absorbing tale of self-destructive males on the sexual prowl.
The film's lead character is Jack (Alino Giraldi) nicknamed by his close friends as Jackie Boy. The film never reveals the race of the three, though they look East Indian, but more likely Italian from the name of the actors portraying them. When the film opens Jack has picked up a girl at a party and they make out, doing drugs and drink. He takes her home and shoots lots of nude shots of her using his cellular. When she is sleeping, he posts them on twitter under #meow (obviously for pussy). The film has a contemporary edge, with whatever is happening on screen - the disco, pots and pans music, the drugs, the social media and the liberal decadence. But Jackie's mean deed will come back to haunt him later in the story.
But Jackie eventually meets Jasmine (Shannon Coultier), a mysterious woman who cock teases Jack to no end. She also causes a rift between him and his best friends Cal (Edward Charette) and Tony (Andrew Di Rosa).
Campanale's film deserves credit in many departments. For a sexual predator, director Campanale has achieved the tough task of getting the audience to root for him. This is accomplished in several ways. For one, he is shown to be kind to his pet cat, slapping his friend Cal who has shot the cat with a paintball and cleaning it gently after. He has a sick father who he visits and looks after in hospital. But mostly, Campanale shows that his friends are worse than him. Cal, though cleans Jack up after a night vomitting from drink and drugs, assaults Jasmine while Tony is a no-good fat husband who fools his wife to think that he is on a diet to lose weight as well as believing him to be looking for work. Jackie is also shown to be turning into a more responsible male after falling for Jasmine. When Jackie finally gets what is due to him from his past acts, the audience actually sympathizes with his character. But the film never shows what Jackie or Cal do for work or their background how they have became buddies.
Alino Giraldi proves to be an actor capable of carrying an entire movie. He is not the sexiest person alive, but the camera knows how to create that needed sexiness by focusing on his tattoo, clothes and hunky build. The camera also does not shy from showing particularly the male genitals.
JACKIE BOY ends up a film one would appreciate more than one would imagine. It is well shot, written (though with sparse dialogue), directed and acted and is an absorbing (though one can hardly call it entertaining) watch from beginning to end.
Trailer: https://www.youtube.com/watch?v=Shwdjkpju00
JEREMIAH TOWER: THE LAST MAGNIFICENT (USA 2015) ***
Directed by Lydia Tenaglia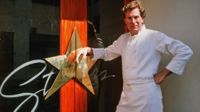 What's so special and who is this Jeremiah Tower that the man deserves a full length documenter dedicated to his honour?
Tower is a Master Chef and restauranteur who change the look of restauranting. As chef, he would mingle among the customers, something never done before and he created the importance of a chef's name in a city. Tower was also a very intriguing person, a visionary and someone, everyone admires.
"I have known Jeremiah for 14 years and yet I can say that I do not know him." So says one of Jeremiah's friends. The documentary takes considerable amount of time to introduce this Master Chef and restaurateur to the audience. It is only after 15minutes that the doc links food to the man, in a cruise ship where Jeremiah, as a boy tastes his first cream cake dessert.
JEREMIAH TOWER: THE LAST MAGNIFICENT is the new food documentary tat explores the remarkable life of Jeremiah Tower, one of the most controversial and influential figures in the history of American gastronomy. Tower began his career at the renowned Chez Panisse in Berkeley in 1972, becoming a pioneering figure in the emerging California cuisine movement. After leaving Chez Panisse, due in part to a famously contentious relationship with founder Alice Waters, Tower went on to launch his own legendary Stars Restaurant in San Francisco. Stars was an overnight sensation and soon became one of America's top-grossing U.S. restaurants. After several years, Tower mysteriously walked away from Stars and then disappeared from the scene for nearly two decades, only to resurface (as when the film opens) in the most unlikely of places: New York City's fabled but troubled Tavern on the Green. There, he launched a journey of self-discovery (offering loss of voiceover for the film on this matter) familiar to anyone who has ever imagined themselves to be an artist. Featuring interviews by Mario Batali, Anthony Bourdain, Ruth Reichl and Martha Stewart, this delicious documentary tells the story of the rise and fall of America's first celebrity chef.
The film traces using a combination or home movie footage and re-enactments how Jeremiah grew into cooking. He was always living in posh hotels whee he discovered the kitchen, dazzled by the cooking aromas. The hotel kitchen staff adopted him as their own. The audience is told Jeremiah read menus more than story books and concocted meals form the menus as well as collected menus. All this explains Jeremiah's chef roots in a fascinating manner.
Besides haute cuisine, director Tenaglai also reveals the personal and difficult life of the man. Tower was a homosexual, coming out during taboo times. His restaurant, Stars was singled out by the AIDs activists, despite him paying the hospital ills for two of his employees who came down with the disease. Everyone wanted to sleep with him - and he did with both sexes. His relationship with Alice Waters, an important part of his life is also given due screen time
JEREMIAH TOWER: THE LAST MAGNIFICENT is an interesting account of an interesting man. The doc will not disappoint.
Trailer: https://www.youtube.com/watch?v=8lSwXSPigOk