24
May
2017
Details

Category: Movie Reviews
Written by Gilbert Seah
(The Fabulous) TORONTO LGBT FILM FESTIVAL 2017
The May 24 long weekend marks the arrival of Toronto LGBT Film Festival. This year, the festival is fortunate to get the already critically acclaimed British gay piece GOD'S OWN COUNTRY. Among the gems screened are a documentary on Allan Carr, the Hollywood producer most famous for GREASE and a neat little doc recounting the history of fabulous West Berlin.
For the complete program, ticket prices and venue, please check the Inside Out website at:
It all started in 1991, when Inside Out celebrated its first film and video festival with a small community of people who yearned to see film and video created by and about lesbian, gay, bisexual and trans (LGBT) people. Over the next two decades, the Festival grew in scope as well as attendance, becoming the largest event of its kind in Canada and one of the top five LGBT film festivals in the world.
Taking place over 11 days, the Festival will draw crowds of close to 35,000 to screenings, artist talks, panel discussions, installations and parties that highlight more than 200 films and videos from Canada and around the world. In 2009 Inside Out welcomed RBC Royal Bank as the Presenting Sponsor for the Festival and in 2011, the Festival moved its screening to the state-of-the-art TIFF Bell Lightbox, increasing its attendance, media coverage and industry presence and solidifying Inside Out's reputation as an international leader in the presentation of queer film.
Over 70 filmmakers and special guests are expected to present their films at this year's Festival including actor/director/YouTube personality Max Emerson, Canadian comedian Caroline Rhea, soap stars Crystal Chappell and Jessica Leccia, comedians Fawzia Mirza and Shawn Hitchins, LGBTQ icon Jewel Thais-Williams and more. As previously announced, YouTube Personality Tyler Oakley will also be attending this year's Festival as a part of Inside Out's Youth Day.
This year, Inside Out will be introducing expanded industry programming which will include the inaugural edition of the Inside Out Film Finance Forum as well as panels on topics such as Trans Representation in Media moderated by activist Tiq Milan with actress Jen Richards and filmmaker/writer Chase Joynt as well as the Queer Sights and Queer Sounds panel with award-winning singer-songwriter T. Thomason and the multi-talented creator of That's My DJ, D.W. Waterson participating in the discussion.
Capsule Reviews of Selected Films:
THE FABULOUS ALLAN CARR (USA 2017) ***
Directed by Jeffrey Schwarz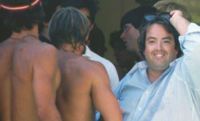 Those who remember the fabulous documentary TAB HUNTER CONFIDENTIAL screened at Inside Out two years back can expect the same fabulousness in director Jeffrey Schwarz's new documentary of another Hollywood larger-than-life figure. The subject is gay producer and promoter Allan Carr (before known as Alan Solomon). Carr is a short, fat little man but did not let his non-fabulous features stop him from being the celebrity and everyone's darling party organizer. Carr has to his credits, the films GREASE (the highest grossing film of 1978), CAN'T STOP THE MUSIC, LA CAGE AUX FOLLES and also the infamous Snow White at the 1989 Academy Awards. But the film also traces his disastrous flops like GREASE 2 and WHERE THE BOYS ARE. Schwarz captures all the glamour of Hollywood and its stars, from the eyes of Carr who narrates a fair part of his autobiography. The film contains lots of nostalgia with lots of film clips from oldies and goodies like GREASE with a few archive footage of the old Hollywood gay scene. But most important is the fact that the film also tells the truth about the real Carr - warts and all of his, as his personal assistant describes, his Jekyll and Hyde behaviour.
Trailer: (unavailable)
HANDSOME DEVIL (Ireland 2016) ****
Directed by John Butler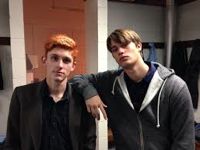 One would never tie a gay film with the sport of rugby with the climax of the film being the crucial rugby match. HANDSOME DEVIL is the new sweet little Irish film that addresses both the topics of coming out and coming-of-age. Though coming out is a well-worn theme in gay films, Butler introduces a few neat approaches. "It does get better," is the advice a gay adult
gives to the gay lad who is facing trouble after trouble about his coming-out. The film's setting is a rugby-mad boarding school. An unlikely friendship develops between a dashing new roommate, the HANDSOME DEVIL, Conor (Nicholas Galitzine) of the title and the bullied kid, Ned (Fionn O'Shea). Ned's voiceover claims that the most embarrassing thing he ever did in life is the best thing that ever happened to him. With this notion, Butler's feel-good film is a real surprise. It would be difficult to dislike this one. Openly gay actor Andrew Scott (he played "C" in SPECTRE) delivers a spirited and commendable performance as the English teacher.
Trailer: https://www.youtube.com/watch?v=-j1i94L8PMk
THE HANNAS (DIE HANNAS) (Germany 2016) **
Directed by Julia Kaiser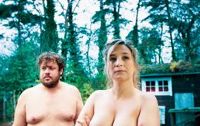 The Hannas are Hans and Anna, a long married couple who have been together so long that they are basically the same person. Friends refer to them as THE HANNAS rather than calling them by their individual names. But there is trouble in paradise as each falls victim to cheating on each other, Anna for Kim (a lesbian relationship) while Hans for Nicola. Nicola is later revealed to be Kim's sister. There are more twists in the relationship of the 4, revealed as the film progresses. Everything in this story turns out too well than in real life. Hans and Anna are too forgiving and loving, and in real life it doesn't happen that others will give up everything for someone who is already married. The film has a more feminine point of view being directed by a woman, such as more emphasis on Anna than on Hans. Anna is shown at work as a massage therapist while little or nothing is shown of Hans at work. The film has a good start but eventually Kaiser's quirky film tends to be more annoying (like her characters) than funny.
Trailer: https://www.youtube.com/watch?v=MzuIHmyYTU8
HEARTSTONE (Iceland 2016) ***
Directed by G. Anar Guðmundsson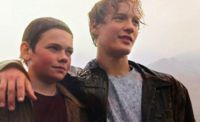 HEARTSTONE is the dramatic story of two pre-teens, Thor and Christian who are so good friends that others around think that they might be gay. As homosexuality is looked down upon in the small fishing village setting, things get to a boil. It does not help that Christian has an abusive often-drunk father and Thor, two older bullying sisteirs and a single mother who becomes the talk of the village when she starts dating again. A big plus of HEARTSTONE is its Icelandic setting. The landscape and photography are nothing short of stunning. For example, when the from door opens in once scene where Christian bolts out of the house, one can see the sea and mountains in the background. As the film progresses, Thor begins to attract the attention of a local girl while Christian wrestles with his new unfound feeling towards Thor. The film begins happily in summer where the boys are mainly playful and ends with the arrival of winter when they have to face the realities of adulthood and their sexual feelings. Guðmundsson captures the complexity of youth, showing more of the pains and hurt than the joys of youth in his earnest feature.
Trailer: https://www.youtube.com/watch?v=R9Tcw-_SrcA
HOOKED (USA 2017) **
Directed by Max Emerson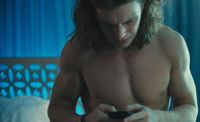 In the United States, 40% of homeless youth identify as LGBTQ. (In Toronto, the estimate is anywhere from 20 to 40 percent.) Max Emerson's crowd funded film HOOKED as in Hookers) aim at two goals. The first is to make a relevant film on the subject and the second to reach out to people for funds to help the LGBT homeless. His film has the subject of an 18-year old hustler called Jack. Jack and his boyfriend Tom are an item, close and very much in love with each other. Otherwise, Jack is impulsive and explosive with few redeeming qualities. A married man, Matt who has not come out of the closet takes Jack from NYC to Miami with the intention of helping him. The trouble with this well intentioned but terrible film is that it is laden with cliches such as Matt's unforgiving wife to his unfunny priest offering ridiculous advice. At worst, Emerson's film is preachy to the point of annoying with the the story leading to a predictable climax when the film ends asking unashamedly for donations. Every male in the film appears to have hard and beautiful bodies, a fact so terribly false, in the real world.
Trailer: https://www.youtube.com/watch?v=mfLodk5fH7w
MY WONDERFUL WEST BERLIN (Germany 2017) ***
Directed by Jochen Hick
MY WONDERFUL WEST BERLIN charts the gay activities between the end of WWII and the fall of the Berlin Wall, looking from the point of view of West Berlin, which was a melting pot of political activists, partygoers, hedonists, club owners, musicians and fashion designers. These are the stories of their lives, existing in gay communes and surviving the AIDS crisis. This trip down memory lane is not all nostalgic and joy. West Berlin is shown for all the ugliness and its gay history from the fights of the gay movements, the raids and arrests in gay establishments, the abolishment of paragraph 175, to the destruction of lives though A.I.D.S Shot mostly in back and white with extensive use of archive footage and home mvies, the audience is offered a 'treat' that still keels a relative light mood over the events. Celebrities that have visited West Berlin include Iggy Pop and David Bowie, stressed for heir use of drugs. Many older residents reminisce of the past from the youth to the present. There is nothing really new revealed in this documentary, but it is still an informative and entertaining watch.
Trailer: https://vimeo.com/218045422
PROM KING, 2010 (USA 2017) **
Directed by Christopher Schaap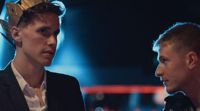 PROM KING 2010 is a teen movie directed, written and starring a teen, Christopher Schaap. The story has a loose narrative that follows protagonist Charlie (Schaap) through his college dating days. Charlie comes across on screen as a princess with Nancy boy mannerisms who cannot decide but thinks he knows what he wants and cries any time he cannot get it. There are flaws in the film but one should also give the the young director some credit. Schaap does bring his little world into focus, realistic as it is, seen though one would find it difficult to sympathize with his character. What he goes through, puppy love, infatuation and the need to have a boyfriend and the need to be accepted are all the actual things young gay boys go through. Schaap obviously idolizes Woody Allen from the poster of Allen's MANHATTAN pinned up in his room. For a film about a boy in college, there are hardly any scenes on campus grounds or on him having to study or take exams. In the end, Schaap's film goes nowhere though one would expect at least to have some of his insight as in Woody Allen's MANHATTAN.
Trailer: https://vimeo.com/203858177
WOMAN OF FIRE (USA 2016) ***
Directed by Julia Sokolow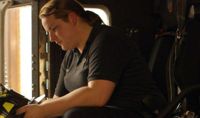 Woman on Fire follows Brooke Guinan, the first openly transgender firefighter in New York City. At the start of the film, Brooke tells the audience, while looking in the mirror to follow your heart. Well, Brooke did follow her heart to become a woman, the gender he/she was comfortable with. As a third-generation firefighter, Brooke has a passion for heroism that runs in her blood. Her father George is a respected lieutenant and 9/11 survivor with a 35-year legacy in the FDNY. The film shows Brooke transitioning from male to female in her father's workplace, as it poses not only a challenge to a macho profession, but also to the customs of the people she cares about the most - her traditional family. The film also charts Brooke's boyfriend of two years, Jim, struggling to come out to his family. A wise-cracking Air Force veteran, Jim still hasn't told his mother that Brooke is a transwoman. But besides the transgender issue, the film also reveals the life of a firefighter and their sacrifice for society. A film that proudly celebrates diversity!
(Trailer unavailable)