ROUGH NIGHT a female raucncy comedy is the biggest opening film this week. Also opening is the Tupac biopic, ALL EYEZ ON ME, reviewed separately which is definitely worth a look.
Best Bets of the Week:
Best Film Opening: ALL EYEZ ON ME
Best Horror: ALIEN: COVENANT
Best Family: BEAUTY AND THE BEAST
Best Foreign: GRADUATON
Best Documentary: RISK
Best Comedy: ROUGH NIGHT
To find a review for a past film, type the title of the film in the SEARCH box on the front page of site.
FILM REVIEWS:
AMAR, AKBAR & TONY (UK 2015) ***
Directed by Atul Malhotora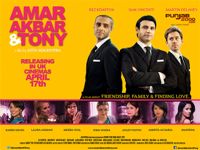 AMAR, AKBAR & TONY is a comedy/drama about three friends, a Sikh, a Muslin and an Irish Catholic. Their story takes place in London. Where else but the cosmopolitan capital of the world where anything can and does happen in writer/director Atul Malhotora coming-of age story times 3. The film boasts to be the first western film to feature a turbaned Sikh in the lead. Well, at least only for the first part of the film anyway, as the Sikh does end up going to prison and having his head shaved.
Are these three The Three Stooges or The Three Musketeers? The film starts off as the former and leading into even what the three might be deemed The Three Kings.
The film is a crowd pleaser and deals with sufficient adult offish material to make it not really suitable for commercial theatre audiences. That is not to say the film is not enjoyable - but one that might scare typical cinemagoers away. It is therefore the perfect Netflix vehicle, something like the recent WAR MACHINE by Brad Pitt where the material on Netflix can be more edgy. AMAR, AKNBAR & TONY is also the perfect light enough film, that home watchers can take a break and go grab a bite while not missing the film's flow.
The plot involves the antics of three best friends, first shown in the film as three kids going to school and playing in the same neighbourhood. The film fast forwards to the three, now grown up, looking for girls and good jobs. Amar is the pride of his Sikh family who owns an Indian restaurant, his father being a gourmet chef, Indian style. Amar lands a top job in a law film as a solicitor because he convinces his interviewer that he can bring more business to the firm knowing many criminals. But while saving his two friends at a dance club from begin beaten up, he accidentally kills a hood and goes to prison. He loses everything including his fiancé.
Three years later, Amar is released from the scrubs, after serving his sentence. The film's story starts off from here. This is where the drama begins and the film gets more serious, without any of the comedy diminishing. The film has an excellent blend of comedy and drama making it totally watchable and entertaining.
Director Malhotora should be credited of a faithful homage to a 70's Bollywood classic, while setting the tone for a unique film marrying the storytelling styles of British Independent cinema. The film includes Bollywood style dances as well the typical Indian marriage jokes like wealthy older males marrying off young brides. The best jokes are the sexual ones, the two best involving Tony. One has Tony on a God-awful blind dinner date and the other has him seeking an Indian marriage councillor in search of an Indian bride. The script pokes more fun at the white Londoner, making him a biggest buffoon of the three while Amar is treated as the self sacrificing hero who goes to prison and risk his life for his two best friends.
Director Atul Malhotra is recognized in the UK for Directing award winning documentary and TV productions. His talent shows. This is one of the best Indian/British comedies sine EAST IS EAST. The film opens on Netflix on June the 20th.
Trailer: https://www.youtube.com/watch?v=sIUfC3YtTfQ
BEATRIZ AT DINNER (USA 2017) ***
Directed by Miguel Arteta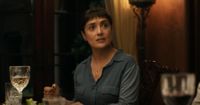 Director Miguel Arteta and scriptwriter Mike White have worked together many times and are famous for their quirky little gems, the most notable being their debut feature, CHUCK AND BUCK. Their latest film BEATRIZ AT DINNER, which opened Sundance continues the trend.
The film opens with shots of Breatriz (Salma Hayek) at her home. She owns a goat and dog, works at a Cancer Centre and is at home with nature and healing. Just as one would dismiss this woman, who believes in reincarnation and giving back to the planet as a new age floozy, director Arteta and scriptwriter White slowly and effectively wins her over to the audience's side. This is partly due to pitting her against a real nasty opposite human being, one that delights in the sport of hunting, disposing of wild life and displacing innocent people form their homes, a filthy rich land developer called Doug Struut (John Lithgow).
It all starts, innocently enough when Beatriz gives wealthy client Cathy (Connie Britton) a massage at her home. When Beatriz's car is unable to start, she is invited to stay for the husband Grant's (David Warshofsky) company dinner party - a celebration of some big deal the company has succeeded in winning.
The dinner guests arrive one couple at a time. It is clear that Beatriz and the dinner guests are not of the same 'human' wavelength. Except for Cathy who has more respect and tolerance for Beatriz, because she has helped her family with their child's recuperation from cancer, each of the other dinner guests, including her husband treats Breatriz with a certain disdain that she is beneath them in class.
Arteta builds his film effectively to an escalating climax. Things reach a boiling point when Beatriz discovers how evil Strutt is and that a lot of evil in the world including her personal family loss are a direct result of his actions. It is emphasized that fate occurs for a reason. Soon she realizes that she could have been present for the dinner for a reason as fate dictates. She could root out evil at its source by murdering Strutt.
Salma Hayek delivers an excellent performance as the holistic nurse driven almost to righteous insanity. John Lithgow is equally excellent as the menacing villain, the one the audience would gladly stab in the back. All the supporting actors are equally good, credit given to the excellent casting.
A lot of films have used music or a song to break the monotony of a film or to create a highlight. Director Marlene Ape did it with her character rendering a full version of the Whitney Houston song "The Greatest Love of All" in TONY ERDMANN that earned the very rare standing ovation midway in the film at Cannes. Arteta attempts the same feat, with Hayek singing a Spanish song, to the accompaniment of her guitar playing. Though the words are in Spanish, the effect is no less powerful.
BEATRIZ AT DINNER ends with a non-typical happy ending that might not satisfy everyone. But one must remember that this is not ones typical standard film, but a quirky Arteta/White collaboration.
Trailer: https://www.youtube.com/watch?v=bCLNTmNj5bI
CARS 3 (USA 2017) **
Directed by Brian Fee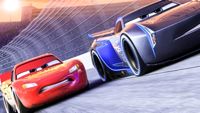 CARS 3 is the debut animated feature by Brian Fee, the storyboard artist of the other two CARS films and a few other Disney features. As this is a film that Fee has something to prove, the animation is as expected top-notch, as in all the Disney/Pixar films.
The trailer of CARS 3 which shows racing car Lightning McQueen (Owen Wilson) wiping out on a banked racetrack with a fade to black and voiceover promising that things will be different, many will be expecting a blacker sequel and one that would prove more interesting than the other two trivial CARS films. Not so. The terrible crash is just the catalyst for McQueen to want to race again to prove himself. So, there is the usual predictable stuff such as: "You have it in you." You can prove yourself." etc. etc. So, all hopes for a blacker CARS film are torn to bits.
The film features a next generation of race cars that includes Jackson Storm (Armie Hammer). The cars in the film begin questioning if the famous Lightning McQueen will throw in the towel after he endured a terrible crash. McQueen's sponsor, Rust-eze, is bought by Sterling (Nathan Fillion), a car who thinks McQueen cannot maintain his image by racing. Lightning asks for a chance to race in the Florida 500 and begins to train with race technician Cruz Ramirez (Cristela Alonzo), who's always had her own racing dreams. That pretty sums up a plot that not many can get excited with.
The same problem of animation of cars still exists in all the CARS franchise. Cars are inanimate objects with no limbs nor faces. So it is more difficult to animate cars - to give them expressions and make them distinguishable one from another. A tactic is of course, as used by the animators, is to make the colours bright and different or have different car types on display such as tow trucks.
It is also difficult to get excited over one cartoon car wining a race against another cartoon car. Or for one cartoon car to fall in love with another or feel anything towards a jealous car.
CARS undoubtedly has good animation. The audience can feel the thunder of the race as the audience is given a drivers-look of a race. But the film lacks the humour (goofy or otherwise) and inventiveness that help films like the recent CAPTAIN UNDERPANTS and BOSS BABY become memorable.
THE CARS films have not made the Studios that much money compared to the other animated features. But more than a fair income comes from the share of the toy franchise. So, do not expect much from CARS 3. For it is he same old stuff. Unless one is interested in the animation process, CARS 3 is nothing more than one dull drag of a race.
But wait! There is a short animated feature called LOU preceding CARS. It involves a schoolyard bully who learns that being nice conquers all. The largely silent LOU is smart, well animated, inventive and funny. It subtly teaches kids that bullying is just not cool. Rating for LOU: ****
Trailer: https://www.youtube.com/watch?v=E4K7JgPJ8-s
ROUGH NIGHT (USA 2017) ***
Directed by Lucia Aniello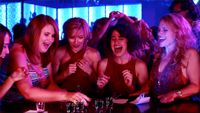 ROUGH NIGHT is that rare chick flick that has sufficient material to satisfy both female and male audiences. Besides the bride-to-be and friends, the film also devotes a fair amount of time to the groom-to-be and his friends. The ending has everyone celebrating the wedding. This is expected in a Hollywood happy ending, so no spoiler is intended.
There are a few things that promises a satisfying comedy. One is the script that was one of the 2015 blacklisted scripts, which usually means a script that matters. The other is that the film is a first effort from female director Aniello, which means she will try her very best to prove herself, never mind a few mistakes mentioned below in this review. It is also about time a film emerged that looked at a female point of view of the HANGOVER films.
The film opens with the college days where five best friends (Scarlett Johansson, Kate McKinnon, Jillian Bell, Ilana Glazer, and Zoë Kravitz) connect at a fraternity drink party. It is 10 years later when they reunite for a wild bachelorette weekend in Miami. During their hard partying, they accidentally kill a male stripper. Amidst the craziness of trying to conceal their deed, they are ultimately brought closer together where it matters most.
The film has quite a few genuinely hilarious comedic set-ups, but there are quite a few misses as well. For comedy, director Aniello commits three mistakes, which could be considered forgivable considering that this is her debut feature and also that the funny parts make up for these mistakes. One big mistake in comedy is the explaining of a joke. During the airport scene where Alice cracks open a champagne bottle to the sound of a loud pop, everyone dives to the ground thinking it to be a gunshot. Alice remarks after, "Popping the bottle sounds like a shot and we are at the airport." The tampon joke is also one that is understood by both male and female. The rule is to never explain a joke. Another is the repeating of a joke. This happens when Alice toasts Jess at a dance club when Pippa pops up a piece of toast as she does not have a drink. This is done three times. The third mistake is trying too hard on a joke that is essentially a failure. This occurs in the scene where the group says solemn words and saying ok , "Dump the body", before disposing the body of the dancer. The film also falls into the trap of stereotyping - example the activist is a lesbian.
To the film's credit, the comedic set-ups are related and move smoothly towards the climax of the film, which is the wedding, For the few thrilling parts where the five friends have to tackle the diamond robbers, director Aniello proves her competence at thrills in keeping her audience at the edge of their seats.
Of the five actresses, SNL's Kate McKinnon succeeds as the funniest of the lot, believable as an Australian with her accent. Jillian Bell comes a close second as the chief troublemaker Scarlett Johansson proves herself apt here in comedy as in other genres like action flicks (LUCY and GHOST IN THE SHELL), art horror (UNDER THE SKIN) and Woody Allen romantic drama comedies (VICKY CRISTINA BARCELONA and MATCH POINT).
Despite the film's flaws, ROUGH NIGHT thankfully succeeds as a satisfying comedy for both sexes. There are enough off-coloured jokes, foul language, tasteful sexual innuendo (the vibrating dildo) and a few messages about the importance of friendships (cliched though they may be) that result in a satisfying hilarious night out.