06
Jul
2017
Details

Category: Movie Reviews
Written by Gilbert Seah
SPIDER-MAN HOMECOMING makes its big debut this week.
Best Bets of the Week:
Best Film Opening: 13 MINUTES
Best Horror: ALIEN: COVENANT
Best Family: BEAUTY AND THE BEAST
Best Foreign: GRADUATON
Best Documentary: INTEGRAL MAN
Best Comedy: BABY DRIVER
To find a review for a past film, type the title of the film in the SEARCH box on the front page of site.
FILM REVIEWS:
13 MINUTES (Germany 2015) ****
Directed by Oliver Hirschbiegel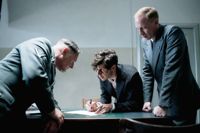 A reenacted and partially imagined account of a true event, Oliver Hirschbiegel's 13 MINUTES tells of the attempted assassination of Adolph Hitler in 1939 by the planting of a bomb inside a column of a Munich bierkeller by German Georg Elser (Christian Friedel). The bomb detonates but misses killing Adolf Hitler, the German leader, by just 13 minutes.
Director Hirschniegel broke into the world film scene with DAS EXPERIMENT and made more headlines with his Oscar nominated Best Foreign Film DOWNFALL. 13 MINUTES lost to LABYRINTH OF LIES that year for Germany's nominated entry for the Best Foreign Film Oscar though 13 MINUTES is clearly the better film.
Watching the film, one would eventually wonder how Elser's story came into fruition. It is clear from the film that Elser was arrested and told part of his story. Also, the explosion of the Munich bierkeller did occur and Elser confessed to the Nazis.
The film begins with Elser's planting of the bomb and his arrest following. With maps of the building on him (why the hell would he not dispose of them after is the big question), the German Security Services link him to the assassination attempt. They believe Elser must have been working with a group of conspirators and torture him for information. They also round up members of his family from his home village, including Else Härlen (Katharina Schüttler), a married woman Elser has been seeing.
When Else Härlen is brought before Elser, he fears for her life and tells the police chief Arthur Nebe (Burghart Klaußner) and Gestapo head Heinrich Müller (Johann von Bülow) that he acted alone, procuring detonators from a steel factory and stealing dynamite from a nearby quarry. All these events including how he came to despise the Nazis are shown in the film through flashbacks when Elser is interrogated in prison. He outlines the two clockwork mechanisms he built to time the explosion and hopefully kill Hitler as he made a speech. Still believing Elser could not have attempted the assassination alone he once more tortured using drugs (Pervitin) but with the same result as before - he confirms acted alone. The audience is also led to believe this fact, unlikely as it seems that one person from a village could be so tech savvy.
Elser is beautifully played by Christian Friedel, displaying a countryside charm and one that would change character from innocent bystander to convicted assassin.
This is not the first film made on an attempted assassination of Adolph Hitler. The Tom Cruise vehicle VALKYRIE immediately comes to mind, though that was supposedly masterminded by other German generals in 1944. But Hirschbiegel's 13 MINUTES hits closer to home with a protagonist the audience can feel for.
Sadly, the audience learns at the end of the film that Elser was kept in concentration camps for five years and was shot only a few days before American forces liberated Dachau concentration camp (a few weeks before the war ended). Looks like time was never on the side of poor Elser.
Trailer: https://www.youtube.com/watch?v=8SsIsCWXtV4
INTEGRAL MAN (Canada 2016) ***
Directed by Joseph Clement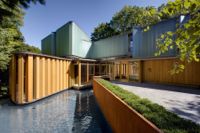 As this reviewer teaches mathematics at a college in Toronto, it is expected that INTEGRAL MAN be selected as a documentary to be reviewed. The human subject of INTEGRAL MAN is Jim Stewart, the most published mathematician since Euclid, a man of unparalleled ambition. His books are sold the world over. But this man is also a music lover. Stewart set out to create one of the most renowned pieces of residential architecture in North America and succeeded, demonstrating the perfect match between client and architect. The other subject of the film is this residence, overlooking a ravine in Rosedale, Toronto which the film spends more than half the time showcasing. Unbeknownst to Jim however, an unexpected turn of events is set to unfold. He is diagnosed with cancer. The film is a worthy tribute to a man who has devoted his life to music and has paid back his dues to that art from. Beware! The film is full of glorified decadence!
Trailer: https://vimeo.com/209647946
THE JOURNEY (UK 2016) ***
Directed by Nick Hamm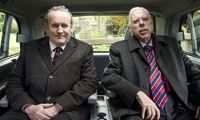 Who would think that former enemies Rev. Ian Paisley and Martin McGuiness nicknamed 'The Chuckling Brothers' would remain friends for life after their meeting that finally resulted in the long awaited peace in Northern Ireland. No more bombings! No more bullets! Director Hamm underlines the violence as the film starts.
Nick Hamm's THE JOURNEY is a dramatization about how these two two political opposites came together to change the course of history – an event that resulted in the Democratic Unionist Party and Sinn Féin (the political party of the Irish Republican Army) signing a 2006 agreement, bringing peace to Northern Ireland after nearly 40 years of violence.
Hamm's journey is basically a two-handler, performed by two actors, one known for his humour the Irish Colm Meaney (THE SNAPPER) and the other for his dead seriousness, Timothy Spall (the Mike Leigh films). Most of the scenes involve banter between both of them. The film imagines a trip in a minivan where the two sort out their differences, come to an agreement and finally bring peace to the different groups. It is a real event though that minivan trip was imagined, as written in the script by Colin Bateman. The real trip took pace in an airplane. But the facts remain true. The reason the film changed the venue is not given but the change offers a visual treat, with lush greenery and rocky shores seen through rain-splattered windows. The drive was to the airport in Glasgow, Scotland.
Spall and Meaney are a pleasure to watch. Other British actors in the film include the late John Hurt (THE ELEPHANT MAN) as M15 boss Harry Patterson and Toby Stephens as Prime Minister Toby Stephens. Freddie Highmore has a small but mischievous role as the chauffeur, a British agent in disguise.
Director Hamm takes his time to set up the stage for the action when the two are finally the car and talking. The chauffeur, through his head set, is prompted to instigate the conversation. It is comical to see two grown men behaving just like children, fighting and wanting their own way. The conversation starts when McGuinness's mobile is unable to get a signal but Paisley refuses to lend his. Bateman's script, which imagines the actual conversation involves lots of funnily one-liners and rebuttals. The script is also believable in the way the ice is broken and the two eventually get talking. At the same time, hatred, humour and hard-nosed stubbornness are on full display.
They is a little film that documents a real life-changing event through imagined conversation. It is an entertaining exercise that also reflects strength overcoming the weaknesses of the human character in the strife for the good of mankind. But at the time of writing this review, problems are beginning to resurface again as observed in the recent news.
Trailer: https://www.youtube.com/watch?v=pc3jqf4cdfc
LOVE AT FIRST CHILD (ANGE ET GABRIELLE) (France 2015) ***LOVE AT FIRST CHILD (ANGE ET GABRIELLE) (France 2015)***
Directed by Anne Giafferi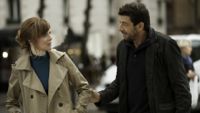 The English title tells it all. LOVE AT FIRST CHILD is a French romantic comedy of a couple that falls in love as a result of a baby. But the baby are not theirs but their kids'. This film seems ideal for a Hollywood remake as follows the line of many French comedies. The screenplay by Anne Giafferi and Anne Le Niy is based on a play by Murielle Magellan.
The film begins with a semi-hysterical woman, Gabrielle (Isabelle Carre) barging into the office of Womanizer Ange (singer and actor Patrice Brunel). He is accused of having an uncaring son, Simon (Thomas Soliveres) who has impregnated her daughter, Claire (Alice de Lencquesaing) now studying in school. All this is a lame excuse for Ange and Gabrielle to argue and eventually fall in love.
But writer/director Giaferri's film is not without its charm. It is difficult to dislike a film that has charm and nice human touches spread throughout the movie, despite the fact that this is a typical Harlequin romance complete with obstacles to the romance and an obvious happy ending. This fact might be the reason the film is going straight to vod in North America after doing only so-so at the box-office. Director Giafferi takes the play out into the open so that the audience is never aware of the film's source. There is a neat scene where Angie and Gabrielle kiss in a playground surrounded by children and another showing two loving pigeons on a rooftop. The film also updates the story to include political correctness of a gay marriage of one of Ange's colleagues.
Like the French comedy THREE MEN AND A BABY, LOVE AT FIRST CHILD contains lots of shots of a cute baby. The baby featured in this film is really cute, impossible to dislike and director Giafferi has captured and exploited (in a good way) all the best baby moments. Heart throb singer star Patrick Bruno is now 58 and his age shows. But his charm is not lost and his womanizing character and romanced comes across convincingly enough. Cesar winner Isabelle Carrie is also charming enough, looking so much like Diane Keaton with her glasses, But the two young a actors, Thomas Soliveres and Alice de Lencquesaing give he film a fresh look. It is a pity that they only deliver supporting performances. A full movie could have been made on young love, of their characters, perhaps a young adult romantic drama similar to the ones Mia Hansen-love makes.
LOVE AT FIRST CHILD makes its debut on vod (video on demand) Nationwide on Tuesday, July 11 on all major platforms including iTunes, Google Play, Amazon, Microsoft, Vudu, Comcast, Charter, Cox, Vimeo, and various other cable operators. The film makes a good romantic evening home with a loved one for an alternate night at the movies.
Trailer: https://m.youtube.com/watch?v=SrhGDhu9IzM
NOT MY DAY (Nicht Mein Tag) (Germany2014) ***
Directed by Peter Thorwarth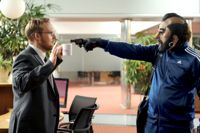 Those quick to dismiss this straight to VOD platform German action comedy will miss this quiet gem of a box-office hit in its own country. Though the incidents in the story have been used in other films before, director Thorwarth still injects a certain freshness to their execution, so that all ends up good in this very entertaining comedy.
The film is part road trip part buddy buddy and part romantic comedy film centring on two mismatched characters. The film begins with what appears to be a bank job with a guy stuck in the building when police arrive. Director Thorwath tells what has happened that has has to this state of affairs.
It all begins when a disgruntled bank client Nappo (Moritz Bleibtreu) expresses his anger at waiting his turn while the bank officer, Till (Axel Stein) openly talks about a retirement party for one of the tellers. In his office, Nappo is denied a loan. In the next scene Till is shown having a lengthy argument wit his wife on the office phone about silly stuff like vacation time. Unknowing to Till, the bank is being robbed by a masked man. When the getaway driver takes off, the bank robber takes Till hostage. Taking off his mask, the robber is revealed to be Nappo who forces Till to drive him out of town. Thus begins the road trip of the two mis-matched characters.
If all this sounds a bit mundane, Thorwarth executes the above with grand flare. What works particularly is the contrasting chemistry of the two. Till follows rules while Nappu breaks them. Though they have opposite tastes in music they do share a comical sing-along in one of the film's best scenes. Till is bespectacled, strumming his guitar while Nappo is screaming out the words: "yeah, yeah!" It is a meaningful scene which hits the truth in which people who can share the likes of an identical song can immediately bond.
The film also plays for romantic comedy with Till's marriage to his wife, Miriam. They don't have sex as she is aways back late from work trying to make it in the design business. Till, as he says, makes the money to pay the bills by doing a job he says he hates. They hope to rekindle the fire of their relationship, oddly enough from a vacation that they cannot coordinate in terms of time.
When Till thinks his wife is cheating on him, Nappo's hilarious advise is: "Snap out of it! There are other chicks in town." This is how Nappo convinces Till to do a job for money. The caper leads to a climatic car chase in Amsterdam at night with cars crashing into the canals.
What distinguishes this film from making it so engaging, is that director Thorwarth allows the audience to identify with all the film's characters, from Till, Nappo and even the wife. They are shown as real characters especially, when the square Till finally throws caution out the window and goes ultimately crazy, at one point taking down a gang of Albanian gangsters.
If this comedy is your cup of tea, Milky Way also has released on major VOD platforms on July 11th, a part of their 'comedies a la carte' collection:
- DYKE HARD (Directed by: Bitte Anderson, Comedy, Sweden, 90 mins)
- LOVE AT FIRST CHILD (Directed by: Anne Giaferri, Comedy, France, 91mins)
- ONE MAN AND HIS COW (Directed by: Mohamed Hamidi, Comedy, France, 91 mins)
WINWIN (Directed by: Daniel Hoesl, Comedy, Austria, 84 mins)
Trailer: https://vimeo.com/97813230
SPIDER-MAN: HOMECOMING (USA 2017) ***
Directed by Jon Watts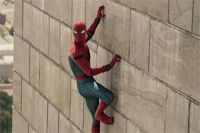 The second re-boot of SPIDER-MAN arrives with all the hype and with it fear that the new look would result in a film as disastrous as the D.C. extended universe films MAN OF STEEL, BATMAN V. SUPERMAN or SUICIDE SQUAD. Thankfully, the new Marvel Cinematic Universe SPIDER-MAN HOMECOMING is not so bad and promises a much better sequel in the making.
The film opens with Peter Parker (Tom Holland) arriving with all his super spider powers intact. Instead of learning to control his new found powers, Parker has to learn how to be Spider-Man. He has arrived several months after the events of Captain America: Civil War, and subject to the help of his mentor Tony Stark aka IRONMAN (Robert Downey Jr.), learns to balance his life as an ordinary high school student in Queens, New York City with fighting crime.
The villain of the piece is introduced at the start of the film as an enterprising business man, Adrian Toomes (Michael Keaton). Forced out of his business by the big boys, Toomes ends up taking revenge on the city by turning himself into the Vulture that eventually battles Spidey. Keaton is exceptionally cynical in his role, the only problem arising is that Toomes is so victimized that one cannot help but root for this poor victim. At one point in the film, Toomes is so convincing in naming Stark Enterprises as the villain that one cannot help but almost believe him. The Vulture's costume looks too much like Keaton's Birdman's outfit, as if reminding the audience of his Best Actor Oscar nominated role.
The climatic battle between the Vulture and Spidey looks too one sided, on the side of the Vulture who seems imminent to win the battle but of course wouldn't. When Toomes finally ends up beaten, it seems quite unbelievable.
Despite being an action film, the film's best moments are the interrogation scenes - one where Toomes questions Parker in the car and reveals that he is aware of Parker's secret identity. The other is Spider-Man questioning one of the crooks regarding Toomes' activities. Both segments expertly balance humour and surprise while displaying good dialogue expected from the team of the film's 6 writers.
HOMECOMING is the lightest and goofiest of all the SPIDER-MAN films. But one will eventually get annoyed at Spider-Man's inability to fight his opponents properly before gaining control of his suit. Instead of learning to use his super powers, Spidey has to learn to use Stark Enterprises' new Spider-Man suit. In one action set-up, Spider-Man is constantly bungling and falling around learning how to use his suit in extended power mode.
The film features an eclectic cast that carries it out a bit too far. Spidey's love interest Liz is played by African American, Laura Harrier. His school principal is played by Korean Kenneth Choi and his best friend, Ned by Filipino Jacob Batalon. Tony Revolori as Flash Thompson: Peter's rival and classmate is latino. The script invests a bit too much time in Ned's character, his repeated remarks on Spider-Man often ending up more annoying than funny. He is at least given something to do (computer hacking) in the story. The film feels like a teen movie with the humour and high school setting. But one can notice that all the high school kids are performed by actors over 21, Holland included (at 22 playing a 15-year old). The film is not without teen dick jokes (Flash's song as a d.j.) and the ending song with the lyrics sounding like the 'f' word.
It is surprising that director Watts has ended up making more an action comedy than an action hero movie. Watts made two serious films, the thriller COP CAR and the horror chiller CLOWN prior to this. But better funny than too serious. Look at what happened to the James Bond and the Planet of the Apes films.
With all the goofiness and Spidey's learning curve out of the way in this re-boot, the sequel should promise a more mature Spider-Man and hopefully a more mature action film as well - with a better balance between action and humour.
Trailer: https://www.youtube.com/watch?v=U0D3AOldjMU