17
Jul
2017
Details

Category: Movie Reviews
Written by Gilbert Seah
TIFF Cinematheque Presents - The Films of Kathryn Bigelow
The TIFF Cinematheque first retrospective on Kathryn Bigelow entitled KATHRYN BIGELOW: ON THE EDGE begins July 21.
Bigelow's first film was the low-budget debut THE LOVELESS (an arty, hipster spin on '50s biker movies, co-directed with Monty Montgomery and starring Willem Dafoe) Following that, she made her critical (but commercial unsuccessful) breakthrough with NEAR DARK, a grimy yet wickedly stylish tale of a pack of vampires traversing the American Southwest. This was followed by a slew of films including POINT BREAK, STRANGE DAYS and others culminating with her glorious Oscar winner THE HURT LOCKER. The retrospective arrives in time with the release of her new film DETROIT.
Bigelow was married to and divorced from director James Cameron. Their collaboration can be seen in his script of STRANGE DAYS which Bigelow directed.
Bigelow's best films are NEAR DARK, BLUE STEEL and STRANGE DAYS, all three of which oddly enough, did not do well at the box-office.
In April 2010, Bigelow was named to the Time 100 list of most influential people of the year.
For the complete program of the retrospective with screening dates and times, please check the TIFF website at:
CAPSULE REVIEWS OF SELECTED FILMS:
BLUE STEEL (USA 1990) ****
Directed by Kathryn Boggle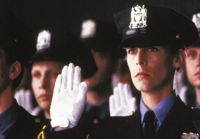 BLUE STEEL is yet a another really awesome Bigelow film that flopped at the box-office. She wrote this film with Eric Red after their collaboration NEAR DARK and marks another very human emotional script with a female cop character. Just as Bigelow functions as a female action director BLUE STEEL is set in a man's world. Jamie Lee Curtis plays a rookie cop who foils a grocery store hold-hp shooting the robber (Tom Sizemore) who pulls a gun on her. But she does not notice the robber's gun stolen by a customer, who turns out to be a psychopath (Ron Silver) who uses the gun on a killing spree around NYC. Detective Turner (Curtis) engages in a cat-and-mouse game with the killer that consists of a series of actions set-pieces. The only problem is the sudden appearance of the killer shooting at Turner in a subway station for no reason except to provide the climax for the movie. Still, this is Bigelow at her exciting best, and BLUE STEEL is an absorbing watch from start to end. Ron Silver is the creepiest villain I have seen for a long time in a movie.
Trailer: https://www.youtube.com/watch?v=aJTOmShc9E0
NEAR DARK (USA 1987) ***** Top 10
Directed by Kathryn Bigelow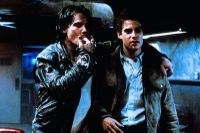 NEAR DARK is Kathryn Bigelow's second and arguably BEST movie feature, which did badly at the box-office in 1987 making only $3.5 million on its $5 million budget. The film did garner positive reviews.
NEAR DARK mixes the western and vampire horror genres based on a script written by Bigelow and Eric Red. The story follows a young man, Caleb Colton (Adrian Pasdar) in a small midwestern town who becomes involved with a family of nomadic American vampires. Starring then little-known actors Adrian Pasdar and Jenny Wright, the film was part of a revival of serious vampire movies in the late 1980s.
It all starts one night, when Caleb meets an attractive young drifter named Mae (Jenny Wright). Just before sunrise, she bites him on the neck and runs off. The rising sun causes Caleb's flesh to smoke and burn. Mae arrives with a group of roaming vampires in an RV and takes him away. The most psychotic of all the vampires, Severen (Bill Paxton), wants to kill Caleb, but Mae reveals that she has already turned him. Their charismatic leader Jesse Hooker (Lance Henriksen) reluctantly agrees to allow Caleb to remain with them for a week to see if he can learn to hunt and gain the group's trust.
In the meantime, Caleb's father (Tim Thomerson) searches for Caleb and Jesse's group. The action is non-stop and the film an absorbing watch from start to end.
It often happens that a director's first film is his or her best, the director often putting everything he or she has into it. None of Bigelow's features including her Oscar Winning THE HURT LOCKER could ever match the energy and inspiration that can be observed in NEAR DARK. "The night is so bright, it will blind you." is a sample of some of the dialogue spoken. Bigelow must have loved this line so much that it is repeated in the film.
Bigelow also ups the ante in her horror movie with the introduction of a really creepy character in the form of a child vampire called Homer (Joshua John Miller). This is an old man in a child's body. A case of Pedophilia. When Homer meets Caleb's little sister Sarah (Marcie Leeds) and wants her as his mate, it is no wonder Caleb sacrifices all to save her.
I first saw NEAR DARK in September 1987 at the Toronto International Film Festival as part of the public, before I was a film critic. NEAR DARK was brought in and screened last minute. But Bigelow was there after the screening for a Q & A session. I remember being really impressed at the film and at a female director capable of such exciting male action. I recall someone asking her too: "Why did you pick Tangerine Dream to do the music for the film?" Her answer: "Aren't they great?" This is pure inspiration and filmmaking from the heart.
NEAR DARK is one action set piece after another, the top two being the bar segment where the vampires terrorize a local biker bar, killing everyone before burning it down followed by a police takedown at a motel.
Trailer: https://www.youtube.com/watch?v=FiYSirEHS5E
ZERO DARK THIRTY (USA 2012) ***1/2
Directed by Kathryn Bigelow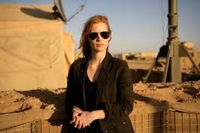 ZERO DARK THIRTY (referring to the period of time 30 minutes past midnight) is the story of perhaps the greatest American manhunt in history – the search and capture of Osama Bin Laden. The story centres on the character of naïve CIA agent who goes by the name of Maya (Jessica Chastain) who supposedly masterminded the discovery of the whereabouts of OBL. The navy seals were called in to attack the fort with the result of him being killed. But not after Maya has given out all that she has got. The script has her undergo the typical coming-of-age growing up to maturity as she accomplishes her goal. Initially, shocked but accepting the torture by the American military, she gradually grows from soft to hardened in order to get the job done. Maya finally reaches her angry peak when she confidently says to the Navy Seals, "You go and kill Bin Laden for me," as if it is her own private vendetta. The script and director keeps the film moving fast from start to finish keeping the audience's attention. The climatic segment of the raid on the fort in the dark of night is brilliantly executed.
Trailer: https://www.youtube.com/watch?v=YxC_JNz5Vbg