20
Jul
2017
Details

Category: Movie Reviews
Written by Gilbert Seah
Many blockbusters open this weekend among them the most expensive made French movie of all time VALERIAN AND THE CITY OF A THOUSAND PLANETS and DUNKIRK. Due to screening clasehs, GIRLS TRIP, THE EMOJI MOVIE and DUNKIRK will not be reviewed.
Best Bets of the Week:
Best Film Opening: VALERIAN AND THE CITY OF A THOUSAND PLANETS
Best Horror: ALIEN: COVENANT
Best Family: BEAUTY AND THE BEAST
Best Foreign: GRADUATON
Best Documentary: INTEGRAL MAN
Best Comedy: BABY DRIVER
To find a review for a past film, type the title of the film in the SEARCH box on the front page of site.
FILM REVIEWS:
THE BLACK PRINCE (UK/India/USA 2017) **
Directed by Kavi Raz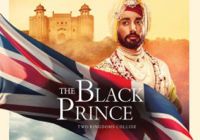 A lavish production, the true tragic story of the Maharaja of Punjab entitled THE BLACK PRINCE was launched at Cannes this year at a glitzy event at the Indian Pavilion. But the film was not shown but its trailer together with interview opportunities with its star Satinder Sartaaj a famous singer/poet making his transition to big screen acting. The film finally arrives, but unfortunately the film is not what is expected from Cannes.
THE BLACK PRINCE is a story of the last king of Punjab, Maharajah Duleep Singh (Satinder Sartaaj) and Queen Victoria (Amanda Root). The film follows Maharaja Duleep Singh, first placed on the throne at the age of 5, after the death of his father. In 1849, Punjab was annexed to British India. The young prince was removed from the throne and eventually sent off to England. His attempts to return to India and reclaim his kingdom were thwarted by the British. He ended up a pauper, dying alone in a Paris hotel in 1893.
It is difficult to see the reason a film based on the failure of a man trying to regain his thrown got made, except perhaps to show the evil the British had done in the past, which the film emphasizes once too many a time, like an old racist grandparent nagging a grandchild of the evil of a particular culture. The film is not only a downer but also monotonously boring and badly executed.
There were a number of film critics that walked out of the press screening and a number that kept walking in and out to the toilet. It was indeed difficult to keep still during the long 120 minutes of the film's running time. Apparently the film's first cut was 4 hours.
There are a lot of things wrong with the film as evident in a number of scenes. In one where Duleep's first wife struggles to tell him not to give up his English heritage, the camera focuses on Duleep's reactions instead of her facial expressions. The two should be closer together in the argument and the camera should not show both of them, focusing one face to another but rather show more close-ups for emotional tension. The wife in the next segment is shown backing up her husband and then in the next, against him once again. Duleep's son (one of them) suddenly appears in one scene condemning his father's actions to the British Empire. The annoying soundtrack coaching the audience when and how to feel what does not help either.
The Maharajah also sports one of the worst haircuts ever seen on the screen EVER - a bald head with long hair streaming down the bottom half of his head. If there is anything this film is to remembered for, it is this haircut.
The dialogue at times, when meant to be serious comes across as laughable. Take for example Duleep's big speech: "We will stick our daggers into their hearts and we will take back our Kingdom!" The film also does not explain where Duleep gets all his money to finance his trips and to travel to Paris, France whenever his heart desires.
All good intentions aside to tell the true story of a Prince whose throne was stolen from him, THE BLACK PRINCE is one dull history lesson. For all that it's worth, the film displays impressive production values. Shot in Punjabi and English.
Trailer: https://www.youtube.com/watch?v=R2TTXSPVn8c
A GHOST STORY (USA 2017) **
Directed by David Lowery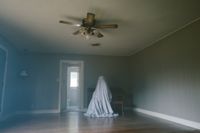 If a film is weird enough, it makes matters worse if the filmmaker makes the film even weirder.
This is the case with David Lowery's ghost story drama - an extremely difficult to follow,
confusing yet the simple storied film.
Lowery is well known for having directed Disney's PETE'S DRAGON, now doing his minimalist project, something I guess he always wanted to do.
The story follows a couple who is referred to in the film's notes simply as C and M. C is the
male (Casey Effleck) and M is the female (Rooney Mara). When the film begins, the couple are
are in a suburban home about to sell their house. They are quiet, indicating perhaps though director Lowery never makes it certain, that they need more communication. They talk about a piano with M shown dragging it out to the front of the house for garbage collection.
The next scene has C in a morgue. He is next shown in a sheet with two cut out holes as eyes. C
is apparently a ghost though no reason is offered. Another ghost in a sheet with two cut out holes
appear later on in the. Film. Again, it makes no sense whatsoever.
The film goes on. Moving on at slower than a snail's space, Lowery tests the audience's patience
to no end. The music is eerie, dialogue kept at a minimum. People move in and out of the house
as C occasionally scares people in the house by throwing cutlery.
As if matters cannot get worse, the film shifts back and then forwards in time towards the last third of the film. There is also a scene where a bulldozer suddenly demolishes the walls of the house.
The ghost can disappear, as is assumed when the sheet crumples to the ground. It can therefore
move on to heaven or better things? No one is sure.
The film contains lots of long takes - especially long takes of close ups, something not too often
seen in films. An example is the re-visited poignant scene in bed where C and M face each
other in bed, kiss and fall asleep. The first time the scene is performed, it lasts a full 5
minutes. There are again other scenes this slow moving.
Performance-wise, nothing much is required from Mara nor Effleck. This is a director's piece
not the actors. All the actors are required to do is brood and brood, and maybe put a sheet over
themselves. Needless to say, there are no special effects required in this ghost story.
A GHOST STORY is not badly made. It is well executed, well performed and a nice mystery
from start to finish, challenging the audience. It is a haunting ghost story, but not a scary one,
though the art house concept will scare commercial audiences away. Many critics at the screening loved A GHOST STORY but I am not a fan.
Trailer: https://www.youtube.com/watch?v=c_3NMtxeyfk
RESTLESS CREATURE WENDY WHELAN (USA 2017) **
Directed by Linda Saffire and Adam Schlesinger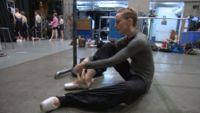 The RESTLESS CREATURE of the film title stands for the title of the ballet, ballerina and NYC Ballet Company's principal dancer, Wendy Whelan is performing or it could stand for her restless character as well, one that would never give up dancing. "If I don't dance, I'd rather die," Whelan says at one point during an interview in the film.
The film definitely centres on Whelan and she has a lot to say in it. It is a world of ballet and discipline, dance torture to the body and decadence. Perfectly sculptured bodies everywhere! This is not the world that most people are familiar with. The same saying applies to the film. It is strictly for ballet and dance aficionados. Those not in that world will hardly sympathize with Whelan's complaints. And she can be quite the cry baby, going on and on about herself.
The film is all about Whelan. The film traces her dancing as a very young girl in her hometown of Louisville, Kentucky, then as a teenager on her own in New York and, finally, as a rising ballerina with the company. At the time of the making of the documentary Whelan is in her 40's. She is dancing still and competing with dancers half her age. Her body cannot take it. In fact no body can be put to such strenuous exertion. Whelan is finally feeling it and her doctors and therapists are advising her to give her body a rest. But she wants to do this last dance.
Linda Saffire and Adam Schlesinger's documentary looks good on the surface with candid interviews with Whelan and her contemporaries. But upon closer examination, the film just skims the surface on nits subject. Where are her parents from? Nothing is mentioned of her personal life. Does she ever have a boyfriend or girlfriend for that matter? The directors also make no attempt at trying to have the audience connect with their subject. They lay out Whelan bare, warts and all hoping that that the audience feels for her. Whether they succeed depends on the person concerned, but it does not work for me. I find it hard to feel for a person, talented or gifted though they may be, who is so involved in their own world, also is constantly praising themselves and not considering the rest of the world.
Whelan has got all her attention and glory and it is time for her to give the younger dancers a chance at the stage. The film also does not really show her dancing at her prime. The film does contain a few show of her performances like "La Sonnambula" and "Symphony in Three Movements by George Balanchine and The Cage by Jerome Robbins. There should be more of Whelan's performances that demonstrate how hard ballet is for the body. The climax of the film shows Whelan's performance of RESTLESS CREATURE.
Trailer: https://www.youtube.com/watch?v=zZOWVFr5yg0
VALERIAN AND THE CITY OF A THOUSAND PLANETS (France 2017) ****
(Valérian et la Cité des mille planètes)
Directed by Luc Besson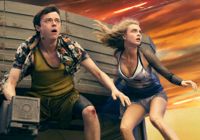 VALERIAN AND THE CITY OF A THOUSAND PLANETS is the new widely anticipated French science fiction action film written and directed by Luc Besson best known for THE FIFTH ELEMENT and LUCY. The film, based on the French science fiction comics series Valérian and Laureline, written by Pierre Christin and illustrated by Jean-Claude Mézières is to date the most expensive French film ever made at a price rage of $197 million euros. To break-even it has to make $350 million worldwide. It is a big a risk as James Cameron's AVATAR but the film is stunning in its visuals and imagination and comes highly recommended for Besson's vision and delivery of this space opus to the big screen. It be best seen in 3D and on the biggest screen possible.
The film opens with an alien species on a distant planet. They speak a different language and lead a different lifestyle, in tune with nature giving their planet back what they receive from it. This is reminiscent of the blue AVATAR creatures in the James Cameron's film. An apocalypse happens and their planet is destroyed. On the other side of the Universe, a dark force threatens Alpha, a vast metropolis and home to species from a thousand planets. Special operatives Valerian and Laureline must race to identify the marauding menace and safeguard not just Alpha, but the future of the universe. Nothing makes much sense in the film's first half, but writer/director Besson keeps the audience's curiosity strong. It is during the second half that the story comes together, becoming more of a conventional film with the fight between good and evil, with Valerian and Laureline being the space fighters and peace keepers working for 'the government'.
But it is not the story that will astonish the audiences. The visionary action sequences consisting of computer generated landscapes and creatures of all shapes and sizes will mesmerize. The best of these are three information selling beaked liked creatures who speak both simultaneously but separately forming sentences that are hilarious and brilliant. The capture of the jellyfish on the mammoth sea creature providing some genuine action and thrills and the butterfly bait fishing are inspirational set pieces. Another memorable scene has Laureine wearing a huge hat with the top of her head exposed only to find her brains about to be eaten by an Alien Emperor, the way Chinese used eat monkey brains as a delicacy before the practice was banned.
Much negative reviews have been posted of the lead actor's Dane DeHaan's performance as Major Valerian. DeHaan is a young 31-year old American actor with some Dutch background, hence his Dutch surname, who has proven himself able to carry a lead role in the recent but badly received A CURE FOR WELLNESS. In that film DeHaan demonstrated a different kind of hero, a vulnerable one, as in this one, full of character flaws like impulsive decision making, unlike other space action heroes like hans Solo or Luke Skywalker. His partner, co-fighter for good against evil and love interest, Lareline is played by Cara Delevingne who emits sexiness and charisma. They do exhibit good chemistry on screen, and her speech on love at the film's end though cliched, works. Supporting performances by Clive Owen as the villain and Ethan Hawke are also impressive. Rihanna plays an alien dancer who performs a Sally Bowles in CABARET type dance forms one of the film's best musical dance numbers - amazing and unforgettable combined with special computer effects. Music is by Alexandre Desplat.
For all its flaws, Besson's brilliantly conceived film still scores top marks as a futuristic space action adventure. Much better than THE FIFTH ELEMENT and the new STAR WARS film series.
Trailer: https://www.youtube.com/watch?v=XawbuBCj-Fo