THE NUT JOB 2: NUTTY BY NATURE and ANNABELLE: CREATION are the two big films oening this week.
Best Bets of the Week:
Best Film Opening: WIND RIVER
Best Action: VALERIAN and THE CITY OF A THOUSAND PLANETS
Best Horror: ALIEN: COVENANT
Best Family: BEAUTY AND THE BEAST
Best Foreign: GRADUATON
Best Documentary: AN INCONVENIENT SEQUEL
Best Comedy: BABY DRIVER
To find a review for a past film, type the title of the film in the SEARCH box on the front page of site.
FILM REVIEWS:
ANNABELLE CREATION (USA 2017) **
Directed by David F. Sandberg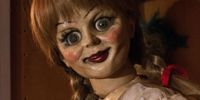 The ANNABELLE, CONJURING prequels, sequels are already so many that it is difficult to keep track what is going on. The truth is, it does not real matter. ANNABELLE CREATION is advertised as the prequel to ANNABELLE which is connected to the four CONJURING films. ANNABELLE CREATION can stand on its own, that is all that matters. The connecting object in all the film is the possessed white Annabelle doll.
The film suffers from a weak narrative. The simple story involves a couple losing their daughter in an accident. They allow orphans to make use of their big home but the spirit of their dead daughter who possesses a doll is not happy with the orphans. On the plus side, the scary set-ups are meticulously crafted, which should provide horror fans lots of jump out of the seat scares. But it does matter that the film is less the sum of its whole, as it does not hold well together at all. It also suffers from a proper ending with the doll appearing halfway through the closing credits for no real reason. One member of the audiences remarked that she expected the doll to at least blink. Still, all these bad continuity segments do not add up cohesively. One moment one member of the orphans is chased by the killer doll, the next has the film intercutting to another in trouble. Why the demon does not kill off the parents earlier on before the arrival of the orphans is also a point to question. And when the demon finally gets the soul of the crippled Janice, why doesn't the demon stay satisfied. Of course, logic is never a strong point in horror films as in this one.
The film assembles a series of shock effects, false alarms and real ones. False alarms include for example, the father, Samuel Mullins suddenly scaring his daughter or the sudden appearance of a character and a real scare being the running over of a child by a car. The other scary effects like the moving doll, the repeated playing of the song: "You are my Sunshine" et al. are all old stuff already done in other horror films. But director Sandberg seems to have picked the best of these from past movies and included them here. But one horror set-up after another still gets monotonous after a while.
The orphans are played by a cast of relative unknowns cutting production costs for the film. However, Samuel Mullins and wife Esther are played by well-known Australian actors Anthony LaPaglia and Miranda Otto.
The first ANNABELLE film cost $6.5 million to make and grossed Warner Brothers close to $256 million. This sequel cost double to make at around $15 million, but should make the studio a handsome bundle, aided by the fact that the only main big opening this weekend is the animated NUT JOB sequel.
People love to be scared. People love to pay big bucks to be scared. Films like ANNABELLE CREATION will always do well at the box-office despite reviews good or bad, so go figure!
Trailer: https://www.youtube.com/watch?v=KisPhy7T__Q
BABY STEPS (USA 2015) ***
Directed by Barney Cheng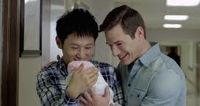 When gay films first started appearing on the screen, they dished out fresh topics like coming out, cross cultural gay relationships, partying, drug use, gay biographies, cruising, sex Chenge, gay marriage and rent boys. New ideas for a gay film are running out. BABY STEPS deals with an Asian mother meddling into her son's gay relationship in her never ending quest for a prefect grandchild.
The film is written, directed by and co-stars Barney Cheng as the Taiwanese American, Danny in an Asian-Caucasian gay couple relationship. The mother is played by Grace Guei, who starred in Ang Lee's famous THE WEDDING BANQUET. BABY STEPS adds the modern spin on surrogacy. Mother and son travel the world including Taipei, Bangkok, Mumbai and Los Angeles to search for a surrogate mother. It is a gay story told for the first time, from a gay mother's point of view.
Cheng knows the poignant moments in the life of a typical gay couple and milks them shamelessly. Scenes like the reunion after a trail separation and showering together are examples which he puts on screen to strengthen the audience's conception of the strength of the relationship.
Cheng's humour is mildly funny with hardly any laugh out loud moments.
Actress Grace Guei, reported in the press notes to be the Taiwanese version of Meryl Streep (not going to argue this), though not bad in her role is not given much to do much except to sulk and look sympathetic for all the meddling she has done. Cheng's character uses the word 'okay' mixed with his mandarin dialogue, once too many times. Cheng might be remembered or his role in Woody Allen's HOLLYWOOD ENDING. Michael Adam Hamilton passes as his pretty boy boyfriend, always all smiles and catering too much to the Asian needs.
The film could have concentrated more on the coming-of-age of the couple's relationship, instead of always assuming that everything will be ok. The film at least considers other substantial issues like the emotions and fears of the surrogate mother. Danny's mother, typical of gay mothers is still ashamed to come out to her friends other gay son - another important issue dealt here. In BABY STEPS, these topics offer a fresh look on cross-cultural gay relationships.
Though BABY STEPS makes no great strides in the progress of gay films, it does leave a mark. The film suffers from an over-sentimental melodramatic ending.
Small films like BABY STEPS with a smaller target gay audience usually complete a successful LGBT festival run before going to the various VOD platforms. If the films are really lucky, they might earn a limited theatrical release. For BABY STEPS, it opened in Taiwan on Mother's Day 2015, and was part of a national discussion on LGBT rights that helped propel Taiwan to legalize same-sex marriage in May 2017. Of worldwide significance, the U.S. State Department has hosted U.S. embassy screenings of BABY STEPS throughout Asia, including China, Mongolia, and Myanmar - to share the American value of LGBT equality around the globe. BABY STEPS will release digitally in the U.S. and Canada on August 15th via Gravitas Ventures.
Trailer: https://vimeo.com/213452547
MENASHE (USA 2017) **1/2
Directed by Joshua Z. Weinstein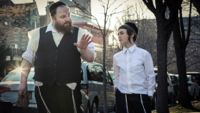 Performed entirely in Yiddish – a language not used in cinema for many decades – Joshua Z. Weinstein's Menashe is a tender drama that burrows into Brooklyn's Hasidic community and tells the story of an Ultra-Orthodox Jewish widower who risks losing custody of his son due to tradition. If a film in Yiddish and one about a Hasidic community are not enough to put an audience off, director Weinstein makes a lot of effort to make his story a universal one. Here in MENASHE, which is based on a true story, actually loosely based on the life of lead actor Menashe Lustig, the story is an endearing one, based on character that is of good moral fibre and well-intentioned and an underdog at that. His only sin appears to be his well-meaning intentions going at logger heads to the religious beliefs of his elders and contemporaries.
The film opens with a scene in Brooklyn's Hasidic Community. Those walking around sport beards and don Jewish apparel. The cameral cuts to a grocery store where the audience is introduced to the lead character, a chubby cashier called Menashe (Lustig). Director Weinstein makes sure Menashe is likeable. His first good deed as grocery cashier is to exchange an unwashed lettuce for a customer.
The film immediately reminds one of the Dustin Hoffman KRAMER VS. KRAMER characters where Kramer (Hoffman) has to prove that he is a father capable of looking after his son alone, while working a full-time job. Although his wife died a year ago, Meneshe (Lustig) refuses to remarry just for convenience. He does try, going on a date as set up by a matchmaker. But his young son (Ruben Niborski) is now living with Menashe's strict brother-in-law's family, because the rabbi says the boy won't be allowed to stay in school unless he's in a two-parent home. The film is about trying to do what is right but are unable to do so because of laws. It is true that these laws are surely there to protect the majority but what about the special minority? Weinstein, as observed from his film, is pro-Hasidic but does not shy away from the faults of being too religious for religion's sake. It is also noted that Menashe, at one point in the film, hangs out with other groups, the Latinos of his work, to forget his troubles.
But the film does not tackle the fact that Menashe is actually not a good example of being a father. He is always out of money, always late for appointments and gets drunk once too often.
The film benefits from the cast of mainly non-professionals. Many are from the Hasidic community, many of whom had never seen a film before.
Weinstein's film provides a simple yet insightful look into a society many are unfamiliar with. His film is likeable and entertaining, but that is about all it has to offer. The film premiered at at the 2017 Sundance and Berlin festivals.
Trailer: https://www.youtube.com/watch?v=83UoZcdX__Y
THE NUT JOB 2: NUTTY BY NATURE (USA 2017) ***
Directed by Cal Brunker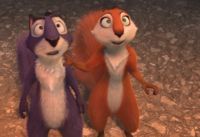 The sequel to THE NUT JOB delivers much more of the same with the coloured squirrels and other rodent park animals, led by Sury and his rat sidekick Buddy, voiced by mostly the same actors.
Surly (Will Arnett) and the park animals must band together to prevent Oakton City's crooked mayor (Bobby Moynihan) from bulldozing Liberty Park and replacing it with a dangerous amusement park. Surly even gets help from the territorial street mouse gang leader Mr. Feng (Jackie Chan) into thwarting the mayor's plot.
The sequel introduces three new and welcome characters that provide most of the film's freshness and humour. These are Bobby Moynihan as the Mayor of Oakton City, Isabela Moner as Heather, the mayor's spoiled daughter and Jackie Chan as Mr. Feng. Credit should also definitely go to the animators of these three creatures.
When Mr. Feng, the white mouse first appears in the film, speaking with a strong Chinese impression, the immediate thought that will come to mind is racism. Society has progressed a far way since Mickey Rooney could get away doing really awful and unacceptable Japanese impressions with fake teeth in Blake Edwards' BREAKFAST AT TIFFANY'S. But the credits list Jackie Chan as the voice behind Mr. Feng, and Chan does speak that way with a strong Hong Kong accent. The animators are also smart enough to make sure all he mice characters including Mr. Feng have really round and no slanted eyes.
THE NUT JOB films are the lower breed of animated films after films like SHREK, MADAGASCAR, HAPPY FEET, KUNG FU PANDA, HOW TO SAVE YOUR DRAGON, MEATBALLS. The NUT JOB films are have nothing really new to offer. Despite a few relatively new ideas (such as the mice and Mr. Fend who refuse to be cute - a sort of direct attack at cutest animated characters), parents will find the whole enterprise a chore to watch while children will undoubtedly be entertained.
Though the film is listed as an American production, there is a lot of Asian input (especially in the animation) as mentioned in the closing credits. Not only that but two asian companies are credited as with producing credits at the start of the film.
THE NUT JOB films are modest productions. The first cost only $42 million to make and went on to gross $120 million thus green lighting a sequel. The original director, a Canadian Peter Lepeniotis who based the first film on characters he created in his short was supposed to co-write the sequel but his name is missing from the list. Number 2 is co-written by Cal Brunker
Bob Barlen andScott Bindley.
The closing credits in the first THE NUT JOB film featuring an animated version of South Korean rapper Psi performing "Gangam Style" dancing with the park rodents were so irresistible that almost the entire audience stayed to the end. This was indeed a difficult act to follow and the rap sequence the closing credits of NUT JOB 2 unfortunately emptied the theatre in no time, thus allowing almost everyone to miss a last sequence of animation that appears once the closing credits rolled over.
Trailer: https://www.youtube.com/watch?v=4Lpw2gJt9Us
LA PASSION D'AUGUSTINE (The Passion of Augustine) (Canada 2015) ***1/2
Directed by Léa Pool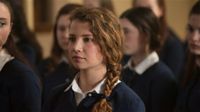 A small but talented music school is at risk of being closed for good due to financial difficulties. The school must win a music contest in order to survive. Into the school arrives a spirited but sometimes troublesome new girl. It does not take a genius to guess that this girl will (try to, anyway) save the school from financial ruin.
If this sounds like the typical predictable commercial film plot, one must note that this is a film written and directed by Léa Pool.
Léa Pool was born in Genève, Switzerland though a majority of her films are made in Quebec. Her films are mostly serious and many deal with human emotions. She has made over 20 films her most famous works being SET ME FREE (my favourite and her best) in 1999, LOST AND DELIRIOUS (2001) and ANNE TRISTER (1986).
The setting is in a convent school in beautiful rural Quebec in the 1960s . Mother Augustine (Celine Bonnier), a Roman Catholic nun who teaches music is fighting to preserve her school against the backdrop of the social changes wrought by Vatican II and Quebec's Quiet Revolution. When her talented but rebellious niece joins the convent, and when the government threatens to shut down the school in favour of public education, her world is suddenly turned upside down. She and her fellow nuns are forced to confront the waves of modernity, and Mother Augustine herself must search her soul for a new calling. In the words of Mother Augustine: "The convent is to close down short of a miracle. We have not said our last word. We are going to fight for our convictions, our girls and music, for everything we think is right. But most of all, because I love the convent."
Pool's story of an important school that stands firm on the grounds Mother Augustine's faith in music and Christianity is perhaps reflective on Pool's making of important non-commercial films. Her films like the school face difficulty in modern times, when audiences flock to see Hollywood blockbusters. And together, they must resist and show that quality matters. Still LA PASSION D'AUGUSTINE is an important film, unconventional in its outlook and plot but still a rewarding a watch as any Hollywood blockbuster.
Despite the sombre nature of Pool's piece, she inserts occasional bouts of refreshing humour such as the scene of two nuns laughing and skating one the ice outside the school.
A scene in the film that deserves mention is the modern performance of song with guitar at a Catholic church in attendance by the nuns and pupils. The camera pans the faces of the spectators as they express different emotions, some of approval, some of glee, some of horror at the modernization and others of disproval. It is a great scene, reminiscent and obviously re-used from the variety of children's faces as they watch a Punch and Judy Show in Francois Truffaut's magnificent LES QUATRES CENT COUPS (400 BLOWS).
Pool's film is not just as beautiful as the Bach, Beethoven and Chopin pieces performed on the piano but just a moving and alas, inspiring!
THE PASSION OF AUGUSTINE garnered two Canadian Screen Awards at the 4th Canadian Screen Awards in 2016, for Best Actress (Céline Bonnier) and Best Original Score (François Dompierre). For the 18th Quebec Cinema Awards (formerly known as the Prix Jutra), the film won 6, including Best Picture, Best Director and Best Actress, Céline Bonnier.
THE PASSION OF AUGUSTINE is released VOD Nationwide on Tuesday, August 15 on all major platforms including: iTunes, Google Play, Amazon, Microsoft, Vudu, Comcast, Charter, Cox, Vimeo, and various other cable operators.. In French with English sub-titles.
Trailer: https://www.youtube.com/watch?v=egvqwdSPATs
WIND RIVER (USA 2017) ***
Directed by Taylor Sheridan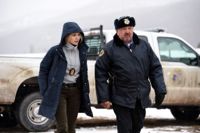 Murder at a reservation. This could very be an alternative tittle to the impressive debut of writer/director Taylor Sheridan of his tale that highlights the problem of missing native persons. The film ends with the announcement that there are no records kept of missing native persons. Though the film does not really deal with a missing person, a beautiful young native is found dead and her death resolved in this somewhat well conceived and executed piece.
US Fish and Wildlife Service agent Cory Lambert (Jeremy Renner) discovers a body in the rugged wilderness of the Wind River Indian Reservation. The FBI sends in rookie agent Jane Banner (Elizabeth Olsen), but she is unprepared for the difficulties created by the oppressive weather and isolation of the Wyoming winter. When she employs Cory as a tracker, the two venture deep into a world ravaged by violence and the elements.
The film's start sets the mood and atmosphere for the rest of the film. The audience is treated to the scene of a wolf eyeing sheep from a distance, waiting to make its move. But a shot rings out and the wolf is shot, falling to the ground. A hunter and tracker, Cory Lambert has made the shot. Lambert later discovers the body of a dead native girl. A rookie FBI agent, Jane Banner is sent to help in the murder investigation. Though quite good at her weapon, she has lots to learn about the cold as well as the native way of life. Lambert and Banner form an effective team and eventually solve the mystery surrounding the death, while director Sheridan reveals the brutal and harsh life on the reservation, with a message or two thrown in for good measure.
It is good to see Graham Greene, one of the best native actors around. Fortunately, he seems to be appearing in every native film lately. He plays Ben, with his usual dead-pan humour. He is first introduced in the film as "He is not much help." to which his reply is: "We work together, eh?" Jeremy Renner replaces Chris Pine who was originally slated to do the lead part. The script shies away from a possible romance (thankfully) between the lead male and female characters.
As a thriller, the shootout segment is tense enough to keep the audience at the edge of their seats. The landscape is beautifully shot showing the stunning wonders of the Wyoming mountains.
Sheridan's film is not without flaws. For one, though every scene is meticulously shot, the tone is pretty much the same leaving the film a slight monotonous feel. The most exciting portion (the shoot-out) also occurs way before the film ends and the parts that follow afterwards create an anti-climax.
Still Sheridan's debut film is an impressive one winning him the Best Director Award at Cannes in the 'Un Certain regard' section. WIND RIVER premiered at Sundance and went on after to Cannes.