23
Aug
2017
Details

Category: Movie Reviews
Written by Gilbert Seah
Nothing spectacular in terms of film openings this week. A case of calm before the storm - in which case is TIFF opening Sept 7th.
Best Bets of the Week:
Best Film Opening: PATTI CAKE$
Best Action: VALERIAN and THE CITY OF A THOUSAND PLANETS
Best Horror: ALIEN: COVENANT
Best Family: BEAUTY AND THE BEAST
Best Foreign: GRADUATON
Best Documentary: AN INCONVENIENT SEQUEL
Best Comedy: THE HITMAN'S BODYGUARD
To find a review for a past film, type the title of the film in the SEARCH box on the front page of site.
FILM REVIEWS:
BIRTH OF THE DRAGON (USA 2016) **
Directed by George Nolfi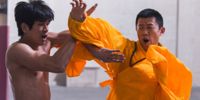 Premiering last year at the Toronto International Film Festival at a running time of 103 minutes, this shorter version is a re-cut version, according to the film publicist that now runs a 10-minute shorter version. I had not seen the original version but a colleague of mine at the press screening had seen both, remarking that the re-cut version is an improved one. Which is not saying much - since BIRTH OF THE DRAGON is still not a very good movie.
The end credits say that the film was based on a Bruce Lee article: 'Bruce Lee's Toughest Fight'. In other words, the film was inspired by true events. The setting is 1964 in San Francisco, where a real fight took place between Bruce Lee, 9 years before his fame and making of his first movie and a monk named Wong Jack Man. The question then is who won the fight. Since this film is about Bruce Lee, and not the monk, one assumes that Lee won the fight, or why make a movie if he lost the fight. But the script has more up its sleeve.
The film opens with a monk (Xia Yu) fighting in a province of China, which the title claims is the place of birth of Kung- Fu martial arts. The monk is said to travel to America to learn how Kung Fu has been taught there. It has been taught a great deal by Bruce Lee (Philip Ng), then and shown to be a conceited and proud instructor, though his intentions are respectable. The two fight in a competition with a plot that is supped to cause a girl to be enslaved unless there is a clear winner. So, one of Lee's pupils, a hot-headed Mack (Billy Magnussen, BRIDGE OF SPIES, INTO THE WOODS and the recent INGRID GOES WEST) decide to save her. The two fighters combine their efforts to save the girl, but unfortunately they are unable to save the movie.
The film is aimed strictly for Bruce Lee or Kung Fu fans. Main actor Ng who plays Lee suits the part, with a chased body much like Lee. Ng's mannerisms (body stances, sounds) down to his face twitching resembles Lee too.
According to my colleague who had seen the original film, the original was centred on the white man, Mack, who is given a less impotent role after the film's major re-cut. This makes more sense in that no one be satisfied paying good money to see a Bruce Lee story than end up with a film with a white man story. The white man plot is now reduced to a subplot with him in a minor supporting role ending up in hospital, though Mack does get his (Chinese) girl.
BIRTH OF THE DRAGON aims high in revealing the fact that Bruce Lee changed his style of fighting and became the man he did, as a result of the fight - thus he film title BIRTH OF A DRAGON. This might be true but the film is still quite the mediocre film.
Trailer: https://www.youtube.com/watch?v=SL7OfxJo2oA
BUSHWICK (USA 2016) **
Directed by Cary Murnion and Jonathan Milott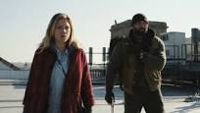 BUSHWICK is a working-class neighbourhood in the northern part of the New York City borough of Brooklyn. The neighbourhood, historically a community of Germanic immigrants and their descendants, has been predominantly Hispanic in the late 20th century. The neighbourhood, formerly Brooklyn's 18th Ward, is now part of Brooklyn Community Board 4. It has been the scene of extreme looting during the 1977 blackout. This low income working-class venue has been chosen as the setting for directors Murnion and Milott apocalyptic tale of destruction, chaos and survival.
When the film opens, directors Murnion and Milot prompts the audience to evaluate their most dreaded fears. As 20-year old Lucy (Brittany Snow) chides her boyfriend for being scared of being in the dark while leaving the underground (subway), he replies that he should get some incentive for not being scared As they converse, they notice that they see no one else. The place is deserted. Then appears from nowhere a man screaming as he is inflamed. The two run to the street level where the boyfriend is shot and she left alone. Lucy then meets Stupe (Dave Bautista) and the two newly met companions bind together to figure out what is going on. The script does not reveal the answer till half way through the film.
The film, written by Nick Damici and Graham Reznick is well shot by Lyle Vincent with an atmosphere of the end of the world scenario. The trouble is that audiences have seen all this before in a dozen or so films of this nature. With only two main characters, the film becomes not only more minimal but hardly credible. How and why has so much happened in the so few minutes that Lucy is in the underground? Do the audience really care? There is hardly any excitement created as no one really cares about these two characters. Also, any reason for this has been already put together in one movie or other.
The script is devoid of humour. The only funny part appears to be the name of the main character - Stupe. The film is quite violent in terms of wounds see on screen like Lucy's shot-off finger and Stupe's wound.
Actors Bautista and Snow do their upmost best to keep their characters interesting. The scene where Stupe has to pull out chard of metal from his leg, with Lucy looking on while burning it with red hot metal for at least 5 seconds to kill the germs, seems to be put there to gross out audiences but still with little effect.
The film is nothing more, than running around, shootings, more running around and even more shootings. More people get killed, then more running around and shootings. The film contains a lot of false hopes One is the search for Father John in a church.
Another appears to be evacuation by helicopters at a park. But when the climax comes, nothing much makes much sense. This film is clearly as the saying goes, a film with no head and no tail.
Trailer: https://www.youtube.com/watch?v=dKvNp0PEkHY
L'ECONOMIE DU COUPLE (AFTER LOVE) (France 2016) ***1/2
Directed by Joachim Lafosse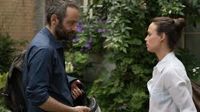 Those that know Cédric Kahn will definitely remember his excellent 2004 directed suspense drama FEUX ROUGE (RED LIGHTS) which he also co-wrote. The story concerns the marriage breakdown of a mediocre salesman Antoine (Jean-Pierre Darroussin) and his attractive, successful and increasingly aloof wife, Hélène (Carole Bouquet), as they are en route to pick up their daughter from camp, bickering as usual. The broken relationship is seen from the backdrop of her sudden disappearance when she decides to take the train.
Kahn leaves the director's chair to play the husband in this equally absorbing broken marriage story of Boris (Cédric Kahn) and Marie (Bérénice Bejo). Though the background is different, both films have similarities and are both equally a difficult watch. The couples have seen their love gone sour and both try to give it a second chance. In this film, the couple have decided to separate after 15 years together. They have two girls that they adore, but tensions rise as cash-strapped Boris continues to live in the family home. Neither of the two is willing to compromise, making their apartment a war zone.
Sexual and emotional tensions remain high. An example is when the Boris accidentally enters the bathroom while Marie is having a bath. He claims that he did not see her inside and just getting his toothbrush. When she is angry he replies that he has seen her naked before. These are words and incidents that will eventually happen, regardless whether by a accident or not and will always lead to confrontation and uneasiness. The scene is done from the point of view of Marie, the camera focused on her expressions while she lies in the bath when the dialogue goes on between the couple.
Lafosse takes no sides. The audience sees the irrationality of both the husband and wife and how emotions blur their better judgement. At one point, they scream uncontrollably in front of their two daughters. The scene in which they both eventually sit down as a family and the parents promise their daughters never to shout at each other is a touching one.
One would imagine that watching a film on this topic be a brutal one. Surprisingly it is not, because Lafosse makes what appears on screen incredibly real than theatrically brutal. The sensitive and humanistic sides are also shown.
Kahn and Bejo, especially are excellent in their roles.
But all is not hate. In one sensitive and brilliant moment, Lafosse demonstrates that the love the couple once felt for each other was present in the past and not forgotten. "I did really love him" says Marie to her friends one evening party before Boris shows up and creates emotional havoc. The one unexpected visit by Marie turns out to be an evening of family warmth with the father and two daughters dancing together, edged on by the mother.
Lafosse leads his remarkable AFTER LOVE to its obvious ending as Boris and Marie eventually separate but for the better.
Trailer: https://www.youtube.com/watch?v=I-zxQXzSpbM
THE ONLY LIVING BOY IN NEW YORK (USA 2017) **
Directed by Marc Webb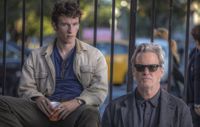 It has been 5 years since the announcement of the making of this movie and its completion after many delays and re-casting. Surprisingly, THE ONLY LIVING BOY IN NEW YORK turns out not that bad, but it is a far cry from the director's first and excellent debut, THE (500) DAYS OF SUMMER.
The lead young actor, Callum Turner of THE ONLY LIVING BOY IN NEW YORK appears to be a clone of Joseph-Gordon Levitt in SUMMER, not only in looks but in certain mannerisms. Turner is not bad, charming, while portraying both the strength of a budding writer and a vulnerable player in the artistic world. The casting director seems unable to resist the casting of Wallace Shawn as a talking artist in one of the family's famous artist dinner parties.
The script by Allan Loeb feels at times like a Woody Allen one, with multiple relationships going on at one time. No one appears capable of keeping a monogamous less honest relationship without sleeping with another and then substantiating it as all right afterwards. Unlike an Allen film, the guilt comes more into play in this story with each lover trying to right a wrong.
When the film begins, a recent college graduate, Thomas Webb (Turner) is given the news that the girl whom he has been seeing and has fallen in love with, Mimi Pastori (Kiersey Clemons) is leaving him to go abroad. They still love each other as they profess, which really means nothing in a film that tries to be as smug as this one, from the very beginning. Thomas ends up sleeping with his dad, Ethan's (Pierce Brosnan) mistress, Johanna (Kate Beckinsale), while the poor mother Judith (Cynthia Nixon) looks on. It turns out that mother is not that innocent after all, as will be revealed later on in the story (no spoiler to be revealed here.) In the process of all this, Thomas meets, though too coincidentally, a neighbour stranger named W.F. Gerald (Jeff Bridges) who turns out to be his mentor helping him out both in his love affairs and life.
THE ONLY LIVING BOY IN NEW YORK is a likeable film and director Webb (who also did the SPIDER-MAN movies) knows how to make a likeable film. Love triumphs in many ways and always does. Everyone in the script also ends up with his or her own little happy ending.
THE ONLY LIVING BOY IN NEW YORK, which turns out to be the title of the book a character writes, will be inevitably compared to a Woody Allen movie for its look on the New York art scene and relationships.
This is the difference between Loeb's script, Webb's direction and Woody Allen's works. Life does not always turn out to be happy endings. Allen's characters suffer more, for their cheating in their love affairs and in general in how things in life eventually turn out. Life is not all plain sailing that turn out well. That is the reason Allen's films are more endearing and realistic. And Allen knows how to put in more humour and sarcasm into his works as well. This film ends up a too smug arty fairy tale.
Trailer: https://www.youtube.com/watch?v=tkjhAeF3b1g
PATTI CAKE$ (USA 2017) ****
Directed by Geremy Jasper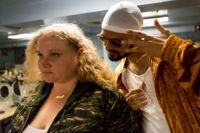 PATTI CAKE$ is a story of a big white girl, Patricia "Dumbo" Dombrowski (Danielle Macdonald), from Bergen County, New Jersey who seeks fame and fortune as a rapper. She lives in a really untidy house with her mother (Bridget Everett) and looks after her bed-ridden Nana. The film introduces her as she wakes up in the morning. The camera shows her 'fat' side while she does her daily routine like brushing her teeth, while rapping. She swaggers down the street with the camera showing her floating up in the sky - a great start for the movie. Her talent is rapping and she with her best friend Jheri (Siddharth Dhananjay) and new discovery (Mamoudou Athie) hope to make it in the rap scene. The film is their difficult success story.
The film has 3 big plusses and with these three plusses, one can hardly go wrong. The first is a killer rap soundtrack. Director Jasper shows the origins of a song, how the lyrics come about and how the melody is created. The finish product is a marvel. The second are the great performances from the entire cast and thirdly, the script though not flawless, is nevertheless quite good covering many current issues. It is expected that the film has a happy ending and the tacked on turn of events is a bit manipulative.
Australian actress Danielle Macdonald is a real find and should be heading for stardom. Bridget Everett is also winning as Barb, her mother while Cathy Moriaty as Nana is a scene stealer.
Besides rap dance, the film covers a lot of relevant issues though not all to great depth. But it helps keep the film interesting rather than just focused on one issue. Bullying and non-acceptance is the other main issue. Patricia is big and when she does the rap battle, her size comes into play. She is also bullied in the neighbourhood and called "Dumbo' by almost everyone. The mother and daughter relationship is also covered with satisfactory detail. Her mother has no time for Patricia and has no idea that her daughter is into rap, though she is also a real talented singer. One issue just touched on is the health care. When Nana is taken to hospital with a stroke, Patricia and her mother has to come up with the money. Patricia works extra shifts in her part-time job while the mother juggles the credit cards to pay the hospital bills. The difficulty of getting recognized in the music industry is also eminent throughout the film as the rap group try all measures to get a break.
Besides crooning out the rude lyrics with the 'f' word in almost every phrase, the film also shows that in order to survive one has to work very hard and be disciplined. Patricia works long 8-hour shifts as a part-time bartender, forcing a smile on her face all the time, in order to help pay the family bills.
The film is quite a marvel from a first time director. It is my sure bet that this film will win the Toronto Film Critics Association Prize for first film feature. Though the film is a hard watch from start to finish, every minute is worth it.
Trailer: https://www.youtube.com/watch?v=L-591Dqa48g
LA REINA DE ESPANA (THE QUEEN OF SPAIN)(Spain 2016) **
Directed by Fernando Trueba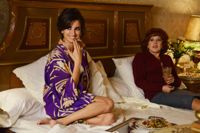 THE QUEEN OF SPAIN arrives after its Gala Selection at Berlinale 2017. The film is the sequel to Fernando Trueba's 1998 drama THE GIRL OF YOUR DREAMS which also starred Penelope Cruz in a story set during the Spanish Civil War with Josef Goebbels falling in love with Macarena Granada. The film, though not many are familiar with in North America won seven Goya Awards including best film and best actress for Cruz. But what is more well known, is that Cruz and director Trueba worked together on the 1992 film BELLE EPOQUE which won the Best Foreign Film Oscar. With that, THE QUEEN OF SPAIN aroused sufficient interest to get commercial distribution.
The film is not as good as the other two, and in fact quite a disappointment, considering the film's setting and its ambitious political intentions. Trueba injects lots of comedy and melodrama and the kind of goings-on during the filming of a movie. The film is fun to watch but could have developed into much more.
There are many stories - in fact a few too many on display in the film. The most important of all is to the one considering Cruz's character but a film director, Blas Fontiveros (Antonio Resines) that has got into a lot of political trouble in the past. He suddenly appears at the start of the film, like a ghost as everyone though him dead, but is arrested. With so many people in the new film that he has helped in the past, they decide to spring him. The new film that is made is an American Hollywood film shot in Spain by director John Scott (Clive Revill) who is so old, all he can do is shout 'action' or 'cut' between his naps. The main star from Hollywood is Marcarena Granada (Penelope Cruz) who falls in love with a grip (Chino Darin) on the set. Other subplots include the dandy American actor, Gary Jones (Cary Elwes) and an assorted Spanish crew including a couple (a lesbian and gay man) who marries for convenience.
The setting is the nostalgic age where Hollywood came to Spain. Clearly director Trueba hates politics and Franco for that matter and has a sort of love/hate relationship with Hollywood as depicted in the film. The McCarthy witch hunt in which screenwriters were banned from working in Hollywood is given a nice touch in the film. One such writer arrives in Spain and works under an assumed name.
THE QUEEN Of SPAIN is a well intentioned film which has taken too much on its plate. It still is an entertaining romp - a tribute to the nostalgic filmmaking times of the 50's - a film in a film. Following its premiere in Berlin, which was met with a long standing ovation, the film was nominated for five Goya Awards held this past March, including a nomination for Cruz as best actress.
Trailer: https://www.youtube.com/watch?v=0VfVvAlyeJ4
SUNDOWNERS (USA 2016) **
Directed by Pavan Moondi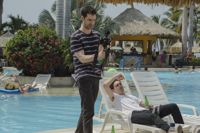 SUNDOWNERS follows two young males Alex Hopper (Phil Hanley) and Justin Brown (Luke Lalonde) as they travel to a Mexican resort as videographers to shoot a wedding.
It is a case of everything that could possibly go wrong does, and in the worse possible way. Their trip is already doomed from the start when their boss gives them the incorrect flight information This is followed by incorrect hotel information. It does not help that Justin is recruited as Alex's photographer and really knows nothing about the camera. When they finally meet members of the wedding family, they find more trouble afoot. The bridegroom has just lost his job and gone bankrupt, with the bride, who appears to be all over him, unaware f the situation. They meet the best man, who is of questionably character though appearing friendly enough. The father urns out gay and hits upon Alex. All the high jinx sounds ripe for crazy and laugh-out loud humour but surprisingly the film is only mildly funny.
For a film with a cast of stand-ups, the laughs are surprisingly few and far between. The film plays like an uncomfortable comedy where the comedy is supposed to come from the misfortunes of the lead characters. A similar example is THE OUT-OF-TOWNERS where a couple lands in New York City and everything goes wrong. Incident after incident work against the couple but as the audience wants the couple to do well, it is hard to laugh at the mishaps. The same goes for the two landing in Mexico where one thing after another do not go as planned.
If one observes the dialogue at many points in the movie, many of the lines can be put together in a stand-up comedy routine. But somehow put in the situation of the film's plot, they do not come across as funny at all. This is surprising considering that many of the cast and director are real life standup comics. They should be aware of how critical timing is. An example is the horror comedy GET OUT by a director who is a stand up comic. GET OUT was unexpectedly funny, primarily out of timing and camera set ups.
The film benefits from the two lead actors Luke Lalonde and Phil Hanley. They are spirited, good looking, likeable and emit good chemistry. They appear to be people fun to be with which means audiences feel comfortable with their characters.
The film is set in Mexico. The film's hotel setting looks like any one of the all-inclusive resorts that I have visited in Mexico. But the credits indicate the film being shot in Columbia.
Moondi gives the impression that he is out to get cheap laughs at every opportunity. An example is evident in the scene where the couple rides a cab and the camera focus on a row of bobbing dog heads laid out on the dashboard. Another has them sitting on the steps of a hotel waiting fro a cab when Mexicans walk behind them laughing as if the stand ups are provided by laughter to get the humour going.
SUNDOWNERS should and could have been funnier!
(no trailer available)